Sea to Summit Delta Insul-Mug

While I like some of the features, a couple of significant flaws keep this from being my go-to coffee mug. Excellent heat retention and hand insulation, but questionable lid design and materials. I prefer a more traditional mug with a handle and without worries about the lid.
Pros
Insulation for hands
Heat retention
Durability—short term
Packability
Stability
Cons
Lid design
Outer insulation cover
Materials seem to change coffee flavor
No handle (personal preference)
03/02/17 Update: Note that more recent reviews suggest the lid has a tighter fit, which would definitely increase my rating by a point.
I bought the Sea to Summit Delta Insul-Mug on a whim while shopping for a couple of other items before a trip last fall. So far, I have tested it in the following situations:
3 trips in the fall and winter (8 total nights)
temperatures ranging from 15 to 60 degrees
used for coffee (black) and tea (green)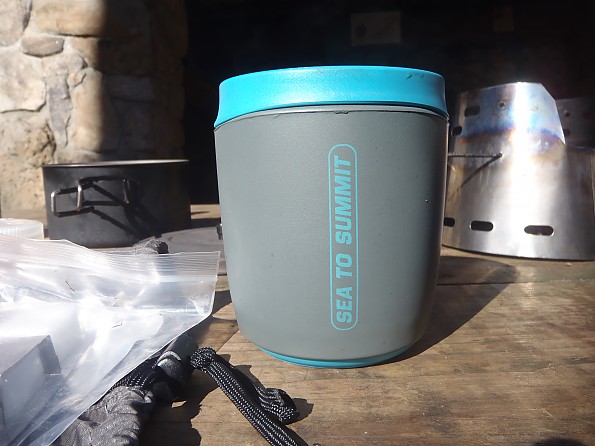 The Delta Insul-mug seems on first glance like a compact and well designed mug. It weighs about 4.5 ounces, and is approximately 4.25 inches tall by 3.5 wide. The mug is made of food-grade nylon (as is the lid), and it has a polyurethane sleeve for additional insulation. The construction of the main body of the mug is very sturdy. I had no worries that any abuse would do damage to it. 
I was concerned that the lid would leak at first (and older reviews say it did), but so far that has not happened. It does seem like the nylon construction could allow the fit to loosen over the years, so long-term this may still be an issue—see more details below. The outer polyurethane insulation cover seems like it could tear if packed beside anything sharp, but I did not have that issue. No nicks or scratches so far.
The mug is stable due to its compact and wide design. I had no concerns about it falling over when pouring liquids into it. The nylon and polyurethane design function as advertised. I could hold the mug immediately after adding boiling water without my hands feeling more than nicely warm. A boiling hot cup of coffee stayed that way (almost too hot to drink) throughout packing up camp on a 15 degree morning in November in the Virginia high country.
If you focus on just the insulating hand protection and heat retention, I would give this mug the highest rating. In fact, except for the mornings when it was below 20 degrees, I mostly used the mug without the lid as the insulation of the body (with the lid) did not allow the coffee to cool off fast enough for me.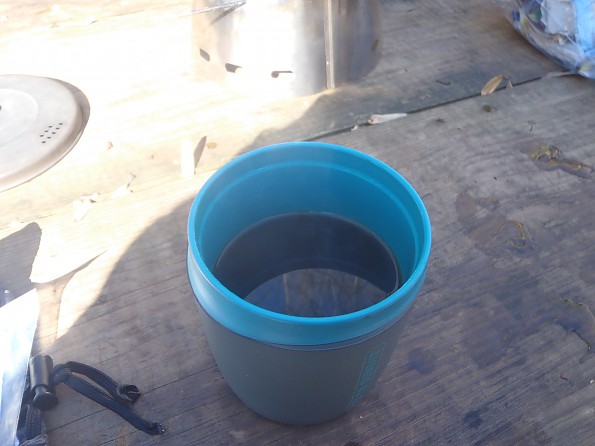 I have not removed the insulating sleeve and used just the main mug (or weighed that option), as I tend only to bring an insulated mug for cold weather where the sleeve would be needed. In warmer weather I use a lighter thin-walled option as I drink coffee relatively quickly most of the time (I sat the mug down as described above during camp breakdown primarily to test the insulation qualities—usually I need the caffeine to get camp packed up!).
There are two negatives, in my opinion, with the nylon construction: 
The "plastic" body seems to slightly affect the taste of coffee and tea. This might be just my mind playing tricks on me but I definitely feel that way. Maybe it is a newness issue that will fade with time, but I doubt I will find out for other reasons detailed below.
Black coffee (strong) stains it slightly on the inside. This occurred on the first trip and was not removed by hand or dishwasher. This is not a negative to me as I don't care what it looks like, but it makes me think that the taste issue above may be real. If the wall of the mug can absorb coffee stains could it not also affect flavor?
The mug packs well, as without a handle (which you don't need because of the polyurethane sleeve) it is compact and very sturdy. I packed it tight into a bear canister for one three-day trip and on every trip it was stuffed full of minor kitchen items. It never seemed to warp or have any issues.
However, I would sacrifice a bit of "packability" for a handle. Having used a mug with a handle for over twenty years, I missed that little extra. While it was nice on the really cold mornings to hold the mug body and warm my hand, I would prefer to wear my gloves and hold a handle. With a handle, I feel you can hang onto a mug loosely using a (well designed mug's) balance rather than having to grip it securely, which on some pre-caffeine groggy mornings is no minor effort in concentration. 
This should not really be a negative on the design as I think it is totally personal preference, but something you should consider prior to purchasing.
The lid design is one of the reasons I decided to purchase this mug, but ends up being one of the reasons I will not use it much any more (probably use it as a loaner). There are two issues in my opinion:
The shallow recessed lid design is designed so that "Excess liquid flows back into the sipping hole because of the concave design of the lid.", according to the company. This works well, but for me it also seemed to allow coffee to spread out differently than what I am used to. That spread meant almost burning my upper lip a couple of times until I got used to it, but still had to be careful. This is probably just a "technique" thing that is different from the mug I have used for a long time, and something that would fade over more use. 
The lid fits easily in the mug and doesn't leak. However, I would like it to be a bit tighter which concerns me for long term durability of the fit. When you pour just-boiled water into it, the lid seems a little looser than when cold and dry. Sea to Summit includes a handy little loop on the lid that makes it easy to pop it off, but the fit is not so snug that this is really necessary.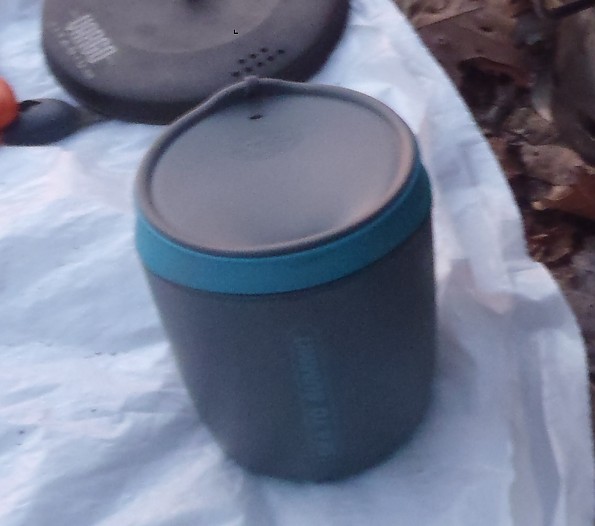 The outer insulating polyurethane cover, as mentioned above, works very well. It tended to slip a bit as I used it more, but only a very small amount. It feels great on the bare hand—relatively soft and warm but not too hot. It comes off and on with relative ease back at home to give it a thorough cleaning, although I think that is why it began to slip. Overall I liked the cover, but am concerned that during a trip it is difficult to clean underneath it.  That kind of thing worries me on a longer trip.
Overall, I like the design features and intention behind this mug but not the result when put into practice. The insulation and stability of this mug are excellent, but the lid design, materials, and lack of a handle left me wanting more. I enjoyed sipping coffee out of this on really cold mornings, but will go back to my old mug for now.  Cheers.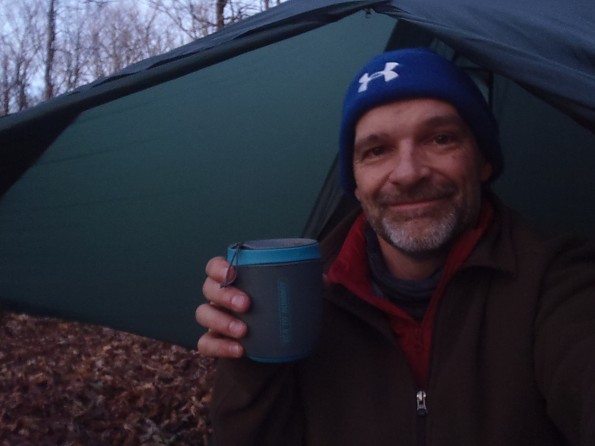 Source: bought it new
Price Paid: $15

I bought the cup after being very happy with other Delta-products from STS. The cup is stable, big and it holds my beverage warm long enough for me.
I have had no problem with the lid leaking while I drink from it, but as with almost all thermo cups there is no way to make the cup totally "liquid proof". I'd like a cup I can bring into my tent and not have to worry if I accidentally tip it over. Even though I knew this when I bought it, it is now a four star product. 
But the cup, like all cups, needs to be rinsed out/washed, and here is where my second star disappears. The insulation on the cup is just a sleeve, so water/soap will collect under it, and since I didn't realize this I left the cup in a cupboard for a couple of weeks without removing the sleeve to let it dry. The smell of putrid water underneath the sleeve was rather unpleasant the next time I used it.
Even though I have washed it pretty thoroughly it still has a odor to it. Luckily this is only on the outside, so it doesn't give of any taste to my beverages.
I will now use AquaSure or seam sealer to glue the sleeve in place, and make it watertight. Maybe that will take care of this problem?
Update: December 5, 2011
Tried to glue the sleeve in place, but messed it up somehow, so now I have an Insul-Mug with no insulation :) But I have used it all summer because of the weight, and I don't mind drinking lukewarm tea or "hot chocolate".
Found out that the lid needs to be put on immediately after adding the boiling water, or it won't expand to make a seal between itself and the cup. Handling the cup before it had cooled down a bit had to be done by the lip, otherwise I'd burn my fingers now that the insulation sleeve has found its way to a recycling facility somewhere :)
Price Paid: About $40 (Hey, Norway IS expensive)

This should be a good product as it ticks all the boxes: It's good size for a decent cuppa (2 cups). It's a stable design that can be put down on uneven ground without tipping over. It's reasonably well insulated and keeps your cuppa hot and your fingers and lips unburnt. It has no unnecessary and therefore redundant handle wasting space in your pack...
However it has one fatal flaw that that's seen it lose its place in my pack. The "leak-proof" sip-through lid has a very poor seal and  leaks worse than any other insulated mug I've ever used - it makes even  the cheapest budget brands seem good by comparison (and it's certainly doesn't retail at a budget price).
Overall it should be a good product but the very poor seal on the lid has let it down and it fails to live up to it's design brief by dripping almost as much of your beverage down your chin as it allows you to drink.
Price Paid: $19.95 NZD

A light but essential winter drinking cup.
Pros
Light
Well insulated with foam cover
Sipping lid can be tethered to cup
Easy to clean
Holds 1 1/2 cups
This may seem a trivial item but when winter camping keeping your hot beverages hot for more than 3 minutes is essential. At 10° F this cup kept my hot mocha from hot to nicely warm for 20 minutes. Likely it could have kept it warm longer, but I drank it before it had a chance to cool.
The foam cover keeps the contents hot and your hand from burning. Winter time is NO place for Ti mugs, double walled or not. 
I tethered the sipping lid to the cup with a small piece of light cord taped to the cup with Gorilla duct tape. This means wash only by hand and never put my cup in the dishwasher. 
So far this is the best winter cup I have found and I highly recommend it.
Source: bought it new
Price Paid: Can't remember, but less than $5.

It is a good size mug that keeps my coffee hot. Fits well inside my imusa style pot.
Pros
Design
Keeps coffee hot
Right size
The slim design allows it easily to fit in my Imusa pot. Not so bulky, holds the right amount of coffee doesn't leak or spill. It's well insulated not hot to the touch and doesn't have a handle which I like.
Source: bought it new

Your Review
Where to Buy
Help support this site by making your next gear purchase through one of the links above. Click a link, buy what you need, and the seller will contribute a portion of the purchase price to support Trailspace's independent gear reviews.
You May Like
Specs
Price
Current Retail: $13.26-$18.99
Historic Range: $5.88-$18.99
Reviewers Paid: $15.00-$40.00