Optimus Clip-On Windshield

Top 25 in Stove Accessories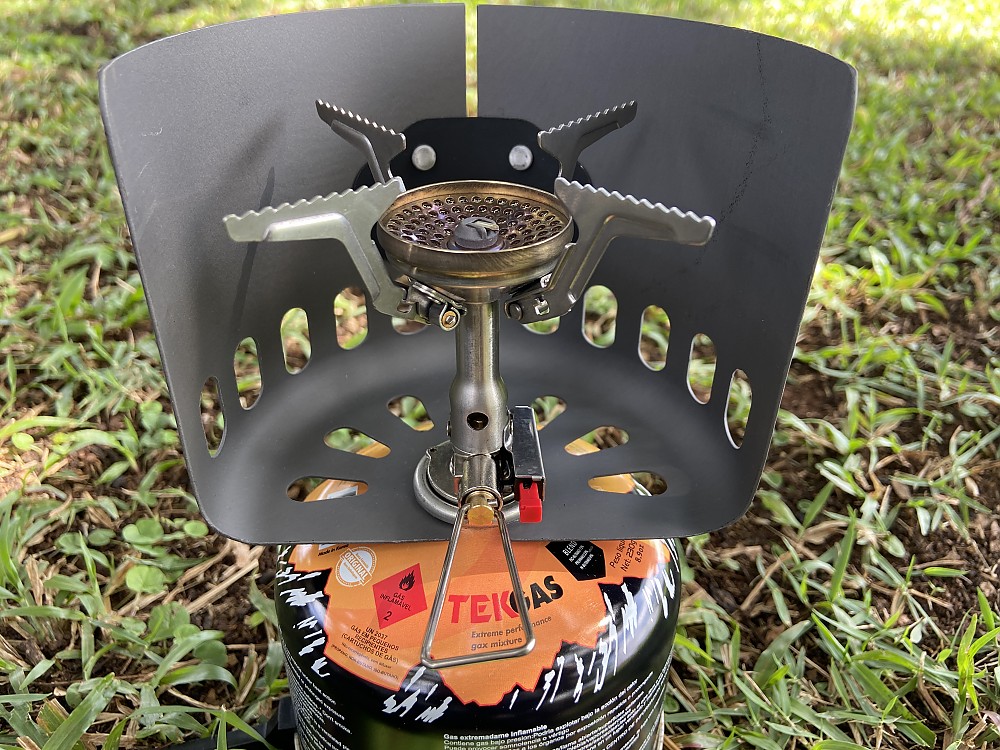 A lightweight, versatile, and inexpensive windshield for canister stoves that also works with spirit stoves. It increases stove efficiency and reduces gas consumption. Won't fit all models/types of canister stoves and cooking pot sizes, though.
Pros
Lightweight
Tough and durable
Inexpensive
Works well
Will work with spirit stoves
Cons
Fits only certain models of stoves and pot sizes
After many many years using my Lixada Titanium spirit stove (Trangia-style) for cooking meals and boiling water in the backcountry, I'm back to canister stoves.
My older "generic" stove stoped working, perhaps from staying stored without use for too long. Early this year when shopping for a new one, I found about the Optimus Clip-On Windshield. It seemed like a good idea, but upon checking its dimensions, I noticed it wouldn't work with all models of stoves (more on that later). 
I ended up opting for the Soto Amicus, which fit nicely with the Optimus windscreen and was the model/brand I was eyeing from the beginning anyway. 
Canister Stoves and Wind Protectors. 
Canister stoves are susceptible to wind. Actually, most outdoor stoves are, just like campfires. One exception are Jetboil-style system, but I prefer more simple and smaller setups for low weight and versatility. 
Back in the day I'd improvise a shield with stones or logs, or just find a protected spot, between rock formations, behind my tent or a tree, to set up my cooking kit. This would prove hit-or-miss because of ground level and space. 
When I switched to hammocks and tarps I also transitioned back to Trangia-style spirit stoves, with which I use one of those super-thin titanium foil windscreens. It's super lightweight and compact and very effective too. I really appreciate using this setup when camping or backpacking.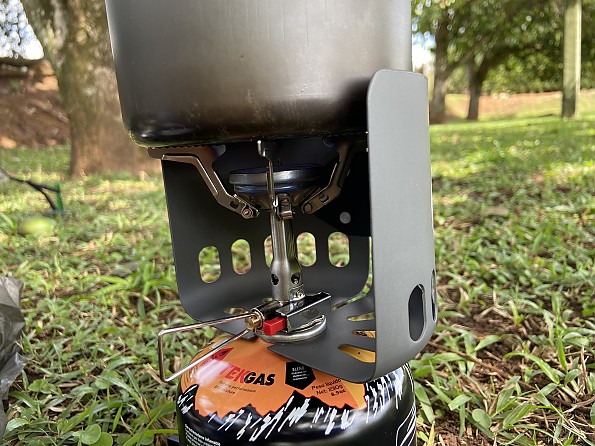 Now that I'm back to canister stoves (until I change again), I opted for a stove with better wind capacity. The Amicus is fine for calmer conditions, but as most of us know, those are rare in the backcountry. Sometimes it's just too windy, and besides the extra time it takes to cook/boil stuff, wind increases fuel consumption, which can be an issue in longer trips or when I have company. 
But the use of full-sized windscreens is not recommended with canister stoves like the Amicus, PocketRocket, and similars. They can focus the heat on the canister body and cause it to explode. Not sure if this is urban legend, but it sounds logical and I'm not testing this theory to see if it stands or not.
I could improvise a windscreen with thicker aluminum foil around the upper part of the stove head or something and be fine. But I found the Optimus Clip-On Windscreen too cool and well made (and inexpensive) not to give it a try. I'm glad I did because it's lived up to and even surpassed my expectations. It's really a nice add-on to the kit. 
The Optimus Clip-On Windscreen.
It's made from hard anodized aluminium with a riveted metal "spring" connection to keep it solidly fixed. According to Optimus, "it fts every gas canister according to EN417 and pots with max. diameter 11 cm (4.3 in). Compatible with standard pots and high profile heat exchange pots". Weight is only 87g and size is 103 × 115mm.
As the name implies, it clips right onto the top ring of the canister, right where the stove attaches. The half-circle windscreen should be positioned facing the wind (obviously), and the open part facing you with the stove flame control in the middle to facilitate operation.
The lower part has openings for ventilation, to allow eventual gas leaks escape, and also avoid heat build up at the top of the canister. It's simple, great, functional design with attention to details like these. The finish does get a bit scratched and scuffed with use, but other than looks that doesn't impact functionality. It can be easily cleaned or washed. Mine has seen some use and even abuse and still looks much like new.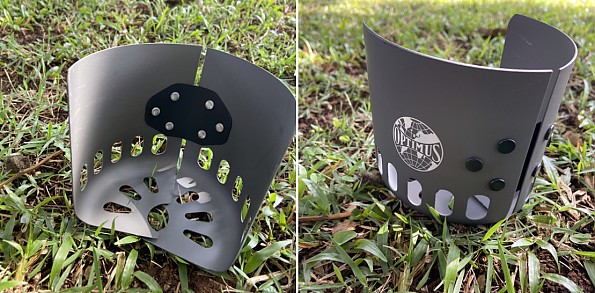 Coincidentally, the Optimus Clip-On Windscreen can be wrapped around my cooking pot and inserted into its cookset mesh bag. Optimus touts "easy packability (fits around the Optimus Terra Weekend HE pot)"  as well. This makes carrying much easier and convenient for me. It's also much better than throwing it in the bag, which could bend or damage the windscreen or other equipment. This won't work the same with all pots of course, so check dimensions before pulling for it.
It will also work to protect a spirit stove from wind, which is a nice bonus. Just rest it on the floor and put the Trangia in the center, it will protect the flame from the wind just like it does with the canister stove. Gotta be careful with balancing though, or it can flip. I add a small stone on the top of the base to help secure it.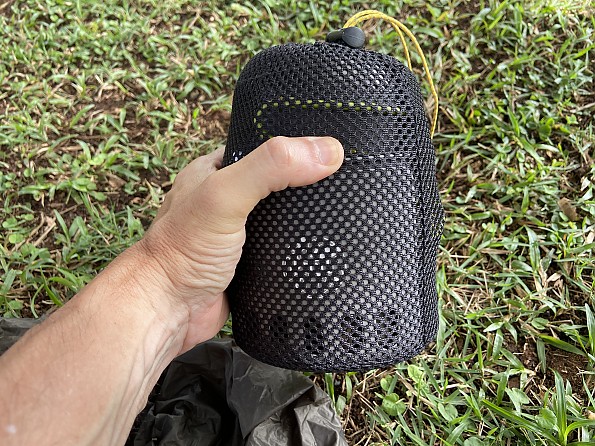 In use (with the Soto Amicus).
Though the Clip-On Windscreen was designed to be used with the Optimus Crux, it will fit various models of canister stoves from different brands. It works perfectly with my new Soto Amicus, but won't as well with the Windmaster. The flame stays protected from the wind and there's more than enough space for the stove's four-arm support (which is 3.0 x 4.0 x 3.4 in / 7.6 x 10.0 x 8.6 cm) when open and in use.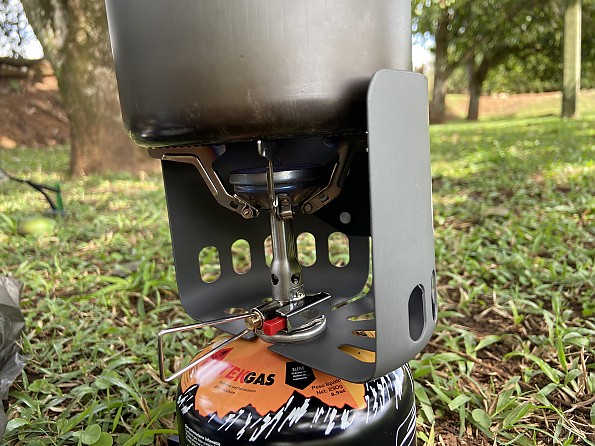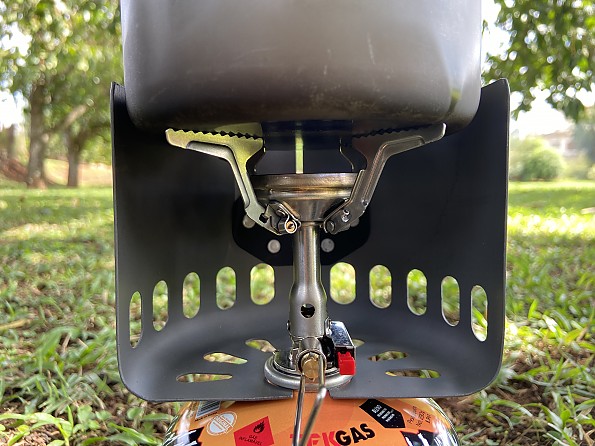 I can't rest my small frying pan directly on the stove arms with the windshield on, but the top lip of the Optimus gives good support to it (as shown in the image bellow). This ended up being a nice arrangement because the flame is a bit more distanced and thus less concentrated in one spot of the pan.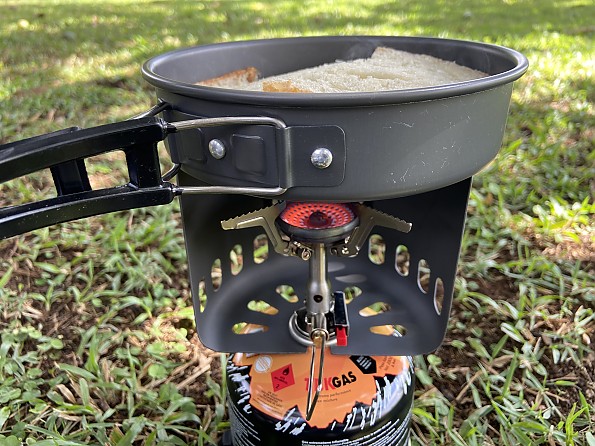 Conclusion.
 I noticed the Optimus Clip-On Windscreen significantly reduces the time it takes to boil water and also cook other stuff. I'd credit this not only to the wind protection but also to the fact that it concentrates the heat around the pot base. Though not a reflective surface, the shape certainly contributes some to that.
I'd give it 5 stars, but this would lead others to think it's a perfect product, and there's no such thing (I'm constantly trying to improve my reviews). But it's a simple idea that's very effective and well executed (super nice finish, no beads nor rough edges or anything just smooth anodized aluminum). It's also lightweight, versatile (works with different stoves), easy to pack, and inexpensive. Well, maybe it does deserve a 5-star rating after all heh?
It works as advertised and should last a lifetime if used correctly, with little to no maintenance (just cleaning with a wet rag once in a while). Make sure it will fit your existing or future canister stove and also your cookware. I've tested it with an MSR PocketRocket 2 and it also fits, but some models and brands might not.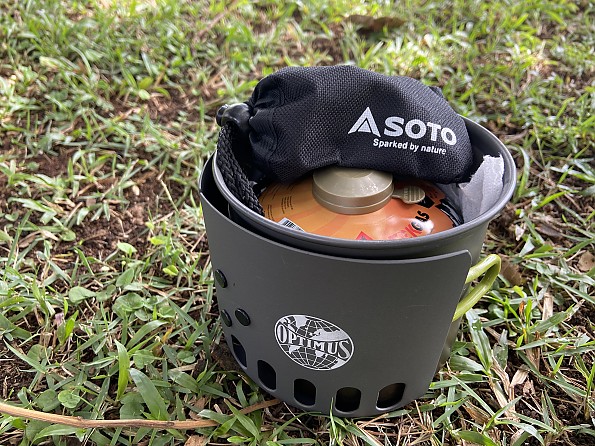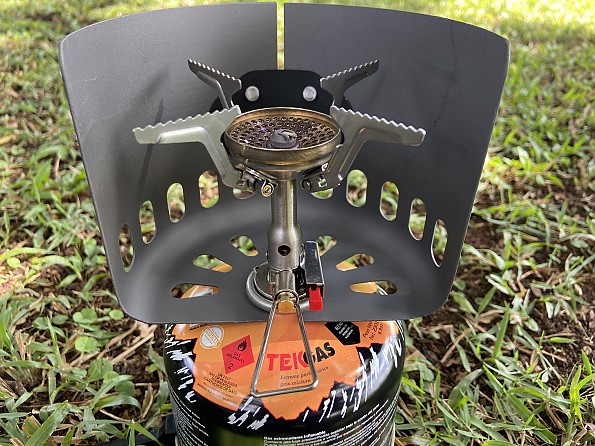 Experience
Been using the Optimus Clip-On Windscreen for a few months since I changed back to canister stoves and bought a new Soto Amicus to replace my old generic stove. I've also used it with my Trangia-Style spirit stove a few times, and it works—though as expected it will provide a much more solid and secure setup with the intended types of canister stoves. Highly recommend it.
Source: bought it new
Price Paid: USD 15 + shipping and import taxes

Compact and quick to install.
Pros
Good value
Reputed manufacturer
Light
Takes up very little room
Quick to install
Cons
Only works with small pots
I use this with a 100-gm canister, a Soto Amicus stove and a GSI Minimalist pot. Canister, stove, and lighter fit inside the pot while this windshield wraps around the pot taking up next to zero room.
Overall a very compact setup. Increases the efficiency of the stove. 
Source: bought it new

Your Review
Where to Buy
Help support this site by making your next gear purchase through one of the links above. Click a link, buy what you need, and the seller will contribute a portion of the purchase price to support Trailspace's independent gear reviews.
You May Like
Specs
Price
Current Retail: $14.95-$16.95
Historic Range: $11.89-$16.95

Weight
87 g

Dimensions
103 x 115 mm

Material
hard anodized aluminium

Recently on Trailspace