Primus Classic Trail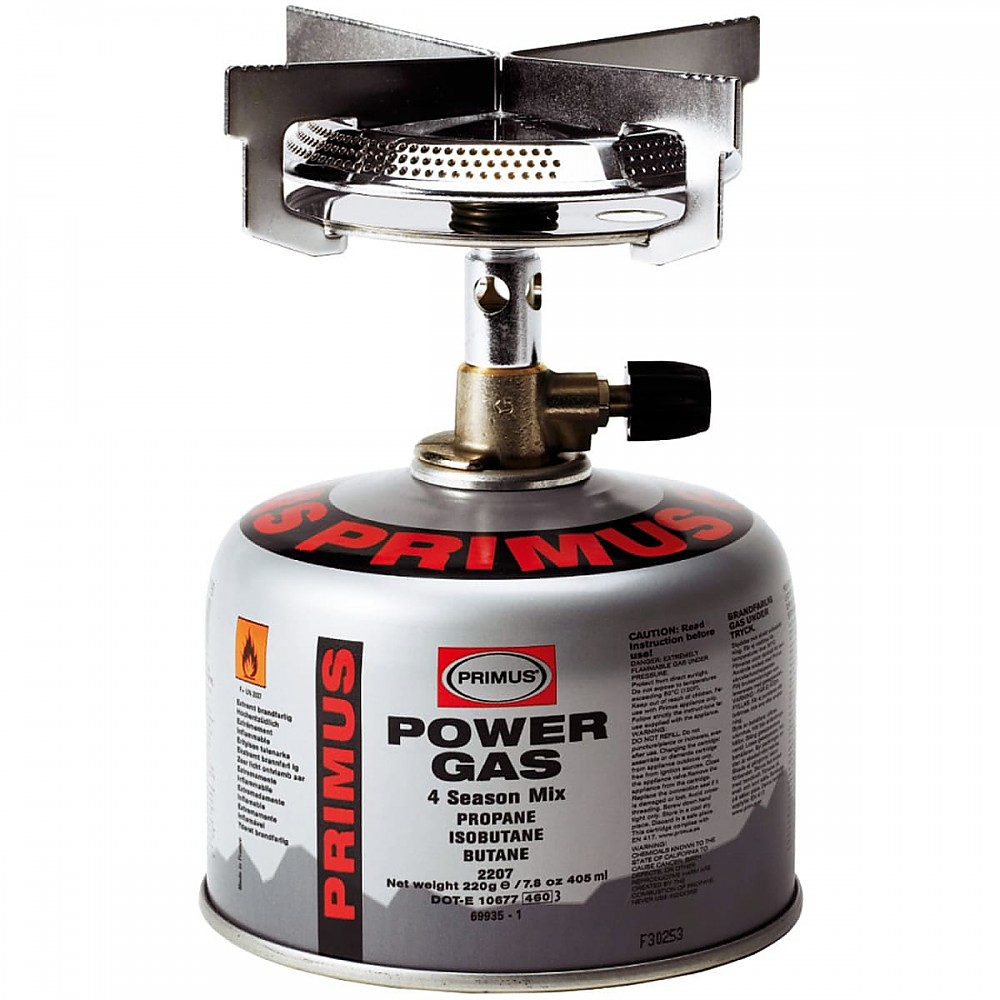 A great, cheap, no-frills, somewhat lightweight stove.
Pros
Reliability
Cost
Ability to simmer
I went backpacking just this past weekend and found myself in a predicament; the Solo Stove I had planned to use was out of the question as I would be traveling into an area under an open fire ban. And so, I found myself needing to get a cheap, simple to use stove for the weekend. 
The Primus Classic Trail fit that bill to a tee. With a 225g canister, both items came in at under $30, and worked perfectly with my Solo Pot 900. The pot wasn't quite large enough to store both the canister AND the stove, so it's clearly not a stove for the gram-weenies of the world, but on the trip I was on where weight wasn't an enormous concern, it was just fine. 
Design-wise the stove is pretty much fool-proof. Screw the burner into the stem (which includes the valve for flame control), and then screw the entire contraption into the canister, and you're ready to go. Light it on top with a match, lighter, or sparks, and you're ready to cook.
Lighting the stove was no problem, with one exception: it was raining when we arrived at camp, and the stove element did get quite thoroughly wet while we were getting set up for dinner. With water inside the burner, it was a challenge to get it to light and stay lit, and it wasn't until I believe all of the water had evaporated that it finally lit on all parts of the burner. This is absolutely user error and not the fault of the stove, but it's worth noting. 
In use, the stove was exactly what I had hoped it would be: a fast water-boiler that also has good simmer control for more delicate cooking. I didn't time my cooking and have no other canister stove to compare it to except to say that it boiled water fast when I wanted it fast, and was also able to go sufficiently low to enable me to make some camp stove bannock without burning the outsides. It also seemed very stable to use, provided you have an appropriately sized pot on it and a stable surface to use it on. Some fellow campers who were using a Jetboil MiniMo seemed to have far more stability problems than I did.
From a purely efficiency perspective, the Classic Trail is likely not your best option. Numerous other internet reviews have pointed out how it burns more fuel per liter of water heated, which makes perfect sense to me, watching it in operation. Using my 900ml pot, the flames occasionally lapped around the outside, and it seemed like a good deal of heat was escaping from around the pot and stove. A foil ring would help to solve some of that issue, but regardless, this is not a particularly fuel efficient canister stove. After only two days of cooking on it, I've used up about a half canister of fuel. Your mileage may vary. 
In summary, I think that for the user who is aware of the drawbacks and limitations of this stove, it's an excellent purchase that I can highly recommend! It cooks great, is quite little and (relatively) lightweight, and is basically fool-proof. 
Source: bought it new
Price Paid: $22 CAD

Solid little stove. Not as light as some micro stoves but has four pot holders with a 4.5-inch radius. And it is inexpensive, but not cheap
Pros
Wide pot holders 4.5"
Compact
Solid build
Excellent price
Primus Classic Trail Camping Stove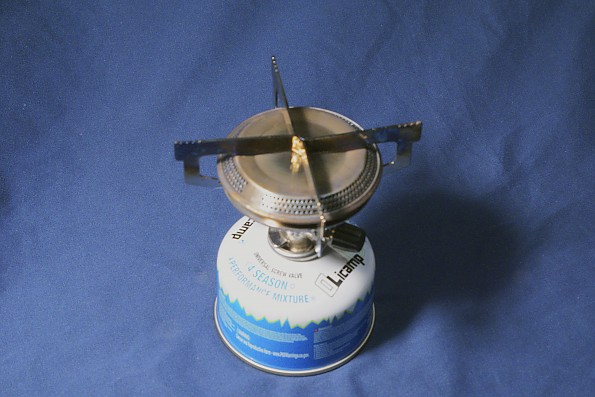 Countin' ounces... Looked at several dinky alternatives at 4-6 ounces, but Primus Classic Trail Stove (great Primus lineage) has larger burner, four pot supports, packs compactly (fits in my pot including small gaz cannister)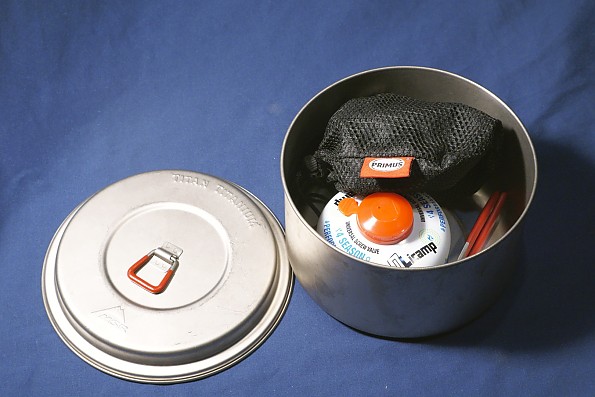 and is only 9oz. Used on multiday backpack in Uintas in bad weather and worked just fine. Check out the great pot supports.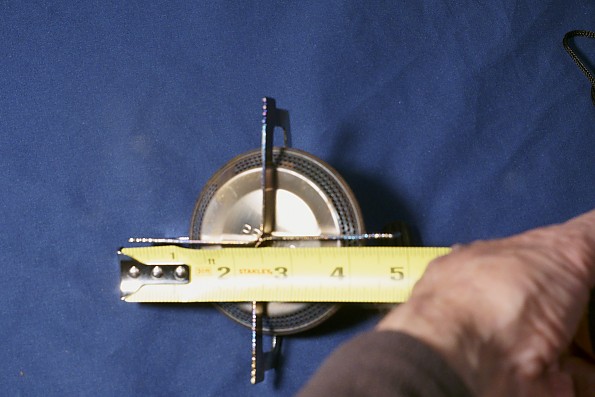 Took just a tad long to bring to boil. Used rocks to steady canister and sheltered from wind—warming my fingers. Ouch—not too close with the fingers... And the price for a quality stove can't be beat
Experience
Backpacked and camped throughout the west. Used to use a nice mountaineering stove, but this one is lighter and works well for almost every circumstance.
Source: bought it new
Price Paid: $24.95

I bought this stove after doing some comparisons of other iso/but stoves. The Classic Trail was bought for quickie weekend get-aways when weight is not important. I was initially looking into a Snow Peak Giga (which I did buy...one for me and one for my son). The snow peaks are for extended trips where every oz counts.
The Classic struck me as a very stable design with no moving parts except for the valve. The Burner also looked to offer a wide flame pattern less likely to burn-in the center of a pot. First impressions when I got it home was that it looks as if the same person that designed the M1 Abrams tank designed the stove. I could probably kick it off a cliff and it would still work.
My first use was at 6,000' feet with lows in the 30's. The stove worked very well. The 4 pot supports offer outstanding stability and wind protection. The flame adjustment is touchy until you know the sweet spots. Adjustability is limited to off, low, med and high…no in between. Boils about 2.7 min and it burns quiet.
This is a no frills stove. As a Scout Leader, I'm going to suggest this stove as the one to buy for the boys. Kids are rough on equipment and this stove can take it. Its only shortcoming is its weight at 8oz.
Price Paid: $24.95

Simple, well-made, and it works.
Pros
Cooks fast
Stable
Easy to use
Cons
Can only cook one item at a time
Last summer we drove 4000 miles, camping across the country and back, without a stove or really any cooking utensils. Combine that with a fire ban throughout much of the Western U.S., and it meant a lot of cold meals and mediocre fast food.
So for our next camping trip in the California Redwoods I decided to get out my old backpacking stove and see if it might still work. I was honestly doubtful. I bought my Primus Classic Trail Stove maybe 15 years ago and for the past decade (since kids) it's mostly sat on shelves in basements and garages through several moves.
I expected to find it rusty or possibly broken, but was incredibly surprised to pull it out of its tiny black bag and find it looking like new. I did some online research to make sure it would still be safe to use and found out they're still selling the same or very similar set, so after some inspection I packed it up with my gear without much expectation that it would actually work.
Oh man, why didn't I do this sooner? As soon as I fired the Primus stove up and cooked our first batch of mac n' cheese (followed by popcorn) I was shocked at how easy and quickly everything cooked. Lighting the fire was easy, the flame didn't go out once, the pot was completely stable, and food cooked even more quickly than it did at home.
After three days of cooking we still had plenty of fuel left and cleanup was a breeze (basically, just wait for the stove to cool down, unscrew it from the gas, and pack it up). My Primus stove is coming with us on all future camping trips.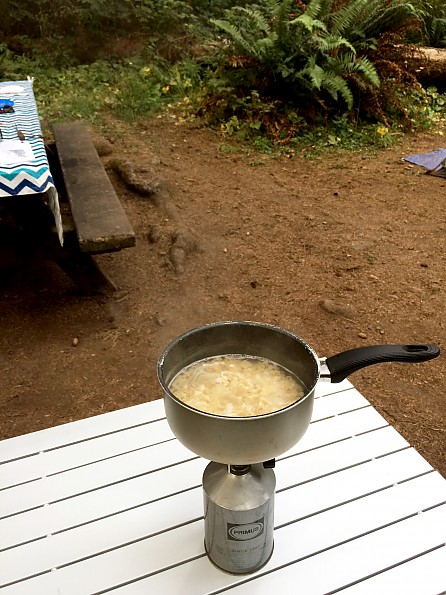 Source: bought it new
Price Paid: $25

Great stove at a Killer Price.
This is one of those instances where you can actually save a little money and not sacrifice on quality. My Primus has performed flawlessly up to 11K feet over its first 50 or so uses and I don't expect anything to change.
It's a solid piece of equipment that boils fast, burns evenly and, so far, has worked in a variety of conditions. I wouldn't hesitate to recommend this tough little stove.
Source: bought it new
Price Paid: $30

This stove is great, especially for the price. I have taken it on almost every backpacking trip I have been on for the past two years. It boils water for my freeze dried meals very quickly (2 minutes or so) and has a wide range of heat for different kinds of meals. No complaints.
Price Paid: $25.99

I purchased this stove from Gear For Adventure for 2-3 day trips. At first I brought along a back up multi fuel stove, Just In Case. I didn't need it. This little baby can boil, simmer and cook with no problem.
One of the other reviewers said that there were "sweet spots" on the gas control knobs. I didn't find that so with my unit. As a matter of fact I double checked it at home after the trip and found it smooth as can be.
It is a great companion to the Primus Alpine Light, another purchase from Gear for Adventure, which I have found is a really good resource when it comes to accurate descriptions and great prices. Heck they take PayPal!
Happy Trails!
Price Paid: $24.95

Version reviewed: 1973
I used the original version of this stove in 1973 . It was guaranteed to work at 12,000 feet. We used it on Mount Whitney 14496.811 feet and it worked great. At Dicks Lake the temperature was 0-ish, the wind was blowing at 35-40 mph, and it boiled water in 10 minutes.
Without this stove my brother Michael and I would have never done our 1400+ miles of the Pacific Crest Trail.
Source: bought it new
Price Paid: $20

Great stove for the beginning backpacker and weekend warrior! I have several backpacking stoves but I keep going back to the Classic Trail because of the reliability and ease of use.
Pros
Easy to use
Boils water in approx. 3 minutes
Cons
A bit heavy for the weight-minded hiker
I stumbled upon this neat little stove online and the first thing I noticed was the amazing price compared to other stoves on the market. I had been thinking about a stove I could use for just grab-and-go weekend trips and nights on the river where ultra-light wasn't a concern. 
The stove comes in two separate pieces in a decent drawstring bag that makes it convenient to stow. I feel that it is one of the easiest stoves to operate on the market and the output is remarkable. 
The first time I used this stove was on a hunting trip and we used it as an additional source for cooking next to our Coleman multi fuel. Everyone in the hunting party was impressed with how quickly it boiled water and the simple setup. I was able to boil water for potatoes and noodles in approximately 3 minutes in sheltered conditions. 
One of the nicest features is the large pot stand. When I take this stove in the backcountry I am not concerned about my cook pot dumping or upsetting the stove. I would consider it one of the safest stoves on the market. 
I have passed up more high dollar stoves in my gear inventory and taken this little gem to places such as Patagonia, backpacking in the Mojave, canoeing, river rafting and hunting. It is not only for the budget-minded, it is for anyone that enjoys simplicity and downright usefulness.
Source: bought it new
Price Paid: $25

Handy little stove that does the job. Packs easily and works effortlessly.
Cons
Bit heavier than I wanted, but the price offsets that.
Just picked up a Primus trail stove classic. Very simple to use and very straightforward stove.
Didn't use it in very high wind so cannot comment how it works in that type of weather.
Used it 3 times on my last 3-day trip.
I used it at an elevation of about 5500-6000 feet and it wasn't a long wait time for water to boil. Sets up very easy and putting it away is just as simple.
All in all a very decent stove.  It was a bit heavier than the PocketRocket and SuperFly I was looking at, but for 25 bucks you cannot complain!
Source: bought it new
Price Paid: $25

Great little backpacking stove. A stove of this type is necessary for your fast and light arsenal, or really just anyone who backpacks. Not the lightest of this type, but inexpensive and very reliable
Pros
Weight
Performance
Simplicity
Put it on top of your canister, turn on the gas, light the gas. Cook. Eat. Repeat.  That's the name of the game here.  No more pumping, filtering, stabilizing. The canister system made famous by Jetboil remains the go-to for my fast and light system.  
This goes inside of my cook set. It's small, stable, and so easy to light at high winds and high altitudes. I do recommend heavy duty "foil" to wrap around the system, then you have your own inexpensive, insulated, lightweight, Jetboil.  
The stove is a little bigger than other on-the-canister stoves, but that makes it hold pots better. Less scalding fingers. I have used this on week-longs, 50-milers, snow camps and picnics.  
I highly recommend this stove.
Source: bought it new
Price Paid: $27

I bought this and compared it with Pocket Rocket, SnowPeak Giga, and Coleman Peak canister stove. First, this stove is FAR more stable when it comes to holding a can or pot or pan. The stove boiled 2 cups of water 45 seconds to a minute faster than the others. (4700 feet) This stove has far better at flame control (simmering) than the others. The SnowPeak Giga and PocketRocket cool down faster (able to touch metal to put away).
In my opinion, the stability, the faster cook time, and ability to simmer makes the 3 or 4 extra ounces in weight ok with me. I like it!
Price Paid: $25

Your Review
Where to Buy
Help support this site by making your next gear purchase through one of the links above. Click a link, buy what you need, and the seller will contribute a portion of the purchase price to support Trailspace's independent gear reviews.
You May Like
Specs
Price
MSRP: $24.95
Current Retail: $24.95
Historic Range: $14.95-$45.50
Reviewers Paid: $20.00-$30.00

Weight
6.9 oz

Dimensions
4.9 x 4.9 x 3.2 in

Output
10,000 BTU

Feeds
1-3

History
Launched in the early 1980s, the Mimer (Classic Trail) Stove has become the essential workhorse stove

Recently on Trailspace