MSR SuperFly

The SuperFly has been discontinued. If you're looking for something new, check out the best compressed fuel canister stoves for 2023.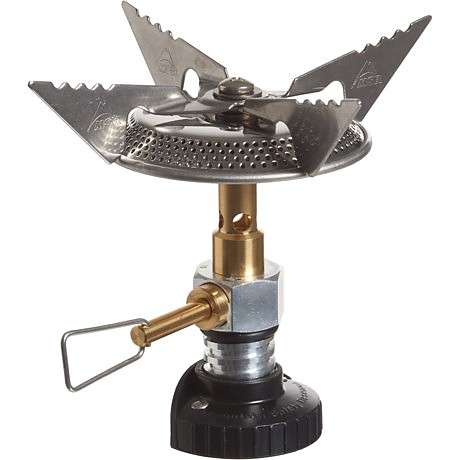 Robust pot supports and a wide burner head bridge the gap between minimalist trail cooking and gourmet campsite cooking. My go-to canister stove, even if I'm car camping.
Pros
Robust and wide pot supports
Wide, dispersed, controllable flame
Compact and packable size
Fuel efficient
Cons
Pot supports warp with use and heat
Large burner head and pot supports mean less packability
SIZE AND PACKABILITY
4.9 in x 4 in
4.6 oz
MSR stuff sack included.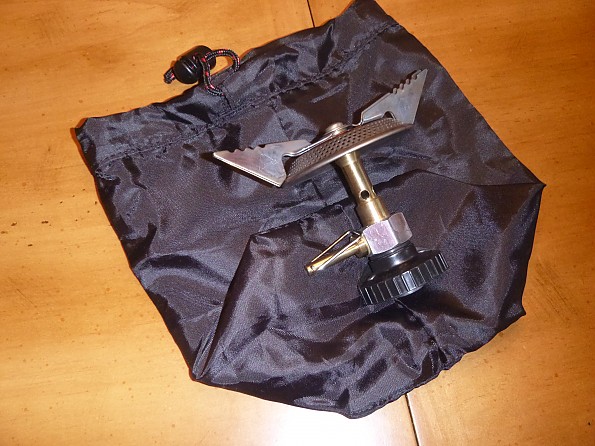 I actually prefer a stuff sack to a hard carrying case.
It not only takes up less room in your cook kit or pack, but it's flexible and items can be tightly packed around it, if need be.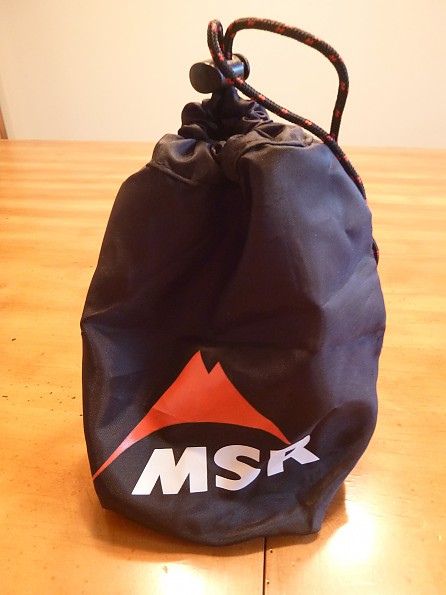 ASSEMBLY
Easy as easy can be:
Screw the plastic mount collar all the way down the threads.
Slide the plastic collar over the canister valve.
Tighten the stove down, holding the collar in place, until flush with the canister.
Turn the pot supports 90 degrees to evenly support all four quadrants of the pot.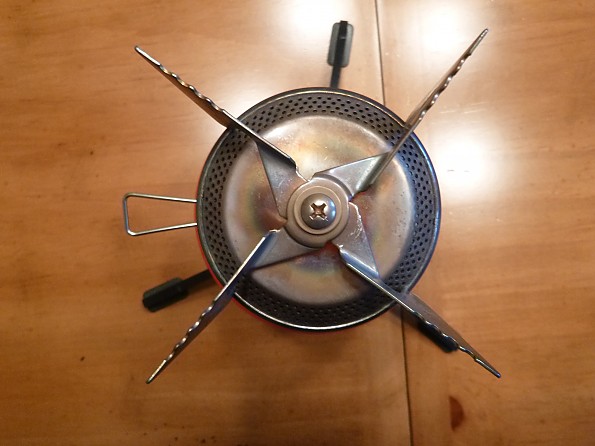 Flip out the fuel adjustment toggle, and done.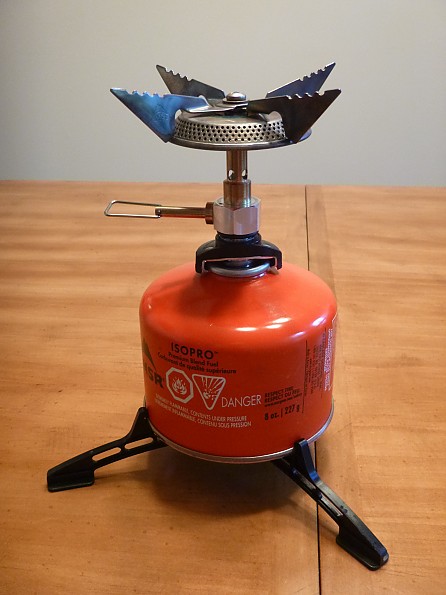 STABILITY
The pot supports are large and robust.
I don't worry about a meal tipping over if it's cooking atop these. Stable as stable can be.
I don't know if MSR makes a more stable, upright canister, backpacking stove.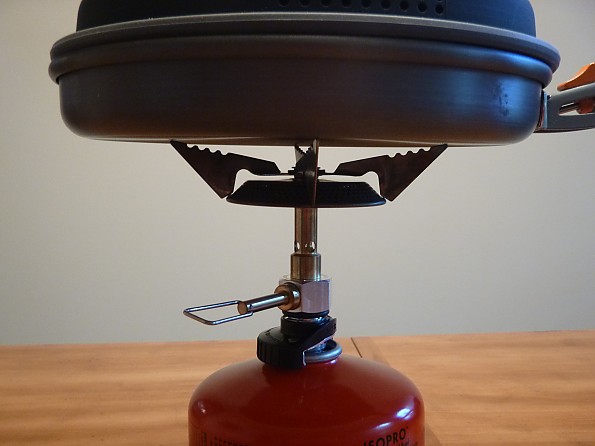 DEXTERITY
(This stove has no trouble finding a groove to dig into)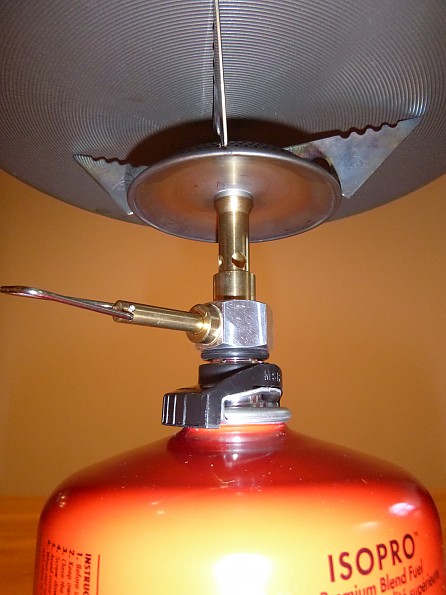 IGNITION AND WIND-RESISTANCE
Ignition's a cinch. I've never once had trouble lighting it, or keeping it lit - even with 40 to 50MPH winds that ripped grommets from my tarps! Although an "autostart" piezo igniter's a nice idea, I'm a firm believer in "The Less Moving Parts, The Better" school of thought, and a BIC (or even a match) works just fine.
FLAME CONTROL AND DISPERSION
The burner head is large and better disperses the heat more widely than some of MSR's smaller models (PocketRocket, MicroRocket). This is a matter of preference and cooking needs, but I like that I can simmer meals on this stove. The large, wire valve control is conveniently large enough to use if operating the stove while wearing gloves (even if you've gorilla-sized mitts like I do).
BOIL TIME
If you're in a hurry, it'll boil a liter of water in 3 minutes and change.
If you're not, it'll do it anyhow! There are worse problems. 
FUEL USE AND EFFICIENCY
It sips fuel, and frugally at that. I can't tell you how many meals I cooked on this thing after I was absolutely certain I was out of fuel. One stove and one eight-ounce canister of IsoPro will easily get a couple backpackers by for a weekend trip, especially if they're only boiling water for freeze-dried meals and morning coffee/cocoa.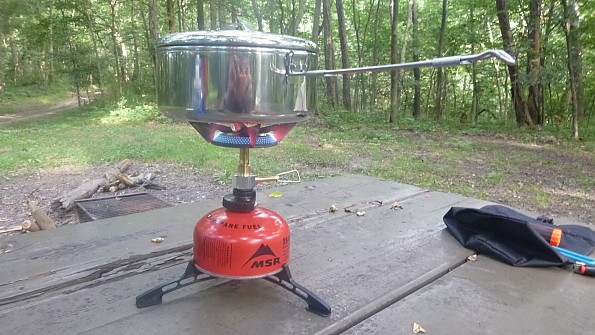 DURABILITY
However, after cooking over a hot flame and after getting some miles put onto this stove, you'll find the pot supports will warp. Now, by "Warp," I mean the metal will expand and make the supports a little harder to turn. Keep the unit clean, and they'll move freely again with a little elbow grease. An adjustable center screw can also be loosened or tightened accordingly.
MY TWO CENTS
This stove probably ranks right next to my tent as far as favorite gear goes, and proved to me why the MSR name is as popular and long-lasting as it is.
TIPS
I actually own TWO of these SuperFly stoves, bringing the second along with me on car camping trips.
I consider them a detachable two-burner stove.
This allows my cooking partner and myself to divide the picnic table in half and give us each our own prep areas. Moreover, since we're operating on two separate fuel bottles, if one unit runs out of gas, we can still continue to cook on the other.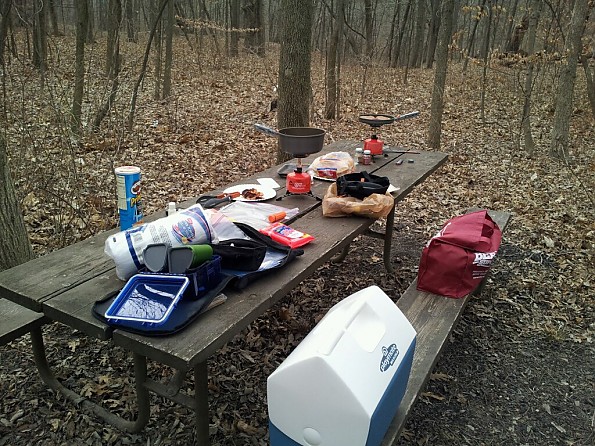 Source: bought it new
Price Paid: $33.99

Solid choice for minimalists who want to do more than boil water. Broad compatibility with fuel canisters from vendors across the globe is a big plus.
Pros
No nonsense, sturdy design
Fairly priced
Cons
Kind of an awkward shape in your pack
Pot supports could be sharp in your pack
I imagine the MSR PocketRocket outsells the SuperFly by a large margin as it's lighter, smaller, and cheaper, but there's a place for this stove among campers who expect to do more than boil water. With its broad burner, the SuperFly spreads heat nicely, and can reliably scramble eggs, saute vegetables, brown hamburger etc. just as you might at home, with no worries of scorching food in the center of the pan. If you need to boil a pot of water, it can do that too and quickly.
Setup is a little different with this stove as it has the ability to work with canisters from a variety of vendors. Once you get the hang of screwing the stove onto the canister, it will become second nature. And it's nice to know you can use it with just about any brand of canister, even Bleuet Camping Gaz in Europe.

Flame control is very easy from simmer to roaring flame, with bare hand or glove.

The stove lights easily with a Bic lighter or match. (I don't have the self-lighting one.)

The pot supports serve as a windscreen, but not a great one. You'll want to improvise a windscreen anytime there's a breeze.

Stability hasn't been an issue for us, though we never buy the narrow little Snow Peak canisters out of concern for stability. There is a three-footed stabilizer you can get if you want it.

Packability is not its strong suit; it's rather awkwardly shaped when packed. Pack its stuff sack among things that will fill in around its odd contours.

The construction is solid, and I don't foresee it doing anything other than its job for many may years to come.
Most of the hype these days is on integrated stoves and cook kits, and none of that applies here. This is simply a stove. So the heat transfer efficiency that's been achieved in the setups with integrated wind screens and built-in heat-exchangers on the pots etc. doesn't apply. Blessing and a curse. This is lighter, though more heat is wasted so on a long trip so you'll have to carry more fuel.
We're happy to have this stove, but when we got it, MSR Reactor / Jetboil systems weren't yet available. I have no plan to replace the Superfly, but if I were shopping now, I might seriously consider one of the newer systems — or not, depending on the ruggedness/simplicity/price of the product.
Hope this helps. Have fun!
Source: bought it new
Price Paid: $65

I needed a new stove and was leaving on a trip that day so I picked this one up at REI. The stove worked great. Easy to setup and easy to carry.
Price Paid: $59.99

I agree with the others on this stove for the most part. One of my favorite features is it can adapt to just about any canister. I haven't found one it won't work with. I have also used it to an altitude of about 10,600 feet and it worked perfectly fine.
As far as winter camping goes (yes in the snow) I had no issues with it when I used the IsoPro fuel. Though I haven't used it below about 14 degrees farenheit. I have 4 years on this stove myself and it gets used a minimum of at least once a month.
We were on an 8-day family trip for the 6 of us and our Coleman 2 burner propane went down on us the morning of day 3. We used the SuperFly to boil water, cook breakfast the rest of the trip (and lots of foil meals over the fire). It is an excellent back up. One of the best parts is how sturdy the pot stand is. I have had issues with a few others. It is a winner.
Price Paid: $49

Great lightweight backpacking stove. Heats up grub quickly and is compatible with many brand propane canisters.
Pros
Small enough
Lightweight
Stable
Quick heating
Interchangeable brands of propane
Cons
Head is a little large (also a benefit), just be sure to wrap it with something so it doesn't damage your pack.
I've been using mine for years and wouldn't trade it for another. The best thing is it will fit most any brand gas canister. This makes it a lot easier if you need to pick up some fuel in a hurry, you can stop at any camping store and grab whatever brand they have. Or borrow one from a fellow camper.
This stove just works great and is all you need unless you're doing really high elevations.
Source: bought it new

Decent all round stove.
Pros
Not too heavy
Stable pot arms
Cheap
Cooks well
Rugged
Cons
Doesn't fit conveniently into anything
The Superfly is a simple stove that works well for moderate use.
Cooking on it is better than the Pocket or Micro Rockets from MSR as the burner is wider than average so it provides a much better simmer. It takes a couple minutes to boil 1.5L of water. The same burner makes it harder to fit well into pots. 
Outside of that it is your average canister style stove. Fuel consumption is average, as is its weaknesses to the winds. 
Overall not a bad buy. Simple and cooks well.
Source: bought via a "pro deal"

This is a great stove. I've found that this stove is easy to light and has great temp control. I was also surprised by how stable I found this stove while using an 8 oz fuel canister. My only gripe (and it's a minor gripe at that) is that the pot supports can be difficult to move, but again this is only a minor gripe.
Price Paid: $59.95

I have used this stove for about four years now and prefer it over my WhisperLite, mainly because of the attributes others talk about. It's fast, easy, requires no pumping and no pouring. It's frugal with fuel and exceptionally dependable. The age old drawback is that canister stoves are not good in the winter...so, the WhisperLite is a great backup.
Good price and GREAT with fuel. I cooked about 7 large meals involving a few courses each and still had plenty of fuel left on one 250 canister. On hikes it's very light and pretty durable. Also, it is quick to boil.
Price Paid: $49

Very easy to set up, no pumping or clogging of fuel. Fast boil time and the fuel canisters last longer than expected.
Price Paid: $49

Very easy to carry and light. A warm weather stove. (Below about 50 degrees, remember to sleep with the canister.)
Your Review
You May Like
Specs
Price
MSRP: $64.95
Historic Range: $31.93-$74.95
Reviewers Paid: $33.99-$65.00

Fuel
isobutane/propane, MSR IsoPro

Boil time for 1 L of water
3 minutes

Water boiled per 1 oz of fuel
1.8 liters

Weight
5.1 oz / 4.6 oz

Recently on Trailspace