MSR Lightning Trail

#1 in Hiking Snowshoes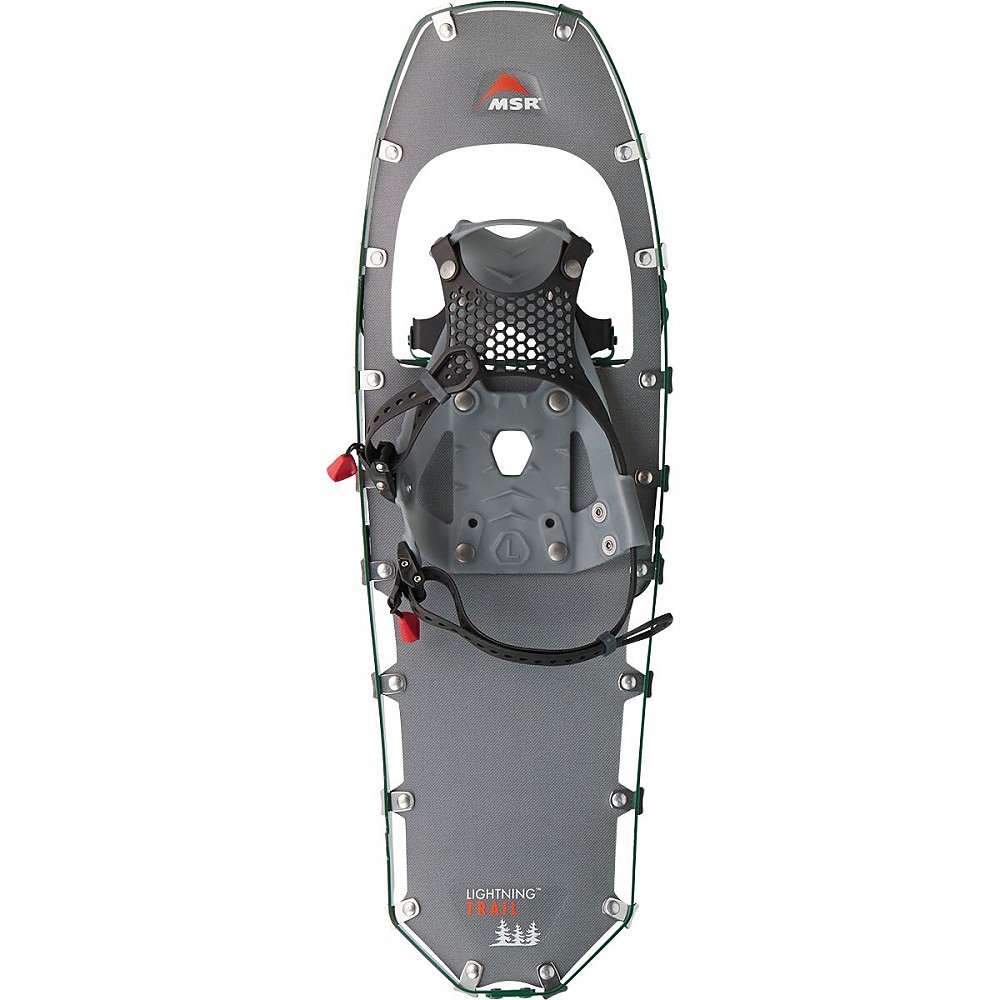 New for Fall 2022, this is an early look at MSR's Lightning Trail snowshoes updated with new Paraglide bindings. A rugged, but lightweight shoe meant for rolling terrain. Great for folks who won't be climbing mountains and now easier to get on and off your feet.
Pros
New Paraglide bindings are super easy
Light on the feet
Good traction on crusty trails
Solid construction
Flexible deck
Cons
Heel traction bar location?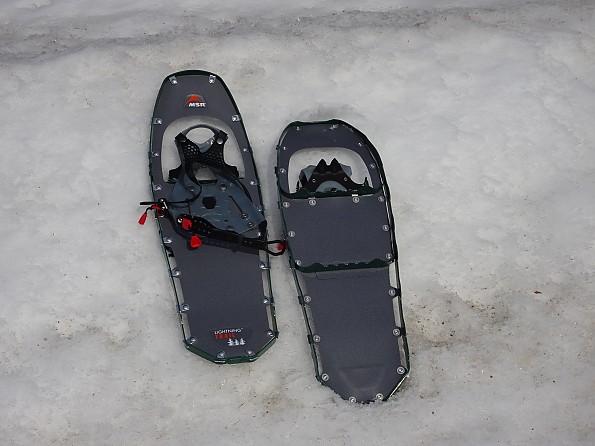 MSR has been making great snowshoes for a long time, but that doesn't stop them from trying to make them better. In recent years they have changed the bindings on their Lightning Ascent and Revo Ascent models to use what they have named the new Paragon binding. Employing a flexible mesh panel that wraps about the front of the foot they reduced the number of strap connections to two.
Now they have taken that same approach to create the Paraglide bindings which will be coming to the Lightning Trail, Revo Trail, and Evo Trail shoes for Fall of '22.
The samples available for early testing didn't arrive until late winter, so I haven't been able to give them my usual thorough testing. Consider this a sneak peek, mostly focused on looking at the features. I'll do more comprehensive testing next winter, and I will update this review after I've had more chances to beat them up.
Ease of Use:
This is a great place to start because the new Paraglide binding is all about making snowshoes easier. There are a variety of different styles of bindings on the market today and most involve several tricky steps to get everything right. By reducing the number of connections to two the Paraglide binding already has made things easier. The way the connections work is the best part though. It is easy to securely latch and unlatch, even with gloves on. The parts you need to grab are big enough and move easily.
I think looking at this quick video is the best way for me to show you how the new Paraglide bindings work.
As you can see, putting them on is just a matter of stepping into the hard plastic footbed so the toe of the boot meets the front, then securing the front panel connector and tightening the rear strap. If always using the same boot you can leave the heel strap set. Easiest snowshoe binding I've ever used.
Traction:
The Lightning Trail has pretty good traction for its intended use, which is on level or rolling terrain. Hills, but not mountains are its target terrain. The serrations on the metal frame are not as aggressive as those found on my MSR Revo Ascent shoes, but are enough to grab on to even crusty hard-packed trails.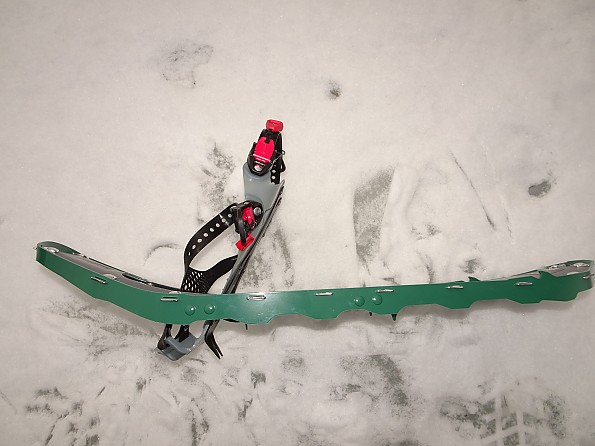 The front traction bar combines with the toe cleat to let you dig into moderate climbs. Note the extension when the toe is fully rotated which is great for grabbing a good toe hold.
There is another traction bar towards the back of the foot which helps on both the up and down side of hills. It is about 10 inches back from the toe, which makes me wonder about folks with smaller feet. I know putting weight on that bar helps it dig in because my heels reach past it.
I didn't push the limits of this traction system by taking them to the mountains with me. Based on my experience these shoes will probably get you up things you won't want to try to get down from in them, heh. The cleats are not designed for steep and will definitely not stop you from sliding down if you push them too far. MSR makes other lines of shoes for that sort of thing. These are designed to give you good grip on reasonable flat and rolling terrain; so as long as you are reasonable, they will deliver.
For more challenging, yet still rolling terrain MSR offers their Explore series, and for those with an eye on going up and down mountains they have their more aggressive Ascent series.
Construction & Durability: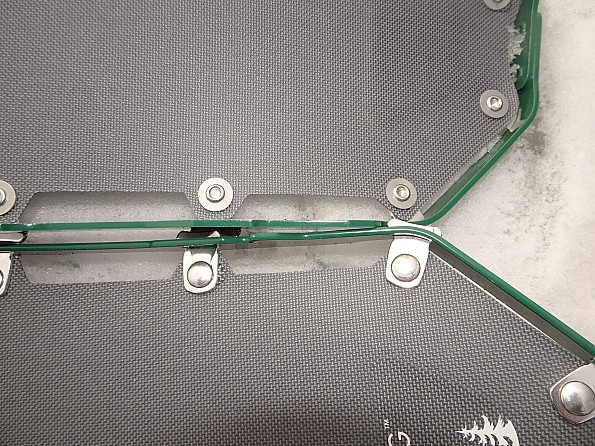 As mentioned, I haven't really had enough time to beat these things up very much. I do have experience with beating up other snowshoes from MSR though, so my expectations are high in that area. Looking at the construction you can see MSR didn't scrimp on the rivets that hold the top deck to the aluminum frame. Keeping them close together secures the deck tautly so it won't be flexing as much on hard pack.
The nylon deck material stays supple even in deep cold. This makes it less likely to be damaged and helps keep the shoes quieter when walking on crusty snow.
The strap material also had pretty good flex in the cold. It was easy enough to adjust, unlike some straps that get a frozen bend that doesn't want to unkink if you try to move it. I've only had it down into the teens, but it stayed flexible rather than feeling frozen hard.
Testing Conditions:
We were lucky enough to get an early look at next season's model of the Lightning Trail snowshoes with the new Paraglide binding. Since it was very late in this season when they arrived I've had limited access to snow locally where these shoes would work best, and they are not made for climbing mountains where the snow is better this time of year. So I was unable to do any float testing, but I was able to get the shoes out on some hard-packed trails and some crusty bushwhacking trying to find deeper powder.
When I have the right local conditions next season I will test them out in a wider variety of conditions, especially deep powder so we can test out the float.
Conclusions: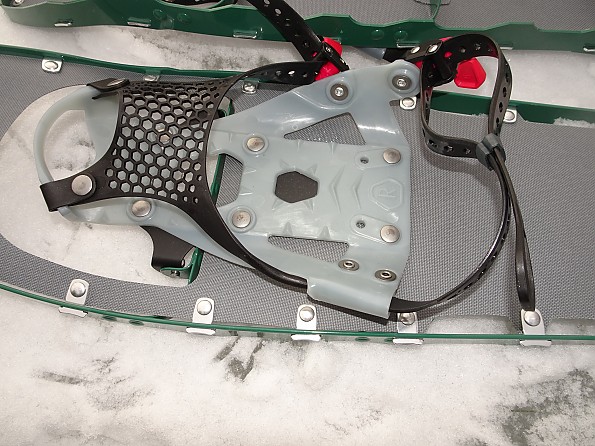 There is no denying that MSR's new Paraglide binding is awesome. Getting snowshoes on and off is a chore that no one enjoys. I really think that fact is why more folks don't snowshoe; it is just such a struggle. This binding really simplifies the process without losing sight of the importance of the shoes sticking securely to your boots. Simple, yet functional is a major goal of design and this binding is a success on those terms. Being able to manage the straps and toggles with gloves on is a definite bonus.
I was wondering about the front strap catching on vegetation sticking up through the snow though. Then we received word that the final version to be released this fall will have a retaining clip as you can see in the pic below.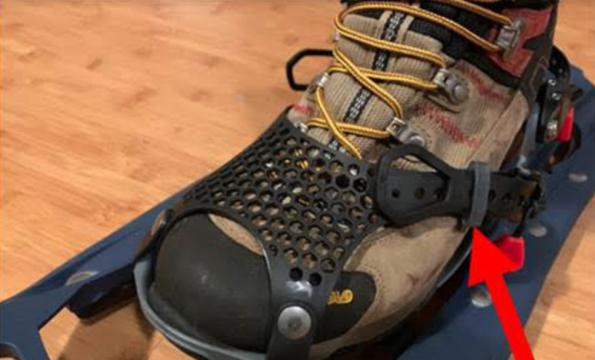 I feel bad not being able to talk about float in this review, but I did have a chance to test the Lightning Trails on some icy crust to see the traction works well. Up and down hill were manageable with secure steps as the serrated edges did their thing. Those edges definitely add lateral stability, keeping the shoes from sliding out to the side.
Based on previous experience I know MSR makes solid snowshoes. My Revo Ascents survived many years of hard use on the rocky and icy mountains I visit in winter. Holding these Lightning Trails in my hand they have that solid feel I expect from the company, so I'd expect these to last for many seasons of casual use. I would caution those who expect to take on more challenging terrain to consider aiming for shoes with more traction though like the shoes in the Explore or Ascent lines. The Trail series of shoes are not meant for mountains and while they are great on the golf course or in the woods, I think they would be scary coming down a mountain.
So, for now I'll leave this review as an introduction to MSR's new Paraglide binding and an overview of the features of the Lightning Trail snowshoes. I will update on how they float and how they hold up to more extended use after more testing next winter.
Experience
I received these sample shoes in late winter, so testing was limited to some hard crust. Since moving to New England over a decade ago I've done a lot of snowshoeing locally both on flatter terrain and in the mountains of Western Maine and New Hampshire.
Source: received for testing via the Trailspace Review Corps (Sample for testing and review provided by MSR)

Version reviewed: 25
Rugged snowshoes that you'll forget you're even wearing due to their light weight. Three-strap bindings keep them securely on your feet, and the 360 Degree Traction frame and toothed crossbars keep you securely on the ground.
Pros
Lightweight
Traction
Secure bindings
Even the most hardcore people—which I certainly am not!—take it easier sometimes, and that's what MSR Lightning Trail snowshoes are for. When you're not doing prolonged ascents in the mountains the extra weight of heel lifters and a more beefy frame is just that—extra weight—and the Lightning Trails help you lighten your load.
According to MSR these weigh in at 3lb 6oz, 1lb 3oz lighter than my MSR Lightning Ascent 30s and over 2 pounds lighter than the 5lb 7oz GV Mountain Extreme 830s I've been using for most of the season, and you definitely can feel the difference. The shorter length makes maneuvering much easier on tight, narrow trails and when picking your way between off-trail trees. Lightning Tails can easily be attached for more flotation in softer snow or when carrying a load.
The typical MSR traction means you can pay more attention to the winter landscape around you instead of where you place your feet on every step. Freeze-proof bindings with two straps over the toes and instep and one heel strap secure your feet so they can take advantage of all that traction.
I picked these up a couple years ago for my almost daily hikes on established trails in town. They're also perfect for late-season consolidated or wet snow that doesn't compress very much. With my pack I'm about 75 lbs heavier than the 220 lbs recommended max for these 'shoes, but going off trail is easy since I only sink maybe 3-4 inches. Combined with my close-fitting Asolo Fugitive GTX I can really race around the trail network and get a better workout. It's like wearing running shoes vs hiking boots, and I can go every afternoon instead of every other and not be footsore when it's time for the weekend trek with my snowshoeing partner.
The MSR Lightning Trail 25, men's model.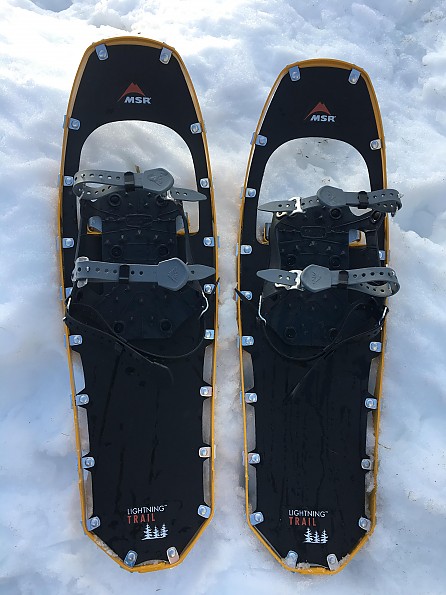 Closeup of the toothed crossbars and binding pivot. There are no bushings in the pivot so the steel pin rides directly in the aluminum frame, but I haven't noticed any wear on either these or my Lightning Ascents that have seen much more use.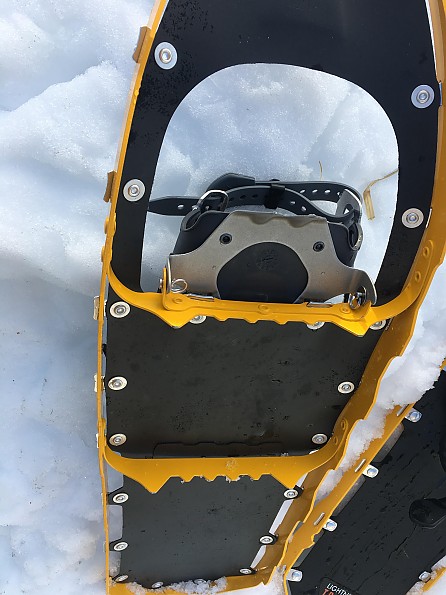 A better shot of the 360 Degree Traction frame, showing the less-aggressive serrations that aren't meant to grip the ice and bare rock found on mountains. The toe crampons are similarly less hardcore, but will dig in very nicely just the same.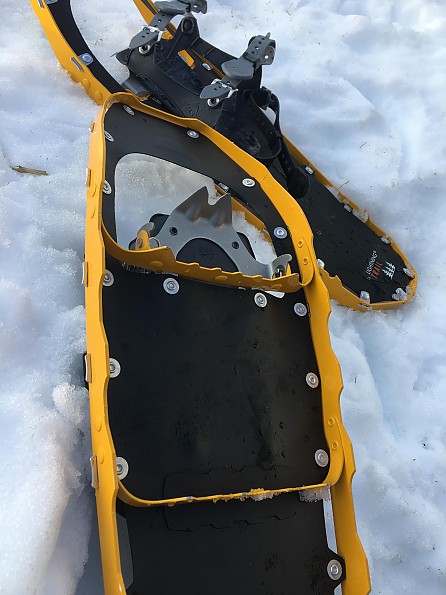 Out on the local trails this afternoon. Base depth appeared to be a well-solidified 10-12" or so, and with temps in the mid 40s it was all good snowball snow. A little slippery, in other words. Racing up, down, and across hills—well, "racing" by my standards, anyway—the only reason I even came close to losing my footing was postholes left by people without snowshoes.
I really like these snowshoes, going lighter and without the overkill of a 30" ascent snowshoe or a 36" backcountry touring model has made my almost-daily hikes more enjoyable and easier on my beat-up body. 
Update 30 March 2019
I'm revisiting this review after using the Lightning Trails fairly frequently this winter. They were my snowshoe of choice for the groomed (usually) trails at the Unity College Sky Lodge in next-door Moose River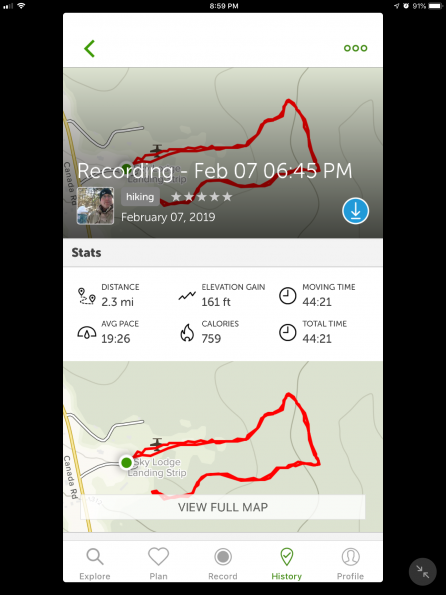 and since the temps have warmed up I've been using them on my almost daily off-trail wandering. Though I've spent enough time in the area over the past 6 weeks that I've left a lot of paths, if not exactly trails!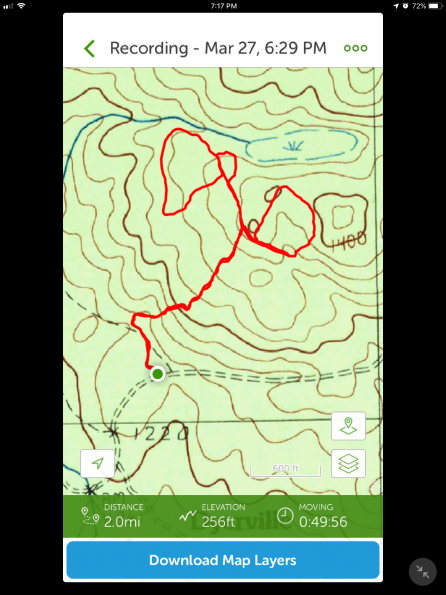 I think the only time I really had to exercise any caution with my footing was this morning, the snow was frozen to a hard crust after temps dropped below freezing last night and on a few inclines I had to stamp my feet 2 or 3 times for a good bite. Other than that, using these is like walking on dry ground—you simply walk with no concerns. 
The largest size the Lightning Trails are available in is 25", I really wish they came in 30" because with my recent and ongoing weight loss they'd be perfect for a lot of my treks. But if I keep making progress the 25s may fill the bill next winter. Regardless, they fill an important niche in my snowshoe collection.
Rugged, lightweight, and comfortable, with excellent traction, I recommend the Lightning Trails without reservation. You won't be disappointed if you buy them. 
Source: bought it new
Price Paid: $220

Your Review
Where to Buy
Help support this site by making your next gear purchase through one of the links above. Click a link, buy what you need, and the seller will contribute a portion of the purchase price to support Trailspace's independent gear reviews.
You May Like
Specs
Men's
22 in
25 in
Price
MSRP: $219.95
Current Retail: $167.99-$239.95
Historic Range: $144.95-$239.95
Reviewers Paid: $220.00

Weight per pair
3 lbs 3 oz / 1.45 kg
3 lbs 6 oz / 1.52 kg
Width
8 in / 20 cm

Load
Up to 180 lbs / Up to 80 kilos
120-220 lbs / 54-100+ kilos
Load with tails
Up to 250 lbs / Up to 114 kilos
Up to 240 lbs / Up to 109 kilos
Frame material
7075-T6 Aluminum

Deck material
TPU coated Nylon

Women's
22 in
25 in
Price
MSRP: $219.95
Current Retail: $167.99-$239.95
Historic Range: $134.95-$239.95

Weight per pair
2 lbs 15 oz / 1.33 kg
3 lbs 1 oz / 1.40 kg
Width
7.25 in / 18 cm

Load
Up to 180 lbs / Up to 80 kilos
120-210 lbs / 54-95 kilos
Load with Tails
120-280 lbs / 54-127 kilos
120-270 lbs / 54-123 kilos
Frame material
7075-T6 Aluminum

Deck material
TPU coated Nylon

Recently on Trailspace