GV Snowshoes Mountain Extreme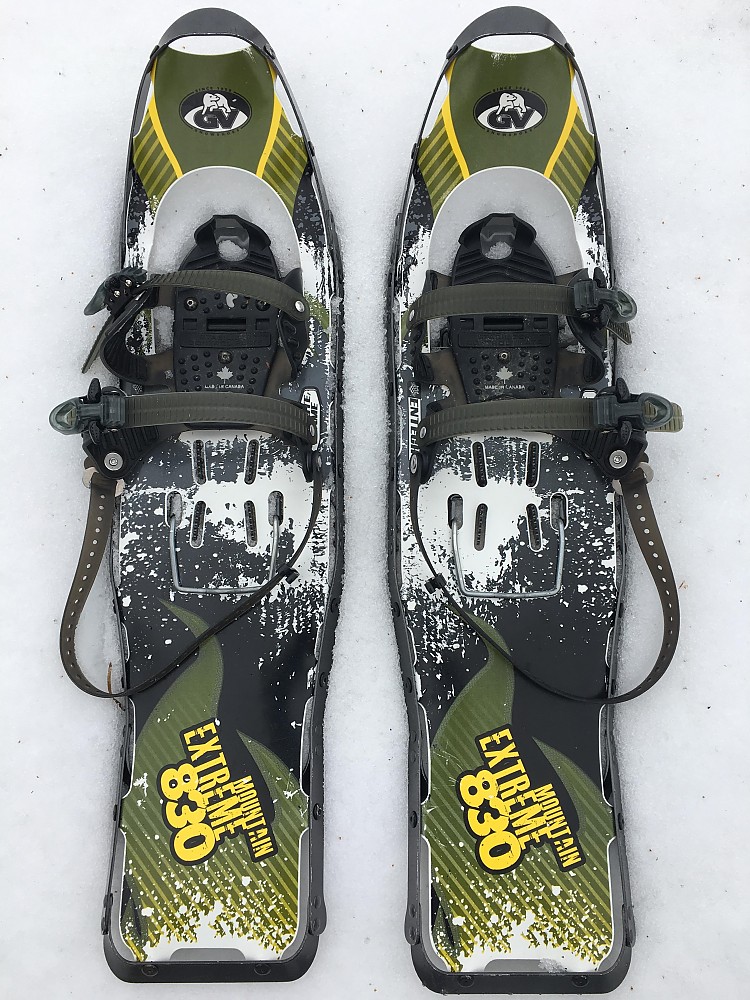 The GV Mountain Extremes are lightweight backcountry snowshoes suitable for the steepest terrain. The traction frame design and crossbars help you stick on ascents, descents, and traverses. Ratchet bindings allow for quick and easy donning and doffing.
Pros
Traction frame
Rugged decking
Ratchet bindings
Heel lifters
Heel supports
Toe stops
Cons
Heavier than similar snowshoes by other manufacturers
Bindings don't pack very flat
GV Snowshoes is a Canadian manufacturer of traditional and modern snowshoes, established in 1959. Their snowshoes are made in Canada. The Mountain Extreme is a backcountry snowshoe, especially at home on steep terrain with crusty, hard packed snow. My model is the 830, which is my favorite size even though I'm quite a bit heavier than their recommended load.
Mountain Extreme 830.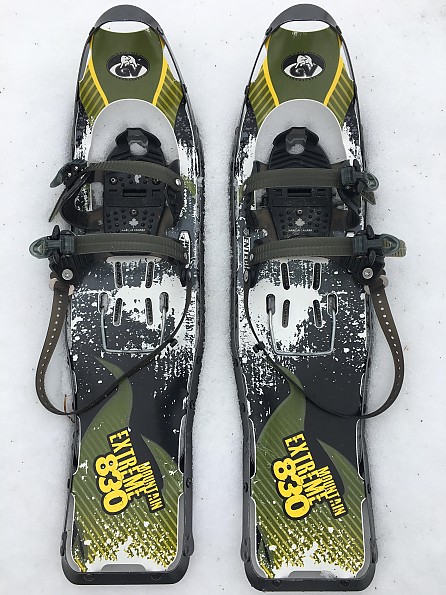 "Rambus" ratchet bindings.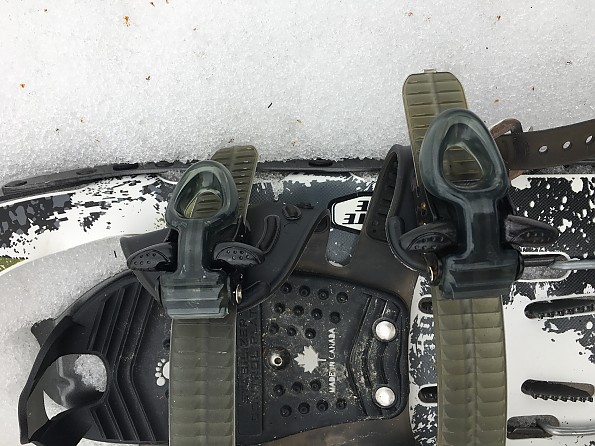 Push the two ears toward the lever to release. The entire mechanism is plastic, hopefully they're durable enough to last long-term. They are comfortable, with straps wide enough not to cause pressure points. The straps are very long, however, and with regular hiking or winter boots the ends of the straps almost reach the ground. My Sorel Conquests fill them much better, but I haven't needed to wear those yet this winter.
The foot plate with integral toe stop.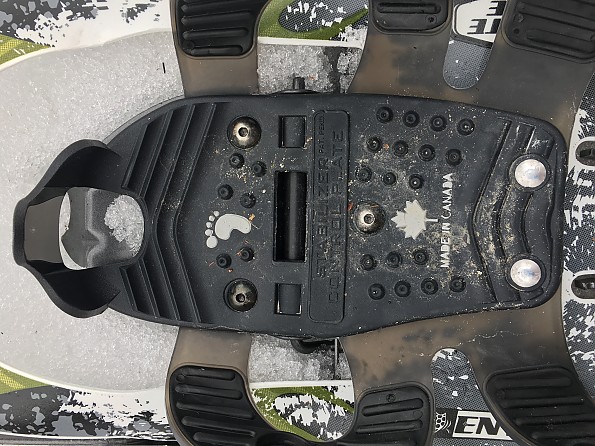 I really like this feature, on extended descents you don't have to tighten the straps to keep your boot from sliding forward in the binding. 
The heel strap has the typical pin-style buckle with a clip to secure the free end of the strap.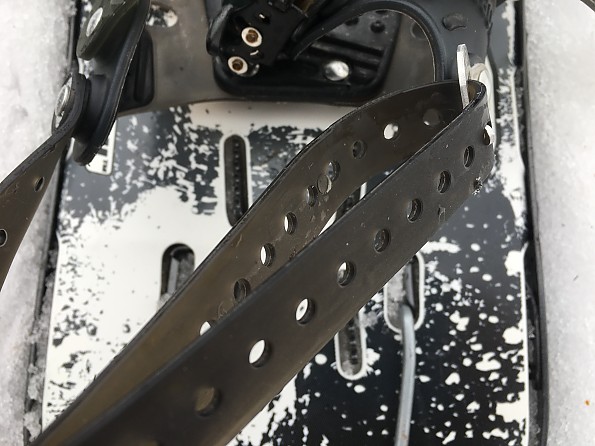 There's a nub inside the clip that engages the holes in the strap to help lock it into the clip. 
The heel supports (for lack of a better term.) These keep your heel from resting directly on the decking and wearing it down.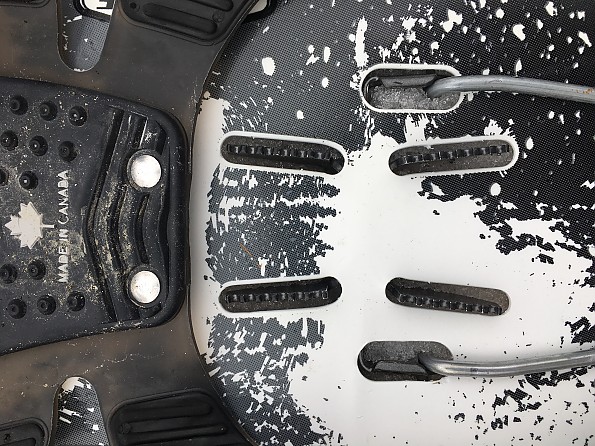 The heel supports are riveted to one of the traction crossbars, so you can really stamp that sucker into crust or ice.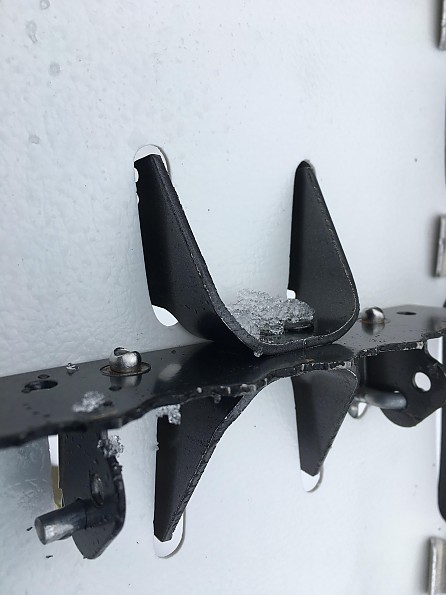 The two toothed crossbars, and the toothed section of the traction frame. The frame and crossbars really do dig in deeply, perfect for ascents, descents, and traverses.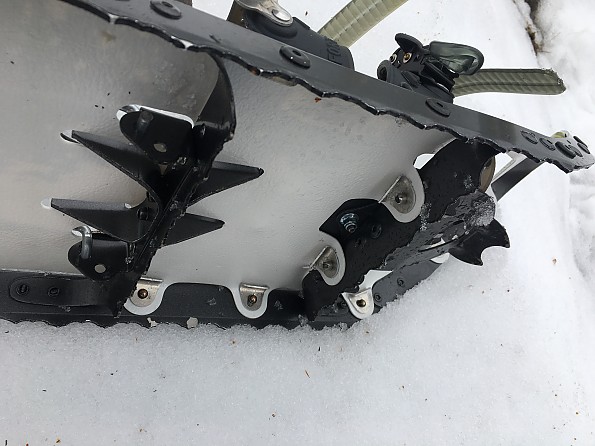 The rear of the frame is smooth on the bottom, as is the rearmost crossbar.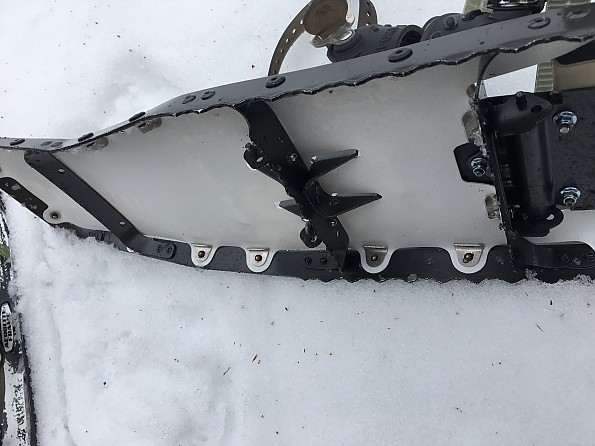 The pivoting toe crampon, made of steel.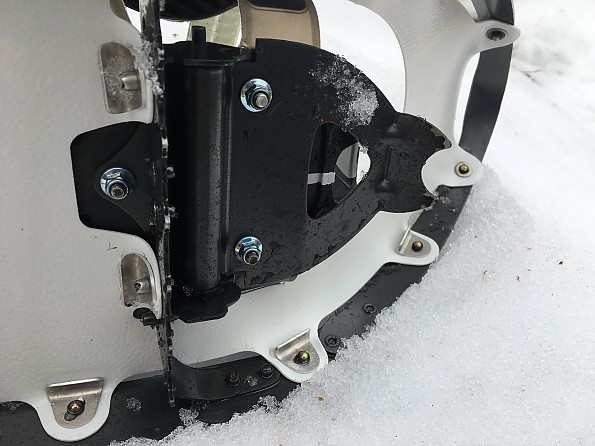 Not as aggressive as some, but I never felt like I needed more traction. Notice the washers used to spread out the load on the decking rivets.
I bought these snowshoes used from an auction site last year, but due to getting almost no snow I only got to use them three or four times. My first experience on steep terrain wasn't very promising; while climbing the defunct Saddleback Mountain ski area in Rangeley, Maine, both heel lifters bent and just flopped around uselessly. I aborted my climb and later sent them back for repair under warranty, but didn't use them again last winter. The heel lifters were repaired, and they also installed updated ratchet bindings. I had them back in a little over a week, which I was very impressed with.
This winter we've had less snow than usual, but enough that I've been able to get out on a regular basis and use the Mountain Extremes pretty hard. I have to admit I was trying to see if I could get the heel lifters to fail again, but I haven't had any success so far. The snow is very crusty due to rain and warm days with nights below freezing, so really stamping them in on climbs is necessary.
The heel lifters engage positively and fairly stiffly, but aren't too stiff to raise with a trekking pole handle—lowering them is another story, however. I pull them down by hand, and am just waiting for the day I rip my knuckles open on the heel supports.
Speaking of the heel supports, pressing down on them causes the crossbar on which they're riveted to flex. This may or may not turn out to be a problem in the long term.
Backcountry snowboarders or explorers who plan to strap these 'shoes to a pack will notice the bindings are bulky and don't pack very flat. They're packable, just bulky. I strap one 'shoe to each side of my pack when walking on dirt roads from the parking area to the trailhead.
Today's trek involved an elevation gain of approximately 600' over a horizontal distance of about 4500 feet, all cross-country through fairly dense forest. We did a lot of meandering to find the clearest path, and the ground had a lot of folds in it so we often gained the same altitude 2 or 3 times. There were patches of bare ground, small streams to leap across, and quite a few rockpiles and stone walls partially covered with snow. Despite being stabbed by a lot of branches sticking out of the snow the decking sustained no damage. The Mountain Extremes tackled all obstacles without a hitch. 
Our destination: the unused fire tower on top of Ossipee Hill in Waterboro, Maine.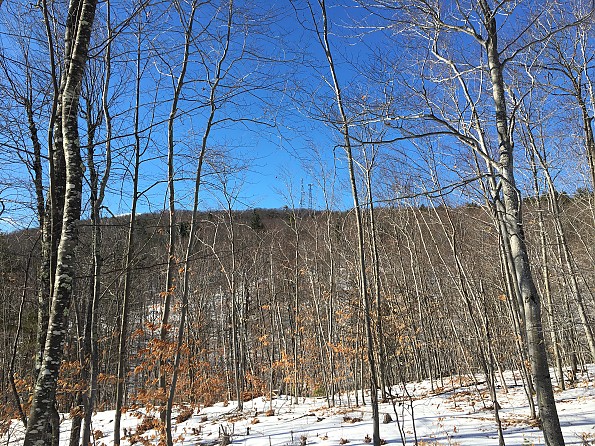 Zoomed in from the same spot.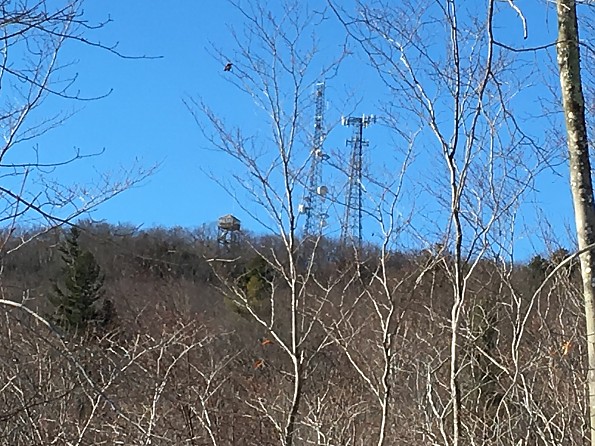 Temps were in the low 30s with wind out of the northwest at probably 20mph, but we only felt it on the more exposed sections of the climb. It felt good after sweating our way up the hill! The fire tower was more rickety than I wanted to deal with, plus I REALLY don't like ladders. Of course, now I wish I'd just grabbed 'em and gone up for pics LOL. I did get these from the base of the tower. (My panoramic shot is too large to upload.)
And one from a small family cemetery we passed on the way down the hill.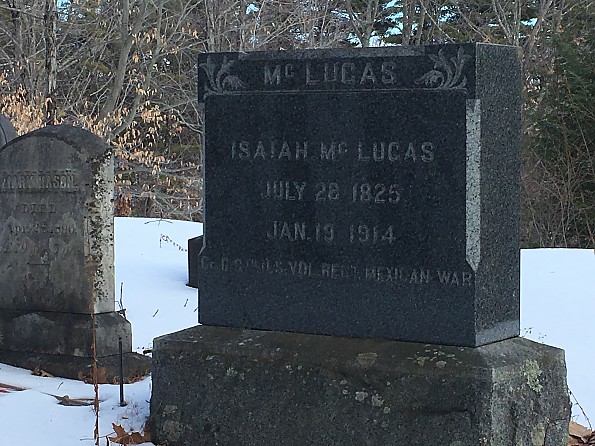 Isaiah McLucas
Company "G", 9th U.S. Volunteer Regiment, Mexican-American War. That Maine boy was a long way from home!
In summary, I've found the GV Snowshoes Mountain Extreme to be a rugged, durable snowshoe for use both on and off trail. Given the favorable (for Americans) exchange rate between the USD and CAD, these are very economical ($150-ish) backcountry snowshoes when compared to more expensive products from more well-known brands. Apparently I overpaid for mine! I recommend them without reservation.
Update 03-04-17

Well, it's starting to look like snow season is over for this winter, and I have a couple comments to make about my Mountain Extremes after about a month of fairly hard use. I'm even more impressed with their performance than I was when I wrote the review, having used them in softer, wet snow along with the hard, crusty snow from earlier in the year.
My most recent trek was last Saturday, and with rain and temps in the 40s or higher all week there was a lot of bare ground and slushy areas. More than a few times I found my feet almost ankle-deep in slush covered by a thin layer of snow, but the binding ratchets weren't affected and the bumps and ridges on the foot plates kept balling to a minimum. Like earlier in the year I stepped on a lot of rocks, branches, and bare ground, but this time the ground was mushy. None of that made a difference.
I'm not sure how the graphics are applied to the deck, but with hard use the paint/ink comes off. It looks like about 30% of the decking is now graphic-free. No big deal to me, I'm much more impressed how the decking isn't torn or punctured despite all the hard, sharp things it's come in contact with.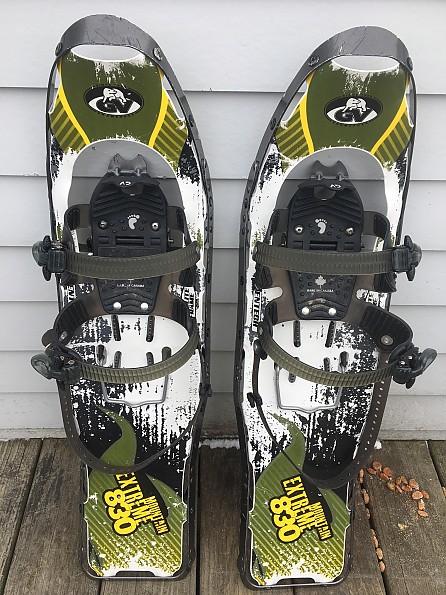 Some rivets that hold the footplate/pivot to the crossbar had loosened up over the winter so I ground the heads off and pop-riveted everything back together. I used steel rivets with steel mandrels and washers so maybe they'll take longer to loosen up than aluminum rivets. 
There's a split plastic tube on the steel pivot axle that's used as a bushing, and it's worn enough to cause what might be excessive play. Obviously that's what a bushing is there for, but I think I'm going to make new ones out of a harder plastic for next season. Considering that when you're traveling on a slope all your weight is putting an axial load on the pivot via this plastic tube, the wear doesn't seem excessive for the use they've seen.
My initial recommendation in the review hasn't changed. I still recommend the Mountain Extremes without reservation.
Update 02-27-18
I've been giving the Mountain Extreme 830s a pretty good workout this winter, but this past Saturday saw them put to their biggest test so far. I was at a friend's up in Jackman, Maine, for the weekend, and we decided to go looking for dropped moose antlers. We chose a spot that looked as good as any, got our snowshoes on and let the dogs out, and roamed cross-country till we found some moose tracks to follow. After maybe an hour we decided to head back to the Jeep and just go driving around on the logging roads.
While turning around in the logging road we'd parked on, my front wheels went into the ditch on the roadside and got stuck hard. Using a snowshoe as a shovel I managed to dig out underneath the Jeep so the skid plate and front axle weren't resting on snow and ice, but the rear tires just weren't getting any purchase on the ice. We were on a pretty busy road, as far as logging roads go, but it could still be hours before anyone came by. So I kicked the snowshoes underneath the rear tires, perpendicular to the tires, and had my friend give it a little gas. The tires grabbed the snowshoes and pulled the Jeep out maybe 4-5 inches, so I stuck them under again and had her do the same thing. As I was resetting the snowshoes for the third try a pickup came along and pulled us out. The frames were slightly bent but still perfectly usable. 
Here are pics of before and after I straightened them out, which took about 15 minutes with a vise and a few different styles of Vise Grip pliers. The first two pics show the damage, and the third is after being straightened out. The next to last pic shows the only tear in the decking, and the last pic shows all that the spinning tires did to the decking over one of the crossmembers. It's not worn through or even seriously abraded. So yeah, I'm a little impressed! I think I'll be looking for another winch and a removable winch mount that slides in the trailer hitch, though, instead of depending on my snowshoes as traction mats.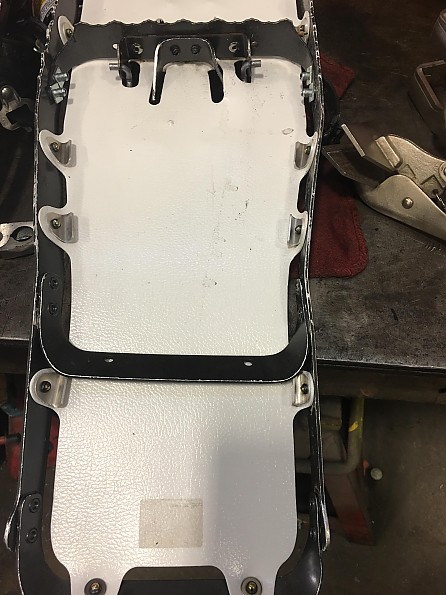 Update: 28 September 2019
No, it's not snowshoeing season yet, unfortunately, I'm just updating this review after three seasons of heavy use. Toward the end of this past winter I broke off the serrated heel supports on one 'shoe (pics 5 and 6 above), which required sending them back to GV for repair. I also mentioned the difficulty of lifting and lowering the heel lifters. 
When I got them back new heel supports had been affixed and new heel straps installed. The old ones were simple pin-style buckles, the new ones are spring-loaded self-locking buckles similar to those on many Tubbs snowshoes.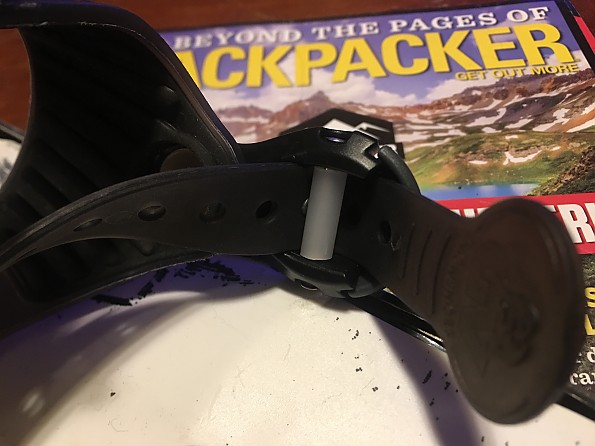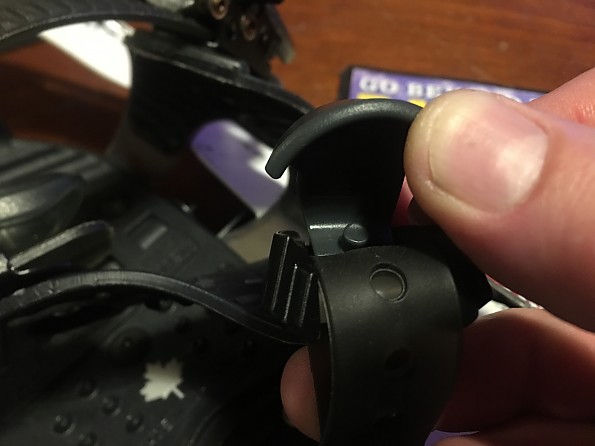 I've broken heel straps before, always where they'd rub against the buckle when being pulled tight, and when I emailed GV about it I had two pairs of replacement straps a few days later (I'd asked for two pairs in case I broke the first pair.) So now I have a spare pair for my GV Wide Trails, since the new straps on the Mountain Extremes don't look like they'll be rubbing against anything sharp enough to wear through them.
They also did something to the heel lifters because they're no more difficult to lift and lower than any of my other snowshoes. I don't use them often but they do come in handy on steep bushwhacks.
As these are currently my only pair of 30" traction-framed snowshoes I'm looking forward to getting a lot of use out of them in the mountains this winter. This will be season four with them. 
Experience
About 20 years of using modern snowshoes in varied terrain.
Source: bought it used
Price Paid: $175, I think?

Your Review
Where to Buy
Help support this site by making your next gear purchase through one of the links above. Click a link, buy what you need, and the seller will contribute a portion of the purchase price to support Trailspace's independent gear reviews.
You May Like
Specs
| | |
| --- | --- |
| Price | Reviewers Paid: $175.00 |