GV Snowshoes Wide Trail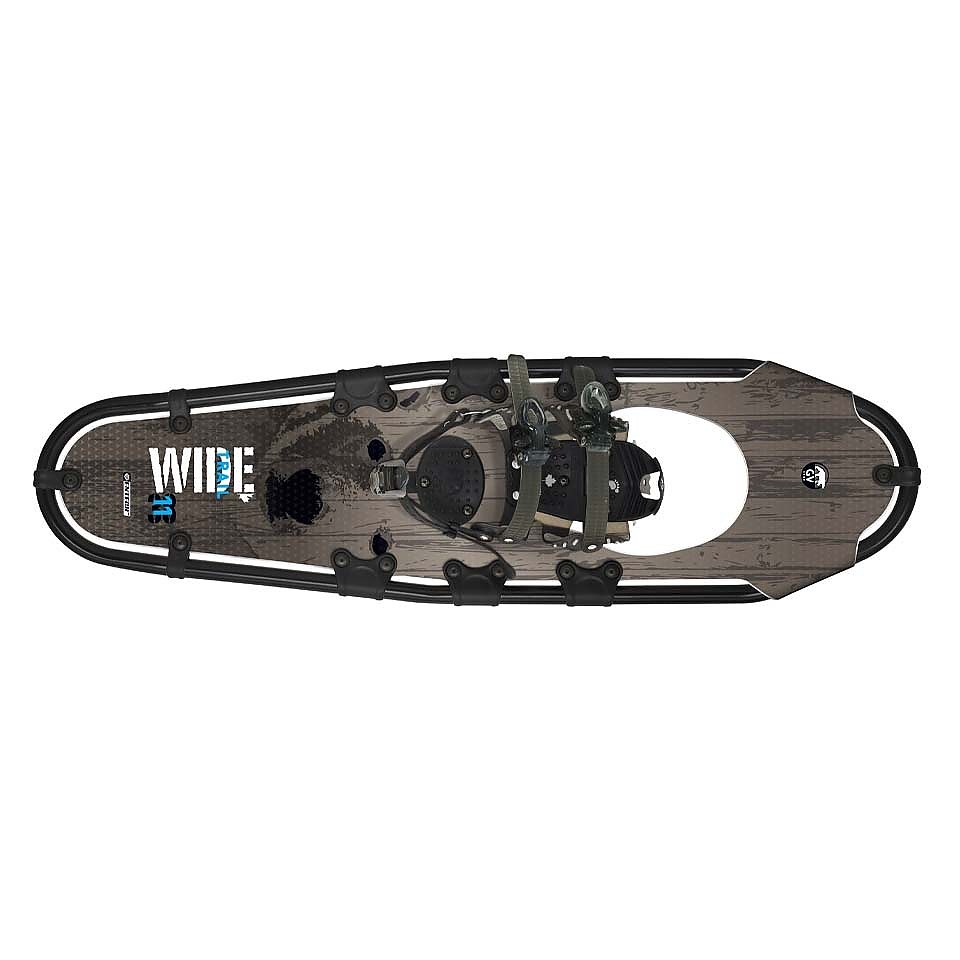 GV Wide Trail snowshoes are oversized utility snowshoes meant to carry the heaviest loads on the softest snow. Flotation and carrying capacity are second to none out of all the snowshoes I've used.
Pros
Flotation
Binding security, comfort, and ease of use
Load-carrying capacity
Strength
Build quality
Price
Cons
Lack of traction, though they're not meant for more than moderate terrain.
They're almost too big to fit in my Jeep, even with the back seat removed!
The weekend after Thanksgiving (US) GV Snowshoes had a 20% off sale, and I decided to order a pair of GV Wide Trail snowshoes that I'd been thinking about for a couple years. I received them two weeks ago and have put about 10 miles on them so far, and here are my thoughts.
According to GV, Wide Trails are designed for forestry workers, trappers, hunters, or anyone who carries heavy loads and needs maximum flotation. They're made in Canada, like all GV snowshoes except for the budget GVC and Lynx models.
These things are HUGE, almost cartoonishly so. Surface area is 576 square inches EACH for 12x42 size. (Other available sizes are 11x28, 12x33, and 11x38.) Tubbs gives their Mountaineer 36 surface area as 325 sq in each by comparison. Here they are flanked by my Louis Garneau Blizzard II 1036s, which are pretty big in their own right at 375 sq in each. (Surface area calculated by frame circumference so it may not agree with manufacturers' figures, if given.)

They have a rigid tubular aluminum frame designed for strength with heavy loads. I can attest to the strength of the frames, having bridged gaps with my 280lb of me and my gear several times. No bending of the frames was noted. 
All this flotation and strength comes at a price, as the 12x42 Wide Trails weigh in at 7.31lb/3.3kg per pair. 
Boots are held in place by the "Comfort Fit" binding, consisting of soft wings with two "Rambus" ratcheting straps over the foot, and a traditional pin-style heel strap. Straps are very long, allowing plenty of room for winter boots such as Baffin or Sorel as well as mountaineering boots. If you wear regular hiking boots you may feel like you're swimming in the bindings, but they will hold securely. A hard plastic "Stabilizer Control Plate" with toe stop is attached to the Comfort Fit binding.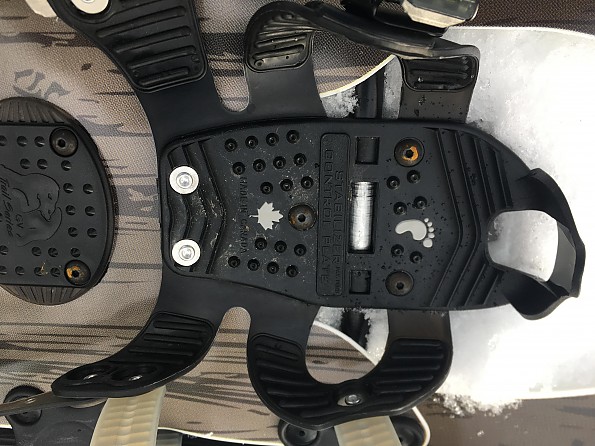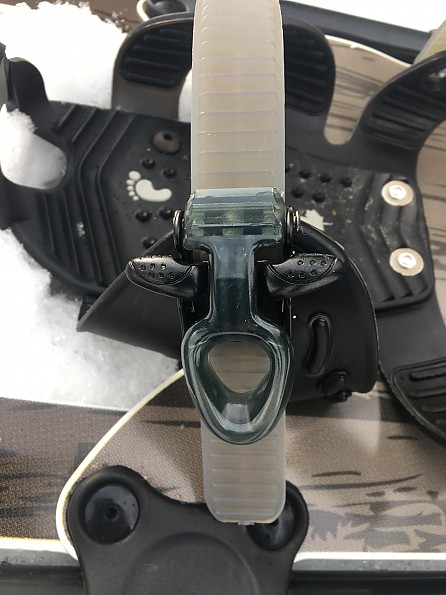 The binding pivots on a rigid tubular crosspiece which adds torsional stability and prevents the binding from flexing laterally on the snowshoe.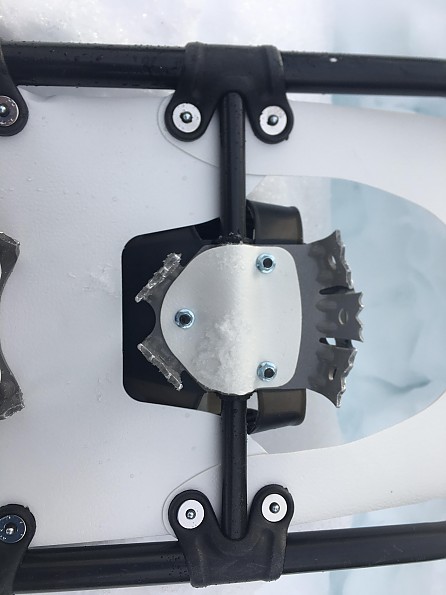 Thick aluminum toe and heel crampons are bolted to the bottoms of the Stabilizer Control Plate and hard plastic heel plate. GV states they're coated with a Teflon paint to help prevent snow from sticking to them.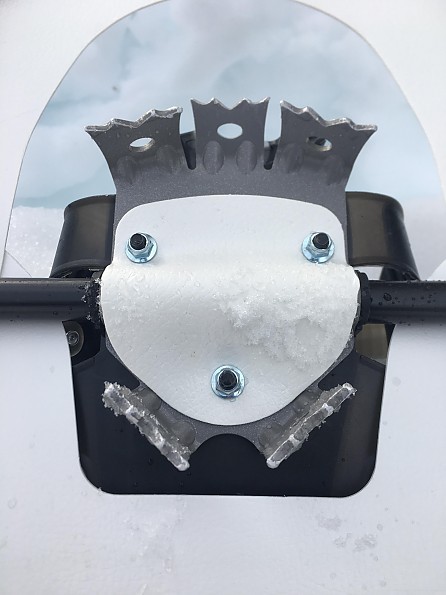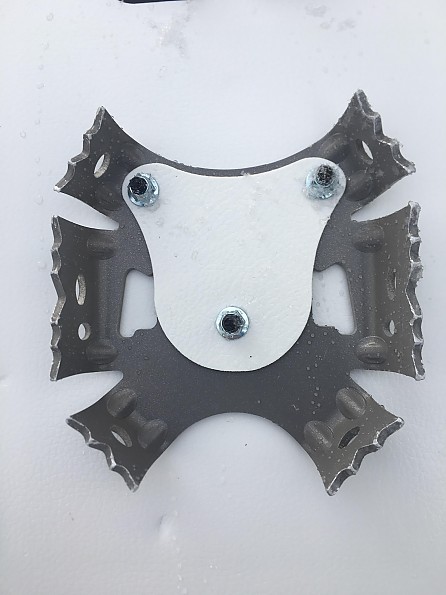 A "Heel Stabilizer System" consisting of a strap riveted to the heel pad and a ratchet buckle on the heel strap allows you to limit or stop the tail of the snowshoe from pivoting, making it easier to walk backwards or sideways.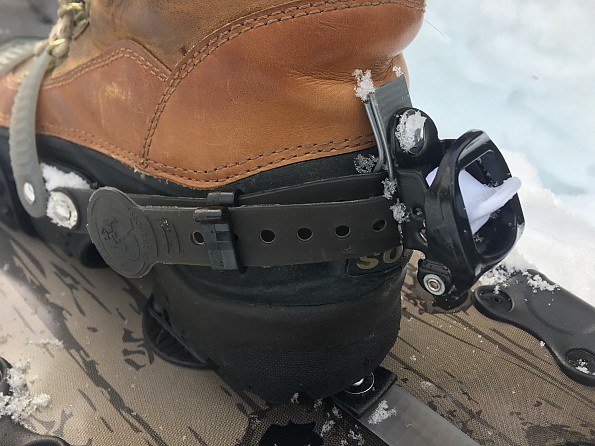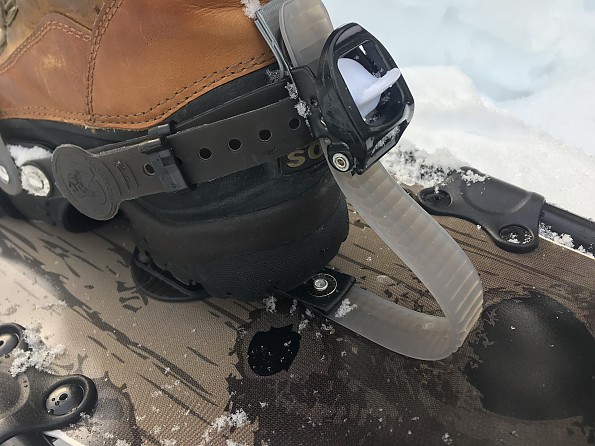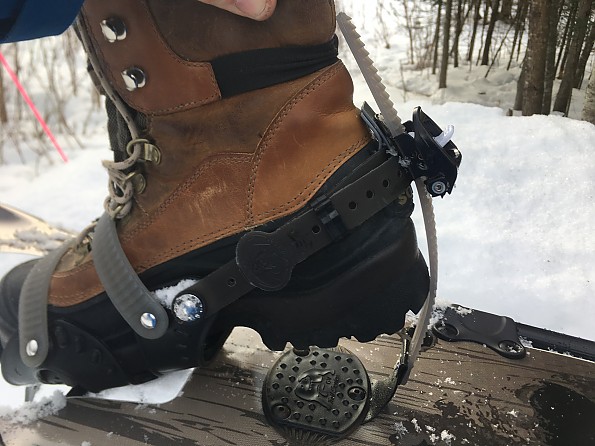 At first I thought this was going to be a gimmick, but it does work and work quite well.
I haven't been able to get myself into a situation in which a long backwards walk was necessary, and for just a few steps it's easier just to use your poles to push down on the toes of your 'shoes than to bend down and tighten the straps. But if you ever are in a situation where it's necessary to walk backward for a long time, the time it takes to tighten the Heel Stabilizer straps will be worth it. I found out the hard way it's not a good idea to buckle the straps at all until you need to, trying to go up a moderate slope almost put me on my face when the toe didn't raise enough to clear some brush. 
"Entech" decking is attached by clamps and rivets that wrap around the frame and sandwich the deck, except at the sides of the turned-up toes where the decking is wrapped around and riveted to itself. Entech is designed not to tear if punctured. GV states that Entech is tested to -50°C/-58°F, all other plastics on the snowshoe are tested to -45°C/-49°F.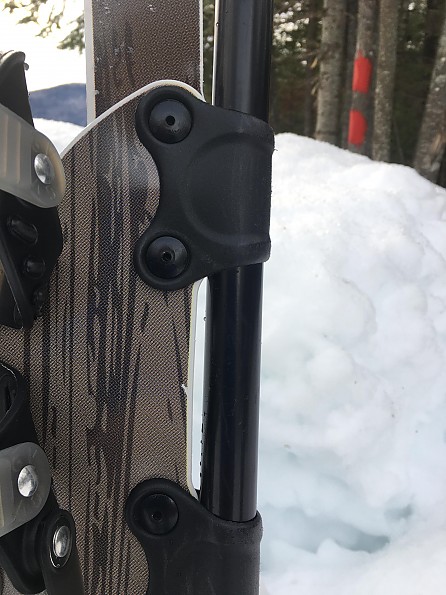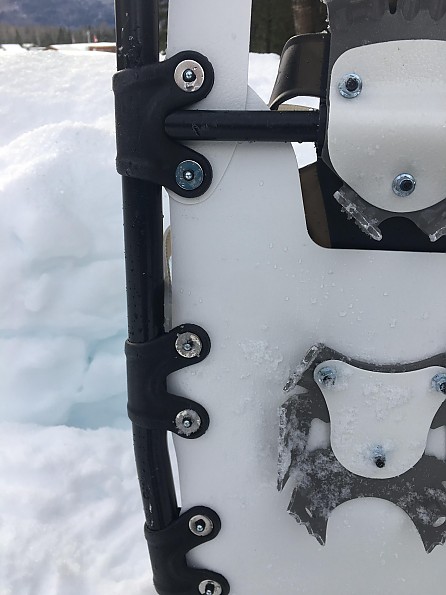 All fasteners are either rivets or nuts and bolts (binding and heel plate attachments), allowing manufacturer-equivalent repairs to be made by the user with easily accessible hardware and tools. A pop rivet gun, 3mm hex key, and 8mm wrench are all that's needed.  

Okay, the specs and construction are pretty impressive, but how do they WORK? In a word, awesomely. All my testing has been done off-trail and cross-country, in fairly dense hardwood forest with 2-3 feet of snow (powder over loose granular) on the ground.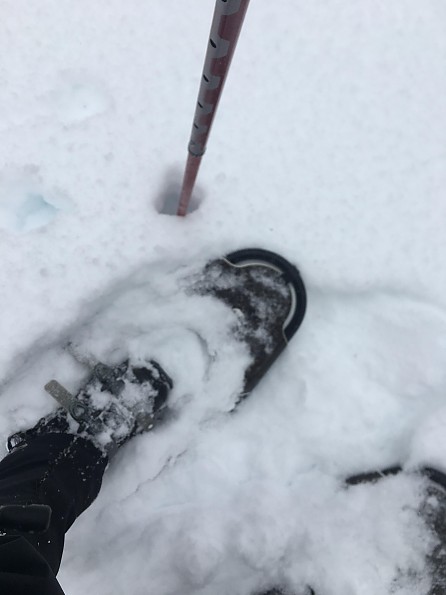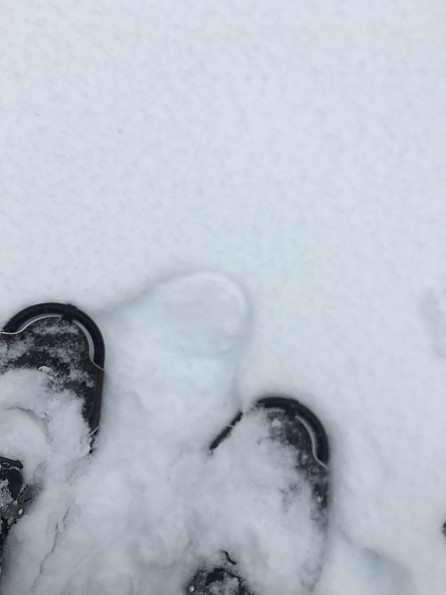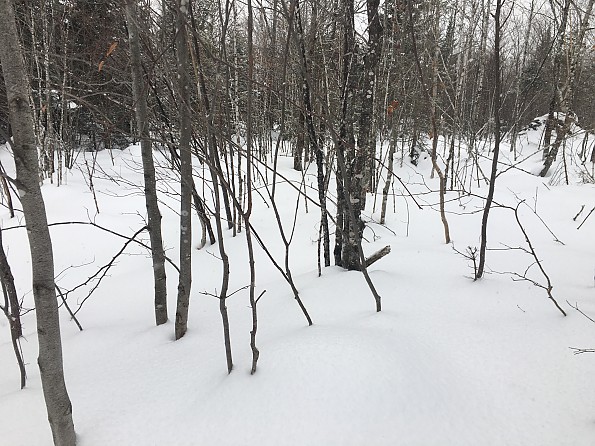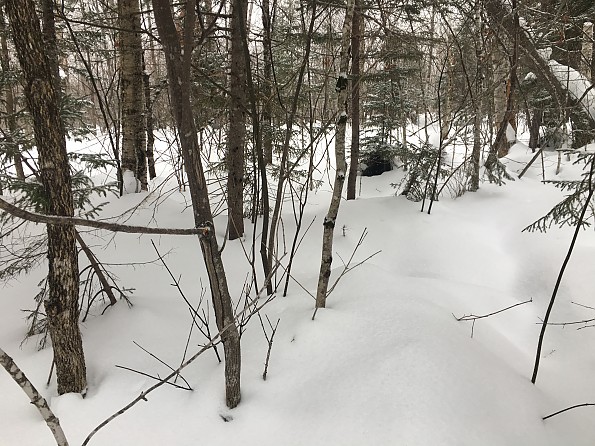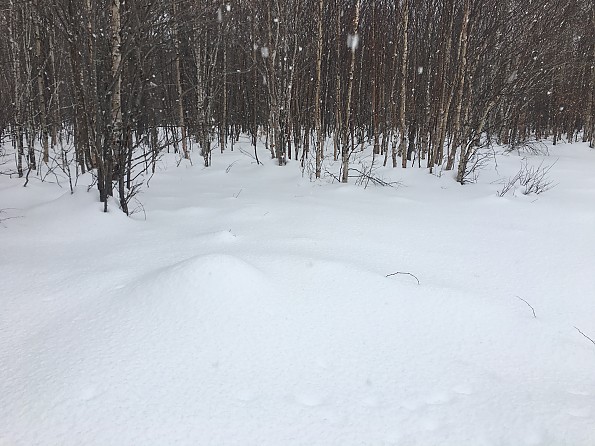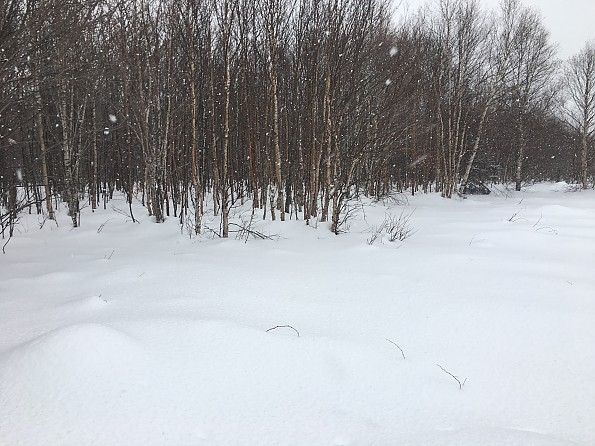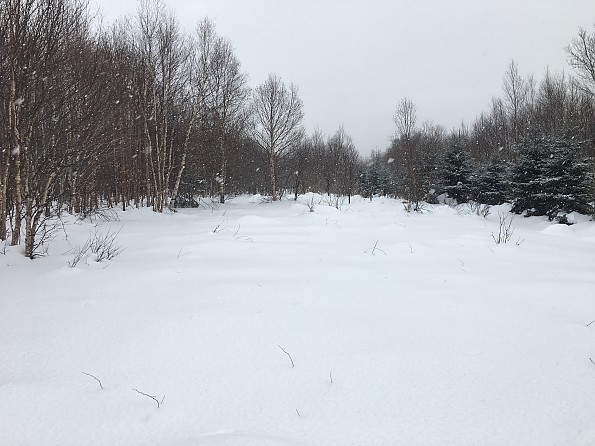 For as big as these things are, they're real easy to move in. You do have to plan ahead to find your best route, but other than that you pretty much just walk. On TOP of the snow. You don't have the flotation that you do with the largest traditional snowshoes, but you have much greater hill climbing capacity thanks to the toe and heel crampons. They'll never be mistaken for mountaineering or backcountry 'shoes, but on gently rolling open or forested terrain they'll get you where you need to go. 

The off-trail weight rating for the 12x42s is 140-280lb/64-127kg. Being right around 280lb fully dressed and with a light day pack, I find this rating to be accurate. In powder on top of loose granular I sink about 4".
With a winter overnight pack weighing around 35lb I estimate I shouldn't sink much more than 6-8". We've had a few warmer days followed by below-freezing temps that made the snow unsuitable for these snowshoes, so unless we get a lot of powder in future snowfalls I probably won't be using these any more this year. I was hoping to test them with a winter overnight pack to see how they handle 300+ pounds, if I get a chance this winter I will. 
In summary, I find that Wide Trail snowshoes work as advertised by GV, and recommend them for anyone who needs their capabilities and performance. I'm very impressed with the build quality, sturdiness, and performance of both my pairs of GV snowshoes. Their warranty and customer service is top-notch as well. They may be the sleeper of snowshoe manufacturers.
Update: 9 March 2019
Since breaking my Blizzard IIs last week I've been using the Wide Trails for my off-trail snowshoeing, and took a few pics while out on what was an almost perfect day today. As usual, I started out on a small (0.7-mile) loop trail I made a couple weeks ago, and headed off in a random direction to just go where the ground and the clearest path between the trees took me. I know why they call these Wide Trails—because that's what you need! Very long steps were necessary on the +/-20" wide trail my Blizzard IIs made so the tapered tail of one Wide Trail would clear the nose of the other.
Like most of the terrain around here the land is very wrinkled, with mostly hardwood forest. Trees are smallish and close together, requiring you to plan your path in advance if you don't want to get snagged or whipped in the face.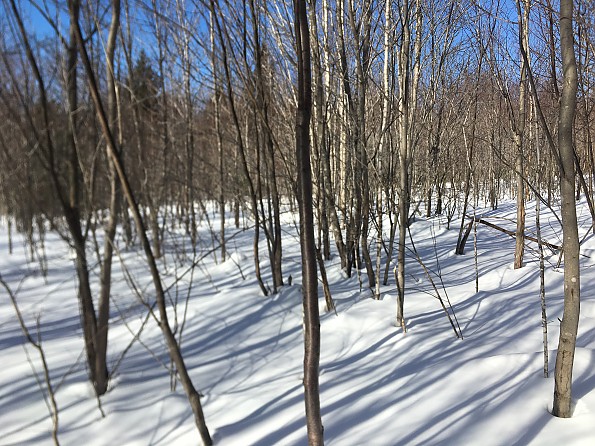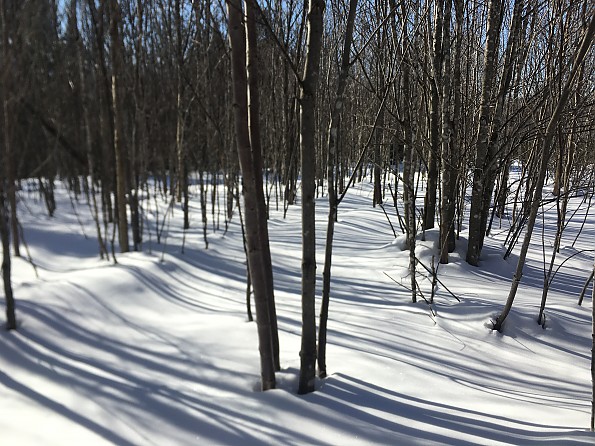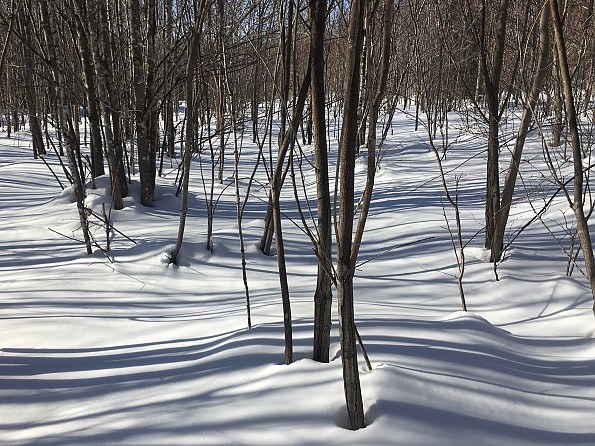 I continued through this for over a mile, then turned to go up the tallest hill in the area from its steeper north side. It was an easier climb than I expected, mainly because I wasn't sinking as deeply with these snowshoes. Being in the shade the snow hadn't started to soften like the stuff in the sun had, so I had to give two or three kicks to firm each step enough to hold me. In a few minutes I was at the top. With no way to go but down, I went the way that looked the steepest so I could try traversing.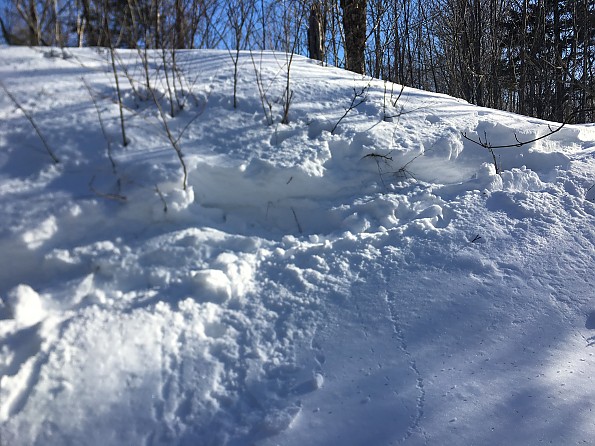 It's not a very long traverse but they did surprisingly well for tube-framed snowshoes, especially considering how powdery the snow was. The reason, I think, is the rigid Energy Saver pivot. Whatever angle you stamp these things into the snow at is the angle it's going to stay at if the snow is firm enough to hold. You just need enough strength in your ankles and ankle support in your boots to stay somewhat vertical, because the bindings can't pivot independently of the frame.
Cutting switchbacks to take a more vertical path is also very easy. Trying to go straight down a hill will almost always result in you trying to ski, though, which they do surprisingly well with their enormous surface area. Switchbacking or sidestepping to take advantage of their rigidity is the best way to descend steeper hills.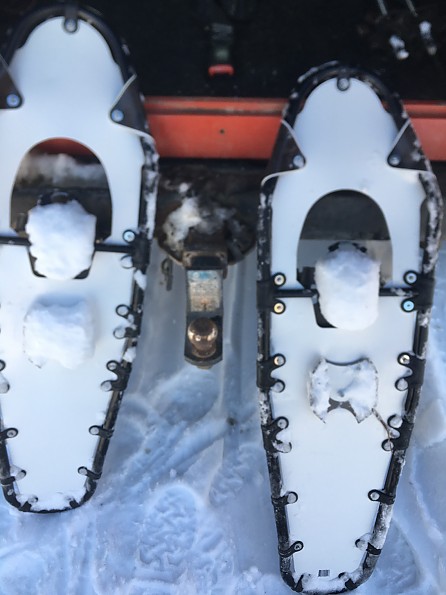 Between using the heavier snowshoes, wearing my heavier Sorels instead of my Keens, and 2-3lb of ice and snow I picked up on my travels, it's no wonder my legs were more tired than usual when I got back to the Jeep!
While they're still my least suitable snowshoes for hilly terrain, it's nice to know they can handle moderate hills covered with deep, soft snow with a little planning on my part. If the snow had been firm and crusty they would have been pretty useless, but that's what my traction-framed snowshoes are for. I'm even more impressed with my Wide Trails after today!
Update: 27 February 2021
This winter has been a very crappy one for snowshoes—we didn't even have enough snow to need snowshoes until around the end of January, and due to the cold temps nearly everything came down as light, fluffy stuff with about as much body to it as dandelion fluff.
Even with these 'shoes I sank to maybe an inch or 2 from the bottom, so until the snow started to settle I kept my treks few and far between. We've gotten about 2 feet or so of snow over the past 2-3 weeks, and while it's still pretty fluffy/sugary it is starting to get more body.
There's not much I can say that I haven't already said, but I do want to expand on one thing: the Comfort Fit binding. There is literally nothing I would change about these bindings, in my mind there's no room for improvement. In one of LoneStranger's Limmer boot reviews, he tells how during a handshake Mr. Limmer said that's the way a boot should feel on a foot.
Well, the Comfort Fit binding feels like a handshake on a boot. The soft side wings hold your foot securely in place, the 2 wide straps pull horizontally from the tops of the wings so there are no pressure points on the sides of your feet, and the toe stops and heel straps finish the job of keeping your feet locked rock solidly in place. Even with my Vasque Coldspark UltraDry boots, which are very soft boots that feel more like sneakers, the pressure is so even it's like the boots are an integral part of the bindings.
They're as comfortable as Boa bindings IMO, only a little slower to tighten and at least as quick to loosen at the end of the hike. They offer complete control, you never have to worry about the snowshoes swinging side-to-side on you. The bindings are definitely the standout feature to me, because the best flotation or traction means nothing if the bindings are uncomfortable or not secure.
I've used my 30" Garneau Yetis a few times but sank deeper than I like, the same goes for my new-last-year GV Snow Aerolite 1036s (which I am going to review if I ever put enough miles on them!), but the Wide Trails have been my workhorses this winter. 
Experience
20 years of snowshoeing with modern snowshoes.
Source: bought it new
Price Paid: $186 US

These snowshoes are complete garbage. NOT WORTH what they charge for them...had to replace bindings after about 10 uses. The cheap plastic clamps on the sides that are riveted to the snowshoe crack. Total junk. Inferior product. And not to mention constantly having to stop and always tighten the bindings.
Junk junk junk
Pros
There are none really... The product cannot perform.
Cons
They product is junk all around. Complete junk
My advice—stay away from GV. Even after they sent me replacement bindings, they failed as well. 
Experience
My experience with these sh*t snowshoes is failure 0
Source: bought it new
Price Paid: $330

Your Review
Where to Buy
Help support this site by making your next gear purchase through one of the links above. Click a link, buy what you need, and the seller will contribute a portion of the purchase price to support Trailspace's independent gear reviews.
You May Like
Specs
| | |
| --- | --- |
| Price | Reviewers Paid: $186.00-$330.00 |