Vasque Coldspark UltraDry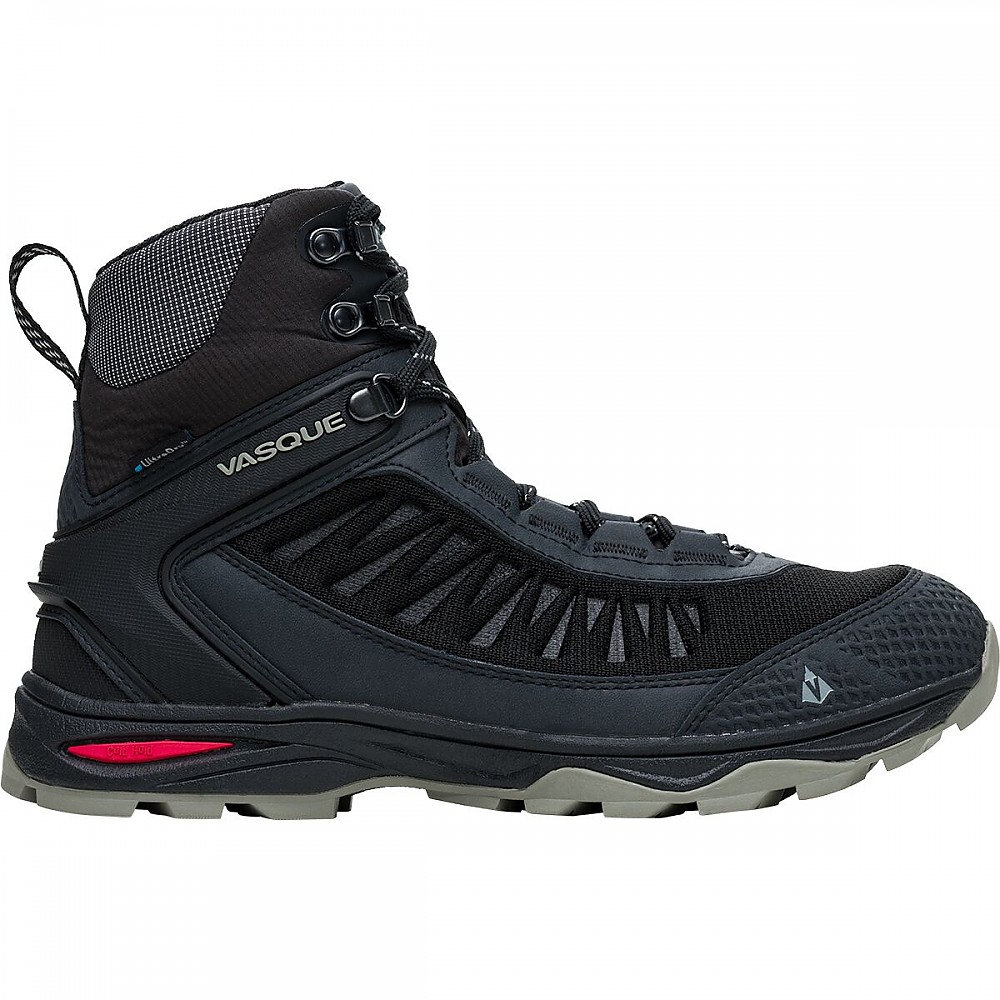 Insulated and waterproof for cold and wet active use this full, over the ankle boot is great for those who work and play in winter conditions. A combination of natural and synthetic materials keeps the Coldsparks flexible in deep cold. The outsole is a proprietary, dual density compound that provides good traction across the temperature spectrum.
Pros
Good traction
Active warmth
Great ankle fit
Flexible in deep cold
Well constructed with nice features
Cons
Limited warmth when inactive
May be too warm for some when active
Specs:
Weight: 2 lb 3 oz/1kg per Vasque
Weight on my scale: 2 lb 11.5oz/1.237kg for US11.5 Med Width
Last: Perpetuum
Upper: 1.8mm Waterproof Leather, Softshell
Footbed: Dual Density EVA
Midsole: Molded EVA
Outsole: Vasque Monolith with ColdHold Compound
MSRP: $139.99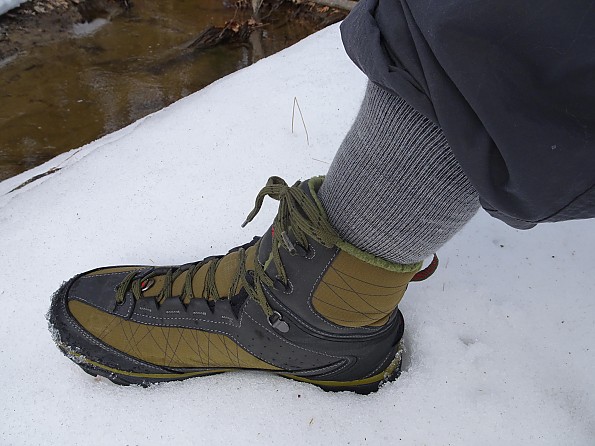 Full boot coverage and 200g of Thinsulate, yet under 3lbs in 11.5US

Fit & Comfort:
The Vasque Coldspark Ultradry insulated boots I received for testing came in my standard size; US 11.5 / EU 45 in a Medium width. Despite having feet the Limmer cobbler described as exceptionally wide, I had no problem with the width, though I did find the length to be rather strict in its size enforcement, so those preferring thicker socks might want to go up a half size.
As for comfort there was plenty to be found as soon as I laced them up for the first time. There was some small benefit to breaking them in a bit, but no real need. The high ankle collar formed easily around the shin just above the joint providing snug support without any sense of restriction.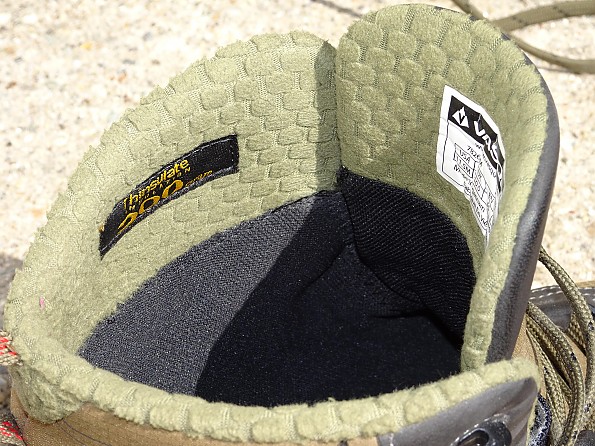 Soft fleece inside the ankle cuff cushions, warms and holds the boot in place well.

Support:
The ankle collar definitely provided a secure feeling through the joint area which was really appreciated in the snow. Bareboot or in snowshoes the uneven terrain and unexpected obstacles that snow can provide the Coldsparks helped transfer stress to the legs rather than making the ankles do all the work.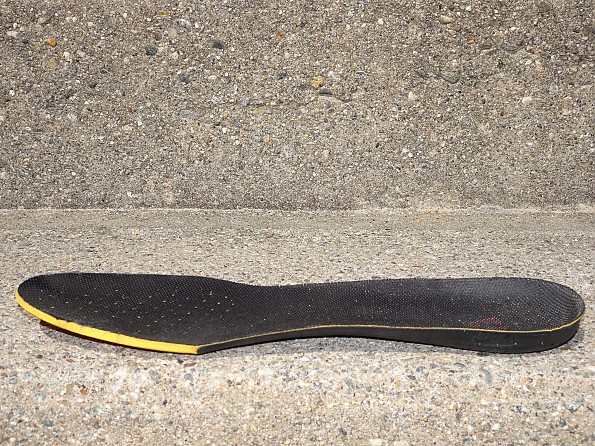 Under foot the removable insert provides a moderate amount of arch without taking it too far. The molding of the heel cup served to keep the foot properly placed preventing stress or blistering from lifting snowshoes in deep snow.
Made for foul weather use, the Coldsparks employ Vasque's Monolith rubber outsole to stick to what you are stepping on. This dual density compound is made for cold weather traction and remains surprisingly flexible down below zero. In terms of traction, that flexibility may be the only negative in that I found a bit of toe slip when lifting the heel, but that may just be an issue with my personal stride as I am not used to such a flexible sole.
Smooth ice of course was time to pull out spikes, but textured ice and snow surfaces were totally manageable in these boots. Mud and wet pavement surfaces were the times when I noticed the toe slip issue, especially when going up hill, but walking with a flatter foot in those cases kept more sole in contact resolving the issue. The tread shed mud and snow very well with no need for scraping.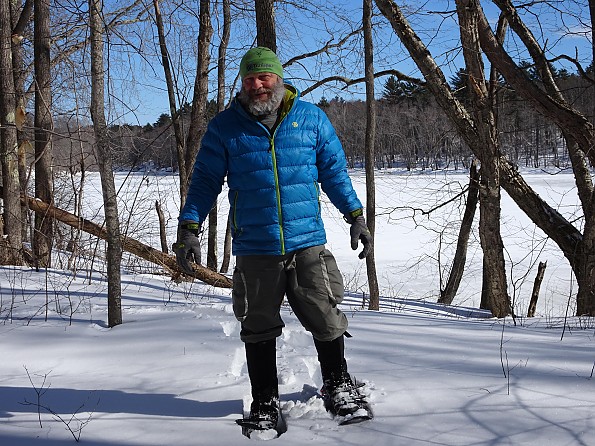 Snowshoeing along the Androscoggin River and enjoying the sunshine.
Warmth:
This is an area that can be hard to review as warmth is a somewhat subjective quality to analyze. Being an insulated boot it also is one of the most important qualities folks shopping for boots will want to know about. For me warmth in the Vasque Coldsparks was very situational and dependent on temperature and activity level. There were times they were too warm, times they were not warm enough, and plenty of times they were just right.
The 200g of Thinsulate spread throughout the upper takes a bit of heat to warm up, but then the boots become little toasters so long as you keep your activity level up. That means the comfort range is going to be different for those whose feet run cold or hot. For me anything much above freezing was uncomfortably warm during even moderate activity as the boots retained too much of the heat I was putting out. On the cold side I found them to be comfortably warm into subzero temps so long as I was active.
Inactivity doesn't seem to be what these boots are about, at least for me. I found that my feet felt cold standing around in these boots once temperatures got into the 20°s (F). A short break while snowshoeing wasn't bad, but longer periods of inactivity would lead me to notice the cold. I found I was happier on winter backpacking trips if I swapped out the Coldsparks for the Lost 40s once I made camp.
For me the 0-20° (F) range seemed optimal for active warmth. Whether I was out for a few hours or on a multi-day trip, my time in motion didn't involve worrying about losing any toes. In fact there were very few of those moments when you have to stop and wiggle your toes to keep the blood moving even on the coldest days.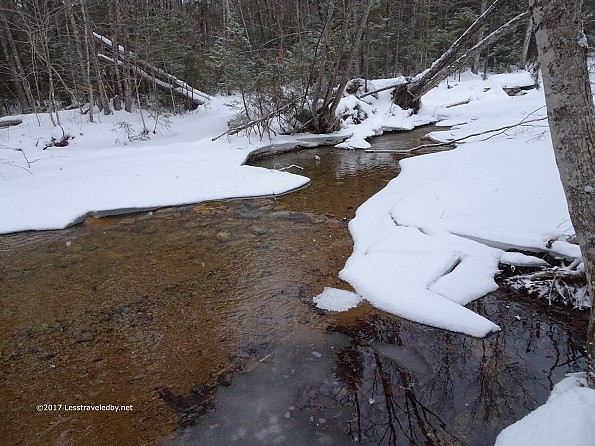 Field test at this crossing revealed a possible leak at a bad time.


Waterproofing:
Tagging the Coldspark with the label Ultradry may have jinxed them, as I ran into a problem with the first pair I tested. Having used them locally in the snow I took them to New Hampshire and a shallow creek crossing demonstrated that one boot had a leak. Not fun to find out on day two of a four-day trip, but I did find that the insulation still worked pretty well when wet by accident.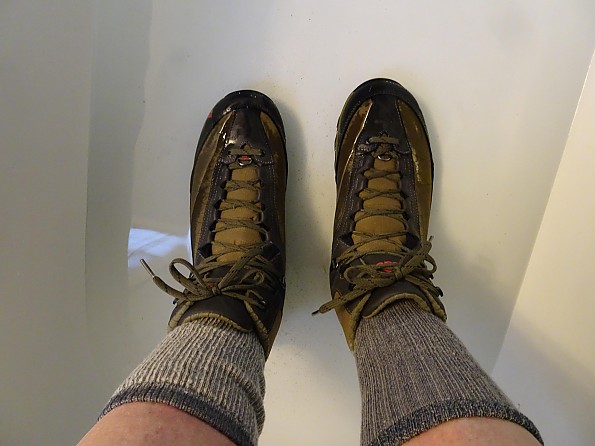 Bathtub testing to verify a suspected leak. Yup, the right one was bad.

When I got home I verified the leak with a bathtub test. Vasque sent a second pair for me to continue my testing and the first thing I did was to check them out in the bathtub. I can't be sure if the first pair arrived defective or developed a problem during testing, but the new pair proved to be watertight to start out.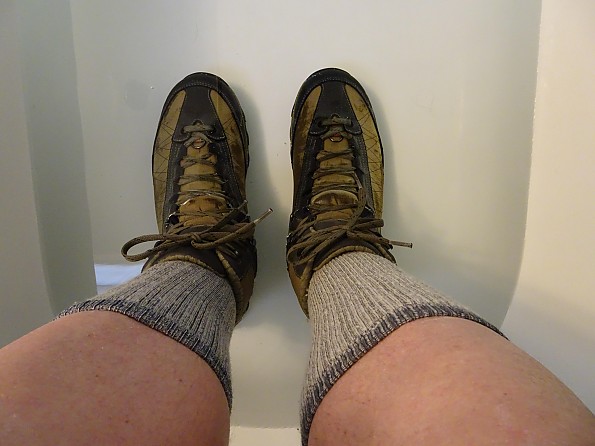 This was actually the third time I stood in the tub for this review.

After using them for a few months of real world testing I returned to the tub to see if any leaks had developed. After roughly ten minutes in the water my feet and socks came out totally dry, so I am comfortable agreeing with Vasque that these boots really are waterproof.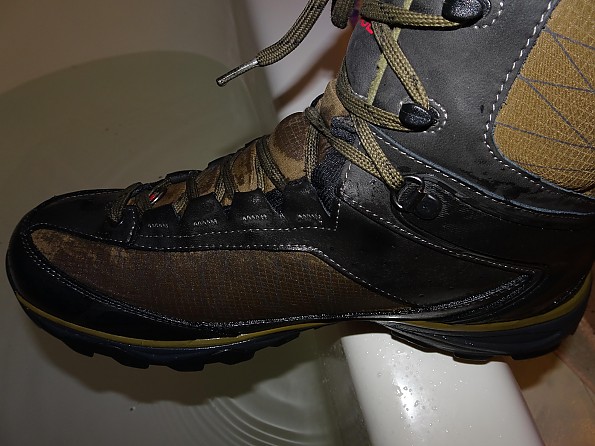 After 10 minutes the softshell shows some wetting, but interior was totally dry.

Features:
The design and construction of the Vaque Coldsparks impressed me. The materials and how they are put together show great attention to detail and provide great function. There are a few areas I'd like to focus on as examples.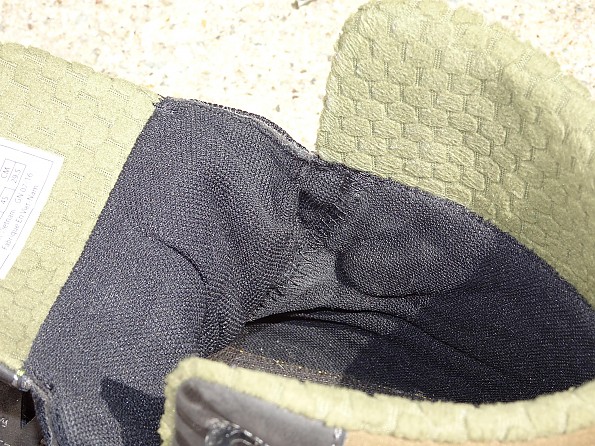 A gusset made for rock hoppers and those who just stomp on through.


On a full height boot anything less than a full height gusset in the tongue is setting you up for a wet sock sooner or later. I was happy to see the stitching on these boots coming almost all the way to the top of the ankle collar. You can almost top them without water leaking around the tongue.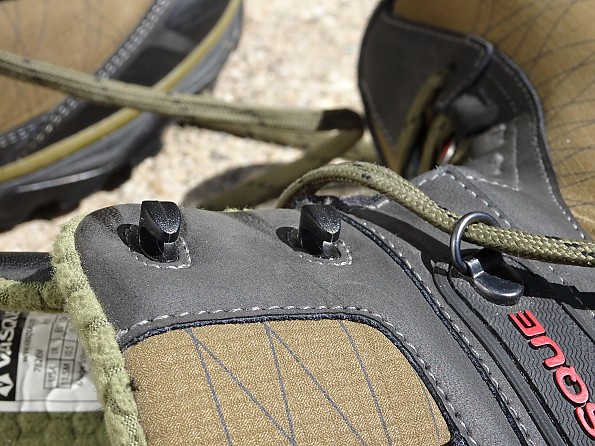 I liked the entire lacing system on these boots as it is both simple and functional. Very easy to get in, get 'em tied, and go. This is nice in the cold when you don't want to waste time. The lower speed laced area allows for comfortable tension application and the quick release hooks up top make it easy to tension the collar around the ankle.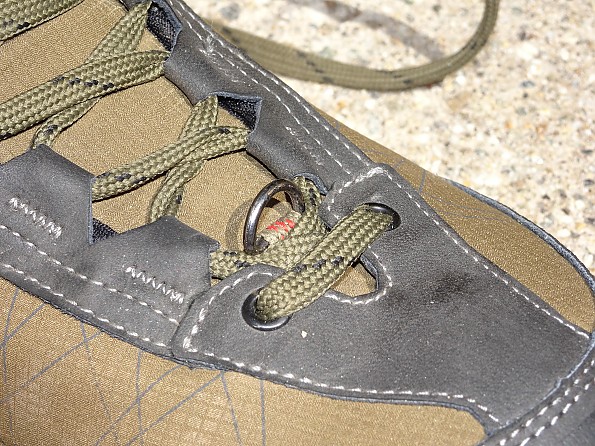 Having a D ring to attach gaiters to is always nice. This one was even in the right spot to make it easy for me to get my OR Crocs locked into place.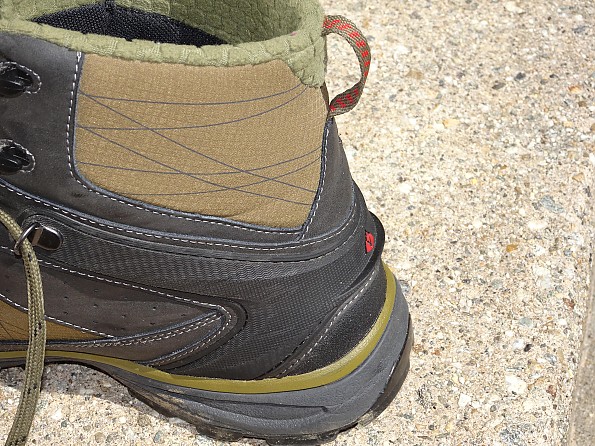 One other small detail I loved was the heel loops. Sewn so they stay open it was easy to get a gloved finger in there and they made pulling the boots on much easier. That feature comes in really handy when you need to jump out of the tent in the middle of the night to answer the call of the wild. Nice for pulling them off if they are muddy as well.
The molded yolk around the heel keeps the base of the ankle solid and creates a nice surface for wrapping traction straps around. No need to cinch the heel strap too much to keep it in place.
Testing Conditions: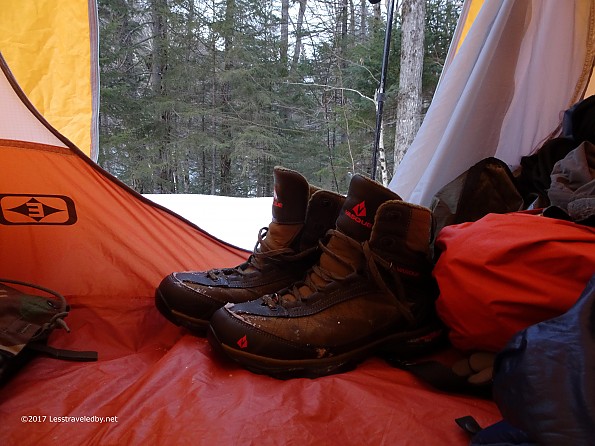 In camp drying out on a Pemi outting. Even wet they were warm once the ice melted.


The Vasque Coldspark Ultradry insulated boots were tested extensively over the winter months. I used them on dry/wet pavement, mud, ice, and snow. They also were used briefly with trail crampons and as much as conditions would allow with snowshoes, probably less than 50 miles I'd guess, due to lack of snow. Most testing was day use locally here in Maine with additional testing on backpacking outings in the White Mountains of New Hampshire and the Mahoosucs of Maine. Temperatures ranged from the 40s down to slightly below 0°F
Conclusions:
I would say these boots are very functional if used within a proper range of conditions with an understanding that those conditions are going to be personal in terms of temperature. The Coldsparks deliver comfort and function with good traction and the ability to keep water out. I don't think most people will find these boots to be very warm when inactive based on how cold they felt to me when inactive. Since they easily got too warm for me I'd think those whose feet run cold or those facing colder temperatures will get the best use from these boots.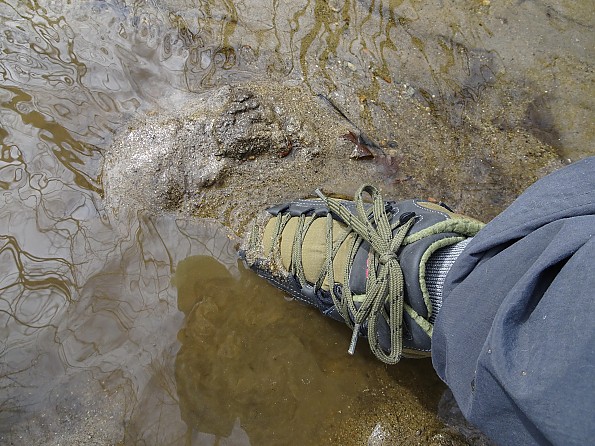 When the snow turns to mud the Coldsparks didn't need to turn around.


I really enjoyed the comfort of these boots most every time I wore them, but snowshoeing in them was especially nice. The ankle stability they provided when dealing with uneven terrain not only felt safe, but I believe also saved some energy. One overnight trip involved a trail that had been postholed badly and then buried in a foot of snow. Hours of climbing up a mountain that has been mined like that can be exhausting, but the way the boots transferred the energy from snowshoe to leg seemed to make it easier to deal with the hidden lumps and chasms.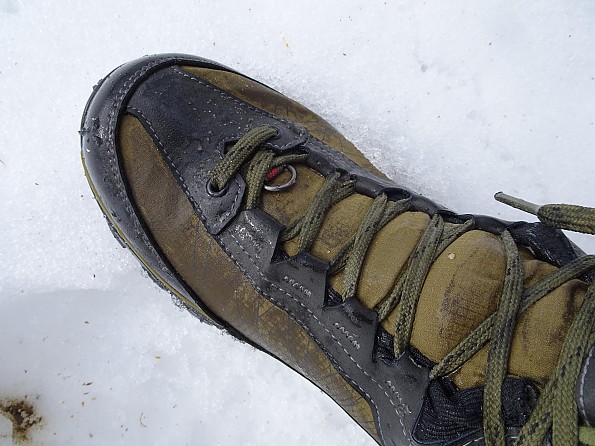 Same boot two minutes later back on snow. The mud peeled right off.
Overall I feel comfortable saying the Vasque Coldsparks are definitely worth considering if you are looking for a warm boot for cold weather activity. My experience found them not that great for standing around in the cold, but cold weather hikers and snowshoers who appreciate a full height boot will enjoy the way these wrap around their feet and keep the toes warm through a long day in the snow.
Source: received for testing via the Trailspace Review Corps (Sample provided by Vasque for testing and review)

First pair of Vasque boots and I loved them so much I replaced my summer hiking boots with Vasque as well.
Great boot for light winter hiking. Certainly won't replace Sorels for cold weather, but a great hiking boot. Very warm, very comfortable with no break-in needed.  Good traction and water resistant.
I love these boots that replaced a well worn pair of Columbias.
Background
Not my first pair of winter hiking boots!
Source: bought it new

Your Review
Where to Buy
Help support this site by making your next gear purchase through one of the links above. Click a link, buy what you need, and the seller will contribute a portion of the purchase price to support Trailspace's independent gear reviews.
You May Like
Specs
Men's
Price
MSRP: $139.99
Current Retail: $112.46-$150.00
Historic Range: $59.83-$160.00

Leather Name
1.8mm Waterproof Leather

Fabric / Material
Softshell

Waterproof
UltraDry Waterproofing System

Insulation
200g 3M™ Thinsulate™

Footbed
Dual Density EVA

Midsole
Molded EVA

Outsole
Vasque Monolith with ColdHold Compound

Last
Perpetuum

Women's
Price
Current Retail: $112.46-$150.00
Historic Range: $35.83-$160.00

Kids'
Price
Historic Range: $29.83-$74.99

Recently on Trailspace