Vasque Lost 40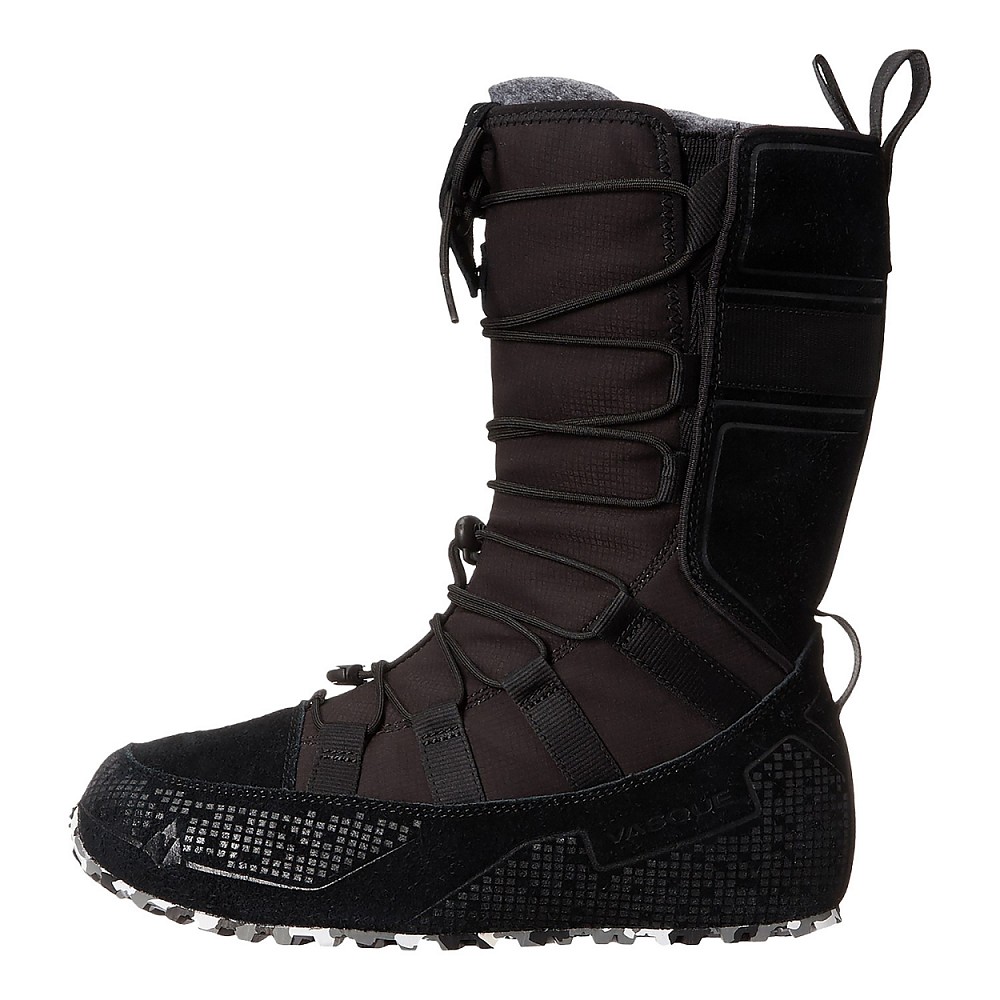 Insulated, waterproof and pretty darn comfy, these mukluk style boots are great for those who want to head out into whatever winter offers. At home in snow or mud on their own, but compatible with traction devices capable of fitting a larger style boot, though the fit is a bit loose for serious climbing.
Pros
Warm
Totally waterproof
Great pull loops
Good traction
Cons
Tight going on and off
Loose fit once on
Wear?
A pull on waterproof boot, especially one with good insulation, can really change your perspective on cold, wet, wintry weather. If they are easy to jump into and out of it stands to reason you'll get out more often. If they keep you warm and dry no matter what you find you're likely to stay out there longer and have more fun too.
The Vasque Lost 40 fits that bill. Though far from perfect, they have certainly helped me enjoy the cold and wet season this year.
Specs:
3lb 1oz average weight
Suede and nylon upper
Vibram outsole
7mm wool felt liner
MSRP $179.99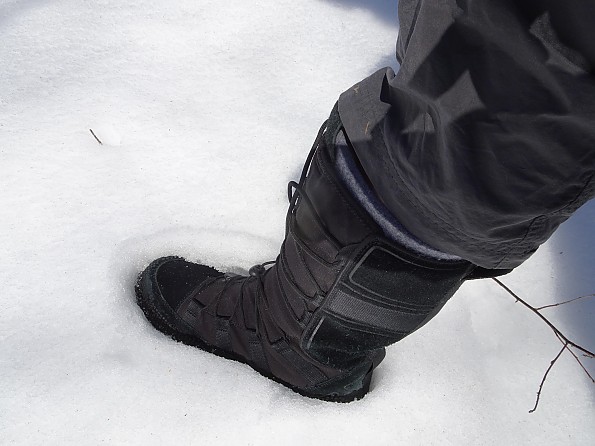 Calf height lets you get into deeper water or mud without topping.


Fit & Comfort:
This is a great place to start with any boot and is an area where I had some issues with the Lost 40s. Being a mukluk style, pull on boot; the feet have to navigate around the corner of the ankle area. Whether I left the liner in the boot or put it on first before inserting the foot and liner into the boot it often required more effort than I'd prefer. This was especially an issue in the tent when sitting on the ground.
Once in place the foot tended to feel loosely held even with both lace sections cinched down. This made for good warmth as circulation was not restricted, but felt a bit loose for steeper climbs or use with traction devices.
I would say the sizing is spot on as a thicker sock made entry more difficult but resulted in a better active fit while a thinner sock had the opposite effect. This may just be an issue with my specific feet, but I'd definitely suggest an in-store fitting before purchase.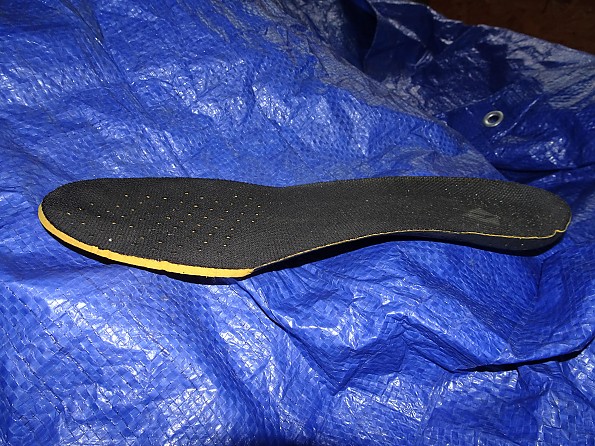 Footbed insert protects felt liner and provides support to arch and heel.


Support:
With over 11 inches of interior depth the Lost 40s rise well up my calf spreading any ankle torsion out over the lower leg. The combined soles of the liner and boot are flexible allowing for a lot of foot flex for a cold weather boot.  There is no arch support in the liner itself, but Vasque has used an insert which provides some arch and a bit of heel cup. This would be easily swapped out for another insert of appropriate size. The boot itself also seems to have a slight bit of rise which combined with a high instep and the insert gives plenty of arch support.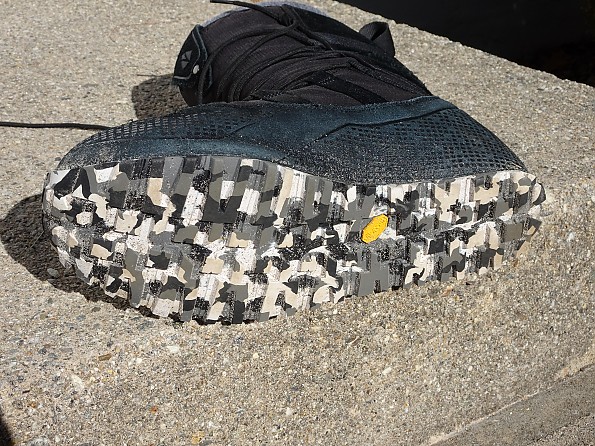 Vibram outsole shed snow and mud providing good traction in most all cases.


Traction:
A boot like this is made for stomping around in mud and snow, so traction in that sort of stuff is important. You'll also likely use them for shoveling the driveway or walking the dog, so how they handle harder surfaces like pavement, ice, and packed snow will matter as well.
The outsoles are Vibram Outland molded in IceTrek compound and designed to provide traction even in deep cold. The rubber remains soft and pliable allowing the boots to stick to ice that has even a small amount of texture. The tread shed snow and mud well during normal use and never required scraping. The toe is not well suited to digging toe steps to climb, but the heel worked very well for cutting descent steps.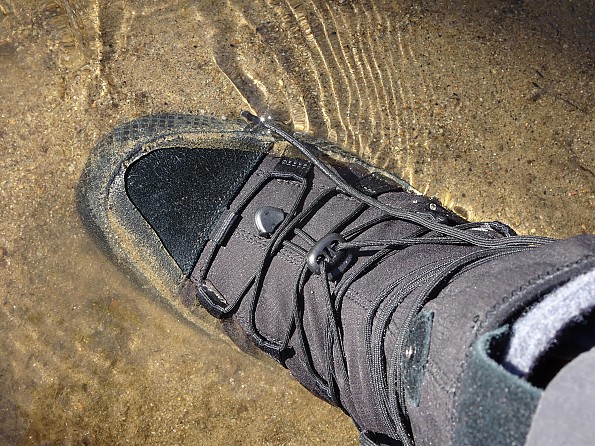 Winter water crossings were never so easy.


Warmth and Waterproofing:
We can dispense with the waterproofing question with one simple statement; these boots are waterproof. Extended exposure to snow, mud, and water resulted in dry boots every time.
I could answer the warmth question just as succinctly and say the Lost 40s were warm, but let's take a good look at why they work well at that task.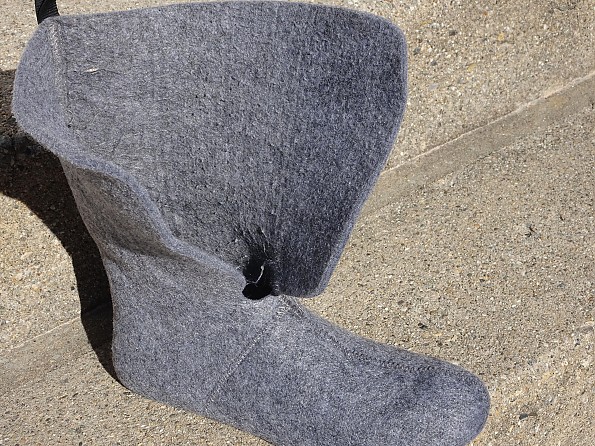 Flat stitches keep smooth contact to both foot and boot.


Wrapped around the feet is a 7mm felted wool liner which can be fully removed for drying or wearing in the tent. This liner is very well constructed with shaped panels and stitching to maintain uniform contact with boot and foot.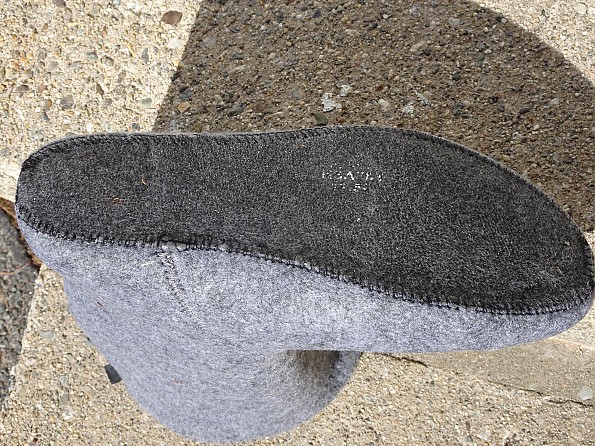 Great attention to detail in an area that doesn't show and many companies skimp on.


There is a sewn-in sole which again fits well in the space between boot and foot to avoid wrinkled edges that could create cold spots.
The upper portion of the boot contains 200g of Thinsulate which fills panels from the top of the foot and extending up the leg. There is AeroGel in the footbed to provide insulation from below as well.
This entire insulation package worked well in a wide range of temperatures and activity levels. The felt liner handled any moisture from overheating and the footbed kept out the cold when standing at the bus stop on Winter mornings with my daughter.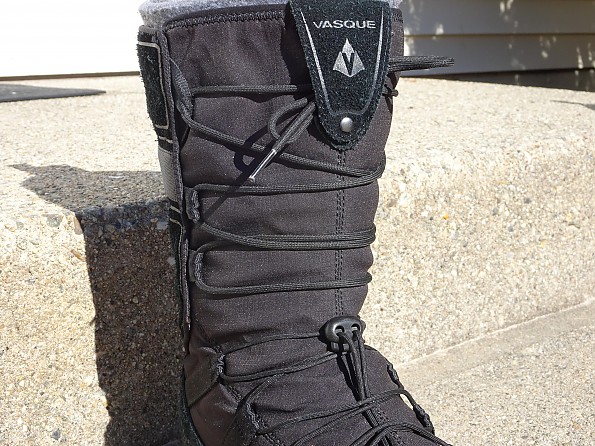 Speed laces and a garage to park them in.


Features:
Vasque incorporated some interesting ideas into the design of the Lost 40s. The dual speed lacing zones are one example. They let you adjust the tension on the foot and leg independently. The snap flap enclosure to secure the upper laces is a nice touch that not only prevents ice build up but keeps the laces tied.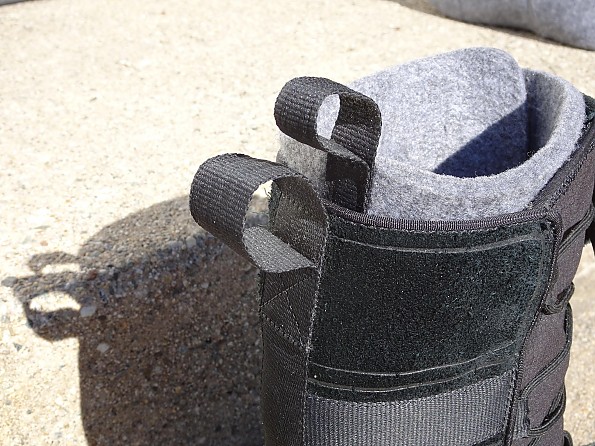 These loops were amazingly easy to grab even in the cold.


The pull loops on both boot and liner were another feature that was well designed and implemented. They are securely attached with long stitched extensions that spread the tension out across the boot rather than overstressing the top. These loops are vital in cold weather when you need something to grab on to with stiff fingers.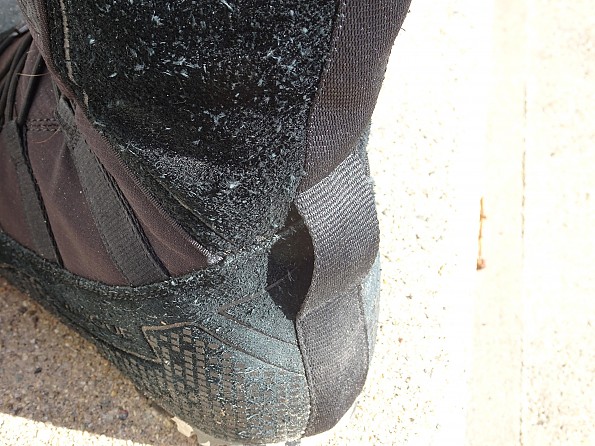 This loop was good for pulling the boot off and wide enough to hold a snowshoe heel strap.


This additional loop at the heel comes in equally useful when it is time to pry the boots off with cold fingers. Much nicer than grabbing the wet or muddy sole to yank them off. I found I could slip the heel strap from my MSR Revo Ascents through that loop as well.
Testing Conditions:
The Vasque Lost 40s were used frequently for a bit more than three months this Winter. Primarily they were used on day hikes in icy and snow covered conditions here in Maine. We had many melts over the Winter so there was plenty of slush and mud as well.
I also brought them along on a four-day outing in the White Mountains of New Hampshire to wear around camp. They were also used to shovel snow and walk my daughter to the bus stop. I used them once each with my MSR Revo Ascents and my Hillsound Trail Crampons.
Conclusions:
These boots are good, but far from perfect and my rating reflects both some dissatisfaction with their faults and a fair amount of happiness with them in general. I really liked them as stomping around boots as they were great in the woods on days with varying amounts of water, mud and snow. Didn't matter what the trail was like they were good to go for stomping on it. The combination of great traction and waterproofing you could feel confident about brought back the feeling of tromping through the woods as a kid.
The Lost 40s were definitely warm in all conditions. I really liked having them along for in camp on my winter outing. When I set up each day I'd change from the hiking boots I'd worn on trail before my feet got cold. The insulated comfort of the felt liners allowed my feet to relax while they stayed toasty warm while I handled camp chores and ate dinner. While fetching water from an icy river I broke though the ice into six or eight inches of water and was darn glad I had these boots on instead of the boots I'd walked in all day.
The struggle in and out of the Lost 40s also reminded me of being a kid and left me frustrated at times. I don't know if it is the boot or my feet, but getting around the corner and into the boot was challenging if I wore anything thicker than my Smartwool Outdoor Sport socks. If I wore those I found my feet felt really loose in the boot and as though they were actually sliding around at times. The lacing systems didn't seem to help resolve that issue though over tightening them did reduce the insulating ability.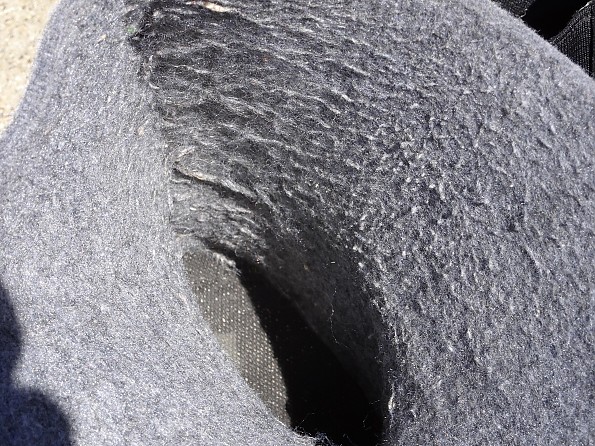 View of felt wear at the heel from my battle to get them on and off.


The construction and design of the Lost 40s really speak of some effort being made to create a darn nice boot. The stitching is extensive and evenly done. The belted pull straps certainly helped me get these boots on but there are no signs wear to the straps or materials they are attached to. The only real wear is to the felt liner from my heel going in and out. Perhaps a mesh overlay to reduce friction and wear would help there.
One other thing I'd suggest would be to add a built-in gaiter at the top. Something like Baffin did on the Impact that acts as a skirt to keep out snow if you are in deep or the power is flying. Big insulated boots like the Lost 40 are too wide for my OR Crocs, so having something, even if it isn't perfect, would be nice.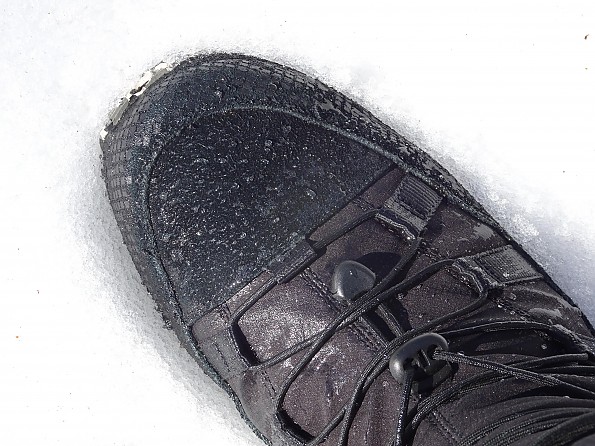 One step in the creek later the Lost 40s looking pretty clean.
                         Mud repelled from the suede even without water in most cases.
My basic advice to someone thinking about buying these boots would be to take socks of varying weight to a store and try these Vasques on in person. See how you feel about getting them on and off as well as how you feel about them on your feet walking around a bit. If they feel good in the store I'd say you can buy with confidence they will deliver in the field.  On the other hand if you struggle with getting them on or find them too loose on your feet then you can make your choice with open eyes.
My final thought on the Lost 40s is that they are a good boot, but could be better. I really liked the parts I liked, enough to tolerate the parts I didn't. If Vasque made a few tweaks as I've mentioned I think these could go from good to great. Whatever issues I have with the design I was very impressed with the construction and quality.
Source: received for testing via the Trailspace Review Corps (Sample provided by Vasque for testing and review)

Your Review
You May Like
Specs
Men's
Price
Historic Range: $43.83-$179.99

Women's
Price
Historic Range: $53.98-$179.99

Recently on Trailspace