MSR SimmerLite

The SimmerLite has been discontinued. It was replaced by the MSR DragonFly.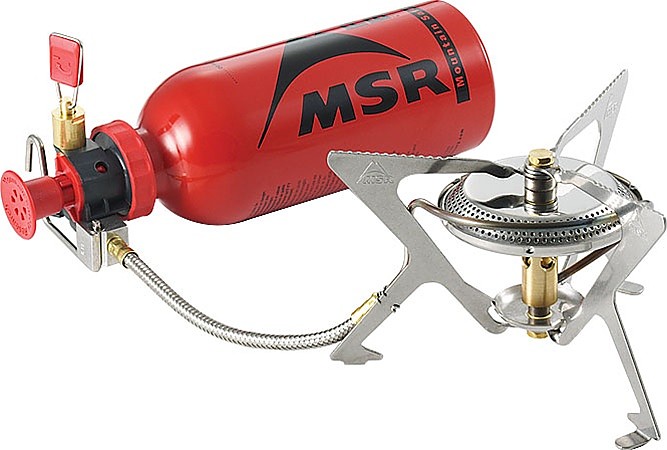 For a small, light, liquid fuel stove I am very happy with this piece of camp equipment.
It is
Most compact of many brands I was considering.
Near lightest of many brands I was considering.
Easy to light but of course it needs some technique.  Practice at home before leaving on your trip.
Easy to clean and somewhat self cleaning.
Temperature/flame adjustable with care. The first 1/8 turn will control near 75% of flame increase. It is sensitive but with a careful gentle turn it simmers well. Use the wind and base guards as they helps a lot. Max flame is a lot of flame and I never used max even for boiling water with wind guard and large pot.
Wind guard and base guard work well. The wind guard fits almost perfect (probably Perfect) for my MSR large pot from my MSR Gourmet Cookset.
***** Remember - It is not your gas stove at home. Think about where and how you use it as this can make a large difference on flame output and of course yours and the forests safety.  Fuel spills, with this or any liquid fuel stove can be catastrophic, especially if they light.  So you will understand, test (maybe) lighting one egg cup of fuel spilt on the ground (dirt), it is dangerous and flames up a lot.
Service and delivery comments:
Had a couple of issues,
The fuel valve (plastic parts) had been damaged before use. Found this before trip.
The Top Screw fell out while on the first hike, so I whittled a stick as a screw for every use until returning from 5 night MX Adventure trip.

In both cases of needed service both REI and Cascade Designs were exceptional with service and immediate parts replacement.  The fuel valve was a pain in the neck and I found out through MSR Service that they had a bad run, which I would have thought they would have recalled all units for replacement. Nevertheless I checked it before camping and it works great.  Losing the screw was mostly my mistake and somewhat humorous on the trip.
(note - check fasteners and use stove stove and then check screws again, before departure)
Yes, I do recommend and would buy again from REI.
Not 5 of 5 stars as it is not a multi-fuel stove and because of the original difficulties.
Update: February 3, 2012
Does not work well over 10k ft at 0degF. Hardly worked at all and could not boil water on it. Lowered down to 600ft and worked great.  
May have needed a little cleaning but the higher elevation and cold was not a friend to this unit. It seems to be a good below 8000ft and above 32deg stove.
Price Paid: $99.95

If you are still able to acquire one of these stoves (they are discontinued) I would recommend it.
First off, this stove is no longer available (it has been discontinued). However it is still available used, or even NEW, on various sites on the web. If you are looking for a decent first time white gas stove, then I would recommend this stove. It was the first backpacking stove I have bought and still use. 
It took me a while to learn how to prime the stove in order to get the liquid vaporized. It's a pain to do sometimes, and time consuming when you are hungry, and your available light is quickly disappearing because you kept hiking to find that "perfect spot."
The gas canister is easy to pressurize and the stove has been very efficient with the fuel. I had an issue this past summer with the stove's flame sputtering and burning weird, but the gas I had was old and once I changed to a newer source of fuel everything was fine.
Maintenance, if you ever need to do so, is a breeze. Make sure to check all your seals, and O rings before any trip. I carry the maintenance kit and an extra pump with me just in case anything should happen. So far nothing has.
Make sure to use the wind screen and heat reflector as they help immensely with the heating and flame stability in windy conditions.
The simmer function, although not perfect, is acceptable. I have made pancakes, quesadillas, pasta packs, pan fried meats, sauté veggies, and a whole host of other meal plans in addition to boiling water. You just need to adjust the valve on the side of the pump. I have also notice that pump pressure affects how intense the flame is. So if you need a lower flame do not pressurize it too much. If performance is not great you can just pump a few times and start again. 
I also suggest the trillium base for the stove (it also works for other MSR stoves).  It adds an extra method of stabilizing the stove. Both that and the stove pack very small and can fit into your cookware.
Source: bought it new
Price Paid: $100

A long discontinued stove, that I believe to be misunderstood, is still providing fantastic service.
Pros
Simmers really well
Lightweight
Reliable
Efficient
I bought this as new old stock about 6 years ago here In Tasmania. I had the Whisperlite International and used it for about 25 years. Unfortunately, the fuel feeder line disintegrated leaving a very dangerous situation. I wanted to buy the then-new Universal model, but it wasn't approved for use in Australia back then—I'm unaware whether it's since been approved or not. So, I did my research and found an unused Simmerlite here in Hobart.
I had read that the one thing a Simmerlite was supposed to do was to simmer—but it generally didn't. I played with it a bit on a walk and found that by under-pressurising the fuel canister I could get the stove to simmer really well. 
Given the weight of this thing, and the fact it does what the marketing folk said it did, I feel it has to have been the bargain of the decade. There probably are lighter liquid fuel stoves out there now, but having used MSR stoves for well over 30 years now I can't see myself changing them out of my gear. MSR stoves are reliable workhorses, and the Simmerlite has been my go-to now for a number of years. 
Beautifully built, robust, simple, and reliable. What more could a hungry hiker ask?
Experience
30 years with MSR stoves, 6 years with the Simmerlite.
Source: bought it new
Price Paid: AU$130

I have had this stove about 3 years. Unlike most of the other reviews I read personally I have cooked a bit more then just boiling water.
Having owning it for about a year we thought about trying to have a camping trip with "real food". It was going to be two 3-day trips a week apart.
On the first trip we brought frozen and salted steaks and cooked them up, the "simmer" feature worked very well to not scorch the meat. It worked also for frying potatoes in some olive oil.
On the second trip we had eggs for breakfast, and scrambled worked OK but over easy was not so easy, and we had made some sauces for pasta that turned out fine.
So, the reason to get the Simmerlight vs. other white gas stoves is to have just enough control to not scorch normal food. It works like a champ for basic camping cooking, with a little more leeway then other stoves.
For a liquid fuel stove I like this one.
Pros
Very light
Lights easy enough
Holds smaller cup/pot
Cons
Produces a little soot
Won't go down to a low simmer
I have had this stove for 7-8 years. I use it 8-10 times a year. Used it 18 days straight a few years back out West on a motorcycle trip and cooked two meals a day. Full meals, not just boiling water. It has always worked flawless. 
The weight is not as low as a pop can, but it's a lot more durable. It's light for this kind of stove. It's very easy to light once you practice with it.
One of the things I like best about it is I can set a cup on it without having to bridge the gap with something. My riding buddy got the MSR Whisperlite International and has to carry a metal disk to sit on top just to boil a cup of water.
There is a little soot if I get in a hurry in lighting it or shutting it down. If I take my time in priming it and just cut it down low as possible then blow it out I don't have soot.
It doesn't simmer as low as I would like but it can be used to simmer by spacing the pot higher with anything that will raise it up. If I know I need to simmer I have a ring made flashing I take with me.
Fuel consumption is low. For a weekend I take the 11oz bottle and bring 3-4 ounces home.
Assembly is quick. Boil time is quick. Stove is very stable. Wind screen comes with it and I recomend its use if there's any wind blowing as wind will affect any stove.
Source: bought it new
Price Paid: $99

Good stove.
Pros
Works very well
Easy to set up
Had this stove a long time, about 8 to 10 years. Very easy to set up quickly, tank of white gas seem to last the whole weekend.
You can put your pan on it with no fear of it tipping over, very stable. And just about the time it takes you to get out your coffee press, coffee, cream and sugar you have 20 oz  of boiling water.
Flame control is a bit tricky. I know the name says Simmer, well it doesn't. You can turn it just about off. That will give you some or not pumping it up so much.
Once you get the hang of it it's really nice to have a little stove that packs away in a neat little bag and can put out the kind of heat one burner of the kitchen gas stove does.
Source: bought it new
Price Paid: $98

Very durable stove.
I've had this stove for years (since 2006). Boiled lots of water, cooked many a meal. Never has it failed me. That says A LOT! I always take a rebuild kit with me on trips, just in case, but have never used it.
The stove does kind of simmer, but it really finicky and you have to turn it down to near shutting it off before the flame lowers enough to simmer. Can't tell you how many times I've tried to turn it to a simmer and shut it off, then had to re-light it. For me it's rare to go with a fancy meal on the trail though. Usually boil water for a freeze dried or dehydrated meal.
You can get a Whisperlite for a little cheaper, but I do like the option. It does get quite sooty on start up, but cleans up fairly easy and a quick shake cleans the jet.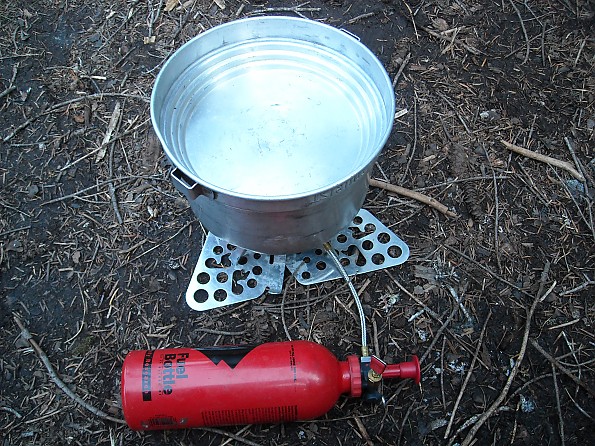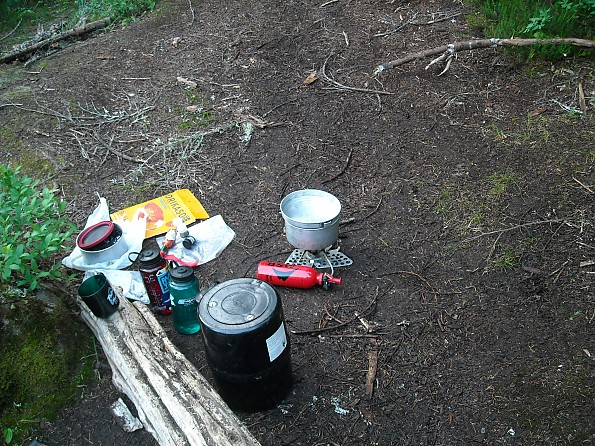 Great little stove.
Source: bought it new
Price Paid: $99

Powerful and reliable.
I got this stove for winter camping to melt snow. I was previously using a Jetboil Group Cooking System, which worked, albeit slowly, and with much effort devoted to keeping the canisters warm. 
This stove works great, is easy to maintain and really gets melts snow fast. It's been a game changer. I chose the Simmerlite because the pot supports are this enough to fit in between the flux ring grooves under my Jetboil pot. It was nice not to have to buy another pot for this stove.
My one complaint is that there is a fair amount of carbon black that collects under the burner during use. It's not a big deal, but you do have to clean it off after every trip.
Source: bought it new

Yes, I like it although it is not really a simmerer. I have used it on a couple of weekend trips and I am looking forward to a 4-week cycle trip. That should give plenty of opportunity to learn to know it better.
Compared to the Whisperlite it is a little lighter, it looks desperately modern and I have a feeling that it's more stable with a pot on top. It is not convertible to kerosine, which may be unpractical in countries where the white gas is on the heavy side (as in Scotland). There you will have to use car fuel or look at yellow flames.
Lighting this stove is just a little easier. It is also very quiet and I like that very much... ten years ago I owned a Dragonfly and I gave it away because of the thundering noise it made. However, if you want a really low flame that would be the stove you are looking for.
I have been amusing myself lately making pop can stoves that run on methanol, maybe I will take one with me just for simmering. For quietness and gentle heat, these are the ones to beat.
Price Paid: EUR 100

I bought a white gas stove because the weight of fuel is more important for me than the weight of the stove. Canister stoves are great for short trips, but on a long trip in colder weather when carrying fuel is more taxing than carrying a stove, this little guy rocks. Maybe that's a narrow demographic, but for what it is, it works great.
I would give it 5 stars but I see what everyone means about the simmering thing. I suppose I really don't care too much because I didn't buy it for simmering (I mostly boil water for dehydrated food and melt snow.).
Price Paid: $70

Although not as light as some this stove's great. Error proof and unlike other reviews I think it does produce lower flame than the Whisperlite. I'm unsure why you would buy the Whisperlite, it's similar but heavier and not as wind resistant. I go with someone with the Whisperlite and I'm always eating first.
I only boil water on it but the fuel has been in it for 10 trips and it's still going. I think if you fry eggs on it then you get what you deserve, a mess.
Price Paid: $100

I'm a 50-year-old guy and just getting to the stage in my career that I have decent time off to start hiking and camping regularly again. Because I'm older (and hopefully a bit wiser) I'm really trying to watch the weight of my gear (unlike in my twenties when I lugged around 70 lbs of gear and took everything except the kitchen sink!). Compactness and weight are considerations then in choosing gear.
I bought this stove because I wanted to return to white gas to get away from the waste canisters produce, (although I do love the light weight and simmer capabilities of my Brunton canister stove!). I was willing to sacrifice weight and space to be a bit more "green". But I still wanted a stove that was fairly compact but had simmering capabilities. I bought the Simmerlite on a whim in the store after reading the box. I wish I would have done a bit more research first.
This stove is a great stove if you just want to boil stuff. It sets up very well and is easy to light but as far as simmering...forget it. Admittedly I have only played with it once since buying it but I tried for ages to adjust the flame to a simmer but could not.
One of the reviews here said that it simmers better once broken in. I'll try it out next week on a 2 week trip to Ft Mcmurray and Jasper in northern Alberta to see if it it does "break in" but if it doesn't it is going back for an MSR Dragon Fly which I do know simmers well. I'll update this review then.
Update: August 24, 2008
This review is an update to my previous one. I am going to eat a bit of crow here.
As I mentioned I was going to try it out on a camping trip to Jasper National Park in Alberta.
I found that this stove worked very well for my purposes...making a hot meal and drink. Ok, so you can't get a true simmer on it (like I was going to make a cream sauce in the Rocky Mountains!). I did find that I could get some decent flame control from it after I got used to it and what that did was prevent things from boiling over.
The stove also fits into my small pot with a lid and so gets good marks for compactability.
I have therefore upped my rating to 4.5 stars.
Price Paid: $87

Just returned from a three-day trip with a new SimmerLite. It works fairly well -- heats quickly, doesn't seem to use much fuel, and is fairly quiet. However, it doesn't really simmer. I miss my old Coleman Apex, but when I went to replace it couldn't find one. It seems that Coleman isn't as hip a name as MSR, even if their product is better.
Price Paid: $80

I'm getting one soon mainly because I'm getting it cheap - I'm here cause I was trying to find out if the one I'm getting is an older model. If it is then it's quite clever the wording used in all the o/l sites I've visited that they mention the new stove and how light it is without mentioning the old one (hope it's not to give the folks selling on their old stock a boost).
Anyhow, in working for a guided hikes company (I'm an Aussie and it's walking still here) I cooked for groups with the basic model (Whisperlite) for around two years (worth of nights in the 'bush'). You can even simmer with that - it just takes weeks of practice. the trick is to turn the stove off and as the flame is about to die nudge it back just enough - soon you get the hang of just how far - it really is, very little and takes practice. Great reliable stoves. I'm going to try the SimmerLite just to see if it may have a slightly larger 'miniscule' range of simmer 9 (and it's one third of the price it is here in Oz.) We'll see.
It works fine, but it doesn't simmer!! I really don't see why MSR made this stove. It's pretty much the same as the WhisperLite. I used the WhisperLite for years and I really can't tell the difference between the two stoves. The SimmerLite is a little lighter, and looks more modern. They should have just got rid of the WhisperLite, and replaced it with this stove.
Price Paid: $40 ebay

For years I used an alcohol stove, but recently I wanted something with more power. I tried a Fyrestorm but that went back due to defect and high cost. Then came the Simmerlite which seemed to be a winner. I found quality, design, weight, compactness and low noise are top features but flame control is not. The name and mfg claims are very misleading when it comes to flame control. There is some change but far from a simmer. I could not turn down enough to prevent boil on red beans and rice and ended up burning. My old Trangia could be dampered enough to simmer and required little stirring. The Simmerlite required constant stirring and still it burned food.
After I got home I read tips on how to simmer with Wisperlite and applied to Simmerlite. It helped but not much. If I wanted a stove that required special tricks to simmer I would had purchased a Wisperlite and save a few bucks. If you want very low output for simmering this is not the stove. While it does provide some flame control it's not enough to factor in when considering. Glad stores I deal with have great return policies since I'm going to make another purchase.
Price Paid: $99.95

I used this stove on my 2004 thru-hike of the A.T. and loved it. It was 4 1/4 months of problem free cooking. Some people think that because of the name of the stove, you would be able to get a perfect simmer out of it. You do have too work with it a little bit and once the stove is broken in it will simmer better than when new. The stove is quick and easy to set up with a little practice and if you prime it right it's easy to lite and cook with. It's a great stove and a great improvement over the tried and true MSR Whisperlite. Great job, MSR.
The primary advantage of this stove is that it is quiet, and that it is light and compact. It has very little capacity for simmering, at least compared to a stove like the DragonFly, which I used to own (but alas it broke). I think the name of the stove is very misleading considering its capabilities.
Price Paid: $120

I'm a long-term two-stove backpacker. I like having a second stove to run my backpack oven (though I usually get a buddy to carry the second stove). I purchased this stove to replace my Coleman Apex I stove which had finally died. It is a second stove to my main stove, a MSR Dragonfly.
In comparison to the Dragonfly, the SimmerLite has been a disappointment. Priming usually comes with a fireball and scorched earth underneath. Although much quieter than the Dragonfly, it doesn't simmer nearly as well. In fact, I haven't dared to try baking with the SimmerLite--I still only trust the Dragonfly for that perfect simmer required to bake. When you include the fuel and bottle, the weight savings of the SimmerLite over the Dragonfly is marginal. If you're choosing between the two, pick the Dragonfly.
Price Paid: $90

This is the first white gas stove I have owned since I had a Svea 123 many years ago, so keep in mind I am not real familiar with recent white gas stoves as a comparison. I read a review somewhere saying a person could simmer delicate sauces with this stove--this is not true. The flame is adjustible only to a minor extent, certainly not enough to simmer anything. For example, when I boil water with this stove I cannot prevent a roiling boil no matter how low I turn it down.
Also priming the stove with the burner as in the MSR instuctions is problematic, it creates a fairly large fireball before the stove settles down. I have been priming it with alcohol from the overflow cup, which works better for me. Other than that, I like it. It burns hot and steady and fits in my .9 liter Evernew Titanium pot.
Price Paid: $69 (REI Fall Sale)

Your Review
You May Like
Specs
Price
Historic Range: $49.98-$100.00
Reviewers Paid: $40.00-$120.00

Recently on Trailspace