REI Half Dome 2 Plus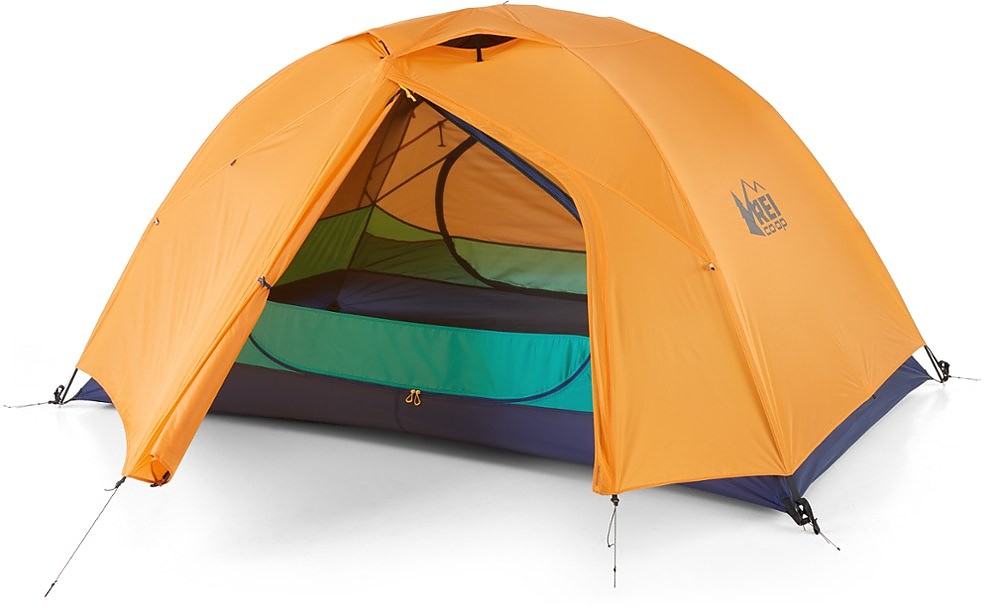 2015 model:REI keeps innovating this tried and tested model. They've done a fine job with keeping things simple and effective.
2010 model: Functional, effective, and plenty of space creates a decent trade off for 5lb.
Pros
2015 model:
Easy setup
Double doors
Double vestibules
2010 model:
easy set up
spacious
Cons
2015 model:
no real complaints
2010 model:
taped seam deterioration a bit too quickly
fly attaches with grommets rather than clips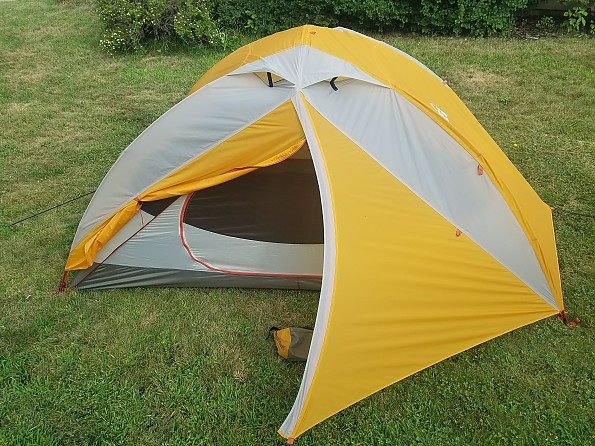 2015 model
Setup: It's a simple single pole design. The configuration is not a cross pole. Rather it's two arches supported by a cross pole.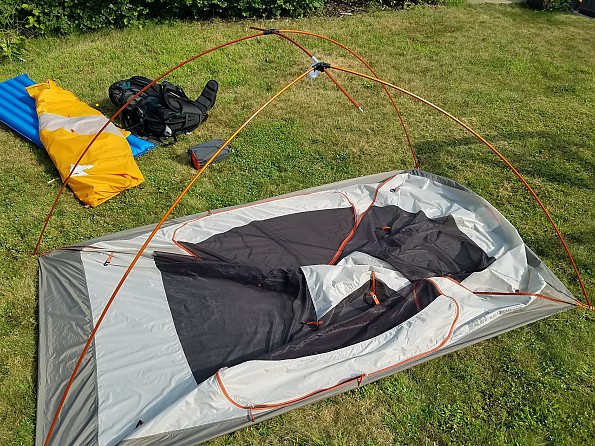 The pole hub is plastic. I've broken these kind before by not inserting the pole all the way in and then stressing the pole as you bend it. If you are careful, these types of hubs work well.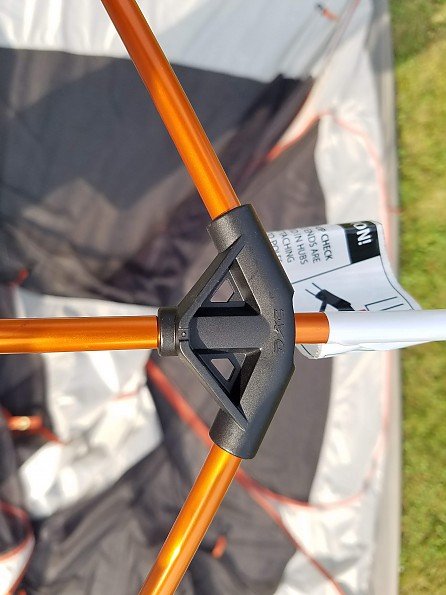 You basically put the pole on, stake the corners, and you're done. Exterior quick clips make pole attachment to the tent a breeze. 

The fly is attached to the corners via grommets and not clips. I prefer clips.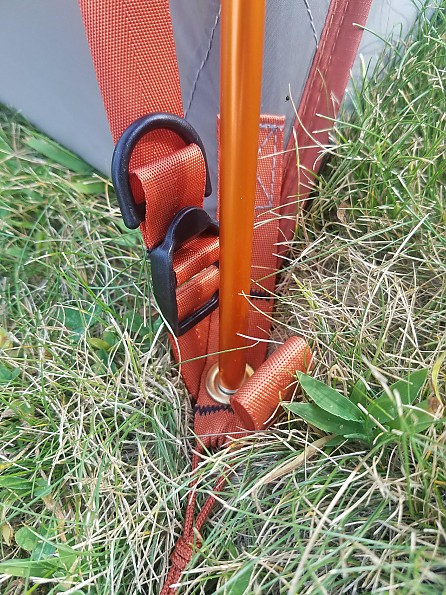 They tend to be less hassle. Once guyed out, the tent is as sturdy as you'd need in most weather. The guy cords use the one hand friction cinch piece. It works well and holds even when quite a bit of force is applied.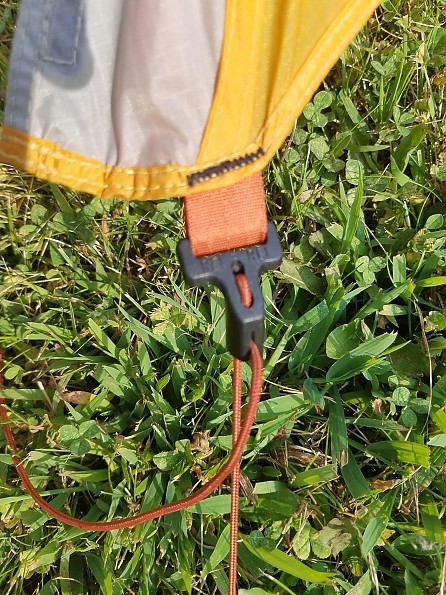 Stability: I've only used this tent this past summer. I've experienced nothing but pleasant nights with light or no rain and very easy winds. I can't say how stable it is in snow or heavy winds. 
Weather Resistance: The tent kept out light rain very well. I like that the top pole creates walls that are nearly vertical so as to not let rain in when you unzip the fly.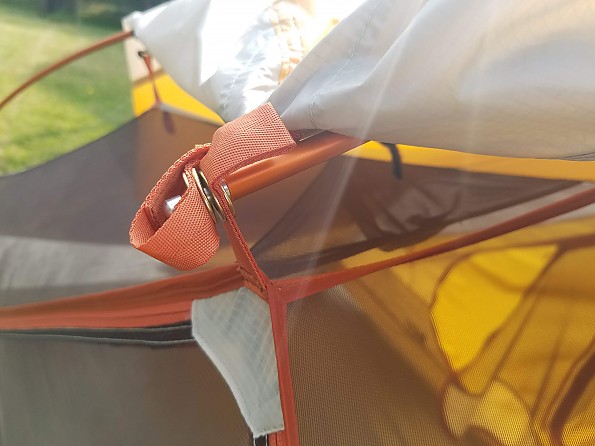 It's a design that I've used in quite a few tents now and have always appreciated. The floor stays dry as well. The seams are seam taped. Since this is a newer model, the tape was all intact. 
Ventilation: Scores well on venting. There are four vents on the fly.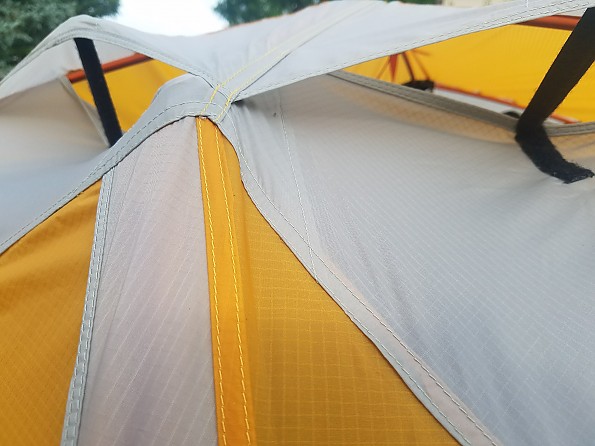 You can prop anywhere from none of them open to all four or any number in between. The top 2/3 of the tent is mesh.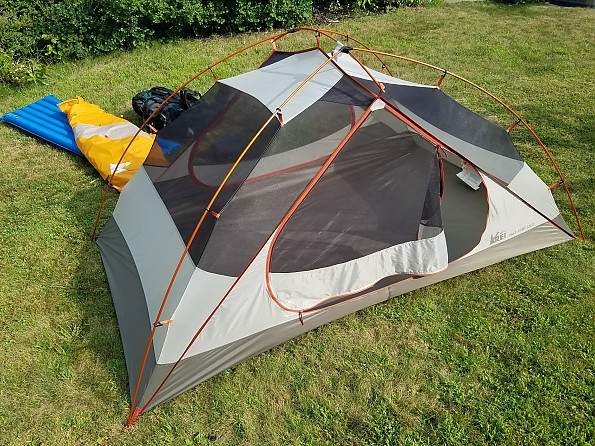 Basically, you can choose a variety of venting options based on your need.
There's also the option of rolling up 50% of the fly to create a half open tent. This is a decent option when there could be a chance of precipitation. This way, you can just unclip and drop the fly down in less than a couple of seconds.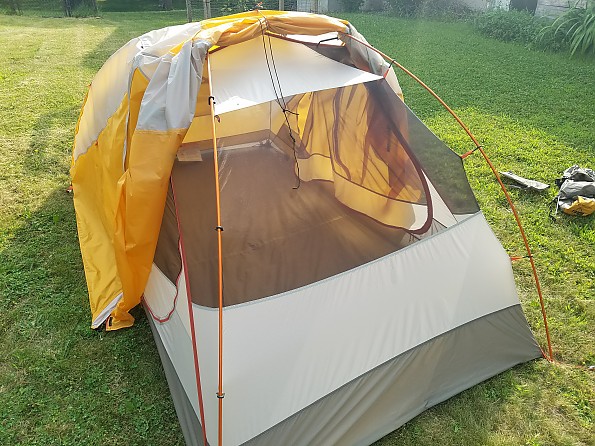 Room and Storage: Being that the tent is the 2Plus model, the amount of interior space is increased. This creates a very nice true 2 person tent. There is room to spare even with 2 people.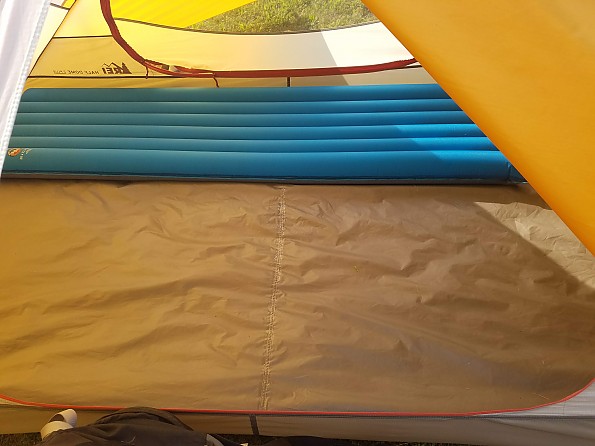 The vestibules hold a 75L pack and boots without issue.

There are extra pockets for storage on the sides and ceiling. The extra space means extra materials which increases the weight a bit. The tent weighs in at 4lb 15oz. That being said, it's still sub 5lb, which is impressive considering the amount of space you get. 
Packability: The tent packs down very well due to the straight poles. I'll let the picture do the work.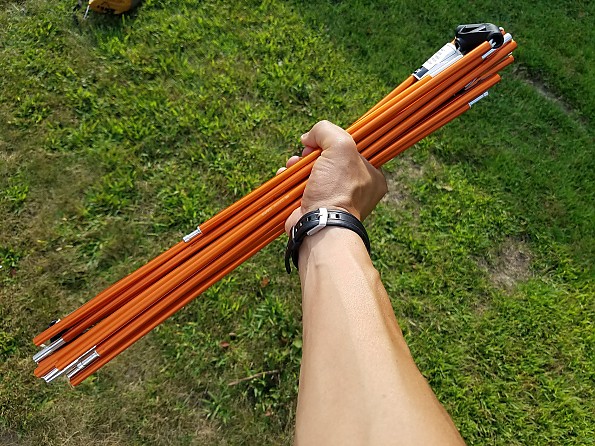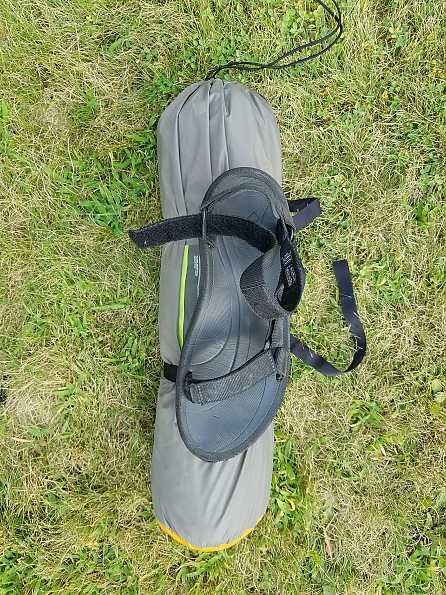 Ease of use: The tear drop doors open well without snags or difficult to navigate angles. The tight draw cords for the fly have stayed in place every time. 
Features: The door pockets are something that I haven't seen before. I actually liked them. You can just stuff the door up into them. I'm used to having to carefully roll up a door and then clip them or secure them back. Stuffing them saves time and you have less bumpy stuff protruding when you go to roll up your tent for packing.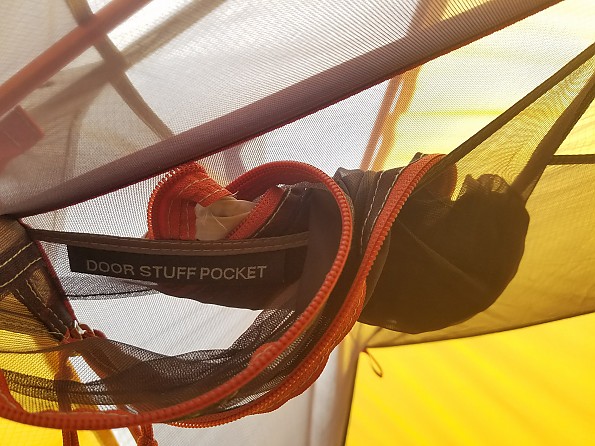 Ceiling storage is a bit more rare in a 2P tent. I like the ceiling pockets. They're beefy!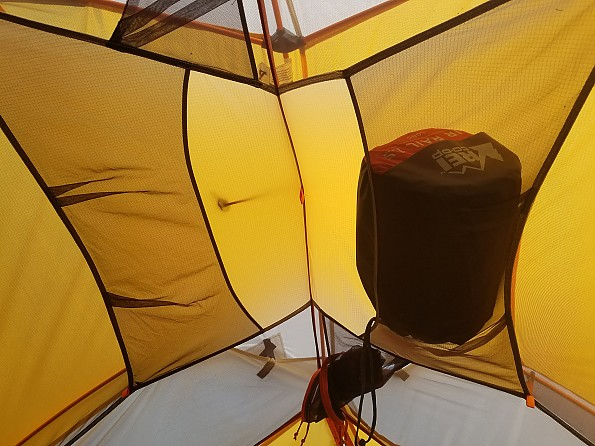 The venting on both sides of the fly allow air to cross flow. I think that this is a great feature. Most small tents rely on convection for venting; the cross flow seems to draw out the heat faster. 
Construction and Durability: The materials are lightweight but not terribly flimsy. I sometimes wonder what the threshold is for weight to durability. I think that this model still provides materials that will last for quite a while if cared for properly. I bought the tent from a Co-op garage sale. It was returned because the previous owner reported that the screen tore loose from a seam. I looked at it and couldn't find any manufacturing flaws. I think that the owner must have just created too much force somehow and tore it. I reinforced it and sewed it back together. 
Conditions: Easy going summer weather with a few light sprinkles. 
Conclusion: I don't think you can go wrong with this tent. As long as you're someone that doesn't mind packing 5lb, you'll get a nice tradeoff with lots of space, good venting, easy setup, and reliability. 
Set up:
Instead of cross poles, the 2010 model uses two parallel arched poles that run the length of the tent. A short perpendicular cross pole is inserted across the top.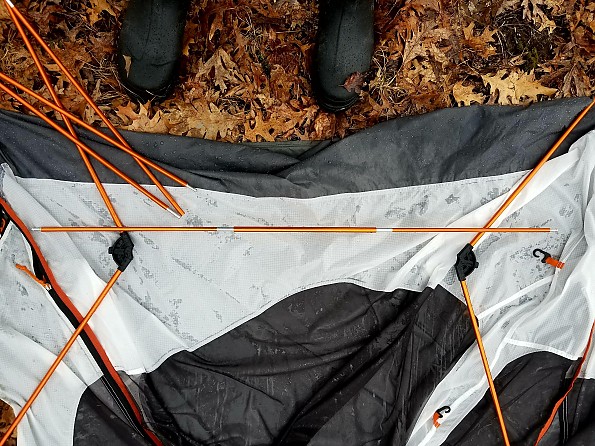 Just put the two long poles into the corner grommets and insert the cross pole and voila, done.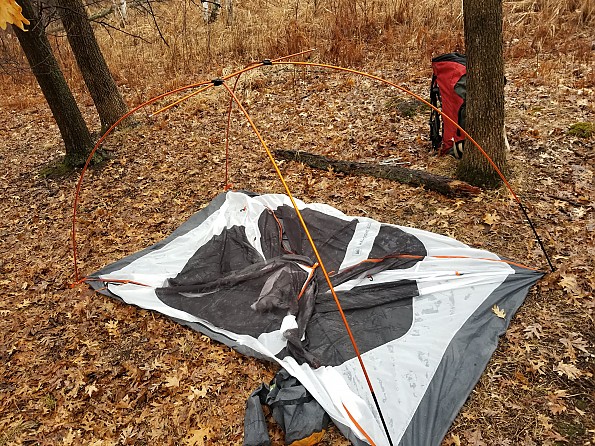 Attach the rest of the tent by clips.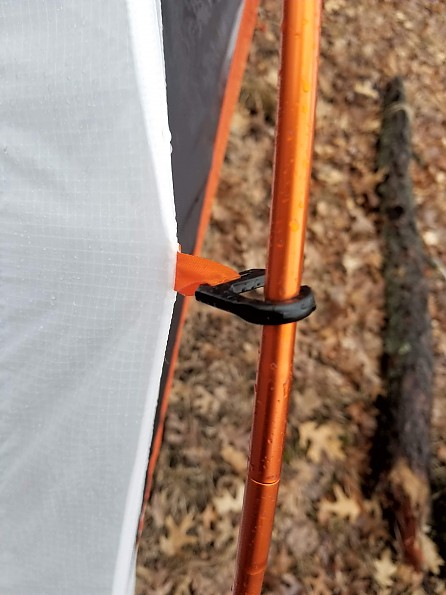 The fly attaches by grommets rather than clips. I prefer clips. When you attach the tent, the fly, and the footprint all by grommets, things get a little busy at that intersection.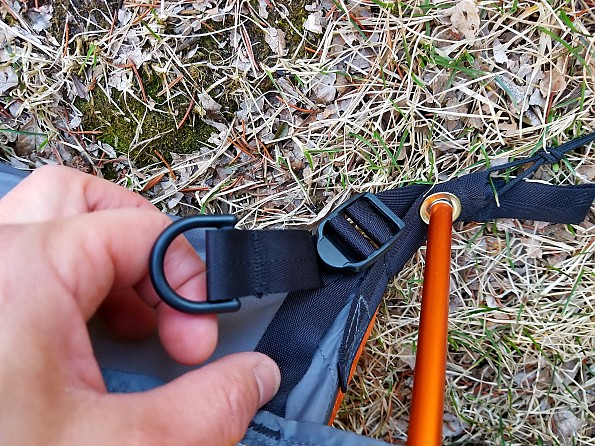 Once the fly is on, stake it out.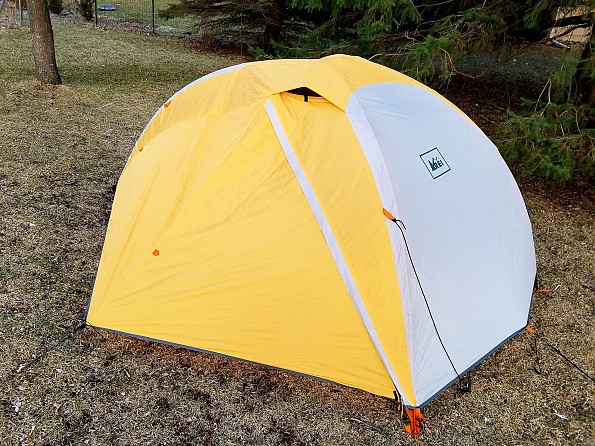 Stability: I haven't tested the tent in any extreme weather but it is stable in light prolonged rain and clear nights.

Weather Resistance: I bought this model used. The last time I took the tent out, I found myself in quite a predicament. I had used the tent twice before in weather without precipitation. No problems. Even though the taped seams were semi-deteriorated (the tape was cracking but not entirely flaking off), I thought that they might be ok. No dice! Water came in at every seam. I slept a total of 2 hours that night. The floor of the tent had pools by morning. 

Water dripped on my face and it soaked my sleeping bag. I brought an old Marmot Mountainworks waterproof membrane bag. The water dripped onto my sleeping pad and pooled in the pad's depressions. This allowed the water to work through the seams of my waterproof bag. The inside of the bag was soaked by morning. Beware of those seams on any piece of gear. I don't hold this against the tent or bag. This was my fault for being over confident. It seems as though any taped seams deteriorate in a few years if stored in less than ideal conditions (cool/dark/dry). The good thing is that the floor was water tight. You can see in the pic that solid rain the whole night was no match for the floor. The ground was dry underneath.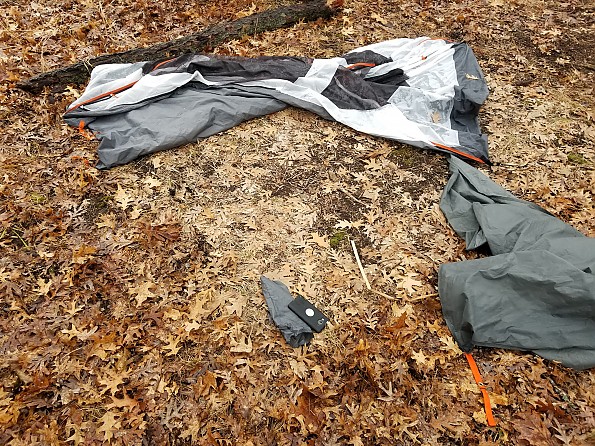 After having tested dozens of tents over the years, I place most of the onus on the user when it comes to seam care. From my experience tape will last a decade or longer if stored properly. After that, the user can reseal the equipment. 
The cross pole at the top results in a near vertical wall. Ideally this will stop water from entering the tent when you come in or leave. The angle is not quite vertical though. It makes for more interior space but the water does get in when the fly is open.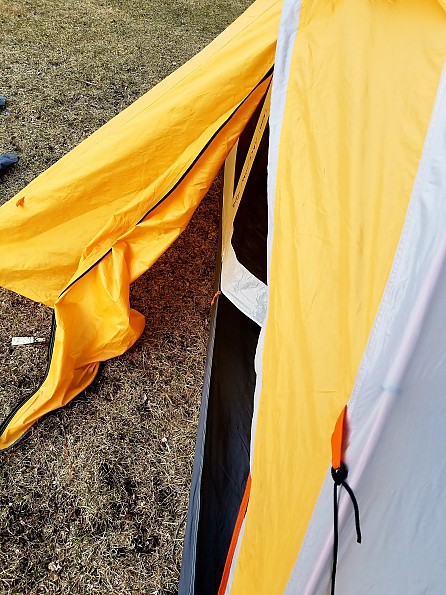 Ventilation: Then tent vents ok. There are two vents on the ceiling as opposed to the four vents on the newer model.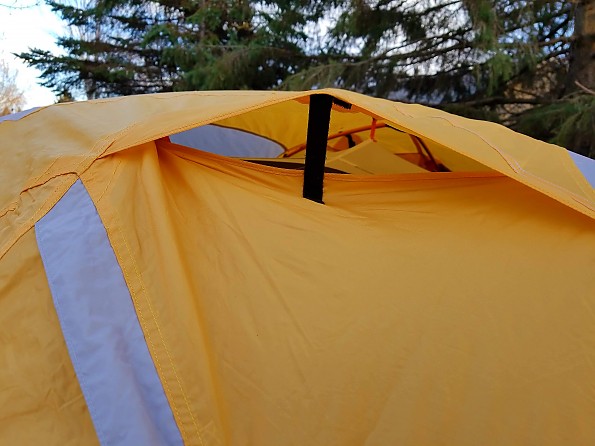 The screen wall extends to about 6 inches above the floor. Since most of the tent is screen, there is a decent amount of convected air flow.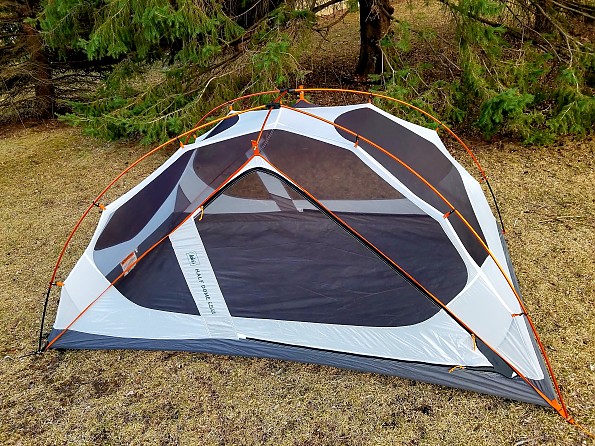 Condensation can be a small issue in temps that change dramatically between night and day. In drier weather, I've had no worries. 
Room and Storage: There's plenty of room in this tent. Since it is a 2+ model, there's an extra foot or more of space length and width wise. Two people will have room to spare for wiggling, restless leg syndrome or maybe even a dog.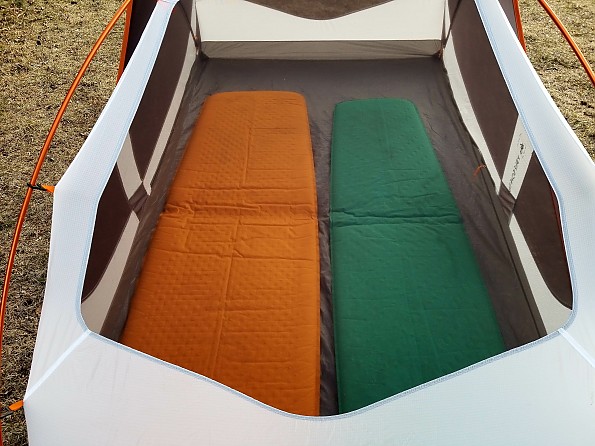 There are built-in ceiling pockets,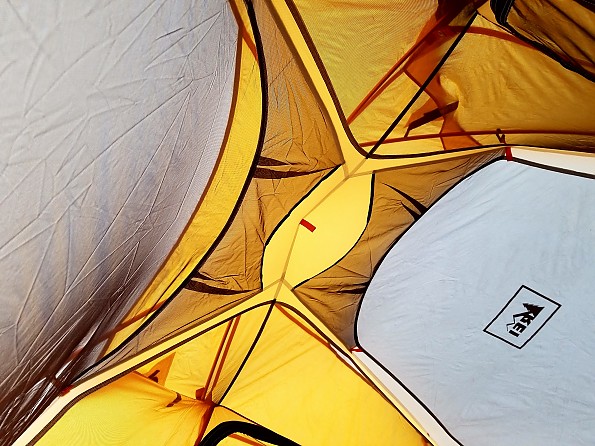 as well as two sets of wall pockets.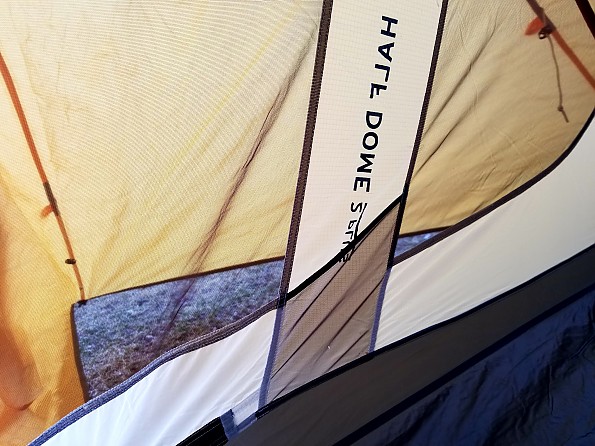 The two vestibules are large enough to hold an 85lb pack as well as boots.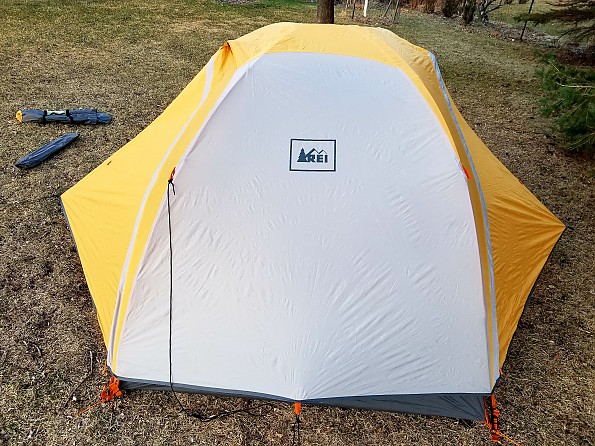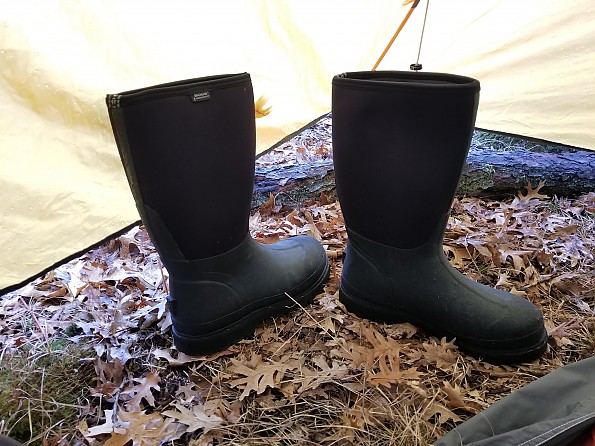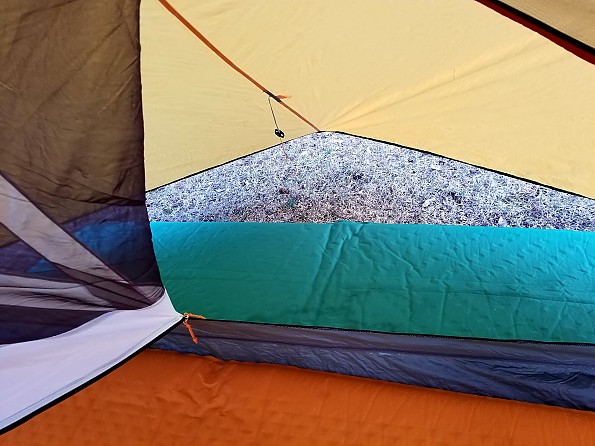 Thermarest air pad under one of the vestibules to show size
Packability: The tent packs down well for its size. As you can see in the pic, it's about the size that one might expect from most 2p tents despite its extra room.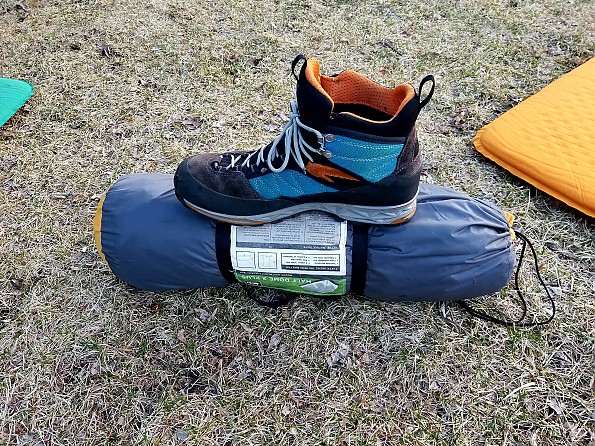 Ease of use: All parts work easily enough. The one feature that has been changed from this model to the newer model is that the old door is a double zipper design whereas the new door is a single zipper "D" door. I think that this was a good change.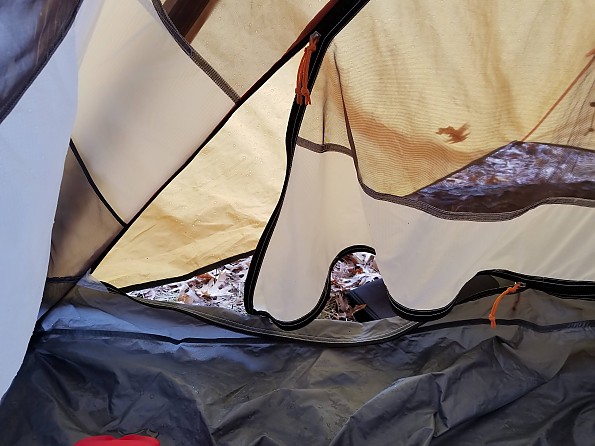 Features: There are friction holds on some of the guy lines. Others have the old standard adjustable wafer.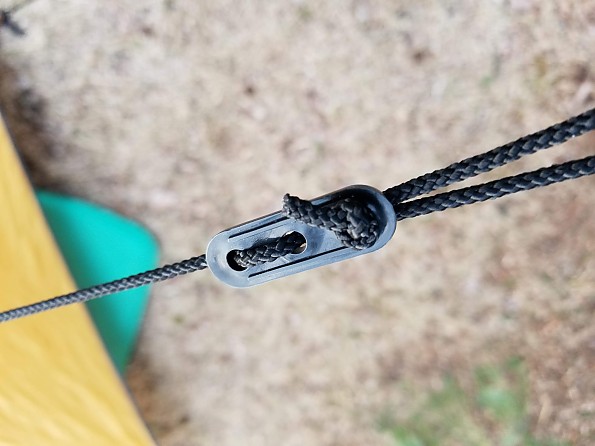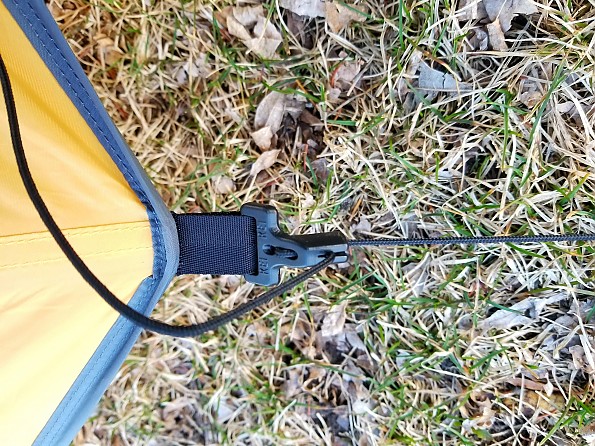 There's a nice little plastic finger pull in each corner to cinch down the fly.They're really convenient and work well. Some scoff at these little components because of added weight. You can decide whether they are a boon or blunder.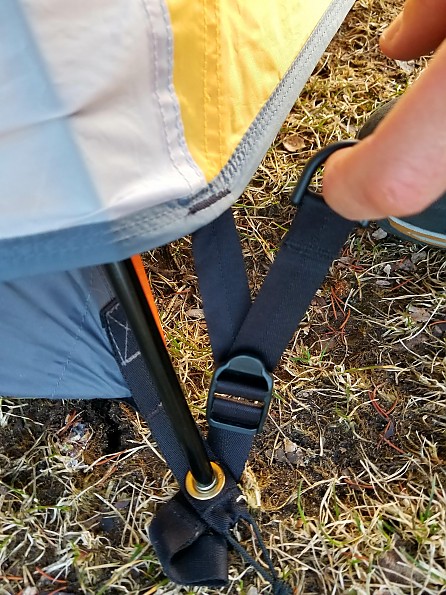 Construction and Durability: The Half Dome is well constructed (rip stop nylon, no-see-um screens, waterproof membrane on the fly and floor). The materials are sound, the seams are reinforced.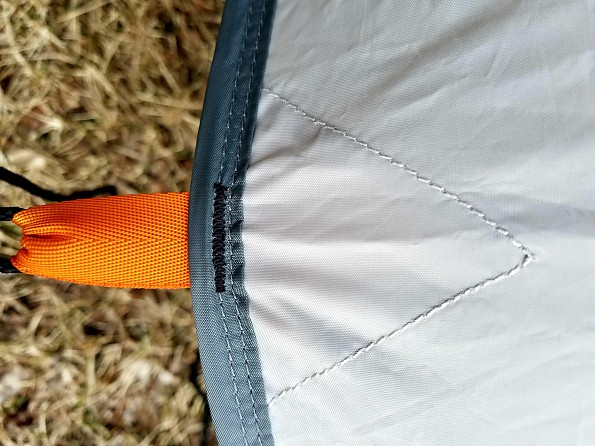 The plastic on the tri-pole hubs are still strong.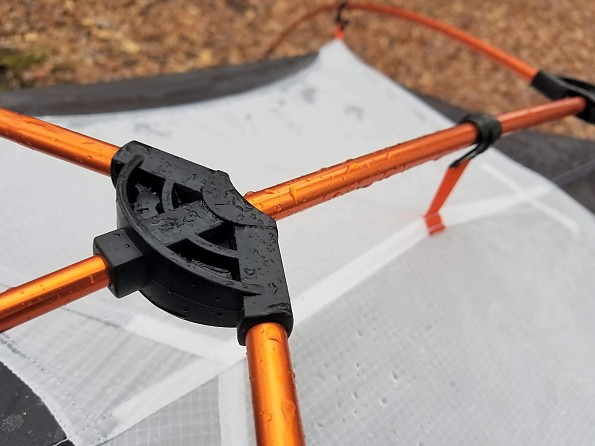 After nearly 10 years, the tent looks great. 

Conclusion: The Half Dome 2010 won a Gear of the Year award in Backpacking magazine. It's really no wonder. For the price-to-value ratio, I think the Half Dome is a good deal. Be sure to re-seal those seams and you'll most likely have spacious living quarters that will last you quite some time. 
Source: bought it used
Price Paid: $54

Good tent with a few flaws.
Pros
Fairly lightweight
Roomy for one, cozy for two
Love the vestibules
Love the dual door design for two-person use; this is a must-have design feature!.
Great windows without the fly, but keeps rain out with the fly.
Easy setup and take down
Cons
Footprint too small
Fly leaves air gap at base that convects wind
Poles need restringing (not easy)
Fairly lightweight. I've carried this on trips as long as 56 miles. Roomy for one, cozy but manageable for two. Love the vestibule and dual door design for two-person use. Great windows without the fly, but keeps rain out with the fly.
Easy setup and take-down. Footprint should extend beyond tent for better protection, tends to flop around. When the fly is staked with string it has a gap that convects air up under the fly and through the tent; with no window covers there is no way to stop the wind unless you pile the fly up at the base of the tent, which means water does not shed away from the tent. It held up well in wind and hail and rain.
We were sold on this tent because at the time, REI offered restringing services, which they no longer do. We keep the two tents inside a conditioned home (not in the garage), and have used them 6x per year for 5 years (average of 2 nights per trip, a few 1-week backpack trips) estimated use 75 camping nights...now the bungee cord is shot and needs to be replaced.
We take care of our gear, but I am disappointed in the cords and now have to figure out how to restring on my own. The cord is very thin, so standard cord may not work. Wish REI had kept their service plan as we bought these based on what we were told at the store!
Experience
Carried and camped with this 6 nights on Highline Trail (56 miles), 4 nights to Havasupai (22 miles), 2 nights to Aravaipa Canyon 3x (6 miles each trip), and multiple 1-3 night trips over the past 6 years. Backpack camping in sun, wind, rain, and hail...they've never let me down until the bungee cords died on BOTH of the two HD2+ tents we own....so now I have to get them fixed!
Source: bought it new

Floor size is 98 x 56 inches. This tent is an excellent choice for taller people. I am 6'2" and have plenty of length. It is a breeze to set up, a breeze to take down, and has enough tie down points to withstand some pretty high wind. Excellent ventilation — never have a problem with condensation in the Pacific Northwest.
Pros
Sized large enough for tall people
Free-standing, quick setup and take-down
Well ventilated
Cons
Two separate zippers on the doors, necessary due to the shape.
Small gap at corner of doors where zippers come together
I have used this tent for about 20 nights. No problems. Just used it in some serious wind, estimated at gusts of 30 knots. Tent caved in on the upwind side some, but sprang right back out when the gust passed. No broken poles.
It is a little bulky, so definitely is best for either car camping, rafting, or kayak camping. But for kayak camping a smaller/less bulky tent would be better. I cannot recommend it for backpacking: too bulky and too heavy.
It has six small storage pockets, 3 on each side, and two net "attic" areas for fairly small items. Cannot easily hang clothes from the attic though.
Plenty of headroom for a 6' 2" tall person.
All parts are color coded for easy set-up: black on one end and orange on the other end.
Stakes that come with the tent are a little wimpy. I mainly use better ones.
Takes 12 stakes to full pin it down: 4 on the tent corners, 2 on the doors, 2 on each end of the fly, and 4 additional tie-down points on the corners about 1/2 way up the fly.
Source: bought it new
Price Paid: $160

Roomy, Packable, and all around Good.
Pros
Roomy
Packs well
Comes in a compressible stuff sack
Cons
Heavier than some
Rain fly can be difficult
Setup: Color coded legs make setup quite easy. The rain fly took a few tries to get taut, but it was my first time pitching it.
Stability: This thing is rock solid.
Weather Resistance: When it is zipped up, it's as watertight as a beaver coated in Vaseline. That being said, if you open the rain fly in wet conditions you might drip some water into the tent. A taut pitch helps, but doesn't eliminate the potential for water entry. A critical note here is that I have the 2012, 2-Vent version of this product.
Ventilation: I had no condensation on a 340degree night inside the tent. I did have both roof vents open.
Room & Storage: Can you say palatial? Is that even a word? This thing is HUGE. Also, it has as many pockets as those tactical pants that have a custom made pocket for everything. I ran out of gear to put in the pockets long before I ran out of pockets.
Packability: For the size it is when pitched, it packs darn well. Compression straps on the stuff sack improve this even more.
Ease of Use: If you're the kind of person that has trouble opening a can of soup, this might be confusing. If, however, you've previously operated a tent, you will love the simplicity of this design.
Features: Near vertical walls make it feel quite roomy.
Construction & Durability: Built to last, I think. 
Conditions: 2 Nights, one without rain fly and one with.  Both in the 30's, and relatively dry.
Source: bought it new
Price Paid: $169

Version reviewed: 2002
Have used this tent for about six nights so far, winter conditions, in wooded area as well as open and breezy conditions in a snowstorm. Temps well below freezing, chill below 0.
First, I really like the design -- 2 doors and very generous vestibules -- great for leaving snowy gear outside and accessible. Floor space is adequate for two, very good for one, vent system works well. Viewing window is okay, but limits view (not a big deal for me). Clips are great to work with, tent feels stable in a 25-mph wind. Also packs well, good for kayaks as well.
The fly is difficult to make taut at ground level. I still haven't figured out how to completely eliminate the slight flapping in a wind. Also, the fly could stand to be a little closer to the ground -- powdery snow easily blew under and up against the tent wall. On a windy, cold night, I could feel a lot of breeze thru the tent. Other than that, no problems.
Overall, a good value. Light, packable, sturdy for moderate conditions.
Design: three-season freestanding dome
Sleeps: 2
Ease of Setup: easy
Weight: est. 5 lbs
Price Paid: $119 on sale

This tent is extremely easy and fast to set up and break down. It has an entrance on both sides so you don't have to climb over each other. There is lots of storage pockets all around the tent and a loop for a lantern on the ceiling. It is pretty lightweight and very waterproof.
Pros
Two doors
Storage
Ease of assembly
I have had this tent for a year and have loved it. It is still in fantastic condition. It is a three-season tent, but I have used it in winter backpacking and it worked well. It has been through rain and high winds and has been sturdy and kept me dry.
The poles are all connected so you have one piece to deal with. The poles don't slide through any fabric loops but instead you clip hooks which makes setup and break down extremely easy and fast.
I purchased the footprint for this tent and between the footprint and the bathtub floor, I have never had any water seep into the tent. There is a little condensation in the night with the rain fly on but it's never gotten me wet.
The "Plus" space is definitely a plus and there are six storage pockets around the tent so that you can keep things organized and easy to find. The half dome allows you to sit comfortably in the tent without hitting your head.
The storage bag cinches down with two compression straps so that it can pack down. I pack the parts separately in my backpack and they store relatively small.
The tent has two doors so that each person has their own entry and you don't have to crawl over each other to get in and out. The rain fly stretches out on either side to create a vestibule for both doors. The vestibule zips up the middle so that one half of it stays up while the doorway is open, which is great for cooking in the rain because your stove can stay dry while having ventilation.
I would definitely recommend this product!
Source: bought it new
Price Paid: $100

This tent has survived the pouring rain of Big Sur, the wind of the Badlands, and freezing temps and snow in Yosemite. Highly recommended!
Pros
Inner pockets
Rain protection
Source: bought it new

I bought this tent (made in 2002) in the 2007 camping season and I'm using it again this year (2008). I bought this tent used and it was a great choice. It is the same as REI's current Halfdome 2 HC, but you can get these on eBay or garage sales for much less.
I've been backpacking for over 15 years and this is one of the best (and cheapest) tents I've ever had. Lots of room inside, but still has a pack weight that is acceptable. Lots of ventilation and big vestibules and best of all...2 doors...a MUST for me.
If you can find one of these used, grab it! REI tents last for decades. If you can't get one of these used, I would recommend looking at a new Half Dome 2 HC (the same just more $$$).
Design: Three season backpacking
Sleeps: 2
Ease of Setup: Super easy
Price Paid: $95

I do not know how they can make a tent like this for the price. If it ain't broke don't fix it!
Pros
It feels like your own cabin, spacious and homey.
VENTILATION!
Fast, easy to pitch
Use paracord on all the guy loops correctly and it will withstand high winds and storms easily
2 doors, 2 vestibules to store gear, egress, and cook at same time
Fly is bomb proof to elements when pitched correctly
Ease of setup with footprint
Cons
It's long when packed and heavy for one
No guy loops to tighten and pull out vestibles
Lacks a stake and "rope/string" for each guy line
I wanted the Half Dome for awhile and when the Half Dome 2 Plus was about 150$ I had to get it. I bought the footprint which makes things like setting up so much easier and is a great tarp to lie on or sleep under. 
I did not use the fly at first and was amazed how easy the setup was and how it pushed the two door walls out. I was used to walls sloping inward to drip rain in the door, but if used with the fly vestibule slowly unzipping, the rain sheds and does not come into the tent door. Must be patient unzipping though....
Attaching the fly is a bit confusing. Just use common sense and tighten the fly slowly. Buy some Paracord and stakes for all the red loops on the fly and guy all those out the correct way so that the fly is nice taut but will give without ripping. 
Very spacious inside with a durable bathtub floor and a lot of fine mesh for aeration. Open the vent however when the wind is going and the condensation is never an issue. I live in a HIGH humidity place and it just gets humid in the tent the morning. This is with one person and a lot of gear though. 
My favorite thing, because it is a good five pound, is the durability and the fact I know I will have my own little cabin to sleep AND relax in. Once it is up, a big weight is lifted off my shoulders and I can enjoy what is around knowing I will be happy in my Half Dome.
Source: bought it new
Price Paid: $200

Pros
Lots of space once inside
Long enough to accommodate longer pads
Cons
Really need to guy out to keep from sagging
Door seems difficult to enter unless fly door is completely tied back.
I bought this tent because my Exped Megamat 10 sleep pad was touching the end of my other tent due to the tent slope and 77" pad. The REI Half Dome 2 Plus tent is roomy and easy to put up. However, if the tent is not guyed out, it sags. This guy business takes some skill.
Do I recommend it? For someone camping in warm weather where the tent rainfly can remain tied back, yes. If you are planning on fall or spring weather where rain may be strong, no.
The tent must be solidly staked out and guyed out if moisture can be an issue. Also, the doors are difficult to enter and exit if the rain-fly is not completely tied back. In wet weather, rainfly doors get you very wet when you enter or exit tent.
I am thinking of replacing it with the Marmot Limelight 3person. The REI Half Dome 2 Plus is my car camping tent, so weight is not an issue. It is not used for solo backpacking and neither would the Limelight be used in such a way.
For lightweight backpacking, I use a Big Agnes Fly Creek UL2, which weighs just over 2 pounds.
Bought it new and did not use it for a couple of years. Rainfly coating turned to dust in still being in the original packaging. When we used it, EVERYTHING inside the tent became waterlogged. Love the design otherwise.
Pros
Easy to put up
Great room for 6 foot tall people.
Cons
Not waterproof IN THE LEAST
Durability
Virtually new, unused tent, but had been on the shelf in the basement garage deteriorated and became NOT waterproof. We took it out and got to sleep in puddles when it rained. Rain just came right through the rain fly.
Source: bought it new
Price Paid: $200

Two tall backpacking people and gear will fit in tent. Being a Scout leader, I am often sleeping alone in tent with plenty of room for reference materials. Very easy to assemble after practicing once in the daylight. Directions printed on storage bag.
Pros
Small package
Light in weight
Color strips indicate pole location
Good protection from the weather
Cons
Entery needs zippers to come to a square corner at bottom left hand for easier entry
Needs 4 more stakes
Recommended by a friend, and I would readily recommend it to any friend who likes going lite when camping. Easy to assemble with many anchor points for when the weather gets rough.
Source: bought it new
Price Paid: $135.95

This tent is great for 2 big people to bring out backpacking or car camping. It's big, breathable, sturdy, easy to set up, and a pretty good price for what you get.
Pros
Roomy
Easy to set up
Holds up in bad weather
I don't think I'll ever use another tent, even when luxury camping. My boyfriend and I, both plus sized and around 6 ft tall, fit perfectly in this beast along with most of our gear. It's about 6lbs and it's easy to split the weight between 2 people to be around 3lbs each.
The poles and tent are color coordinated and the tent is free standing and pretty easy to set up after the first time, the two of us can set it up in under 2 minutes. The tent pulls taut with only the poles and the rainfly pulls taught with a little use of the guy-lines.
It's rained on us pretty much every time we go out so this tent has been tested in some pretty wet conditions and has held up pretty well. It has only leaked water in once and I think it was because my other half shook the tent trying to get some of the water beads off.
It has 2 vents on the ceiling that work pretty well, I don't think I've ever had condensation in my tent aside from a little moisture between the floor of the tent and my sleeping pad. There are 2 pockets on the ceiling along with one in each corner and a loop in the middle, great for hanging a lantern from from.
I honestly just can not say enough good things about this tent. It's light, spacious, affordable, and dependable. I think I'm in love!
Source: bought it new

Just a great tent. Best I've owned. Big, well designed.
Pros
Large size for weight
Pockets
Extended fly
Price/value
Design
Used many times, mostly on bicycle trips. My wife and I used it for 10 days in a row comfortably. I will take extra weight for size and this tent has perfect balance.
Set it up a few times before you use it. Can be a bit confusing, but once you understand it's quite easy. YouTube has setup videos.
Watertight, very roomy, great storage pockets on sides and ceiling, two doors, extended fly has kept my gear bone dry. I can't imagine a better tent.
Source: bought it new
Price Paid: Couple hundred

Big enough for a couple people, plus their gear!
Pros
Lightweight
Can stand up just the rainfly and footprint
Easy setup
The only problem I have had with my tent so far was getting the rainfly to fit right. That being said, it was dark, about 15 degrees colder than I was packed for and I had never put the rainfly on it before that! Totally my fault!
After the sun came up and I was able to take my gloves off for a minute the problem was an east fix. I bought the footprint also, which definitely helped keep us dry as we set the tent up in the snow. One very cool feature is that you can just set up the rainfly, and the bugnet / floor part of the tent only clips to the poles. If you're in a storm that can be a tremendous thing to have on your side for a dry place to sleep!!!
The tent overall is very tight, with near verticle walls. It also has the best repair kit I have ever seen with a tent! As with any tent I would recommend getting the footpritnt and always bringing a sewing kit along.
Overall I love it though! Simple setup, extremely water tight, and very tight when it's set up. 
Source: bought it new
Price Paid: $140

Lightweight, spacious tent with a great price. Perfect for two people.
Pros
light weight
roomy vestibules
roomy
This lightweight, spacious tent from REI is great for backpacking. Two pole freestanding design allows for ample room without adding weight and also has plenty of storage for gear. Two vestibules, gear lofts, and corner pockets.
Source: bought it new
Price Paid: $159

Dynomite...last tent I will ever buy!
Sleeps: 2
Price Paid: $150

Version reviewed: 2002
Wonderful tent! Love it. Easy to set up: clip, clip stake out and DONE. Comes with guylines attached, and a nice little compression sack for tent. Good ventilation with 2 pockets and a loft. Fits 2 Z-Rests comfortably. Can't wait to use again.
Also, there is a great little feature in which u can set up the tent with just footprint, poles, and rainfly.
This is a great tent at a great price by a great company
Design: 3 season freestanding dome
Sleeps: 2
Ease of Setup: Easy as 123
Weight: 5 lbs plus a few oz.
Price Paid: $55 @ used gear sale

Version reviewed: 2002
Well, what can I say, I have this tent and I also have a $375 Dana Design Arja. Seven out of 10 times I take the Half Dome. It is very light, packs small, durable, stands up to high winds on the rim of the Great Canyon, completely waterproof, and warm enough for most weather. The ventilation is great in the summer time and the fly door even rolls up and clips to one of the poles. The tent is very easy to set up, even in a sandstorm. The fly takes a little thinking to figure out which end is the front. Inside, the tent has a mesh attic that is very convenient to keep some light gear, as well as a large pocket next to each door. The 2 door and 2 vestubule design is great for 2 people--no need to crowd your gear in one small vestubule.
Overall from the past year's use I would guve it a 9 out of 10 score.
Design: freestanding tent w/ a stakeable fly
Sleeps: 2
Ease of Setup: Tent: very easy, Fly: moderate
Weight: 5lb 12oz
Price Paid: $150

My wife and I received this tent as a wedding gift last summer. We have used it for camping and backpacking throughout northern California.
First thing first: this tent is awesome. I did not think a company could improve on the two-pole dome design, but REI has done it. This tent has all the options at a great price. Two doors and two vestibules make getting in/out of the tent a breeze and allows plenty of storage for boots and packs. It has a mesh attic and plenty of pockets to store small things. The tent is plenty long for my 6'2" frame as well.
The tent is very well consructed and has withstood the weather without complaining. It offers plenty of ventilation options even with the rain fly attached. Two rods in the fly allow the top to be open even during light rain. Reflective zipper pulls are great at night when nature calls. The window in the fly is great for looking outside to see if the bear canisters are in one piece.
We highly encourage people looking for a solid two-person, three season tent to buy this tent. It has all the features and quality of a tent costing twice as much.
Design: Freestanding Dome
Sleeps: 2
Ease of Setup: Easy
Weight: 5 lbs
Source: received it as a personal gift
Price Paid: $149

Your Review
Where to Buy
Help support this site by making your next gear purchase through one of the links above. Click a link, buy what you need, and the seller will contribute a portion of the purchase price to support Trailspace's independent gear reviews.
You May Like
Specs
Price
MSRP: $229.00
Historic Range: $134.93-$229.00
Reviewers Paid: $54.00-$200.00

Recently on Trailspace