Big Agnes
Fishhook UL 2
1

review

5-star:

0

4-star:

1

3-star:

0

2-star:

0

1-star:

0
Reviews
The Big Agnes Fishhook UL 2 is a great choice for…
Rating:


Source: received for testing via the Trailspace Review Corps (Sample provided by Big Agnes for testing and review)

Summary
The Big Agnes Fishhook UL 2 is a great choice for two hikers looking for excellent space-to-weight ratio. At 4 lbs, the tent is even good for the comfort driven solo hiker.
Pros
Lightweight
Superb construction
Excellent space-to-weight
Nice color scheme
Easy set up
Innovative and easy door system
Cons
Thin floor material
Expensive
When living the mantra of ultra-light is best, multi-purposing is always better, and the minimalist always prevails, we tend to miscalculate the intangible — comfort and enjoyment. Yes, there is still a place for the comfort driven backpacker when living the trail dream.
As technology improves, the sacrifice between light weight and comfort becomes less significant. The Big Agnes Fish Hook UL 2 zipper-less tent is no real sacrifice. For two hikers the weight-to-space ratio is excellent. At a cavernous 37 sq. ft., it provides ample living space while maintaining a weight ratio of only 2 lbs per hiker. The living space is further enhanced by the ridge pole spreading the top for head room and the steep walls allow more interior space. The dual roof vents provide adequate airflow.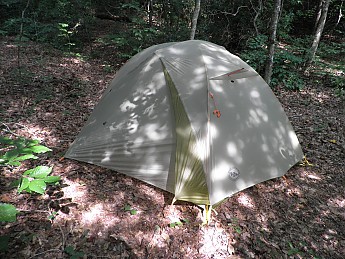 Front view shows the storm flap covering the door hooks on the right.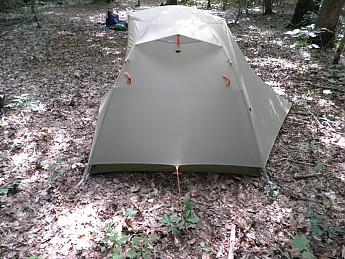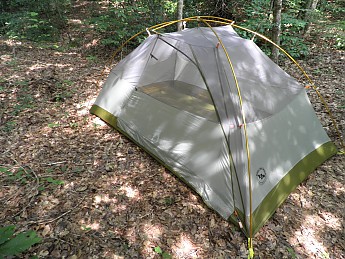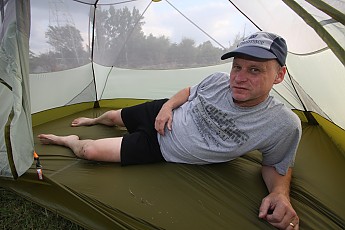 The packed size is a manageable 6 in. x 23 in. according to Big Agnes. I found this to be close to the mark when fully compacted in the stuff sack and all the excess air pushed out. The poles packed in at about 21 inches.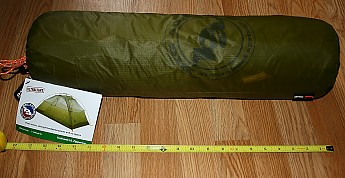 I could easily pack this tent in the middle of my 60L pack with no issues.
Since I am primarily a solo hiker, I had some initial reservations concerning carrying a tent designed for two people that it was more tent than I needed. I got out my 9-year-old MSR Zoid 1 and began comparing the numbers. The reality I found was this:
The Zoid 1 was only ½ lbs. lighter and the space was less than half the BA Fish Hook UL2. To me, this opens up some possibilities. The extra weight of the BA Fish Hook UL2 comes from a modified dome tent design, steep walls, and increased head room which are all added benefits and make up for any increase in weight.
These features make this tent an exceptionally comfortable option. For example, in the hot and sultry Uwharrie National Forest, I found that I had room to stretch out, cool off, and relax. The extra space was a big plus in other ways as well. In the winter, when I pitch the fly and footprint, I will be comfortable in rainy weather by keeping a good margin of space between me and the drippy sides allowing me to stay dry. For comparison, this was always a concern when winter camping using this set up fly only with my MSR Zoid 1 I would find myself always uncomfortably close to the edges when the winter rain was falling.
The Nuts & Bolts:
The Big Agnes Fish Hook UL series tents tout the main feature of being zipperless. I must say that after using the tent, I found the zipperless feature to be very user friendly and convenient. By going zipperless, the hiker can save weight, eliminate annoying zipper noise, and economize on the effort of zipping and unzipping a tent door. I also appreciate that sand and grit in the zipper is no longer an issue. This is a big plus since you do not need to worry about a zipper getting fouled in heavy rain where you are likely to have grit splashing up onto your tent fly.
I admit I had reservations about bug protection. When camping this summer in Uwharrie with an epic mosquito population, I found no issues with any critters getting inside.  I have found bug protection to be just as effective without the zipper closure. 
Some additional features of the zipper-less design are that the 2 hooks are strategically placed where one can easily match them to a D-ring. Extension flaps ensure foolproof bug protection. The flaps can be draped inside or outside depending on preference.
This is the interior door hook.  Note the reinforcement patches and bar tacks with no missing stitches or ragged seams.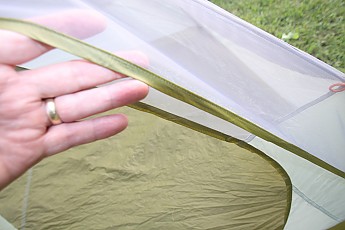 The flap on the side of the door extends out over the hook loop providing a good seal against bugs.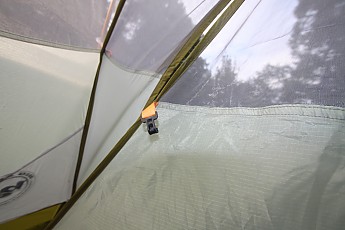 The hook pictured here is on the tent body door and hooks into the loop shown at the edge of the picture above it.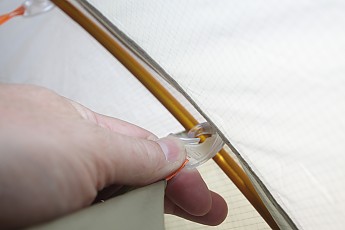 This is where the fly door hooks on the end pole to complete the closing.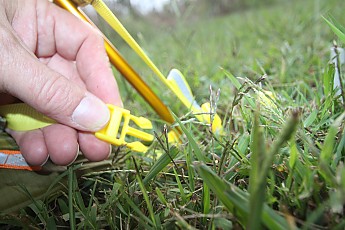 The tent fly door closes here at the corner with this buckle. 
I found that the seams on the tent body and fly to be flawless, impeccably sewn, and sealed. I found the tent to be dry and rain worthy.
The floor and footprint material are quite thin. While my initial impression is that this will not be durable, I believe that a little extra care in where you set your tent up (any tent) can go a long way in extending its useful life.
There are 4 pockets sewn into the tent body in each corner and 4 in the roof where you can store a myriad of small items. I especially appreciate the pockets in the roof. In my opinion, Big Agnes has done well here.
The tent weighs in at 3 lbs. 15 oz. with 9 stakes, body, fly and a foot print. The body has one zipper less door on the side.
The fly has a 9 sq. ft. vestibule and the ridge pole helps increase the headroom a bit.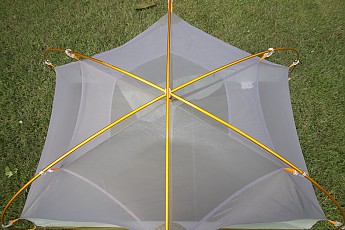 Very sturdy DAC aluminum pole system.  You can also see the 4 roof pockets in this view. 

Note the flap at the top of the door effectivley sealing the closure from insects.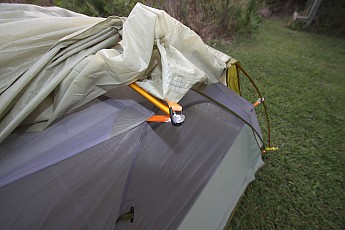 The poles are connected via hub at the cross point with the ridge pole attaching on top in a specially designed clip. The fly also attaches with another clip, shown here, it is the black one.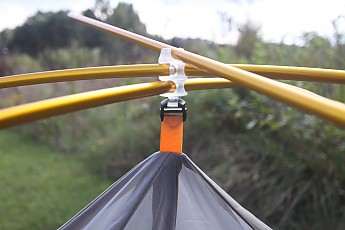 Just how durable this hub is, only time will tell. It appears to be very strong. 
The tent is easily pitched. I was able to set up the tent and fly in about 4 minutes solo without complication. Two people could obviously set up a little more easily if not faster. The point is that set up is simple and straight forward. The color coded ends matching the fly and poles to the tent body make set up a snap.
If I had one nitpick, it would be the high nylon panels that blocked the breeze making the tent seem a bit warmer. After spending a night with my wife at Edisto Beach State Park in sultry summer weather, I was wishing I could feel that slight breeze blowing over the top of that nylon panel. If you are in cooler temperatures, the high sides would definitely be a plus since they help block wind. 
UPDATE 6/5/2014:  I recently used this tent on a 40-mile hike in the Uwharrie National Forest. We had heavy rain on the first two nights. I was very impressed at how well the tent ventilated and how the tent stayed completely dry inside despite the heavy rain. This tent is a winner!
Summary:
This tent is perfect for the lightweight backpacking pair wishing to maximize the space-to-weight ratio without sacrificing comfort. I highly recommend this tent for two people on the trail.
For the solo hiker I also recommend this tent for the easy overnight. It is comfortable and very spacious. For the winter solo in light weather, I recommend the fast pitch option where you eliminate the tent body reducing your weight down to 3 lbs and still have a spacious sturdy shelter.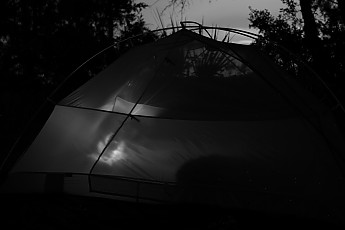 This is the Big Agnes Fish Hook UL2 at Edisto Beach State Park. 
https://www.flickr.com/photos/soleful2001/12686673743/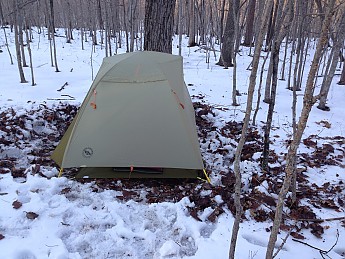 The Big Agnes Fishhook UL2 Fastpack set up using the fly/footprint/poles weighs only 3 lbs, tons of space and good weather protection.  A great option when there are no bugs to contend with. 
Where to Buy
sponsored links
Help support Trailspace by making your next purchase through one of the links above.
Retailers' Descriptions
Here's what other sites are saying:
After several years of testing and development, zipperless Fishhook tents have arrived. Say goodbye to noisy zippers that wake you up in the middle of the night and take up room in your pack. Fishhook tents use simple clip and loop closures instead of traditional tent zippers to close the door and fly. These ultralight backpacking tents are super easy to pitch and feature an extra-large entry door and plenty of vestibule space for gear. Fishhook tents have already won awards thanks to their innovative design, huge floor space and near vertical walls. This series is a must have for those willing to try something new. We dare you to go zipperless! Features: Zipperless single door and vestibule. Reflective guyline and webbing on tent corners Fly and floor are silicone treated nylon rip-stop Fly and floor have 1200mm waterproof polyurethane coating Tent body is nylon and polyester mesh All seams taped with waterproof, solvent-free polyurethane tape (No PVC or VOC's) DAC Featherlite NSL pole system with press fit connectors and lightweight hubs Plastic clips attach tent body to pole frame 9 Superlight aluminum J stakes Five interior mesh pockets Gear Loft loops included. Fits SQUARE gear loft sold separately Fast Fly setup available Note: We list several weights for our tents to aid your product research. Trail weight refers to poles, fly and tent body. Packed weight includes poles, fly, tent body, stakes, guy lines, stuff sacks, instructions, and packaging. Fast Fly weight refers to the poles, tent fly and accessory Fast Fly footprint. Fishhook UL 2 Trail Weight 3lb 3oz Packed Weight 3lb 10oz Footprint Weight 6oz Fast Fly Weight 2lb 6oz Packed Size 6" x 23" Floor Area 37sq ft Vestibule Area 9sq ft Head Height 38" Foot Height 34
- Mountains Plus
Tent zippers can be a weak point on a tent if not handled with care. Sometimes they snag on the storm flap or even break. They're also noisy when you have to open a tent door in the middle of the night. Big Agnes has done away with zippers on this tent and replaced them with strong, reliable clip-and-loop closures. Located on the single tent door and vestibule flaps, they quickly and quietly seal up the tent with no fuss. The superlightweight DAC Featherlite NSL aluminum pole system with hub design makes setup incredibly fast and easy. Attached vestibule creates extra dry storage space so you can keep wet, muddy gear out of the sleeping area. Door and tent walls feature polyester mesh for excellent ventilation. Four interior mesh pockets for gear organization. Reflective guy lines and corner webbing for nighttime visibility. Tent body made from nylon and polyester mesh, fly and floor from waterproof silicone-treated ripstop nylon. Imported. Overall dimensions 7'9" x 4'9". Floor area 37 sq. ft. Vestibule area 9 sq. ft. Head height 3'2". Trail weight 3 lb. 3 oz. Packed size 23"L x 6"W.
- L.L.Bean
Big Agnes Fishhook UL 2
currently retails for:
$399.95

where to buy: