MSR Zoid 1

The Zoid 1 has been discontinued. If you're looking for something new, check out the best three-season tents for 2021.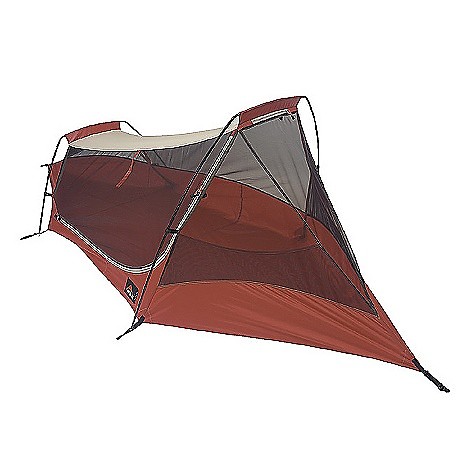 Specs
Price
Historic Range: $129.97-$199.95
Reviewers Paid: $140.00-$230.00

Reviews
9

reviews

5-star:

6

4-star:

3

3-star:

0

2-star:

0

1-star:

0
Great design single-person tent, although if the peak height was a little higher, the low-profile vestibule would be even more usable.
Used for 5 years, never leaked, good interior space, vents well, and 1.5kg. Many more years of use ahead for it.
Price Paid: $350 Aust.

I bought this tent back in 2004/2005 and 6 years on its the second best long term investment Ive made after my racing bike 9 years ago.
I've camped in thunder storms, hail storms, up mountains and in snow and this tent has never leaked or let me down. 
I spend about 2-3 weeks in it every year.
Small compact I just can't say how good this tent is. I bought it and got it shipped across from America for about $230 and it has been worth every cent.
Price Paid: $230??

This tent is great. I have the MicroZoid too, but it was a bit too coffin like for me (6ft) but the Zoid 1 is just right. This is the tent I always take when solo camping.
I replaced 2 of the tent pegs (the main foot and head stake-outs) with MSR Groundhogs for added security and I've never had a problem with flapping. I added the groundsheet, but have not used in the groundheet and fly only config. yet.
Guy lines are reflective which is really helpful at night. Overall I really like this tent, it's light enough for me without being made of materials that I feel I have to baby.
Price Paid: 150?

Near perfect. I love this tent. I have compared and researched and still have not found a comparable tent that offers: durability; light weight; fast pitch; quality; 3 stake pitch; versatile vestibule; interior space to weight.
This tent is close to perfect for the comfort driven solo trekker. Weather protection is as dry as any tent I have ever used, and wind stability is EXCELLENT.
This may be a moot point, since this tent is not manufactured anymore, but MSR would do well to manufacture a version with lighter materials. May not have the durability, but would certainly fill a niche for hikers like me.
Design: tunnel
Sleeps: 1
Ease of Setup: Extremely easy
Weight: sub 3 lb
Price Paid: $179

I spent a summer up in Minnesota a few years ago and brought along my Zoid... needless to say easy setup and great protection form wind and rain. Compared to other tents I've owned this one's top notch.
Design: three-season
Sleeps: 1
Ease of Setup: 5 second setup... no joke
Weight: around 2 pounds 6 oz
Price Paid: $200

The more I use other tents, the more I love my MSR Zoid 1. Easy setup in most conditions, lightweight, and plenty of room once in the tent (I am 6,0). This is a great ultralight tent. Never had condensation problems with it, plenty of venting options.
Comes with repair kit.
Design: 3-season hoop ultralight tent
Sleeps: 1
Ease of Setup: Easy to set up
Weight: 2.14lbs with 3 stakes
Price Paid: $210

I bought an MSR Zoid 1 in early 2004, and after spending 10 nights in it so far -- from balmy to seriously stormy -- I can report that the MSR Zoid 1 is one sweet ultralight tent. I'm 6'2" and 180 pounds and I fit into it with a little room to spare. My head brushes the top of the tent when I sit up, but that's no big deal. I'll happily trade mussed up hair for the lightweight protection this tent gives.
Construction was excellent, ventilation is outstanding, rain protection is complete, the vestibule has plenty of room for my pack and boots, and the side entrance is easy to get in and out of. I gave away the needle stakes the tent comes with and substituted some titanium ones in their place (stronger and easier to grip), and I carry it in a stuffsack that's about half the size of what it came with, but other than that I have no gripes. I'll be using this tent for many years to come.
Design: Hoop - two poles
Sleeps: 1
Ease of Setup: Very quick, can do it with only 2 stakes
Weight: 3.5 pounds
Price Paid: $160

1 stake at each end, 2 poles, 3 snap-release buckles and a stake for the fly. Done! Nothing could be quicker, easier, or lighter. I've used a bivy sack in cold, wet weather. Hate it! The Zoid offers flexible ventilation, head room, usable covered storage and it's solid as hell. I also own a Mtn Hdwr Trango Assault 2 man, 4 season climbing tent that kicks ass. I've camped from sea level to 11k in high winds and the heavy rain and snow of the PNW using a variety of equipment. I obsess so you don't have to.
Design: Ultra Light
Sleeps: 1
Ease of Setup: Seconds
Weight: 3lbs 5oz
Price Paid: $180

I bought this tent for my 13-year-old daughter for backpacking. She finds the space adequate and somehow manages to sleep in the tent with her external frame backpack stored inside, though she is a small 5' 1".
We had a big rain one night while out on the trail, but she slept through it and nothing of hers got wet. On a buggy evening she had enough room to work on the latch hook rug she'd packed.
Although not freestanding, with a backpack inside at one end that end hardly needs to be staked out.
With the fly off, there's no better tent for air flow or stargazing. With the fly on, the air is far more restricted but it does continue at ground level. On warm nights where rain is threatened, it's worth guying out the fly to increase the air flow.
Design: three season, not free standing, uses 2 sets of poles
Sleeps: 1
Ease of Setup: My 13 year old daughter sets it up in minutes, only showed her how once!
Weight: 3 lbs
Price Paid: $140 new on eBay

You May Like
Recently on Trailspace