Black Diamond Distance Z

(2012)

Rating:


Source: bought it new
Price Paid: $50

Summary
My age betrays me. Before buying these poles I thought of trek poles as an experiment for me. I assumed that I would end up giving them to someone else. Nope, that's not going to happen since I now love them. In fact, I've let four people try these, and exactly four of them have now bought a pair for themselves.
Pros
Folds up small — very "stow-able"
Comparatively very lightweight, so the poles are very controllable and do not have the "swing" issue that heavier poles have
Holds up to use (does not break under normal tensions)
Z-pole design makes it simple to both deploy and collapse
Z-pole lock is perfectly secure
Straps adjust nicely
Poles do not have the vibration found in some carbon fiber poles
Accessory tips are easy to install and remove
Cons
A little heavier than I wanted
Length is not adjustable
Baskets are too small for snow, and can not be replaced on this model
Accessory tips are almost too difficult to swap in the field - they are more of a (quick) shop project
Trekking poles and walking staffs are certainly nothing new. Historically I've regarded them as things that an athletic young fella wouldn't benefit from. Turns out, while I am still making an effort to be athletic, I'm pretty clear that I'm not young any more. Happens to all of us.  :)
In the last year or two I've been making many changes to my gear and general approach to hiking / backpacking, so I've been trying to stay open to ideas about all gear. Trekking poles were at the top of the list of items that I didn't think I would need, but that were highly recommended. I've been genuinely surprised and delighted to discover just how useful these poles are.
Not specific to these poles, here are the benefits and observations I have related to trekking poles in general:
Using poles helps create a speed cadence. I don't know that I'm going any faster, but it feels like I am. I 

also

 think 

that

 I take less breaks while using trek poles. This helps to keep the 

adventure

 moving along, 

though

 I've found that I don't drink as much water or as often when using trek poles (

after all

, the hands are occupied).

Using poles when climbing steeper grades helps provide the leverage to make ascent much easier than without them.

Using poles

definitely

helps reduce the knee pain of 

descending

 a mountain. I also feel like descent in tenuous footing is much safer with trek poles. Four days ago I stopped my own fall when my Left boot slipped on loose gravel 

during a descent. Yea for Trek Poles!!


I've crossed a few streams with them — 

in my opinion there is a notable safety advantage to using poles during water crossings

.

Last but not least, using trek poles allows a user to hop over obstacles without slowing down. Hey, who doesn't like to hop?
Now on with the review about these poles.
Model Specification:  First of all and to be specific, this review is about the 2012 model. Black Diamond makes a distinction between the 2012 version, and the new version of the Distance Trekking Pole. I have not been able to distinguish the difference (except color), but apparently there is one. In fact, if you know the difference please let me know in the comments as I am admittedly curious.
Length: 120cm
Weight: 12.3 ounces
Color: just lovely
Testing Details: I have had these out on seven trips with an aggregate mileage of about 54.5 miles. I've used these in low altitude forest, sub-alpine forest, bushwhacking and snow conditions. They've been with me in over 14,000 feet of ascent, I've used them in water crossings and they've taken my full weight on at least 15 occasions without bending, breaking or showing any sign of failure. They've also been caught in a crack twice where a weaker pole might have snapped. Instead, they held in there even with me continuing on before noticing they were stuck.
When are they useful, and when do I put them away?  This is easier to answer than I might have thought. I fold up the poles into my pack when I'm on a long flat straight-away. I don't feel like I get any benefit from the poles during this part of hiking. If I am ascending, descending, or crossing more than 6" of flowing water... I have these babies in my hands.
Black Diamond's Z-Pole design: I think Black Diamond's stowage design is worth mentioning. Heck, it's the reason I bought them. As my first trek poles, I didn't know if I would even like trek poles or not. I didn't know when I'd want to use them. I didn't know if I would want to stow them in my pack while hiking, or if stowing them would be useful at all for that matter. Because I felt like I wanted the option, I was relegating my choice to either the Z-pole design, or to some kind of telescoping design.
There are some telescoping designs that get short enough to stow in my 34L backpack, but not all. I think in most cases I would end up with poles sticking up over my head when stowed in the side pocket of my pack.
Here's a picture of how I stow my poles while not in use. Imagine the poles being longer and you start to get the idea that with longer poles I'd look like I'm carrying a HAM radio in my pack. Not only is that not a good look, but it would get caught every time I go under a log / tree. No thanks. This works great.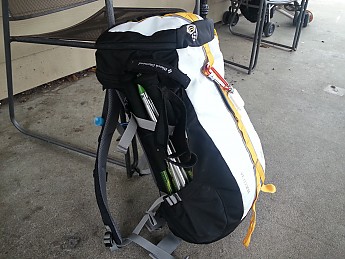 The other notable function of the Z-Pole design is how the pole breaks down and how it extends for use.  I think Black Diamond's video does proper justice to how the Z-Pole extension and locking works.  Here it is:
Here's a pic with the poles out of the pack: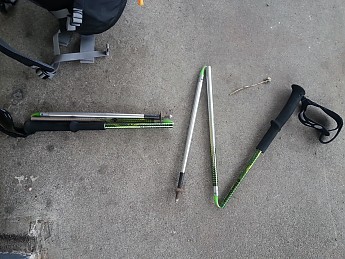 Here's another pic with the poles fully extended. Full extension requires a full engaged "click" of the locks. I don't know how else to describe it. The video doesn't really show this particular detail either. Once you hold it in your hands, you'll understand immediately. It's very simple.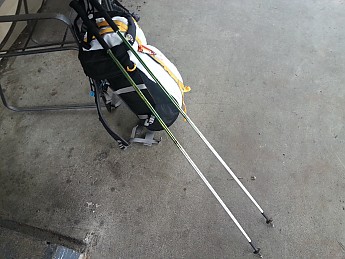 Durability: One thing I looked for when buying trek poles is that some designs seem to have a tendency to be brittle or to bend. This tends to more be the case if a pole is made from carbon fiber or if the poles are adjustable in length. To be clear, I recognize that I am making a sweeping and broad assertion here and I don't expect one carbon fiber pole to perform like another. I'm simply stating that my research found some patterns with certain materials and designs.
In general I found that aluminum poles are heavier, albeit generally thought of as more reliable. I can't make a "more reliable" statement about these poles, but I think I've put them through some pretty demanding testing and I now do not have any question that the Black Diamond's Z-pole design is a winner for durability.
Choice of Length: Mine are the 120cm poles, and I do think that the length decision is worth noting. Obviously there's a fit issue here.  At 5'10" I'm told that 125cm would be perfect. I don't know what makes a fit perfect, but 120cm has been great for me (the next longer choice would have been 130cm).
There is something else to consider regarding pole length, and I think this is at least one reason why some users prefer an adjustable pole. You can use your trek pole in the place of your tent pole. At 120cm mine works fine as tent-pole replacements in both my backpacking tents (one is a Six Moon Designs, the other is TarpTent). They're a little shorter than the manufacturers recommend, but the next size up (130cm) would have been too long. Choices choices.
Grips: These little fellas have EVA foam grips. They can tend to be a little sweaty, but I don't think that will make them any less grippy or stable. As I mention a little later in this review, I briefly tested Black Diamond's Alpine Ergo Cork trek poles. I have to say, I really did like those grips a lot better. But, when I went back to my poles, I still did not feel like I was somehow giving anything up.
Does the Pole Weight matter? Oh man, yes, I think it does. I had an opportunity to trade poles with a buddy on a recent trip for a few miles. He was using the Black Diamond Alpine Ergo Cork trekking pole. Even though they are made from Carbon Fiber, they weighed in at 20 ounces whereas mine are roughly 12 ounces. At 12 ounces mine feel very lightweight and nimble. A different 9 ounce pair of poles that I've looked at feel just as nimble, though I didn't feel like they were functionally different from my 12 ounce trek poles.  
At 20 ounces I think the Alpine Ergo Cork is like swinging bricks. YMMV, but I really did not like the weight difference. Because they seemed heavy, I felt like they could not keep up with me as I was moving. As a side note that didn't help my impression of the Alpine Ergo Cork, they suffer from the shake / vibration that is common with Carbon Fiber poles. Mine do not.
Does the pole's material matter? I think yes, though I don't feel like I have enough experience with this to make a perfect call on the subject. That said, and as I just mentioned, I think there are at least some Carbon Fiber poles that have a vibration that is pretty irritating. I do not experience this issue with the aluminum Distance Z-Pole.
I've read a few places that Carbon Fiber also has a tendency to be brittle such that they might fail at just the wrong time (when you need them most). I suspect that different manufacturers have different quality in this respect, so if you're up for Carbon Fiber I'd think a careful review of specific products would be in order. Here again, I have not experienced anything like that with the aluminum Z-poles. Good stuff.
Strap adjustability and utility: The straps are adjustable, and I find that even fully tightened they are a bit loose. But then there's a question about how they should be used. Do you want the poles strapped to you tightly, or do you prefer some movement? I like the ability to move within the strap so I can adjust my grip as needed. Here again, this is a YMMV situation.
How do adjustment and collapsible joints make a difference to durability, utility or field failure?  From my limited exposure to the Alpine Ergo Cork model, I think there is a difference worth paying attention to. I'll look to someone else to get better experience with the FlintLock Pro joint that's used on the Alpine Ergo Cork pole, but they do seem very strong to me. Specific to the Z-pole Distance trekking pole (mine), I think the Z-Pole joints are very strong and they don't seem to be susceptible to failure... at least not after 54 miles.  :)
Basket Size and Utility: Alas, here is something that is less than perfect about these poles. The basket size is as small as it could be. In the snow, the baskets are useless... use-less. To make things worse, the Z-Pole design does not allow the base to be swapped out. That means you can not easily change or remove the baskets that come with it.
There is a small silver lining here though: if a person wants a larger basket, they can opt to buy one of the three Ultra Mountain versions that Black Diamond offers. But again, even though you can opt to have a larger basket you are then stuck with that decision.
One question about the basket size that I think is relevant is: even though the basket is small on this model, does it matter? YMMV, but I've been happy with it since I recognize that a larger basket would get caught on brush. I guess you just have to make a decision and go with it.
I hope this helped. Happy Adventuring!
Where to Buy
sponsored links
Help support this site by making your next gear purchase through one of the links above. Click a link, buy what you need, and the seller will contribute a portion of the purchase price to support Trailspace's independent gear reviews.