User Review:
Cabela's All-Leather Mountain Hiker
Rating:


Source: bought it new
Price Paid: $110 on sale

Summary
Comfortable boots, great value.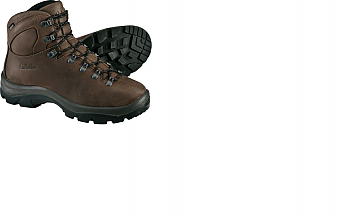 First the use and foot description: I have a relatively narrow foot (B-C width), size 10½-11, and wear various boots every day both for work and play so I feel like I know my boots.
I purchased these now in anticipation of a hike in 2014 at the Philmont Scout Ranch...I like them to be broken in! With that said, they have not needed to be broken in. About 2 weeks after getting them, I did about 20 miles of hiking and 10 miles of backpacking with SmartWool medium weight socks and didn't have any problems with hot spots.
Traditionally I have chosen an 8" boot, and after using this boot for the past 5 months, it seems it was for good reason. I tend to kick small rocks and sticks into the other boot. These seem to have a little more space in the area above the ankle, but again I have not used these lower boots much in the past.
The midsoles seem to be stiff enough for backpacking, but I would look for a post from someone who carries a heavy pack. I only weigh 185 lbs and usually limit my pack weight to no more than 40 lbs. The leather uppers are durable and, although these boots do not have any toe rands, the leather has very little wear even now.
The insoles that came with the boots were fair at best, so I replaced them with Superfeet Greens, which helped take up some of the extra space in the boots. The heel seems to fit well, and laces can pull the boot tight.  However, this boot seems to work better for me if I leave the laces snug instead of tight. I have seen some posts that the eyelets are to blame for wearing out laces. I have not seen that, but the laces to need to be double tied to keep from untying on their own. 
The boots do have good padding, and are very comfortable for everyday wear, too. The Gore-Tex liners keep my feet dry, as expected. They are a very warm boot, even without any insulation, but that is to be expected with an all leather Gore-Tex hiking boot.
I look forward to these boots not only surviving through my Philmont trek, but beyond.  They seem to be a comfortable, well made boot.