Coleman
Peak 1 Feather 400
Reviews
Purchase new in the late eighties, still going strong.
Rating:


Source: bought it new

Summary
Purchase new in the late eighties, still going strong.
Cons
On the heavy side.
Doesn't look new and sleek.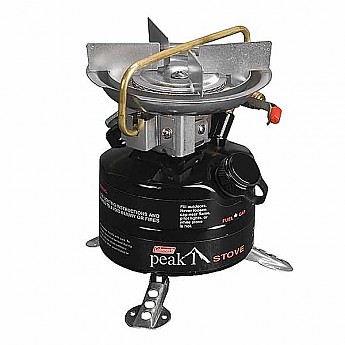 I know this stove isn't new gear, but it is still the only small stove that I own and still works great.  Believe me, I like the newest gear as much as the next, but if it ain't broke, why replace it. 
So I bought my stove new in 1988.  To say the least, it was used hard and put away wet for about eight years.  After that it went into storage under the stairs at my parents' house.  After not being used for over a decade, I pulled it out fueled it up and started a fire, no problems.  I have since oiled the pump, that's it. 
I will admit that this stove is heavier than most, however, the benefits far outweigh the cost in weight.  First and foremost is reliability.  Maybe I'm just lucky, but I've never not had this stove work.  In cold conditions, it can be a bear to start, but it will start (one super cold morning years ago we actually built a small fire on top of it to warm up the generator). 
Second is stability,  the foldout legs and low and heavy center of gravity make this thing nearly topple proof, unless it gets kicked over (I can neither confirm or deny that I have done this).  And the largest pots are at home on top.  If your cookwear has ridges on the bottom, they stick like glue.
I love this stove.  Some day I will most likely own another more modern and smaller white gas stove. But until my Peak 1 stops cooking reliably, there is no need.  Although, this model is no longer made by Coleman, they are still very readily available used, and sometimes new.
Coleman Peak 1 Feather 400
No price on record.
The Coleman Peak 1 Feather 400 is not available from the stores we monitor.
If you're looking for a new liquid fuel stove, check out the best reviewed current models.