Reviews
Still going strong after 38 years! Replaced with Coleman…
Rating:


Source: bought it new
Price Paid: $29.95

Summary
Still going strong after 38 years! Replaced with Coleman Compact Dual Fuel Stove Model 533.
Pros
Longevity
Performance
Stability
Ruggedness
Dual fuel...even unleaded for your car!
Cons
Easy of use lighting
Weight
I am sure this review applies to the new model as well...they are exactly the same except for the tank design. I think the newer wider base with no legs might be better.
As other reviewers of this same stove have commented "it's bomb proof". It is...read on:
I bought this in 1979. I used a few years and then stuck it in a shed, outside, half full of fuel in 1990. It has been in temperatures from 15°F to 110°F in the storage shed...in fact I suspect up to about 140 when it the shed is closed off in summer.
The storage bag deteriorated at some point since when I was cleaning out last year I found it and the bag had all but turned to dust. I took out the stove and turned on the fuel and heard some hiss...I pumped it up and lit it. Within 30 seconds it was running full blast 10,000BTUs! I boiled some water and then went to simmer...worked like a charm. It simmers great! The fuel was 30 years old!
So this stove is reliable and not finicky after no use for years.
I will ditto others that when it is cold and the tank is full the startup is tedious since there is no space in the tank for air pressure to build. So I recommend you use some lighter gel to get the tube hot when use in outdoors. I had no problems lighting this stove, other than time, at 10000ft winter camping at Fourth of July camping area when temp was well below zero and the inside of the tent had 1/4" of condensation ice!
Also, I after it warms up you need to give it a good pump up. These is needed again after a few minutes if the tank is half or more full.
The price of camping stove fuel is ridiculous these days but this will run on lead-free gas in the new model...maybe the old too?
This is how it looked new with the bag. I also posed  a picture of the model you can get at Amazon or Walmart and it is the same except for the tank.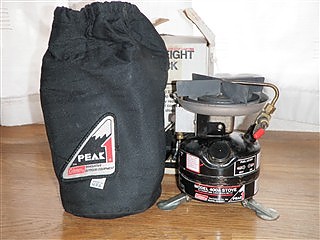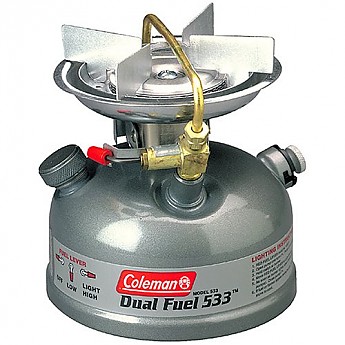 Please never leave me. I was reading some reviews.
Rating:


Source: bought it new

Summary
Please never leave me.
Pros
Infallible
Sturdy
Throw-off-cliff proof
Cons
Heavy
Can be cranky if too full or still under pressure
I was reading some reviews.  I just started my 1982? version in prep for 2017; lit up first try. I've never done a THING to it except add some oil. Used in in all types of conditions, run hard and put away wet. Once started, I pump (if you need a fast boil) a little more. I always release the pressure after it cools, starts better next time.
I see there's still some on eBay. With maintenance kits still on eBay as well I'd say buy it! If that's what you are looking for.
I rarely do more than a long weekend.
Older tech, bit bulky, but works like a champ. The…
Rating:


Source: bought it new
Price Paid: $49

Summary
Older tech, bit bulky, but works like a champ.
Pros
Hot burner
Flame adjustability
Cons
Bulky
Weight
Stability (top heavy)
Maintainance
The Coleman Peak 1 Backpacking Stove — bit bulky, bit heavy compared to most other white gas stoves (i.e., MSR WhisperLite). Totally big and heavy compared to any canister stove or ultra-light alcohol burner.
Does it work? Certainly. I've had mine since 1997. Gets going hot fast and has good flame adjustability. However, you do have to remember to oil the pump gaskets every 6 months or so, or else they'll dry up and then the stove won't pressurize.
Would I buy one again today new? Nope. Would I buy one at a yard sale for $10 or so? Sure. Good backup or additional car camping stove. 
Where to Buy
sponsored links
Help support this site by making your next gear purchase through one of the links above. Click a link, buy what you need, and the seller will contribute a portion of the purchase price to support Trailspace's independent gear reviews.
Coleman Peak 1 Stove
reviewers paid:
$29.95 - $49.00

The Coleman Peak 1 Stove is not available from the stores we monitor.
Recently on Trailspace