Coleman Sportster Dual Fuel II

Top 25 in Liquid Fuel Stoves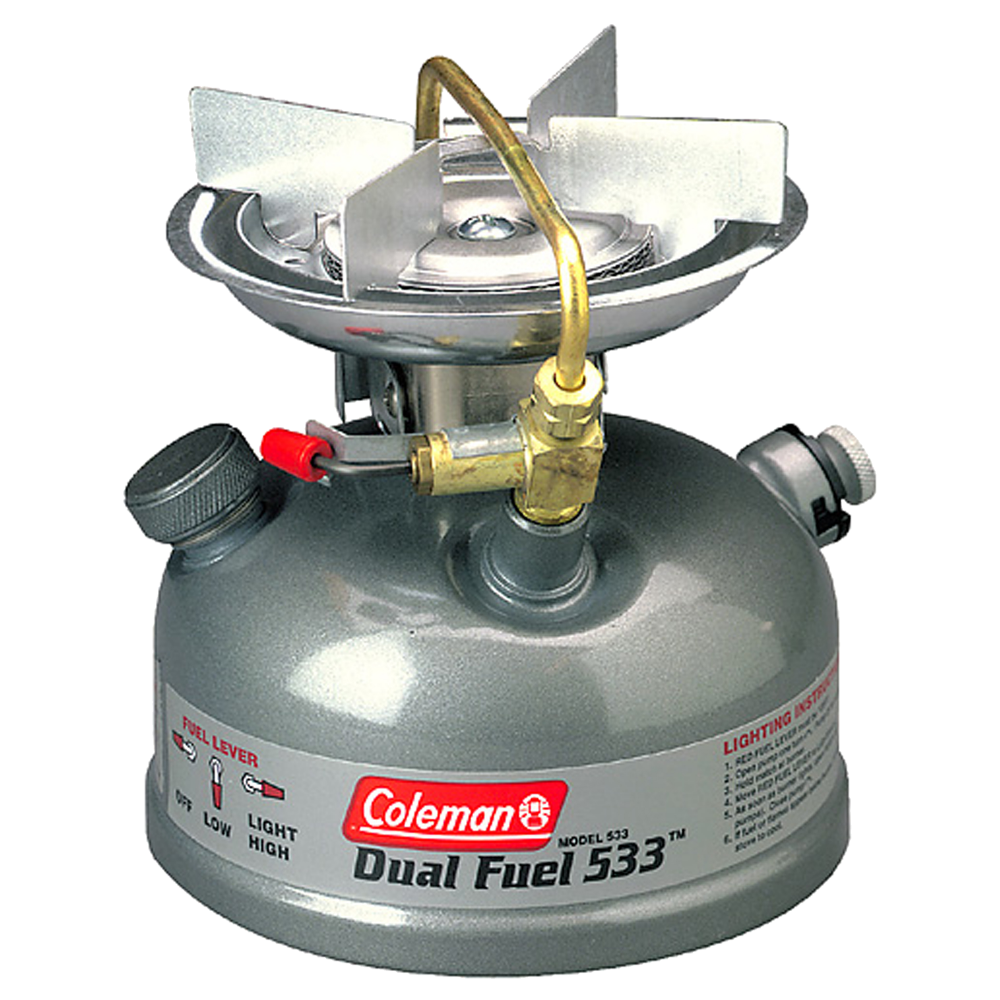 The epitome of integrated dual fuel camping stoves. 3+ KW output and uses unleaded petrol/Gasoline or White gas liquid. People claim to have used all sorts of flammable light hydrocarbon liquids as fuel.
Pros
Almost indestructible in normal use.
Runs on super cheap (even now) car fuel rather than expensive camping fuels.
Cons
It is a bit heavy for hardcore backpackers.
The 'generator' tube can get dirty and degrade performance if used with low grade fuels for a long time.
No longer in production.
I was so horrified to hear that the company who bought Coleman have discontinued the 533 that I rushed out to buy some spares to ensure that mine (already 20 years old) outlasts me.
Experience
I own many (5) different stoves, it's a bit of a hobby of mine.
Source: bought it new
Price Paid: $90

What can one say, it's time tested dinosaur technology but so is the SVEA 123 and people still use them. Because they work and work well with little hassle.
Pros
Bomber build, never lets you down if cared for
Easy to use and maintain one-piece unit
Good even flame down to simmer
Good heft of materials and can hold the weight
Good for car, motorcycle, kayak, sledding, and snowmobile adventures and home emergencies
Parts are all over the place if you need to replace something
Cons
Heavy
Can give you problems, but only if you don't know what you are doing or abuse it without doing maintenance from time to time
I picked one of these up at a county dump recycle area. It was covered in pigeon droppings and had a couple small dents on the tank, old fuel smelt like turpentine. I took it home, sprayed it down with Dawn, and then hit it with the garden hose and finally cleaned it with light bleach water, engine cleaner old toothbrush.
It was not in as bad condition as I thought it would be. Flushed the tank, pulled the pump and oiled it, filled it with fuel pumped it up and like a true Coleman it fired right up and has been working since I found it five years now.
TIPS:
Drain the fuel out after use and don't screw the fuel cap down hard when you store it. This will keep the cap gasket in its intended shape and apply a thin layer of oil on the gasket to keep it from drying out. I do this with all my stoves.
Another thing if you have been simmering with it for awhile before you turn it off, crank it up to full for at least a couple minutes to burn off the carbon buildup that builds up inside the vaporizer tube from low flame use. You can pour a little fuel tank type carb and injection cleaner in the tank from time to time like a cap to a full tank and run it.
And as maybe as a kid your dad did this or used the old Coleman heater cap on his sportster 502 stove. Never use it in confined spaces unless it's well vented, and then make sure you turn it off if you start falling asleep, "seriously"!!! A friend of mine lost his friend and his friend's son doing this in a trailer when they went hunting, didn't vent it well.
Source: Free at recycle bin county dump

IMPORTANT: "Unleaded Gasoline" means the type without alcohol (gasohol, methanol or ethanol) added.
If you use any alcohol augmented fuels, the stove will not work properly and can create dangerous sputtering, spraying of fuel beyond the burner and flaming out. Be sure the unleaded gasoline is not alcohol augmented or just use Coleman stove fuel if you cannot be sure. The added cost will pay back in safe operation and fewer hospital visits!
If you get alcohol augmented fuel into the stove, drain it, leave it open to evaporate in the sun, re-fuel with the right stuff, and proceed as normal but expect some residual alcohol to remain for the first minutes of your next startup.
When this stove is properly pressurized (yes, pump it 90 times to get it going) you should get a nice blue flame with minimal orange flares and as the metal gets red hot the flame will hiss and get lower in the burner. If it begins to sputter or flare, pump it 30 strokes or until it begins to burn blue and hissing. 
Experience
I have used Coleman camp stoves for 45+ years with little problem and excellent performance under many temperature and weather conditions.
Source: bought it used
Price Paid: $30

Great little stove.
Pros
Easy
Multifuel
Cheap to buy
Cheap to run
Great little stove.
In Australia Coleman fuel is $28 for 4l . It's not that easy to find so I run it on Shellite, which is about $34 for 4l. Can get this at most supermarkets/hardware stores. I believe that Coleman fuel is White gas which is what Shellite is.
Easy to light and burns well. Much cheaper to run than any LPG stove.
Earlier comment about yellow flames and concerns. I start it with the red control button down until the yellow flame starts to settle and then turn it to full. Yep, a bit hairy the first time, but fine with it all now.
Not the fastest boiling (3 minutes for 500ml) by any measure, but good and reliable.
Experience
As above. Had it for about two months and used it 10-15 times.
Source: bought it new
Price Paid: $92

Very reliable. Low simmer to full power. Easy to use. Powerful.
I have used this stove for a few years without problem. I wish it were somewhat smaller and lighter. The flame control is great from simmer to full out high.
I have cooked hamburgers, soup, and also done some dehydrated meals. I have used it with a small percolator with no problem. It boils fast. It's fairly stable with pots. I like its simplicity and toughness, but it is heavy.
Source: bought it new
Price Paid: $45

A rugged, simple to use, high BTU cooking blowtorch.
Pros
High BTU output
Dual-fuel capability—white gas or unleaded gasoline
Bulletproof construction—very solid
Cons
Weight
Form factor unsuitable for backpacking
A little learning curve
I got it for winter outings: cooking in the ski area parking lot, snow camping with the aid of gear sleds/pulks. For these purposes, it's great. Melts snow and boils water in a flash. 
Liquid fuel stoves have a learning curve. If not pressurized, primed, or lit correctly the fuel can pool and run out of the burner and create a fireball. Practice outside a few times to get used to its quirks. The flame burns a large, yellow, and sooty until the generator has a chance to heat up, then it settles into a nice, stable, clean-burning blue ("Band-a-Blu", is how Coleman markets this).
The flame is adjustable, making it flexible enough to cook with.
It's a substantial chunk of metal, for better and worse. Obviously too heavy and large for backpacking. 
Since it burns unleaded gas, I will keep one in the minivan's emergency kit.
I have two. One was purchased for $53, another for $30. A bargain at those prices.
Source: bought it new
Price Paid: $53

Best for cooking in tent, heat tent. Easy to fire up! No weight! Small.
Pros
Cook fast
Heats tent fast, just pump and fire up
Small, but one tank burns 4 hour!!
It has been exellent to use in summer and winter time. Used it in mountains and it has never failed me yet for 20 years!
Karsten.
Source: bought it new
Price Paid: ca 100$

Amazing gem and indestructible/reliable. A backpacking asset despite being less than ultralight.
Four point five stars. Have used this for a decade, and really I've never been disappointed.
CONS: To get its steely durability and reliability it is heavy, (at 2.75 lbs).
PROS: I feel they outweigh the one con. Zero setup time, fantastic heat, adjustable with a finger, steady surface, burns any liquid fuel except paint.
The gentleman who said his would not light? Yes, the pump spins clockwise and counter (to allow pressure venting when done). He had left the knob spun "open," which disallows any pressure buildup. You will not have this issue as you know better.
Cheers!
Source: bought it new
Price Paid: 35$

Great for canoeing and car camping.
Pros
Sturdy
Dependable
Simmers well
Reliable
I have used mine for the past two yeas with no problems and bought it new. It lights every time without fail, and I have used it for making coffee to making large meals. Flame control is very good and will go from simmer to high with no problem. I only had to shield it once and it is very stable with large pots. It is a little heavy for backpacking.
Source: bought it new

This cooker is excellent, almost no moving parts, plenty of spares available. They are bullet proof.
Cons
As with any leather washerd pump it'll dry out and not build up pressure, take it out and rub some boot softener onto it, fixed.
To light, fill with fuel, pump up pressure, light match, have over burner head turn on fuel, one lit cooker. Adjust the burner control for more or less heat, couldn't be simpler.
Remember to keep the fuel bottle well away from the cooker. Not a good idea to operate any type of stove if inebriated. Remember to know how to fix it before you need to and to carry a spares kit.
Source: bought it used
Price Paid: $38

Won't light.
After a dozen lights, the pump will not do what it is supposed to do and there are no t/shooting tips  I can find specifilcally for this unit.
No matter what I do I can't get the pump to that critical point where it's working. I have followed the instructions to the letter but after 50 attempts I'm ready to throw it out.
There is a hole in the knob. Have tried covering and uncovering it with my thumb while pumping and if I don't cover it I just get a woosh of air coming backwards and if I cover it I can't force the pump in.
Source: bought it new
Price Paid: $70

I have used my Coleman 533Dual Fuel intensively for over eight years now and I like it very much, If I did a lot of backpacking I think I would resent the bulk and, especially, the weight, but for camping off a motorcycle or out of a ute, with all that fuel just a siphon tube away, it's pretty near perfect for me.
That said, it has more moods than a teenaged daughter, its behavior varying remarkably with temperature, humidity, barometric pressure (and altitude), wind, how full the tank happens to be, and probably other variables I was too busy to notice. And I would not use it in an enclosed space.B
ut once you get the hang of it, you can do everything from boiling a pot of water in a jiffy to simmering a pot of rice and beans all afternoon. Flame adjustment seemed irksomely abrupt when I first got it, but either it mellowed out or I learned to work around it, or a bit of both. How much pumping is needed for optimum pressure varies with how much fuel is in the tank, but you soon learn it by feel. Give the pump's shaft a periodic slather of oil.
Somebody told me Coleman fuel is basically naphtha, so once when I lost my siphon tube and didn't want to carry a gallon of the stuff on the bike, I stopped at a hardware store and picked up a quart of painters' naphtha. Not the same at all. It burned angrily, spitting, flaring, and putting out a yellow, sooty flame. Next hardware store, I bought a few feet of clear plastic gas line. The 533 burns unleaded regular gas about as happily as the proprietary stuff.
The build quality is gratifying. After hundreds of meals and coffee breaks, the only non-cosmetic sign of its age is an intermittent leak around the fuel valve, very slight. I think that when it gets bad enough to motivate me that I can fix it by renewing the packing around the valve stem. But, to be on the safe side, I bought a new 533 as a backup! A great stove!
Price Paid: $35 (2003) and $60 (2011)

Great little stove - have been looking for one for a long, long time and finally bought the last one in Australia (I think), BUT have difficulty fine tuning the burner to a simmer heat. However, one can live with that.  
How good is it to take away regardless of how you go - walking, driving, boating, 'yakking', and not have to worry about, and carry back, those 'bloody awful' butane gas canisters for all those other little burners out there.  
I have never tried the Coleman dual fuellers on unleaded fuel - just Shellite (spirit) and Coleman Fuel, both of which work just great. 
Price Paid: $79 AU

I have this stove. I also have one of the made by the big M company. I choose which stove to take depending on what I'm doing. The "M" stove for backpacking, this Coleman dual fuel when I'm carmping (car camping).
As far as usuability, this is easier to use than my other expensive multi-fuel device, but it's not good for backpacking. I'm afraid it will leak. It never has, but I always set it up right and it doesn't get bounced around.
Price Paid: $50 US

This is one of the best Coleman products I have ever owned. Several of my friends own them as well. We all have nothing but good words for this product.
It is the way things should be built. Construction is of a high standard. It has never failed at any time when it is called on to do something.
It will heat water for dinner, coffee, fry eggs faster than my range at home, heats larger pots of water easily. I used it to fry fish outside on a cast iron pan and it never missed a beat. Reliable  and  well built describe this unit  as a whole. I have even used it to heat water for a shower.
Not a hog on fuel either. Parts are easily found at local stores, or camping supply.
The last one I purchase from a place going out of business, and now I own three and if I can get another at a great price I will have four. I just can't say anything negative about the unit. When heat is needed at the camp it can fill the bill.
Price Paid: $29

I have had this stove for well over 10 years and it has yet to let me down. This is one durable little stove. I have used this stove hundreds if not a thousand times over the course of 10 years. Boils a liter of water in 2-3 minutes under ideal conditions, can also simmer for standard cooking.
This stove requires no annual maintenance. If you do develop a leak, there a couple of standard o-rings that can be purchased from any hardware store. Other than a tad bit of rust around the burner from leaving it out in one too many rain storms, this stove is still performing as well as day 1.
This stove takes a little getting used to as the directions can be a little missleading. If the fuel tank is full then it requires significantly fewer pumps. Otherwise you will have flames like 2-3 feet high for a few minutes. I do recommend bleeding off the tank pressure before storing it so that if the valve gets bumped open during transport you wont spill fuel everywhere.
The only reason this stove doesn't get 5 stars is because it is on the heavy side. But for the price, and durability of this stove I wouldn't trade it for the world.
Price Paid: $40

The stove was initially fantastic it boils water extremely quick which as I only use dehydrated foods when on the hills that's all I want it to do. I bought it because I liked the idea of being able to put petrol in it if I was stuck for fuel, and although using it for solo backpacking am not too concerned about the weight.
The stove worked well for about 5 or 6 1 litre boils then I found my kit smelling of Coleman fuel and the saucepan that I kept the stove in in my Bergen swimming with fuel. The control valve had decided to start leaking. I took it back to the shop but as I had lost the receipt they said that Coleman will not accept returns without it. I am now stuck with a practically brand new stove and am a bit dubious about buying another 1.
I have used military hexi blocks for years and although they take about 3 weeks to boil water at least they CAN'T go wrong. I do think though that if I had not had a faulty stove I would be more that pleased with the stove. If you do buy 1 DO NOT lose the receipt.
Price Paid: £39.99

As someone who has never used a liquid fuel stove before, I found the experience mystifying. The safety warnings are scary and when it shot up with yellow flame in my direction I certainly made a duck for it. When it took me ages of turning it on and off to finally get the flame to go out I'm left feeling that either there is something wrong with the one I bought or the instructions weren't enough for a first time user. I like the idea that it's safer than gas, but my confidence is low in using it right now - I'm looking for some hints about using this product.
Price Paid: About £35 on sale full price £44.95

Bit puzzled to find this flagged as multi-fuel as it only does white gas(coleman fuel) or Unleaded gasoline (petrol).
I've run primus and optimus pressure kerosene for more than 35 years and I bought this recently out of curiosity.
Really too heavy for solo backpacking at 1.2Kg filled and ready, but it slings out the heat and is really simple to use -- just follow the instructions on the tin.
You would not believe the price of Coleman fuel in the UK -- £50 ($80) per gallon -- so this will be fed unleaded auto fuel.
Price Paid: 28 GBP

These little stoves are great. We use them in north Norway in the depth of winter and they still perform very well and (just as importantly) rarely have problems. Not the lightest or the best on the market, but excellent value for money.
Price Paid: £29.99

Your Review
Where to Buy
Help support this site by making your next gear purchase through one of the links above. Click a link, buy what you need, and the seller will contribute a portion of the purchase price to support Trailspace's independent gear reviews.
You May Like
Specs
Price
MSRP: $69.99
Current Retail: $109.99
Historic Range: $49.99-$109.99
Reviewers Paid: $29.00-$92.00

Recently on Trailspace