DeLorme
InReach SE
Reviews
Works great for texting and an emergency beacon, but…
Rating:


Source: bought it new
Price Paid: $299

Summary
Works great for texting and an emergency beacon, but the Delorme website is not very intuitive. It is well worth buying.
Pros
Remote communications
Water tightness
Syncs with iPod touch very well
Cons
Can't access the battery
Does not display coordinates as a primary function
Not the most intuitive controls
Instructions not all that clear
Websites are not intuitive
I purchased the unit from REI as soon as it was listed on their website. It arrived and I set my account without much difficulty. I needed to call customer service but that was mostly due to the poor set up instructions and website. It works like a cell phone for texting . . . . sort of, but different.
The device itself works great and I have used on one multi day trip without any problem. The problems are with the Delorme website and setting up access for others and how to do it. At least that is my experience. I found it very tedious and could not set access for my family without providing them with my account passwords. I don't really care, it just shouldn't work that way or be that confusing.
I only text to my family's cell phones and I purchased the device just for that and the S-O-S in the first place. The website and map is just a nice extra. I gave up trying to get the website access for my family setup. Delorme needs to make the website and software very simple to use for people like me.
Device construction: Fine and seems solid and water tight.
Battery life: Excellent but that ability to carry an extra battery would be an improvement.
Device controls and software: Works fine but seems a little old style. It works like my old Garmin Rino GPS device. Touch screen would be nice, but maybe not as durable.
S-O-S function: Unknown how well it works, I hope it works well if I ever need it.
Satellite lock: I think it works fine. Sometimes it was better than others which I assume depends on location. Sometimes it took a while when out in the open but most of the time it didn't. I was able to send and receive messages while in my tent on a number of occasions.
IPod sync: Worked fine. Most of the time I just used the device itself to text but I also set it outside my tent and used my iPod from inside the tent to send messages.  I did not use the map feature on the IPod. 
Service fees: There are three levels. I chose the cheapest which is $9.95 a month. It is expensive to text unless you get a more expensive plan that includes unlimited texting. For me, the device will just sit unused for a few months at a time without being used so I calculated that $9.95 per month would work out to be less expensive over the course of a year. 
Satisfaction: I gave it four stars because it needs some software and website improvement. I hope that Delorme continues to improve their software and website but that is not a deal breaker for me. I also hope they write a much more detailed manual for the device.
One nice feature I discovered about the device which I hope is accurate is the label on the back of it. It says "Designed & Manufactured in the U.S.A. by Delorme".
The device does exactly what I want it to do and I am very happy with it and would recommend it to anyone.  It is great feeling to be any where on earth and be able to communicate with family and with emergency rescue help with a device that will fit in a shirt pocket. 
A phenomenal upgrade! Two-way text communication,…
Rating:


Source: bought it new
Price Paid: $299

Summary
A phenomenal upgrade! Two-way text communication, SOS/ 24-hour search and rescue, tracking with ability to share GPS location, 100% global coverage. Facebook and Twitter updates.
Pros
Easy to use
International tracking
Compact
Cons
Internal batteries, need solar unit for thru hikers
Released June 2013, a phenomenal upgrade!
Features
(Pros): 2-way text communication, SOS/ 24-hour search and rescue, tracking with ability to share GPS location, 100% global coverage. Facebook and Twitter updates. Maps, when integrated with smartphone. It allows tracking points and website location, which was great when friends wanted to see my progress and know my location. I was also able to have a private password for invited friends only.
Cons: Lithium battery is not removable requiring use of solar devise.The maps, while getting unlimited international downloads, you need wifi to do so. I am still hoping they will provide thru-hiker trail maps and USGA map uploads to correspond with my paper maps (for compass use). None yet.
I used the InReach SE 30 days consecutively on a through hike. Proving invaluable. Great devise for its easy use and size.
Recommend: YES!
Updated: Field test was stunning success! (See below)…
Rating:


Source: bought it new
Price Paid: $300

Summary
Updated: Field test was stunning success! (See below)

Setup is easy. Signals are very good. Communication is now TWO-WAY! And the Bluetooth connection to your mobile device (with GPS) gives you the best of both worlds!

Batteries are now rechargeable (USB or 115v.) and longer lasting (I know, I use to have a PN-60/Spot). I don't know how it could get any better! Now I feel comfortable going out alone. That is, my wife is more comfortable!
Pros
Easy to use
Capable
Light
Long-lasting battery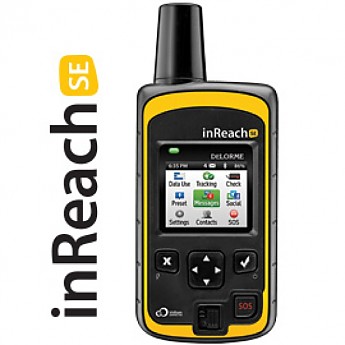 UPDATE: Field test finally complete! See "***********  UPDATE" below ...
Delivery only took a few days — strong, clean box in great condition. Packaging was way easier to open then anything I've purchased in years. All recyclable. Quick Start Guide was right there handy and it's short and sweet.
Usually the first thing I have to start searching for is an online version of the user manual (which I always keep on my computer — because I always lose the manual first!). In this case it says on the first page ""User Manuals" - go to manuals.delorme.com (I love it)
Get it out of the box and the first thing I notice is "Designed and manufactured in the U.S.A."! 
(What can I say. 20 years in the Navy — I always read the nameplate first). I also see model # and IMEI (serial) # so I enter them in MyStuff so I can just copy them later. Looks like all the basic instructions you need to save a life are right there on the nameplate. I like that too. The inside lid of the box tells me to "Get to know the SOS" so I try the unlock-lock slide switch. it has good solid action and re-locks with a satisfying click. Definitely not going to come loose accidentally and send a "pocket" S.O.S.
The next page of the Quick Start Guide says "Read before you activate" so I do. The print is a little too small (Quick Start guides should never require reading glasses) but it's organized well and plainly written. There are multiple temptations to go off doing things but I manage to read it all through first.
It's well below freezing outside but I decide I'll brave the cold and go ahead with Setup now. (How long can it take?) So I go  online and start the account setup process. One thing they didn't make clear. You can't use your shop.delorme.com userid and password here. I tried several times and got rejected every time. Then I looked over and saw the "New Account" setup on the other side. I realized this was a different kind of account and went for New.
I powered up the inReach SE to get the account info and it came right on and went to Setup. The IMEI was correct so I copied it from MyStuff to delorme.com. That process was easy, especially with Safari suggesting a good secure password right on the spot, and 1Password remembering it for me automatically. For Customer info, Billing info, credit card, etc. I auto-filled pages at a time from 1Password and I was done in 5 minutes. Got the welcome message in my email and delorme.com was already trying to send to my inReach. This stuff is instant! 
OK, time to put on something warm and go outside! Setup is asking me if I'm ready to receive the test message. I only have a clear view of about ¼ the night sky from my balcony but I tell it to go ahead anyway. Seemed like a long time to mess around but I guess it was really only about two minutes and I had the message. I did the Reply thing (it says to press Send but you really want to hit the OK button when you're done typing) and hustled my frizz butt back inside.
Downloading the Earthmate app was easy too. My iPad is synced to iTunes on my iMac so i just had to plug the iPad in. When I downloaded Earthmate from my iMac it went right to my iPad synch page in iTunes and installed itself to my iPad over WiFi. Pretty cool!
Pairing the iPad with the inReach SE was easy too. It was already trying to pair so I just had to go to Settings, Bluetooth on the iPad and select the inReach SE. Then I go into the Earthmate Options, Account & Synch and provide my logon credentials* (1Password has already synched that userid & password over to my iPad so all I have to do is copy & paste). Done!
Now I can do the map browsing and message typing from the iPad. Easy!  And all of my contacts in the Contacts app are available within Earthmate for addressing messages. Email or text depends on whether I select an email or a phone.
Finally I have to synch Earthmate and my inReach SE with my account on the DeLorme website (explore.delorme.com). If you already have a userid and password for shop.delorme.com don't use that here. This is a different login. If you already have an account on explore.delorme.com — for instance, you already have the old inReach — use that login and add the SE as a new device. If not, create a new account.
Here you will provide essential information and choose a subscription plan. They are quite flexible. I chose the Recreation Plan (can't give prices here - they might change - but that info is at shop.delorme.com). Everything went smoothly until I got to "Synch", where the preset messages and contacts I've entered are transferred to my inReach SE via USB cable.
I'm required to download an app first but my Mac refuses to open the DMG because the "developer is unidentified". I had to lower my security to allow the app to run. And then I am told the inReach Synch app cannot install until I download Mono Framework (478 MB!) - which also is apparently unsigned. But I trust these  are not malicious programs (I got good email support from their Customer Service too). But don't forget to turn your Security settings back to "Allow apps downloaded from Mac App Store, or from Mac App Store and identified developers when you are done. 
After that's done the Synch goes without a hitch and my preloaded contacts and preset messages are on my inReach SE. Note: these are available for sending from your SE when your iPad or smart phone is not around. My plan, for instance, is to send custom messages to anybody I want in the evening from base camp using the iPad keyboard and contacts list, via the bluetooth connection to the SE. I will tell my wife the plan for the next day.
For example, Progress Point 1 will be Superstition Lake, Progress Point 2 will be the junction with Cummins Creek Trail, etc., etc. Then tomorrow, when I reach those points respectively, I will just hit the button on the "Made Progress Point 1" message, then later the "Made Progress Point 2" message, etc. That way I can turn tracking (breadcrumbs every 10 min., etc.) off and save power.
So that's it. This thing is a winner so far! Tomorrow I'll take it out for a hike and see how it does.
***********  UPDATE 3/6/2014: Field Test (finally!)
Took the SE on a Sierra Club hike through Silver Falls State Park. Started by pairing the SE to my wife's iPhone. Gedunk! (Navy jargon for easy!) I could have downloaded the maps to the Earthmate app but I would have used up a bunch of my wife's data limit. Ouch! 
So I took a couple of clicks to "Start Tracking" without even looking at the user manual, stuck it in my shirt pocket and started the hike.
The Canyon Trail is, well, in the canyon the whole way so I figured the SE might miss a few breadcrumbs because of loss of signal. Naah! When we stopped for lunch at the lodge I looked — every marker was there, like clockwork, every ten minutes. So I sent a message to my wife "Lunch" easy as pie. (When I got home she said she got the message, clicked on the link and enjoyed panning around on the map to see where I was).
Best of all — and this is the main reason I got rid of my old one — I checked the battery at the end of the day when I got home (7 PM) : 95%. Unbelievable. I'm thinking I could do several days on one charge! Unlike my old one which died after several hours!  I LOVE IT.
DeLorme InReach SE
currently retails for:
$249.97 - $299.95