Reviews
Too short for anyone over 6' and too narrow for all…
Rating:


Source: bought it new
Price Paid: $250

Summary
Too short for anyone over 6' and too narrow for all but the most intimate couples.
Pros
Very easy setup
Good ventilation
Low condensation
Good rain protection
Two doors / vestibules
Cons
Too short for anyone under 6' tall
Too narrow to be a true 2-person tent
Sags after rain or morning dew
I bought this tent a few years ago. While it did the job, it is one of my least favorite backpacking tents.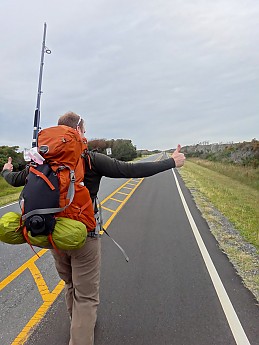 The packed Velocity 2 is the green bag strapped to my pack.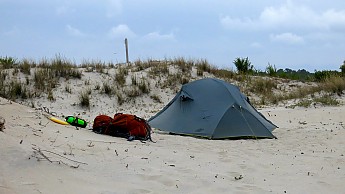 The setup tent looks a bit like a horseshoe crab.


WEIGHT
At 69.7oz (without the footprint), the Velocity 2 is far from lightweight. In fact, it weighs nearly as much as my old 3-person dome tent, but with less room.
INTERIOR SPACE
Over the past few years, I have used the Velocity 2 successfully as a 1-person tent. It is a little too short for someone of my height (I'm 6' 2"). My head and feet hit the walls of the bathtub floor as well as the sloping walls of the tent. This can lead to discomfort when it rains or if there is a lot of morning dew (as with all silnylon tents, the Velocity 2 sags noticeably when wet). However, on dry nights, it was perfectly comfortable.
Attempts to use it while hiking with my girlfriend led to the realization that you would have to be very comfortable with one another to use this as a 2-person tent. I do have fairly large shoulders (42" jacket size, for reference), but I have never felt quite so cramped in a tent before. There was no configuration we could come up with that wouldn't result in at least some overlap. This isn't an issue if you hike with a significant other, but could easily strain a friendship.
GEAR STORAGE
I found the Velocity 2 to have plenty of space for all of my nighttime gear. Pockets at the head of the tent held my book and flashlight while a mesh "attic" held a fleece in case I got cold in the night. There are even extra attachment points that will allow the addition of another "attic," thus doubling your usable gear storage.
The vestibules are large enough for me to fit a pair of hiking boots and a 67L pack under them for protection from the elements.
VENTILATION
This is one airy tent. The inner structure is almost entirely mesh (save for the bathtub floor). By leaving the rain fly off, you get a great view of the night sky. With the rain fly on, you have two vestibules (one over each door) with two sets of storm doors. Rolling back one storm door on each side lets a nice cross breeze through the tent.
This ventilation also means very little condensation on the interior walls under most conditions. The only time I was ever really uncomfortably hot in this tent was while camping on a desert island in 100°F midday heat (no shade, no wind, no snow-cone vendor). 
SETUP
Setup couldn't be easier. The Velocity 2 uses a single pole with color-coded endpoints. Once you have the corners snapped into place, the rest of the tent simply snaps / slides onto the associated connection points. After a bit of practice, I can go from packed to fully pitched in about 8 minutes. Teardown is just as easy.
WATERPROOFING
The Velocity 2 is very well waterproofed, but all silnylon tents tend to sag when wet. While it will keep the rain / dew out, the sagging fabric doesn't do away with condensation nearly as well as when the tent is dry and taut. If you're under 6' tall, this won't likely be too big of an issue.  If you're closer to my height, it can lead to an uncomfortable night.
Beautiful looking tent with a major design flaw in…
Rating:


Source: bought it new
Price Paid: $330

Summary
Beautiful looking tent with a major design flaw in the zippers / mesh. Caution!
Pros
Lightweight
Easy setup
Functional (great interior design)
Cons
Mesh prone to ripping
Zippers prone to jamming
The tent is beautiful looking, lightweight, and sets up and takes down easily. The problem? You have to be so careful with the zippers. They are prone to catching the mesh from the tent and after very few uses, I've managed to rip holes in the mesh (one is about 3 inches long).
This is a real pity. I've used many tents (EMS, Nemo, LL Bean) and have never had this issue to this extent. It is a design flaw, and I'm waiting to see if they'll honor an exchange or refund.
EMS Velocity 2 Tent
currently retails for:
$271.20
MSRP: $299.00