Eureka!
Midori 2
Specs
Minimum Weight
4 lb 7 oz

Floor Size
7'4" x 4'7" x 3'9"

Tent Area
32.6 sq ft

Center Height
3 ft 7 in

Reviews
A good value in a two-person, sub-5-pound backpacking…
Rating:


Source: bought it new
Price Paid: $100

Summary
A good value in a two-person, sub-5-pound backpacking tent.
Pros
Compact pack size and weight
Ease of setup
Cons
Fly zipperered opening over middle of living space
The stakes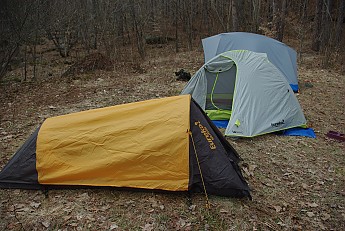 I have owned and used Eureka tents for over 20 years and have been very satisfied with their performance and durability. When my early '90s-era Eureka Timberlite 3 started showing signs of its age, it was time to upgrade that tent. My Eureka Timberlite 3 is spacious for two people and durable. So I replaced my Timberlite with a Midori 2.
The Midori is an aluminum 2-pole, X-frame dome tent with one side door and one vestibule. The weight is less than 5 pounds, and the pack size is 5" x 18".  The setup of the tent is very simple and straightforward. The only slight speed bump is setting up the vestibule stake with the stakes included. Getting the tent back into the included stuff sack was not a problem either.
During my use of the Midori I have not experience any high wind, but I feel moderate wind would not be a problem if properly staked. In addition there are several guy-out points that I did not use that would provide additional stabilization in moderate winds.
I did experience rains in lots of intensity and duration. One rainstorm was an intense mountain storm with sleet and a creek flowing under the tent. Another rain was a two-day nonstop event. During both cases, the tent performed well. Even with a small creek flowing under the tent in an intense downpour it was dry inside.
During the two-day, steady nonstop rain, condensation was forming inside the tent, but it was never an issue that dripped inside the tent. I think the tent performed as well as can be expected in regards to ventilation and condensation.
One annoyance in the door opening of the fly was the location of the top of the opening directly over the living space/sleeping bag during a rain. As dry as it was inside the tent during an extended rain, you have to get up at some time to take care of business. I quickly learned to move my sleeping bag away from the opening and zip it back up quickly. Amazingly, the zipper never leaked, and the storm flap works as designed. The big opening provides a huge access for rain to come in and rain drops on the top of the tent to roll in.
The Midori comes with a gear loft that will hold more than I would put up there. My wife had it loaded with all sorts of stuff (that takes away from head room when sitting). The vestibule was big enough to keep our boots and stove out of the weather, but not big enough for packs too. The living/floor space is plenty big enough for two people. The tent is long with some room for extra clothes at the foot and head. I am 6-ft tall and had lots of room.
I feel this tent is a good value for someone looking for a light two-person backpacking tent. There is really room for two people, it is less than 5 pounds and packs small. It is not perfect, but once you know the weakness, you can work around them. The included stakes will work, but I would replace them before straightening them out.
Good tent that does what it's supposed to. Only one…
Rating:


Source: bought it new
Price Paid: $129 on sale

Summary
Good tent that does what it's supposed to. Only one door and vestibule, and it's hard to stuff rather than roll.
Pros
Sturdy
Large vestibule
Relative ease of setup
Aluminium poles
Cons
Vestibule pole non-removable
Only one door and vestibule
This is a sturdy little tent that is pretty easy to set up. They use a toggle and loop system at the top where the poles cross, which is a little bit difficult when your fingers are cold or you are wearing gloves. The rest of the poles are connected with simple clips. 
Once set up the tent is quite sturdy and can take some decent winds and rain without issues. The rain fly has plenty of tension points for the really windy days. 
The tent is perfectly roomy on the inside as long as you are close with your tent mate, otherwise it might be a little bit tight.
The single vestibule is very large and has enough room for two packs and a dog because of the smaller pole holding it up to add more volume. This pole however has turned into one of my biggest dislikes on the tent because it is not removable. If you stuff your tent rather than fold and roll this tent is probably not for you because the vestibule pole will get in the way while you try to stuff it in the bag. 
It has a large removable gear loft that works great, although taking removing and re attaching it is a little bit more difficult than I would like.
It seems like a durable tent that would last many seasosn as long as I don't poke through it with that vestibule pole.
I have used the tent for one season in the High Unitas and the Wasatch Mountain Range.
Great deal! The only downfall is one door, but for…
Rating:


Source: bought it new
Price Paid: $140

Summary
Great deal! The only downfall is one door, but for the price I'll take it!
This was my first backpacking tent that I ever used and I have no complaints. The price was perfect for a first timer's tent. I have not tried it in windy, rainy weather yet. I thought it slept two comfortably.
Eureka! Midori 2
currently retails for:
$159.90
MSRP: $159.00