Filson
Tin Cloth Bush Hat
1

review

5-star:

1

4-star:

0

3-star:

0

2-star:

0

1-star:

0
Reviews
This is an ideal solution for protection from the…
Rating:


Source: bought it new
Price Paid: $65

Summary
This is an ideal solution for protection from the wind, rain, snow and sun in cold weather. The hat includes a wool flip down that covers the back of your head and your ears. It has kept me warm in temperatures down to 15°F.
Pros
Waterproofing is outstanding and re-treatable as it wears out.
Wool lining has been plenty warm for me down to 15°F
Materials and craftsmanship all receive top marks. I love this hat.
Cons
Not really breathable, though I don't think that's too much of an issue in cold weather.
Not ideal for athletic activity due to lack of breathability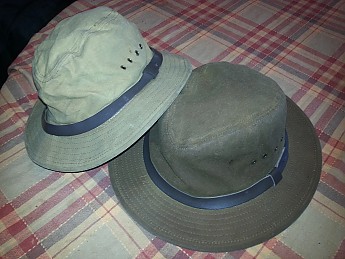 Here's a pic of my old Packer Hat (L) and the Filson Tin Cloth Bush Hat (R).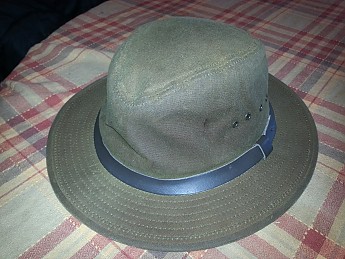 Filson Tin Cloth Bush Hat with 3" brim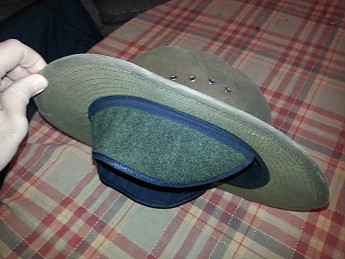 Filson Tin Cloth Bush Hat from the side with the ear / neck flap pulled down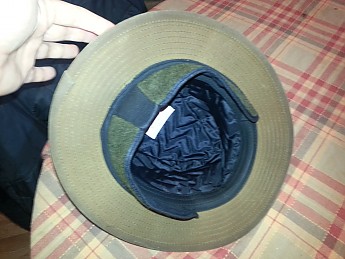 Filson Tin Cloth Bush Hat from the bottom with the ear / neck flap pulled down.
When to use this hat:  This hat is simply outstanding for cold weather. I've comfortably used it from 15°F up to 32F for whole-day stretches at a time.  The only thing it needs is a chin strap. Guess what?  Filson offers that as an option! I recommend getting it with the strap, though it's not necessary.
When not to use this hat: When the temperature goes above freezing, it's time to take this hat off.  When the temp goes down below 20°F, it's likely time to start considering other options.  Also, if you're wanting to do something athletic at low temps, there are probably better solutions.
Hope this helps!  Happy Adventuring!
Retailers' Descriptions
Here's what other sites are saying:
Filson Tin Cloth Hats offer rugged protection matched by rugged good looksTin Cloth Bush Hat Features: Oil Finish Tin Cloth provides maximum water repellency Fedora style crown Unlined Leather hatband (glued to crown and reinforced with stitch on both sides) 3'' brim Wire rim so that you can mold the brim to suit your individual style Chinstrap Cotton sweatband Decorative bow tie covers the rear seam of sweatband 8 grommets for ventilation (4 on each side) Can be packed flat in a suitcase, but brim should not be rolled Made in USA Fabric Oil Finish Tin Cloth, 12.5 oz. 100% cotton duck, 2 ply by 2 ply, paraffin treated for maximum water repellency Weight approximately 8 oz Fitting Order your normal size according to the chart. If your head measurement is between sizes, order the larger size Sizes S, M, L, XL, XXL Care How do I clean my Oil Finish Tin Cloth garment? Wipe or brush away surface soil or buildup with a damp cloth or scrub brush. If necessary, use cold water to loosen up any caked mud or dirt. (Some customers just hose 'em down at the end of the day.) We advise against spot cleaning with soap and water, as it may result in a loss of water repellency or color in that spot. If it is absolutely necessary to spot clean an Oil Finish garment, you may need to re-wax that spot to restore the water repellency after it dries. DO NOT professionally dry clean Oil Finish garments. Dry cleaning solutions destroy the Oil Finish, effectively turning Oil Finish fabrics into Dry Finish fabrics. If an Oil Finish garment is dry cleaned, it will need to be re-waxed to restore its water repellency. DO NOT machine wash Oil Finish garments. Machine washing breaks down the Oil Finish, and sometimes causes the fabric to shrink. Most importantly, machine washing will not soften Oil Finish Tin Cloth. In fact, it may make the fabric stiffer than before. Do I need to re-wax my Oil Finish Tin Cloth garment right away? You shouldn't need to re-wax your Oil Finish Tin Cloth garment right away. It is ready to wear. However, over time, and with regular use, the Oil Finish water repellency may weaken, especially in areas of high wear or repeated flexing (such as the knees of a pant, or the elbows or cuffs on a jacket). One can of our Style 1-A Original Oil Finish Wax is enough to touch up isolated areas of high wear or flexing, but re-waxing an entire garment usually requires several cans of wax. See Style 1 and 1-A for detailed instructions. What should I do if my Oil Finish Tin Cloth garment gets wet? Cotton can shrink if it gets wet, especially when it's exposed to any kind of heat. Allow your Oil Finish Tin Cloth garment to dry naturally, away from any source of heat, to minimize shrinkage. Oil Finish Tin Cloth is made of 100% cotton that has not been preshrunk, so shrinkage can occur, even if care is taken to avoid prolonged exposure to heat when wet. Most customers do not experience enough shrinkage to have a problem with the fit. Common Uses Fishing, hunting, street-wear FAQ Why do you call it Tin Cloth? Tin Cloth has been one of our most popular fabrics for decades. It was nicknamed Tin Cloth when tin was the standard for toughness. We've also heard it described in the past as being called Tin Cloth because it sheds water like a tin roof. Why are my new Tin pants a different shade of tan than my last pair of Tin pants? Each dye lot accepts dyes to a different degree, depending on fiber variations, harvest time, and processing. We feel that the difference you are seeing is an acceptable color range for our Tin Cloth. Do I need to order a one size up to allow for shrinkage? Any cotton garment is susceptible to shrinkage, which varies with use. For example, if your garment gets wet and then hot (drying out by a hot stove or in a car trunk, or when you work up a sweat wearing it on a hot day) shrinkage can occur. You'll notice shrinkage primarily in the length of a sleeve or pant leg, less often in the chest or waist. While a small percentage of users experience shrinkage in their Oil Finish Tin Cloth garments (usually due to getting them repeatedly wet and dry) most users do not experience enough shrinkage to create a problem with the fit. We recommend that you order your normal size unless you have previous experience with unusual shrinkage in our garments. Is your Oil Finish Tin Cloth waterproof? Our Oil Finish Tin Cloth is not totally waterproof, but it is very water repellent, especially for a natural fabric like cotton. In a sustained downpour, the fabric will begin to absorb water, but you can expect to stay dry and comfortable for hours in the rain. Which one of your Oil Finish fabrics is the most water repellent? Of the three, Oil Finish Cover Cloth and Oil Finish Shelter Cloth are the most water repellent, because they are both more tightly woven than Oil Finish Tin Cloth. The tight weave contributes to the water repellency. My Tin Cloth garment smells pretty bad from being stuffed in a damp corner of my basement over the summer. Is there anything that I can do to get rid of the smell? Our first thought is to air out the garment by hanging it up for a day or two in some fresh air. If that doesn't work, you're probably stuck with the smell. Neither machine washing nor dry cleaning is going to give you a completely satisfactory result, so we advise against those methods. Is Oil Finish Tin Cloth fire-retardant? Are your garments suitable for welding? Untreated cotton fabric is flammable--that's a given. We treat our cotton with wax for durability and water repellency, not as a fire retardant. We don't make any claims about the suitability of our Oil Finish fabrics for welding.
- Mountain Hideaway
Free Shipping. Filson Tin Cloth Bush Hat FEATURES of the Filson Tin Cloth Bush Hat Water repellent Usage: Heavyweight, Hunting, Shooting, Field, Workwear, Ranchwear SPECIFICATIONS of the Filson Tin Cloth Bush Hat 12.5 oz, 100% Cotton oil finish tin cloth
- Moosejaw
Rugged protection matched by rugged good looks, the Filson Tin Cloth Bush Hat has it all. Built with Oil Finish Tin Cloth, the Tin Cloth Bush Hat provides maximum water repellency and rugged durability.
- Altrec Outdoors
Filson Tin Cloth Bush Hat
previously retailed for:
$23.99 - $65.00

The Filson Tin Cloth Bush Hat is not available from the stores we monitor. It was last seen August 6, 2014 at Moosejaw.
If you're looking for a new rain hat, check out the best reviewed current models.