Gander Mountain
Blazer Solo
1

review

5-star:

0

4-star:

1

3-star:

0

2-star:

0

1-star:

0
Ever been on the trail and felt uncomfortable with…
Rating:


Price Paid: $40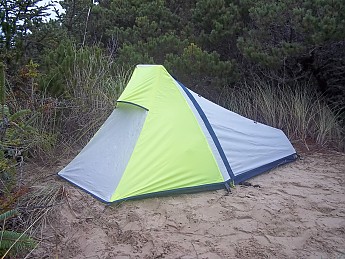 Ever been on the trail and felt uncomfortable with your expensive tent in view of other hikers. I know I have. This is the reason I bought this inexpensive tent.
Interesting that this tent has 2 doors. It's a nice touch as it will setup anywhere. The rainfly has a nice big vent right over your head. There are 2 added zippers at the foot of the fly for more ventilation.
The setup is easy, poles using a sleeve and clip system. Inner tent is mostly mesh with a 6"strip of polyester fabric over the top from the head to the foot. There is a good 3" clearance between the inner and the fly. The poles are a thin flimsy fiberglass. It came with some realy bad short stakes, and the tie lines were thick and of poor quality. I replaced both. On to the test...
At this price one would think that this is a fair weather tent. So I took it out to the Oregon beach, 12/22/10. Yes, storm season. I got out there and it was drizzling. I got it setup in under 5 minutes (first time). I used 9" Y stakes. I know when a storm is coming! With a little doing I got the rainfly tight.
As I pondered the wisdom of staying out in a storm in this inexpensive tent I cooked my meal. At 5:30 pm The weather started to change from a light drizzle to a downpour. I felt the temp suddenly drop. It was time to move inside.
Outside the winds were gusting better than 35 mph and the rain was coming down sideways. I took a peak outside and saw my Noah tarp was down, and my backpack was exposed to the weather. Inside I was dry. How long it stormed I don't know, as I went to sleep.
In the morning I got out of a perfectly dry tent. Had to find my backpack as it had moved down the dune and rolled down the trail. Further inspection of the tent I found condensation on the upper 1/4 of the rainfly, this is normal out here. The rain had forced itself between the footprint and the bottom of the tent. No water seeped into the tent.
Those flimsy fiberglass poles held no cracks no breaks. There was 2 droplets of water on that 6"strip above the inner tent. I took this as condensation drops. Overall I think this was a very fair test.
On the downside
If you are taller than 5'10" you will not fit into this tent as I was snug, with my feet touching the vent, and my head with in inches of the other end. There was no room at all for my backpack. But I knew that when I bought it.
Overall I think this is a good tent that if you get caught in a storm you would be safe. I would recommend it for more fair weather because of the poles.
Tent sold by Gander Mountain, made by Northpole, China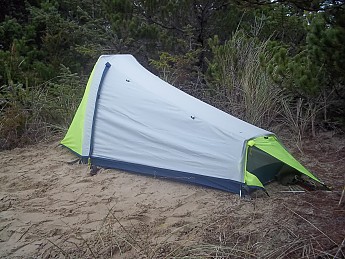 Gander Mountain Blazer Solo
reviewers paid:
$40.00

The Gander Mountain Blazer Solo is not available from the stores we monitor.
If you're looking for a new three-season tent, check out the best reviewed current models.