Garmin
Oregon 600
Reviews
Mixing performance, size and features makes the Garmin…
Rating:


Source: bought it new

Summary
Mixing performance, size and features makes the Garmin Oregon a win in my books.

Overall, I am really happy with this unit. It fulfills the need I have to be able to accurately see where I am, find where I am going, and give me interesting information along the way such as watering holes, sunset times, elevation and other helpful details. It lasts a long time on a set of good quality batteries and will hold up over the long run for me.
Pros
High mix of thoughtful features, like profiles, battery type adjustments and profiles
Size and feel, not too heavy and comfortable to use in the hand
Visibility—in good and bad light, screen is easy to see
Quick GPS signal lock
Reasonably accurate and signal coverage impressive
Battery Life
Cons
Screen gets wonky when moisture present
Back cover slightly difficult to get back on
Rail to use accessories challenging to learn at first
Base camp could use work (not specific to this unit though)
REI had these on a deal earlier this year and couldn't pass it up. I had been looking for a GPS unit to take backpacking as well as using it to track extended mountain bike rides into the back country of Arizona, where the trails can get sketchy.
This GPS has really impressed me since I got it. Especially coming from really early generation etrex 10s, and the likes. Let me tell you why.
Ease of Use:
First of all, one of the things that makes this really easy to use is Garmin's new user interface. The screen tilts and changes direction to make things easy to see. The functions are icon driven and laid out in a very user friendly way. You can make it very personable, which I really like. You also drive by touch screen. Huge improvement over the joystick.
I found setting up the profiles to be pretty straightforward with a quick cliffnote read through of the manual, one could easily find all the advanced functions as well. Even without reading, the GPS was almost too easy to setup (I felt at times I was missing something, like "that was it?")
I want to highlight some of my favorite features:
Tracks: I like the auto stop and start of track and the different views of the statistics of the track. I like the ability to load GPX routes and have the GPS seamlessly and easily follow the routes.
Altimeter: I like to see my elevations, so having an Altimeter is a must for me.
Fast Mapping: Maps move quickly and fluidly. You can adjust your route to point with you or north based on situation and preference. Easy to find and add additional mapping options such as topographical and local hunting area maps
Profiles: You can set up your views based on profiles. I quickly set up the two main profiles I like: Mountain Biking and Hiking. This way I can set the relevant information for the profiles on the home screen like speed and distance, versus elevation and pace, etc.
Easy, quick access to statistics. I love being able to see how far to the next mile, how far I am, routing, etc. There are so many stats to list, but those are a few.
GPS+GLONASS: Really quick, accurate tracking. I have used this in the middle of the Arizona desert in some fairly deep canyons and keep accurate tracking.
I have also been in the thick, steep northern Arizona forests of Mt. Humphrey and had no issues related to signal.
Battery Life: I purchased Pre-Charged Nimh batteries from Amazon 1900mAh and those work amazing. I keep them recharged after every few trips. There are ways to get almost 24 hours out of those! that is awesome. On my last over night trip around Mt Humphrey, I accidentally left my GPS on overnight, the next morning we broke camp around 8am and it was still on since 9am the day previous. I got about 30 more mins and it died.
Quality
Fit and finish is top notch. It has a rubberized texture on the backside to give it no slip qualities. The screws and edges are really clean and tight. All the seals line up and are high quality.
I have no doubt this will not take some serious abuse. I have been fortunate not to have dropped it or caused any damage to the unit, but you can see the use I give it after a ride or touching it a lot with dirty hands. Cleans right up and looks near new still.
Conditions:
I have had this unit for about six months now. I have taken it on three backpacking trips, several small local under 10-mile day trips, and numerous mountain bike rides.
I have used it in very hot weather 105°+ and cold weather as well (30s). I have sweated all over the thing trying to see where I was going while riding. This made it a little hard to see and use. The screen does not respond well if your hands are really sweaty or there are large amounts of moisture on them. This is when trying to zoom out the map for position.
Here is a very helpful site I found on learning about the 600:
https://garminoregon6xx.wikispaces.com/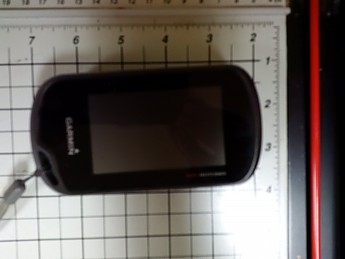 Here are the dimensions of the GPS roughly.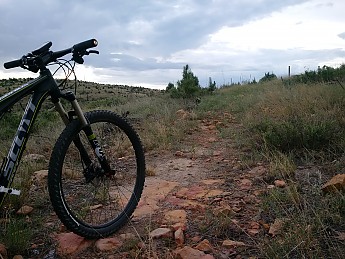 Here is it shown with the optional bike mounting kit.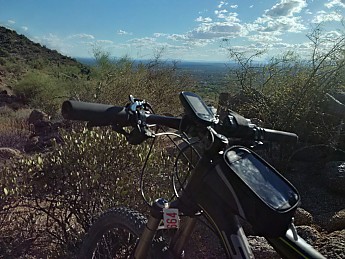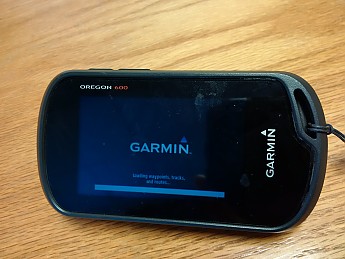 Nice looking display, although you can see the fingerprints from wet hands really bad.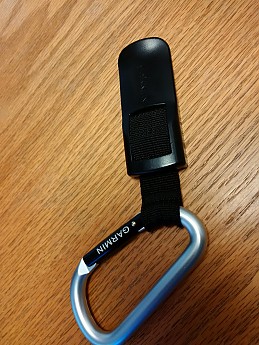 Clip comes with it. This uses the accessory rail on back.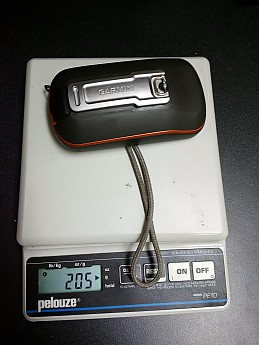 Unit weight with batteries in grams 205g, 7.4oz
Garmin Oregon 600
currently retails for:
$298.99 - $480.00