Garmin eTrex 10

Top 25 in Handheld GPS Receivers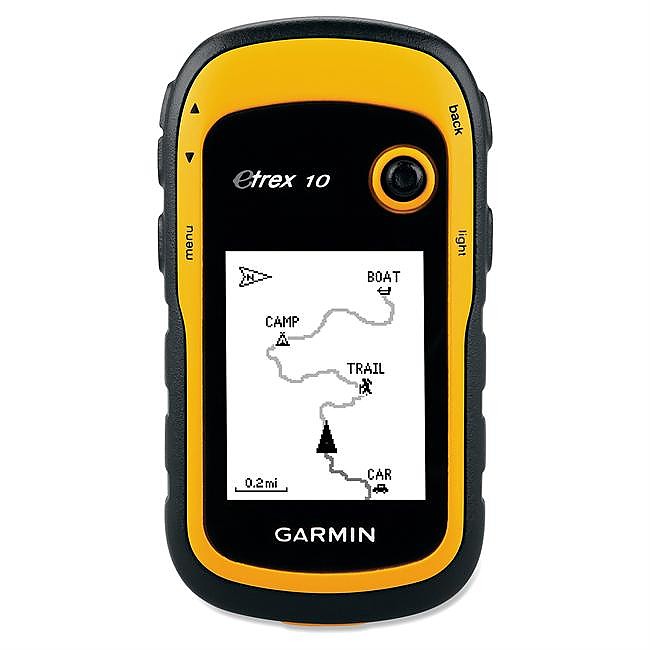 A quality entry level GPS that will will satisfy any expert.
Pros
accurate and reliable
easy to read
easy to use
good battery life (~25 hours)
inexpensive (~$115)
durable
waterproof
light weight
Cons
not all functions are covered in the user manual
joist stick needs improvement
The Garmin eTrex 10 is a great product. It's best used in conjunction with a map and compass as it lacks extra features such as detailed, color maps that are available on more expensive models. But let's face it, you should never haphazardly wander into the wilderness relying solely on a GPS to begin with, so get a map as well. 
It has a fairly small B&W screen but it is not so small that it hinders ease of use or readability. The unit fits in hand comfortably and is small enough to place in your pocket when not in use.
The biggest flaw with this product is that the user's manual is far from complete, so some functions require a little experimentation to learn how to use. Even after reading the downloadable user's manual available on Garmin's website, not all features are explained. But this is not a major undertaking. Never having used GPS before, I was able to figure out how to use all of the features available on the device over two days of on-and-off experimentation. 
The other flaw is that the joist stick doesn't always activate the desired menu or function the first time it's pressed. You have to be careful to press it straight down, otherwise it just toggles to the next menu option.  As I recognize that this could be improved upon, the joist stick has never failed and usually activates your selection with a second depression. 
The other thing is that the unit requires Garmin Base Camp (downloadable for free) to delete old or accumulated geocaches and waypoints. However Base Camp also allows you to view your tracks and route information via the computer and gives you the option to import these items into Google earth, which is great! 
The eTrex 10 has always been accurate and reliable. I have spent 2+ years hiking on and off-trail in the New Jersey Pinelands, which can best be described as a pretty homogenous landscape, and this device has provided me with accurate coordinates and reliable performance every time I head off trail. While accuracy can decrease depending on weather, terrain, and tree cover, this device is accurate when used under ideal and close to ideal conditions. 
This is typical of GPS units in general though and is not a flaw with this particular model. Even when it is not spot on, it is accurate enough for most uses. I know it is accurate because I have map skills. If someone tells you that this device is not accurate, it's probably a baseless statement as you need to be able to compare your known position on the landscape to a discernible spot on a map and then compare your GPS coordinates with that spot in order to evaluate accuracy objectively. 
Overall, this is a great product and I couldn't be happier with my purchase. I even went back and bought a second unit.  I highly recommend it!  Hope this helps and have fun out there!
Source: bought it new
Price Paid: $115

Cheap, light, reliable.
Pros
Easy to carry
Easy to use
Great battery life
Cons
User manual fairly useless
Had mine now for about 4 years and love it. I never walk about the Australian bush without my Silva compass but the little eTrex 10 is always in my daypack.
The user manual is pretty average, but fortunately the device isn't really that hard to figure out, and of course if all else fails there is always youtube!
For my use I simply name my base camp and then go wandering and if I need help getting back I simply ask the device where home is and voilà. It is a direct line so you need to factor that in. If you want to follow the same route back that you took out you can leave it on for the walk and it will remember your trail.
I have a friend who owns a 180.000 acre property out west and she lends hers out to visitors so they can always find their way back to the homestead.
Battery life is excellent (2 AA's) and on the whole there isn't anything to really go wrong with this little device.
If you wanted to load up maps etc then one of the fancier devices in the Garmin eTrex range might be a good idea, but if you simply want to be able to find your way back to your camp then the little eTrex is fantastic.
Experience
Been rambling around the Australian Outback for most of my life, haven't got seriously lost yet!
Source: bought it new

Supurb basic GPS I use for all my ultra running mountain events and mountain leadership, mainly to save tracks and also follow GPX routes I have designed on Strava and downloaded. Works as a USB stick in essence, so no need for Garmin software except to update firmware. You can use maps on it, but its a hack involving replacing the basemap, YouTube shows you how!!
Pros
Simple workable and reliable even in trees
Excellent battery life and AAs so swap out on exped is easy
USB drive use means straight use of GPX in and out for e logs
Works on Mac OSX HS due to above
Fairly bomb proof joystick heavy use for 12 months still going well!
Cons
Needs a a bit of self teach to get full potential
Blocky but small so sits in clip on pouches well
This is a basic GPS that you need to go and learn how to use. IF you do you get a cheap but effective receiver you can design routes on Strava export as GPX and then load on to your GPS. Also you can reverse process very quickly. 
With a bit of know-how you can replace the useless gmapbmap.img base map with your own from openstreetmap put through a OSM converter and you get a BW map that actually is quite useful. 
I'd never rely on it solely, but that's true for even the most Hi Res GPS as electronics can die. It has been very useful for ultra marathons as it is able to last the race easily with the AA batteries and they are an easy swap out if you need longer than 20+ hrs.
All in all it's a great inexpensive bit of kit. Dated but exploitable if you can be bothered to learn how to use the kit you own. I have a video on youtube that explains the maploading process:
I am considering an upgrade to the 20 or 30 simply for the SD card, but to be honest it's not really necessary. I got the whole of the North York Moors NP on with well over 5MB left for tracking. So SD upgraded model would be useful if you want more detail, colour or need a very big area mapped for a multi day route exped.  As I say it's a basic unit!!!
No HR or pod link possible. 
Source: bought it used
Price Paid: £45

Poorly designed GPS.
Cons
Thumb stick design feature does not work
Screen is fuzzy and hard to read
Unreliable
Thumb stick on the e-Trex 10 does not work. Pressing it straight down is supposed to be the equivalent of ENTER. It takes numerous tries to achieve enter. The screen features are not distinct.
This a very poor product that deserves a recall from GARMIN. I am trying to get my money back.
Source: bought it new

If you're a beginner, you'll find the quick startup and owner's manuals woefully inadequate. I had to call Garmin twice just to find out how to get the page that shows me how far I've hiked. I've used a Garmin GPS 60 for years, so I'm not a beginner.
Pros
It's relatively simple and not expensive.
Cons
Thumb stick is too sensitive; it sometimes takes me 8 "presses" to "enter" instead of moving up, down, or sideways.
When my GPS 60 died, I couldn't find a simple GPS that would tell me how far and how fast I've hiked. The GPSes were expensive and extremely complex. FINALLY, the eTrex 10 showed up—just what I'd been waiting for! However, the instructions (quick start and owner's) are inadequate.
I made two calls to Garmin to get basic instructions. The first time I called, I discovered my eTrex 10 was faulty, so I had to return it. I did learn during that call how to use the thumb stick. Nothing says to push gently upward to move from side to side, up and down. On other devices, it takes a little push down to navigate.
In my second call (with my new eTrex and after looking carefully through the owner's manual for answers), I learned how to get to the Trip Computer. The agent also led me through a series of steps to set the GPS for the most accurate measurements. WHY ISN'T EVERY GPS SET FOR THE MOST ACCURATE MEASUREMENTS TO BEGIN WITH? Why should there be a choice? Who wouldn't want the most accurate measurements?!?
The agent also said it was obvious the instructions were not written with beginners in mind.
The instructions use the words "Done" for what is usually called "Enter." Why not use the familiar word? Enter means "select." "Done" means to me that something has ended.
Source: bought it new
Price Paid: $110

Pros
Battery life
Shockproof
Waterproof
Bright color/high visibility
Cons
Small screen
Screen in sunlight
Position jumps
Great unit!! Great accuracy and battery life.
Source: bought it new
Price Paid: $109

Your Review
Where to Buy
Help support this site by making your next gear purchase through one of the links above. Click a link, buy what you need, and the seller will contribute a portion of the purchase price to support Trailspace's independent gear reviews.
You May Like
Specs
Price
MSRP: $109.99
Current Retail: $109.99
Historic Range: $26.93-$129.95
Reviewers Paid: $109.00-$115.00

Weight
5 oz / 141.7 g with batteries

Dimensions
2.1 in x 4.0 in x 1.3 in / 5.4 cm x 10.3 cm x 3.3 cm

Display Size
1.4 in x 1.7 in / 3.6 cm x 4.3 cm, 2.2 in diag / 5.6 cm

Battery Life
25 hours

Water Rating
IPX7

Recently on Trailspace