Hillsound
Trail Crampon
Specs
S
M
XL
Weight
448 g
460 g
480 g (L) 500 g
Spike Height
1/2 inch long

Spike Material
S50C Carbon steel

Harness Material
Elastomor

Compressive Strength
19,572N

Tensile Strength
1,162N

Rockwell Hardness
47HRC

Where to Buy
Reviews
Great for winter and icy hiking conditions. These…
Rating:


Source: bought it new
Price Paid: $60

Summary
Great for winter and icy hiking conditions.
Pros
Good traction
Easy on/off
Strap to help secure them to your boots
Cons
Adjusting on accents/long hikes
These trail crampons have great traction. I put them on when I get on the trail and leave them on until I get back from my hike. I have passed many people either without crampons or basic Yaktraxs on in icy conditions and it was night and day, many of these people trying to "ice skate" up and down the trail using trees or anything else they could get their hands on (including myself) so they would not slip and fall.
I was one of those hikers until I had a terrible hike just outside of Boulder. The conditions were typical for the time according to the ranger, snow on the hillsides and ice on sun exposed areas. I fell a few times trying to make it up the trail, thankfully no hospital trips, but it took me 2-3 hours to cover barely 3 miles. After purchasing these crampons I hiked the same trail, made it much further, 10 miles in about 4 - 4 1/2 hours and not one fall.
They work great on ice and mud. I have a few friends who take them off on rocky stretches without ice, but I leave mine on and have had no issues hiking or with the durability of the spikes. The rubber eyelets that secure the crampon to your boots are the weak point of the design, but after several uses they seem to be holding up without any issue.
I spent some time talking to a local ranger out on the trail about trail crampons and he had the same pair as I did and said he is out multiple times a week on them and they last him about 4 seasons. That gave me some confidence in my pair for the long run.
On long hikes (10 miles or longer) I have had to adjust them throughout the hike. Also when I have gone up steep accents I have had to adjust them. Without the crampons I would have not been able to make it to the steep accents or 10 miles out, so even though having to adjust them is a con I wouldn't be out on the trail without them.
One of the features I like about these is the Velcro strap. This helps secure them to your boots so you won't completely lose them. I walked across a wooden bridge with them and the spikes are sharp enough that they dug into the wood and my feet felt like they were "stuck" to the bridge. The strap helped hold the crampon to my boot, not that retrieving it would have been difficult, but you get my point. I did have to adjust them once I got to the other side because they were halfway coming off.
I paid 60 dollars for mine and that does seem a little expensive for some trail "spikes," but from the amount of people I have seen fall this season alone, including myself, the 60 bucks is way cheaper than a hospital visit for a broken arm, so they are worth every penny. They also allow me to cover more ground since I am not slipping and sliding everywhere.
I will be buying another pair when I wear these out.
A great crampon that stretches over my mega sized…
Rating:


Source: received it as a personal gift

Summary
A great crampon that stretches over my mega sized Minnesota boots. Sticks, bites, gouges, and doesn't slip off the boot.
Pros
4 spike heel
Jointed front spike plate
Stretches wide and far
Doesn't slip off the boot
Cons
You sometimes slide on angled surfaces.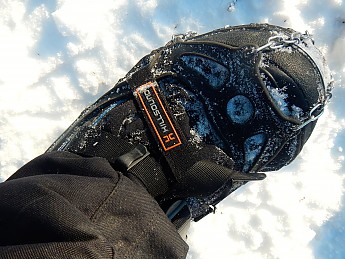 I use a really big boot to keep my feet warm. Hillsound XL crampons fit over them!
The Hillsound elastomor blend finds a great balance between stretch and durability. On other crampons I've used, the fit is too tight and compresses the insulation to your foot therefore greatly reducing its effectiveness. Hillsounds hug but don't constrict as much as others.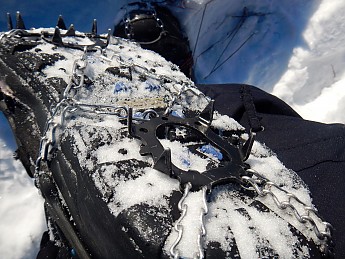 Rear spike plate

They have a good sized spike that bites well. Since they are carbon steel, they look like they are rusting after 1st use. (I just found out that the spikes are carbon steel). Carbon steel immediately oxidizes with any moisture but it doesn't mean it's turning into a rust bucket so don't worry if you see what looks like rust after first use.  The front and midsole chains are welded stainless. There are 7 spikes on the front jointed plate and 4 in the back. My brother was using Microspikes on our last trip and we both noticed that he was slipping more than me. The Microspikes' teeth are a bit smaller. 
The chain eyelets are reinforced rubber and have done well over 2 years of harsh winter use on rugged terrain.
The tops of the spike plates have a few dull teeth that tilt slightly up to keep any sliding from happening.
Because the teeth are only on the bottom and face down, you will get some slipping on angled surfaces when you naturally try to decrease surface area and bite into the ice with the edge of your boot. There's nothing at the edges to help you.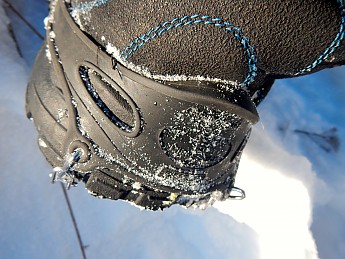 Back of crampons with small abrasion at top
From my experience, most crampons come off at the heel. The Hillsounds fit snug and don't pull off. I used to use a boot with a heavy lip to keep the crampons on but I switched to a boot without the rubber lip. They just have a rough back with a small convex rubber detail line around the back and the crampons have never slipped. 
Because I hike over jagged basalt in the winter, you can see from the picture that even tough rubber gets cut. I can't avoid that so I'm not holding it against the crampons. 
I've been pretty impressed with the product and have felt that they've served me well. 
Keeps you vertical on icy, frozen surfaces, providing…
Rating:


Source: bought it new
Price Paid: $45

Summary
Keeps you vertical on icy, frozen surfaces, providing you with the ability to get where you want to go when snowshoes are not the preferred choice.
Pros
Easy to put on.
Good traction under most circumstances.
Cons
May slip off when climbing/descending very steep slopes.
Bought them a year ago and  have used them on several hikes in the Catskill Mts of New York State. On steep surfaces, like climbing out of a steep-sided gorge, I had the top part of one crampon pull off on two occasions.  Not sure how this happened, but it was a little disconcerting that they would do this as well. 
The upside is that they do have the secure velcro retaining strap, which ensure that they won't lose your foot altogether, but you should be careful when descending or ascending very steep slopes, particularly if your foot is at angle (sideways) to the slope.
Didn't know how much I need them until I took them…
Rating:


Source: bought it new
Price Paid: $53

Summary
Didn't know how much I need them until I took them off.
Pros
Easy on/off
great traction
A late winter training on an icy trail without traction convinced me that I need something more than Yaktrax.  
I bought a pair for my son and myself for an April hike in the Whites. The trails were a mix of ice and snow so we put these crampon on as soon as we hit the trail. We spent two days hiking and I just assumed that because we never had any traction issues that the trail wasn't as slippery as it looked.
When we got back to the car we stopped just before the snow and ice covered trail transitioned to asphalt to take the crampons off. After hike miles on ice and snow we both slipped, they work so well that you can on find out who well when you try walking without them.
These are crampons, but please don't mistake them for mountaineering crampons. There are no toe picks and they are held on by silicone rubber. They are hiking traction devices on steroids. 
Quite the adventure. It was my first winter hike up…
Rating:


Price Paid: $59

Quite the adventure. It was my first winter hike up Mt. Kearsarge. I found out found out from my fellow hikers it's not typical to have a solid sheet of ice half the trail length to the top? I wouldn't know any better since it was my first winter hike.
I had returned my Katoola Microspikes the week before for the Hillsound Trail Crampons after a winter hiking lecture. I'm glad I did. From what I saw, the Hillsounds blow the doors off Microspikes,  they really crunch in and hold. A 50% longer spike, rigid plate arrangement, and stabilitizing strap (plus nice storage bag) make a big difference.
Make sure you size them so they are a snug fit. I would see little reason for purchasing Katoola Microspikes because these cost the same and are much better (from what I could see of the dozen other hikers gingerly walking across the ice).
These are my first crampons and I bought them specifically…
Rating:


Price Paid: 59$

These are my first crampons and I bought them specifically for day hikes in the Adirondacks. Last weekend I brought them on a 9-hours hike to the top of Algonquin and Iroquois (Adirondacks) and I've been absolutely amazed at how secure they felt on steep icy surface.
They are light, easy to put on/take off and they really stick to your feet when in place. They also take little space in the backpack, do not interfere with normal gait yet they are sturdy enough to withstand a beating on rocky trails. IMO they strike a perfect balance between smaller crampons (like Kahtoola's micro-spikes) and standard 10-12 points crampons.

I have only used the product nominally. I have a medium…
Rating:


Price Paid: $52

I have only used the product nominally. I have a medium size, it weighed in at 466gms, right at spec. I bought these primarily for trail racing. The stuff sack is the right size (compact) as I was able to carry the pair (in stuff sack) comfortably on my aqua-pac waist belt (ready for instant on and off). Even with only a few practice sessions I was able to put them on and remove in less than a minute. It was also easy to fold them in half (spikes in) for safe storage around the waist (in stuff sack).
The crampons are well engineered with a good retaining (velcro) strap across the top of the foot. The spikes are well laid out with smaller ones inside. The crampon flexes surprisingly well with my trail runners. The "spike" platform is wide and feels stable.
So far although the product is heavier it does provide superior traction with strength (solid chain and spike should handle continued abuse).
I would highly recommend these traction crampons,…
Rating:

I would highly recommend these traction crampons, the fact that they work great up or down the slipperiest hills is one thing. But the main thing I like is easy on, easy off and easy and light to carry. They work much better than the arch type especially when going up hills. Also great for crossing slippery logs.
Having tried the Hillsound Trail Crampons in different…
Rating:

Having tried the Hillsound Trail Crampons in different terrain and snow conditions, I can say that they perform surprisingly well, especially when considered that they are designed for recreational use / hiking.
They are versatile, easy to put on and even easier to take off, store well / don't take up much space, and therefore can be carried in a knapsack without taking a lot of (precious) room or adding much weight ... They also compare favourably with other similar products.
In short, this would be a great choice for any winter outdoors enthusiastic (seasoned or novice), and on occasion a city dweller too (yes, even a Vancouverite!)
I certainly have made these crampons a part of my 'winter gear essentials' and often find them more useful than (after all) cumbersome snowshoes.
I borrowed a pair from a guy who may have had a larger…
Rating:


Price Paid: $59

I borrowed a pair from a guy who may have had a larger size foot than I, but I can't imagine going up the mountain without them. I got to the trail and it looked like it would be "dry". Not so, I really woudn't have made it up there without having them. For this reason i went as soon as I could to buy a pair!!!
Great traction and easy to put on, compact enough to fit in the back pack. Only thing is I wish the carry case for it was a little larger..tight fit anyhew.
In March we went for a beautiful hike through the…
Rating:

In March we went for a beautiful hike through the snow on Mount Seymour. It was the second time that I used crampons and I recommend them highly! I did a comparison with and without the crampons and using the crampons allowed for a much more enjoyable experience because they gripped the snow so well.
It took less energy to hike since I wasn't constantly trying to maintain my balance on the icy trail. They were comfortable and very easy to put on and take off. We did make one adjustment during our journey as one had slipped a bit.
One minor inconvenience was that the snow did occasionally ball up underneath, although, it didn't cause any problems. Other than that, it was a very, very satisfying experience.
Where to Buy
Hillsound Trail Crampon
currently retails for:
$59.95 - $60.00
MSRP: $59.99