Kelty
Lounge 4
2

reviews

5-star:

0

4-star:

1

3-star:

0

2-star:

0

1-star:

1
Reviews
Nice and sturdy tent. Set Up: I am an outdoors guy,…
Rating:


Source: bought it new
Price Paid: Cannot remember

Summary
Nice and sturdy tent.
Pros
Ample room
Easy to set up
Love the front design of the rain fly
Cons
Rain fly does not cover the rear of the tent
Set Up: I am an outdoors guy, so this was pretty easy for me. The two things which took the longest were threading the poles through the top of the "tent pole guides" (don't know what they are called), and then putting the rain fly in place. I am a shorter guy, so I had to throw the rain fly over the tent to position it where I wanted it. If there was a strong wind, fogitabowdit!
Stability: The tent is self-standing, so there was no problem getting it together. Three arched poles hold everything together, so it was pretty sturdy. The tent stakes that came with the tent are OK if there is no wind and conditions are perfect. But if Mr Murphy were to come poking around (like he usually does), better tent stakes will be needed. The rain fly gets velcro'd to the tent in a few places, and also attaches to the same poles that the tent uses — so that was pretty convenient. But if it gets a little windy, the rain fly has extra string loops on it, to be fastened down by its own stakes for extra support. (Worth it in my opinion).
Weather Resistance: Me and the wifey have ONLY used it in hot/windy/chilly days and nights (40 degrees), so we cannot comment on its water resistance. It has good mesh ventilation, so the hot days did not leave the tent blistering and steamy when getting ready for bed. 
Ventilation: Ventilation was good. Like previously mentioned, it has plenty of mesh on the sides and on the top of the tent. The rain fly is also designed for great ventilation, and has little ports that can also be opened for more ventilation. But the rain fly has a LARGE PROBLEM, which will be mentioned later!
Room for Storage: We purchased a 4-man tent for two people — me and the wifey. This gave us plenty of room to spread out, and also to bring our gear indoors. (For security). We had plenty of space to place our bags, our gear, and even played board games at night. Plenty roomy.
It also had a few loops on the tents ceiling to attach whatever you felt you wanted to hang there. We used one of the loops in the center of the tent, with a carabiner, and hung our battery-powered LED lamp on it. Worked great. The tent also has a few well-positioned mesh pockets on the sides and ceilings. The top one worked great for my pistol — as state parks will let you bring a firearm so long as it is not readily accessible. (Like stuffed in a pack, or in your car, or in your sleeping bag, or in your tents ceiling mesh pocket while the tent door is zippered shut). If you are outdoors, there are mountain lions and bears. And if there are the latter, me be armed!
Packability: The tent was pretty easy to pack and unpack. The poles were held together with shock cord, so it was just a matter of folding them up and placing them in their own bag. The footprint folded-up easily and went into it's own little mesh bag. And the tent was easily folded-up with the two of us, and went into the main bag. By the way, the stakes also came with their own bag...so everything was easy to pack away and be accounted for. I think it took us about 10 minutes to put everything away nicely, and while taking our time. Pretty easy, actually.
Ease of Use: Everything worked fine in our weather conditions. From the rain fly vents, to the zippers. Everything was fine.
Features: OK, this is where the tents main flaw comes into play. Like the previous reviewer mentioned, the rain fly design is seriously flawed. The entire back part of the tent has no rain fly coverage. What in tar-nations was Kelty thinking when they designed this?! In non-wet weather, it is fine, as it lets plenty of air in to circulate. It is the PERFECT hot weather tent. But if it rained...well...this is not the tent for that application. I can just imagine the chaos it would cause to the back (exposed) part of the tent. The sides of the rain fly also leave small areas of the tent that are unprotected.
Once again, cool if it hot (for great ventilation), but horrible if it should rain. It would also have been nice if they designed the footprint to extend a bit past the front of the tent, but still stay under the rain fly. This way I would need to carry one less piece of plastic to lay there when we store our shoes or other gear that we do not want in the tent. The rain fly design was the one big flaw in this tent. (I am actually contemplating whether to add an attachment to the rear of the rain fly to correct this serious problem). See attached pictures below.
Construction & Durability: It seems pretty good so far. The floor material is good, and the zippers are holding-up well. Me and the wifey only camp when the weather is good, so no problems as of yet. But if it should sprinkle or rain...well...
Conditions: Like I mentioned before, we have not used this tent in the rain...and do not intend to. (The rain fly would not work to protect the rear of the tent). When we use it, the weather has been hot in the days, and in the low 40's at night. When I go camping with the wifey, it is only at campsites, so it has worked well in a controlled environment. We have had it for a little over two years now, and so far (for our conditions), it has been perfect.
I would easily give this tent 5 stars if the rain fly design covered the rear of the tent. But because it does not, I only gave it 4 stars. And even though we have not experienced any bad situations in the rain...the rain fly design is still bad, and we know this will only (ever) be a dry weather tent. (Unless I add an attachment to the rear of the rain fly, like I mentioned earlier). But overall, a perfect dry weather tent!!!!!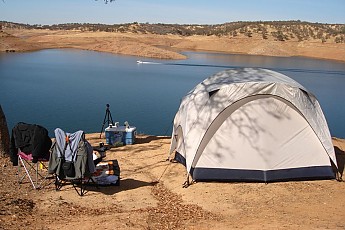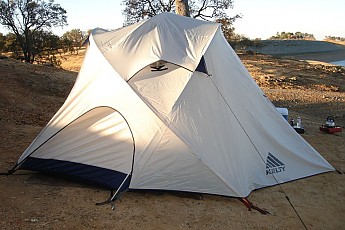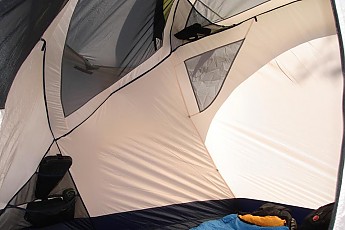 The Kelty Lounge 4 appeared to offer what we were…
Rating:


Design: three-season freestanding dome
Sleeps: 4
Ease of Setup: straightforward
Weight: 15+ pounds
Price Paid: $179

The Kelty Lounge 4 appeared to offer what we were looking for in a car camping tent (as viewed from the pictures on the web anyway): a reasonably priced tent with enough space to stand up while you get dressed, aluminum poles and a rain fly.
Out of the box it was easy to set up and since it was a full moon last night, we enjoyed our first use of the new tent looking thru the mesh ceiling at the night sky. However, a mild summer rain started this morning prompting us to engage the rain fly, at which point the design flaws became apparent.
Despite offering a modest vestibule in front, the rain fly doesnt cover the back of the tent! as the rain came down, the water started to seep in at the seem along the exposed back wall. Unbelievable! Why not cover the back wall? This obvious design flaw is deceitfully concealed in the frontal view images of the product on the web... having spend enough rainy nights in tents to know that you need a full fly if you want to stay dry, we never would have bought this tent had we known the back wall was thus exposed.
What a pity, this otherwise decent tent would have probably rated four stars if it had a full fly, as it is roomy and airy with copious mesh panels on the top of the tent. The Kelty Lounge 4 would have much to offer if you camp where it doesn't rain, otherwise we suggest you avoid this one (or buy an additional shelter under which to pitch this tent).
Retailers' Descriptions
Here's what other sites are saying:
CLOSEOUTS . Kick back and relax in the comfort of the easy-to-pitch Kelty Lounge tent. Simplified design only requires three poles Color-coded pole sleeves make things even easier Mesh roof and windows provide ample ventilation Rain fly Single door DAC17 aluminum poles 4-person, 3-season Floor: 110x92 , 64 sq.ft. Vestibule: 16.3 sq.ft. Height: 72 Stuff size: 26x10 Weight: 15 lb. 14 oz. Material: Polyester taffeta Made in China. Visit our Tent Guide
- Sierra Trading Post
Set up your Kelty Lounge Tent quickly, and then kick back and relax while your friends wrestle with their tents. This palatial four-person tent has only three poles to contend with, and Kelty color-coded the pole sleeves for you-what could be easier? Mesh panels on the Lounge Tent let the breeze flow freely but not the bugs, and the rain fly keeps you dry while you play cards inside during a downpour. Pockets help four people stay organized.
- Backcountry Outlet
The Lounge is all about taking it easy - in style. Effortless to set up, this palace with only three poles will rival any tent at your campsite, especially when it comes to setting up the tent.
- Altrec Outdoors
The Lounge is all about taking it easy in style. Effortless to set up, this palace with only three poles will rival any tent at your campsite, especially when it comes to setting up the tent.
- SunnySports
The Lounge 4 is an exciting addition to Kelty's tent line. It sleeps 4 and has great ventilation and is easy to set up or take down. The sturdy shockcorded aluminum poles provide an extremely stable frame, able to withstand summer thunderstorms with ease. The huge mesh panel on the roof lets fresh air in and keeps bugs out. The full coverage fly keeps the weather out and provides a substantial storage vestibule in the front. Complete with plenty of internal storage (mesh pockets, organizer wall, gear shelf and gear loft) this is an ideal family sized campground or canoeing tent.Sleeps 4Main fly and floor seams are factory taped for extreme weather protection.Arc Edge floor seams - perimeter floor seams are off the ground and inverted for superior water protection.Freestanding design is easy and fast to set upOrganizer wall and Gear Shelf included for inside organizationShockcorded aluminum poles for durability and easy set up Non stretch, UV resistant polyester fly.Mesh panels and fly vents allow great ventilation.Adjustable stake loopsSleeve/clip assembly for fast set-up and maximizes air flow.2 mesh interior pockets for organization and gear storage.1 large door for easy access.Post and grommet assembly with locking pole tips for convenience.Side release buckles attach fly to body for fast easy set up.Color coded clips aid in set-up.Flashlight loopGear loft included.Tent, pole and stake bags included.Fire retardant.Import.
- Campmor
Kelty Lounge 4
Discontinued
The Lounge 4 has been discontinued.
previously retailed for:
$149.95 - $299.97
The Kelty Lounge 4 is not available from the stores we monitor. It was last seen August 8, 2010 at Sierra Trading Post.
If you're looking for a new three-season tent, check out the best reviewed current models.