Leki
Corklite
Specs
Weight
17.6 oz per pair

Length
67-135 cm

Reviews
The Leki Corklite trekking poles are light, strong,…
Rating:


Source: received for testing via the Trailspace Review Corps (Sample provided by Leki for testing and review)

Summary
The Leki Corklite trekking poles are light, strong, and especially well suited for wet weather trekking as the grips don't absorb water and the wrist straps dry quickly. The cork grips are actually a composite (80% ground cork) so don't expect a traditional cork feel. I have medium sized hands and thought these grips were a bit on the small side so be sure to put your hands on these before you buy them.
Pros
Very light (17.6 ounces for the pair)
Easy to adjust
Strong
Balanced swing and solid feel
Weather resistant grips
Wrist straps dry quickly
Cons
Cork grip isn't normal cork and not as comfortable as you expect
Thin wrist strap was not very comfortable on long hikes
Specs: 
Weight: 17.6 oz per pair
Length: 67-135 cm
Video Summary Review (best in full screen), first three minutes is a brief review; trip clips follow
written detail continues below video:
------------------------------------------------------------------------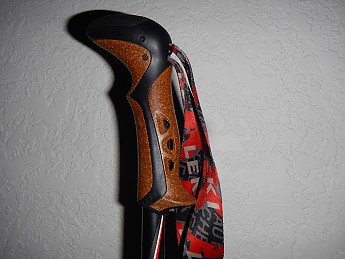 [grip closeup]
Fit & Comfort:
The wrist straps have ample length and should adjust to fit most users. I wore gloves under them on several trips and had plenty of room.
I never make it through a whole day using wrist straps on any of my trekking poles (I like to alternate and also change hand positions for different terrain). I found myself abandoning these straps sooner than normal as they seemed to grow just a bit less comfortable as the hours tracked on. (Perhaps this wouldn't be an issue for you if you don't spend 8 or more hours of your day hiking.) The thin strap materiel breathes well and isn't uncomfortable against the skin; it seemed like the lack of padding led to quicker fatigue for me.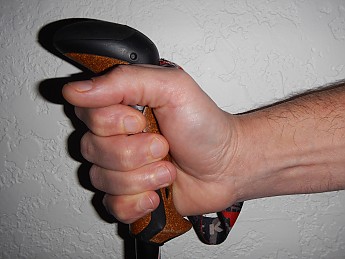 [closeup of my hand on the Corklite grip]
I found the Aeregon grips to be a bit small for my medium sized hands. To some extent this is just a personal preference but be sure to check this out before purchasing. Leki calls the grip materiel Cor-Tec (80% ground cork) and it's not like any other cork grip I've used. These are not as soft as I would expect; they aren't uncomfortable, just not as comfortable as other cork grips. These grips are harder than most synthetic foam and certainly harder than other cork grips I've used. But as noted below, this turned out to be an advantage in wet weather.
A note on this topic: Every set of poles I've used (or any long-used tool in my hand) required some adjustment period. Even ones that I love and prefer. These poles took a little longer for me as I'm used to larger diameter grips, but I did get used to them.
Feel and Swing:
These poles have aluminum shafts and were quite well balanced. I had very little arm fatigue after hours and hours of use. Some poles in this weight class wobble when you strike the ground and plant them in motion, these did not wobble much at all. 
Note: This model does not have an anti-shock mechanism. (but Leki does make an anti-shock version of the Corklite.)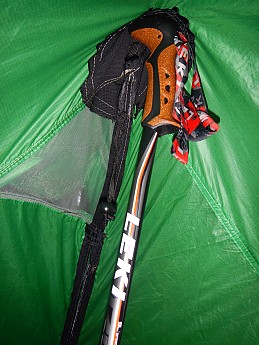 [holding up my Bearpaw tarp]
Adjustability:
The poles adjust up to 135 centimeters with a typical three section/ two lock arrangement. Personally, I wish more manufactures would make the poles a bit longer for use with tarps and shelters (20 cm more please!) but I acknowledge that reducing weight is a design goal in this case. Aside from my preference for a taller pole pitch, these worked well with the various tarp shelters I used.

[speed dial closeup on Speedlock mechanism]
Locking:
The locking cams were very easy to use but required careful attention on the first few uses as I did have slippage until achieving proper tension via the "speed dial" mechanism. That being said, best safety practice is to test the lock on any adjustable trekking poles at every use and before trusting your weight to them.
Traction:
The included carbide tips worked very well on all the surfaces I encountered from dirt to rocks to gravel and pavement. I had no issues with them lodging in rocks and working loose from the shaft.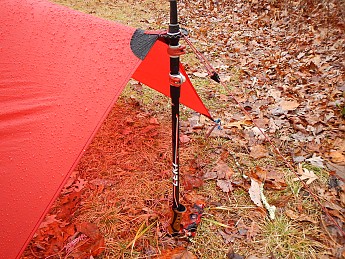 inverted use on a tarp shelter / stock Performance basket seen
Baskets:
I only used the stock Performance baskets that came with the poles and they worked fine. The baskets are removable and you can purchase a Snowflake basket or Big Mountain basket from Leki. I liked the circular notches in the Performance basket that allowed guy lines to pass the basket when using the poles for shelter support. I would recommend the larger baskets for use in snow.
Weather Resistance:
This isn't normally a topic I would associate with trekking poles but as stated above, these poles performed so well in the rain it bears mentioning. The wrist straps dry faster than other I've used and the cork-ish grips don't seem to absorb much water (or sweat). Leki states that this model is popular with thru-hikers and I can see where this is a selling point for users having days and days of exposure.
Construction & Durability:
These poles are well constructed. I have noticed some piling and abrasion on the wrist straps, but so far that seems very minor. I've used these poles for over 230 miles of backpacking on varied terrain including single track trail dirt trails, rocky trails, gravel roads, creek crossings, icy trails, snowy trails, etc....
Conclusion:
These are well constructed poles, and very light. I thought the grips were a bit small, the cork a tad hard and the straps were not very comfortable after long hours of use. However, those grip and strap qualities make these poles especially well suited for wet weather trips due to the low water absorbency characteristics.  
Conditions / Field Use: 
230 miles of backpacking over seven trips from November 13 to January 31st in Cohutta Wilderness of North Georgia, Great Smoky Mountains National Park TN & NC, Citico Wilderness TN, and the Appalachian Trail from Damascus VA to Roan Mountain TN.
If interested in the trips, check out my Trip Reports here on Trailspace or my photos on smugmug.
Miscellaneous Photos: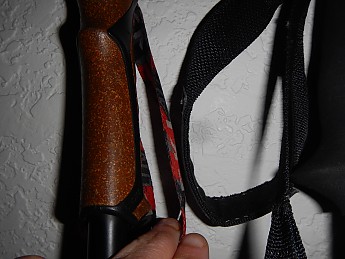 Corklite strap on left (edge-on view between my fingers to illustrate thinness)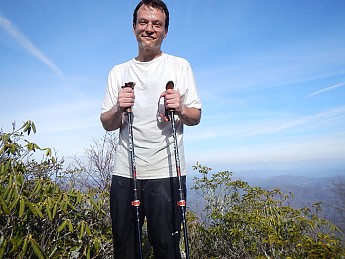 posing on the Cammerer Manway in the Smokies, TN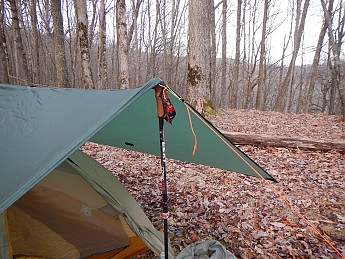 used with a tarp on the AT in Virginia 
Trekking poles save the trip, as long as they are…
Rating:


Source: Leki sponsors our Extreme Trekking team.

Summary
Trekking poles save the trip, as long as they are light enough.
Pros
Super lightweight
Comfortable
Easy to adjust
Straps are secure
Cons
I can't figure out a way to adjust the straps one-handed
The grips work very well, are fluted to keep you cool, and designed to fit the hand. Both straps and length adjustable, speed lock is easy to use and idiot proof. Super hard tip grips ice, rock and shows no sign of wearing out. Baskets are super secure, threaded design that doesn't allow them to fall off unintentionally. It's super light weight and a must-have, especially in winter.
Leki Corklite
currently retails for:
$139.95
MSRP: $139.95