Mountainsmith
Mountain Shelter LT
Where to Buy
Reviews
The tent was tested for size and space for two people,…
Rating:


Source: bought it new
Price Paid: $120

Pros
Easy setup and tear down
Reinforced seams
Cost per weight
Gear loops at door
Loops inside for pole retention
Instructions on stuff sack
Cons
Roof design snow accumulation
Useable space to avoid condensation
Exit for 2nd user on left with gear in vestibule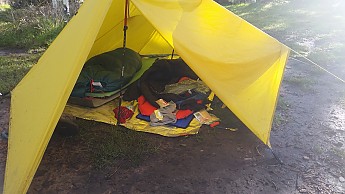 The tent was tested for size and space for two people, one being 5'10" the other 5'1", prior to outdoor setup. I have hammock camped in storms and used double wall tents in the past. 
Expectations for the weekend of testing included showers and possible thunderstorms. Ease of setup even in the dark was relatively easy for one person. Used the provided v-stakes and a nearby handy boot for placement in the ground.
The first night it rained and awoke to 2-3 inches of snow. The ground stakes in some areas pulled up. Snow accumulated between the two peaks of the trekking poles. Condensation inside the tent from the angles of the walls dripped onto the top of our bags. The rear vent and front door top were open. The ground had snow accumulation blocking the bottom ventilation. 
The next night we camped closer to the poles trying to avoid condensation build up and awoke during the night to wipe the insides down from the drips. Ground water obviously hard to avoid but we did use a tarp to help shield us. We used rubber tips on the poles to hold the tarp in place. Exit of the shelter is a little awkward for the person away from single door on right to get out depending on how you lay and equipment in vestibule. 
This was our first true floorless design shelter used, so please look to others with some more experience on this shelter, just sharing my impression. I have seen one manufacturer adding a vent brace to the front door which may help or keeping snow from bottom vent.
Basic shelter at a basic price. The Mountainsmith…
Rating:


Source: bought it new
Price Paid: $104

Summary
Basic shelter at a basic price.
Pros
Light
Inexpensive
Packs down small
Cons
Wetted through in one thunderstorm
The Mountainsmith Mountain Shelter LT sets up with trekking poles, which means it is light, about 2 pounds, and packs into a small, compressible bag. There is plenty of room inside for two hikers and their gear. At just over a hundred dollars it costs much less than most options on the market.
The I set the the shelter up it took for ever and was frustrating. This is what you get from reading the instructions on the side of the stuff bag. I watched Mountainsmith's video of setup and they combined two steps making for a faster and easier setup. When I used the shelter on the trail setup was quick and easy.
The first night my son and I used this shelter we had thunderstorms. We kept dry but within minutes the whole of the inside was covered with fine drops of water. I don't know if this was condensation as it was very humid or if it was wetting through. I had set the shelter up this an inch or more of clearance all around as it was getting stuffy with the bottom of the shelter closer to the ground.
Compared to free standing, dome tents this shelter with no floor and poles in the middle is not as comfortable. Compared to my free standing tent it weighs two and a half pounds less. Car camping or with the scouts, dome tent. Backpacking, this is my go-to tent.
Great value for a large light shelter. I got this…
Rating:


Source: bought it new
Price Paid: $129

Summary
Great value for a large light shelter.
I got this last week as an ultralight shelter for elk hunting in Colorado, but I will also use it for trips here in Pennsylvania. I did an initial setup but did not sleep in it.
My first setup was without a thorough reading of the instruction (which are printed on the bag if you need them) it took about 10 minutes and a lot of it was messing with cheap twist-lock trekking pole. there is a scale on the side of the shelter for correct pole length setting.
the pitch was taut and sturdy at the pole length set to the scale. the included stakes are aluminum angle about 6-7" long. This tarp provides full weather protection  for all but the most extreme conditions. There is a roof vent at the rear pole support, with the airflow from the small gap around the bottom ventilation should be adequate in most conditions
This is a big shelter with room for gear inside and 2 people. The vestibule is big enough to cook in inclement weather.
This packs down into a stuff sack of about 4 1/2" X15" and weighs around 2Lb it is designed for use with trekking poles, but a rope ridge line could be used with some experimenting. It could also be used with some local sticks cut to length for poles if you carry a small saw, the ends where the poles contact the tent would need additional protection if you choose that setup.
This tent is not for the masses, but if you are looking for a light, large, full weather protection shelter this is a serious contender.
At the full list price this is a great value. I am sure the price will come down making a greater value.
Where to Buy
Mountainsmith Mountain Shelter LT
currently retails for:
$129.95