Mountainsmith Carbonlite Pro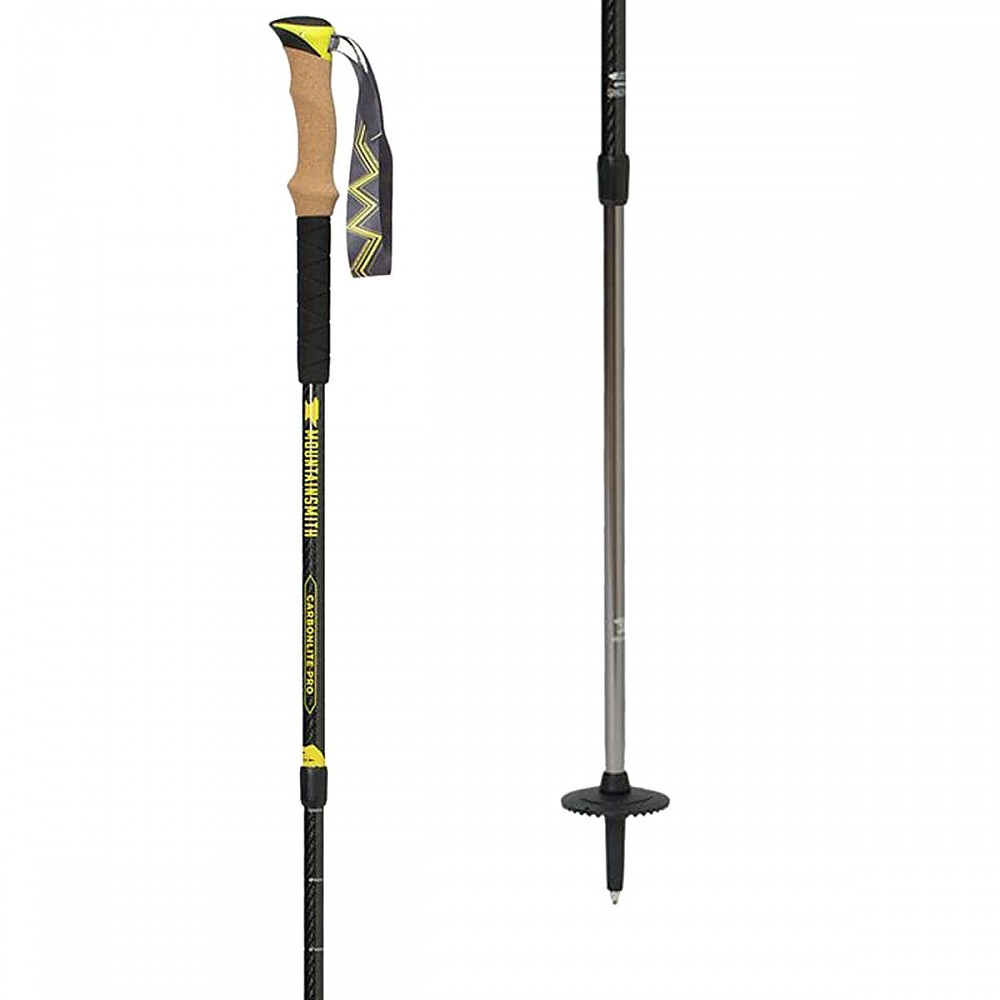 Sturdy trekking poles with lockout-able shock absorbers and great cork grips. What's not to like? Mountain goats don't tackle mountains on two legs; why should you?
Pros
Tried-and-true twist locks that hold fast and weigh less than Flicklocks
Long!
Optional—and included—rubber tips and snow baskets
Natural cork grips stay grippy even when sweaty
Nicely-padded wrist straps
Good value
Cons
IDK...they don't massage your feet after the end of a long day?
Best For: People who like good trekking poles.
Design
The Mountainsmith Carbonlites Pros are three-piece, telescoping poles built for rigorous use. The diameter of the sections is greater than many of the more lightweight options, and this allows a higher user weight limit. The sections can be completely disassembled for cleaning and lubing, allowing one to appreciate the beefy locking mechanisms employed. The poles sections themselves are constructed with an inner tube of aluminum, wrapped in carbon fiber. The poles are finished in a glossy black, with black plastic hardware.
Carbonlite Pros, resting after a stressful day...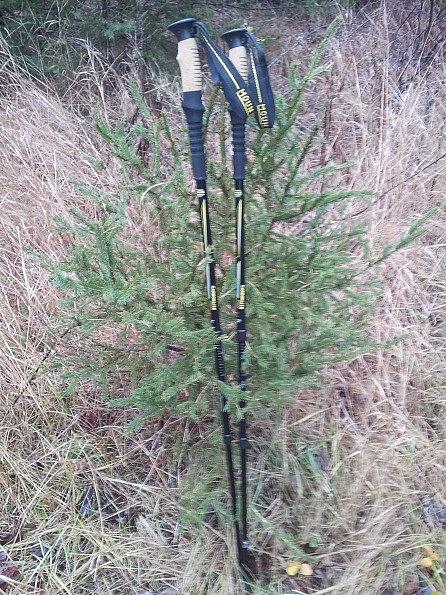 Grips: The grips are thermoformed of a black plastic top, a natural cork body, and a black foam lower section. The main cork sections are well molded to match the shape of the hand, and feature tread-like scoring to keep your hands from slipping under hard use. These continue seamlessly into the approximately six inches of lower grip, helpful when hiking up steeper grades. The adjustable wrist straps are well-engineered, featuring a wicking, neoprene-like inlay for comfort.
Will hold your hand on long walks...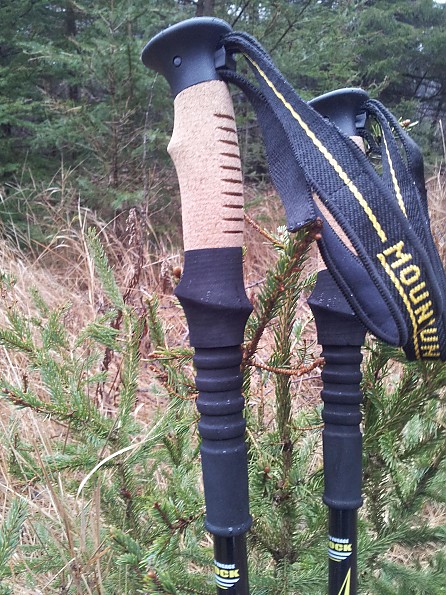 Twist Locks & Shock Absorbers: The twist locks themselves have a knurled surface to aid in on-the-fly adjustments. The shock-absorbing feature can be engaged or disengaged with about a quarter-turn of the middle section, and emit a positive click when the switch is made. The shocks travel about 3/4", and get progressively stiffer as more weight is added.
Length: 57 inches is the maximum usable length of the poles when used for trekking, long enough unless you play professional basketball. (Poor NBA players!!) Another inch or so can be gained, however, when deployed in the more static role of shelter support. The included optional rubber pole tips and snow baskets come in handy in either mode, as carbide tips and floored shelters don't mix in the same way that carbide tips and cryptobiotic soil crusts don't mix. Just a bad situation for all involved...
Weight: Mountainsmith thinks these poles are lightweight (10 oz each) in the world of trekking poles, but they're not. They are lightweight for what you get. That is, for this feature set, at this price ($75), with this weight limit (160 lbs), they are pretty darn light. Lightweight poles with a similar feature set, for example, are Gossamer Gear's LT4S poles, which clock in at 4.6oz each.
Performance
They don't slip, and that's really all I care about. Really, it's all you should care about, because the last place you want your trekking poles to slip is when you plant them in that five-foot-wide creek in an attempt to keep your boots dry. And that's exactly when they will slip, if they're going to. And then most of the stuff in your 60lb pack will get wet, after you bash your shins on the bank. And then you scream curse words skyward and a fleeing bird poops in your mouth.
Proper wrist strap use keeps you on your feet and out of creeks!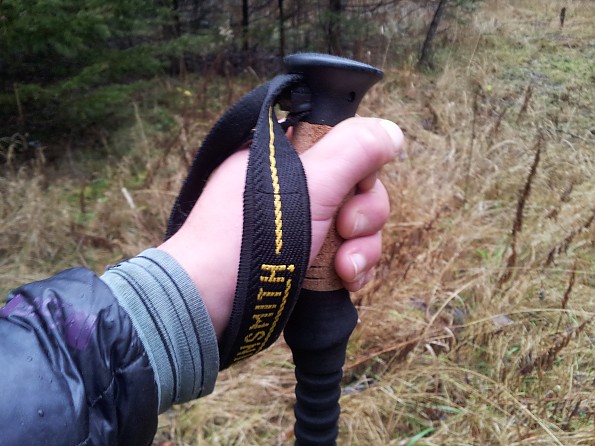 The grips perform wonderfully. They laugh in the face of sweat, which, BTW, kinda looks like Mandy Patinkin. But really, natural cork is the bees knees for grips, staying tacky even when soaked and drying quickly. Credit the deep siping, too.
The lower grips are not as useful as I'd want them to be as I like them about six inches lower. Usually, I am wont to wrap a couple yards of Gorilla Tape around each pole about 8 inches below the grip, serving as both the lower grip and a handy (see what I did there...) emergency repair stash. Having the lower grips a good bit below the main ones allows one to engage steep sections of trail without having to stop to adjust the length of the poles.
They should do this on tires also!!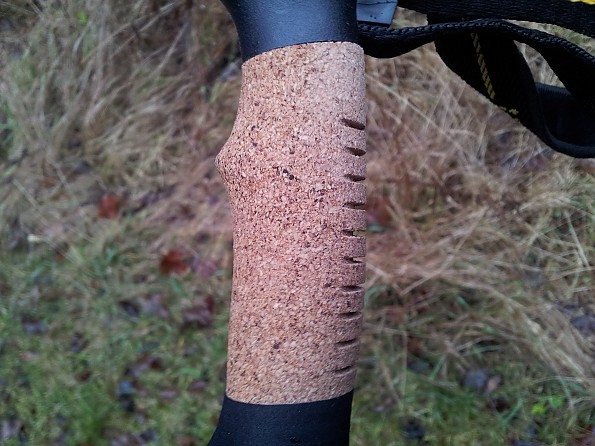 The Carbonlite Pros are built to last. They don't like to bend under duress, certainly a function of both their diameter and hybrid construction. The wrist strap does not stretch or loosen with use. The locking mechanisms can be adjusted with gloved hands and little attention.
I really like the optional rubber tips, if only to prevent that annoying ticking sound when carbide hits rock. They also help the pole find better purchase in said rocky conditions, methinks.
Walk softly and carry a big stick (or two...)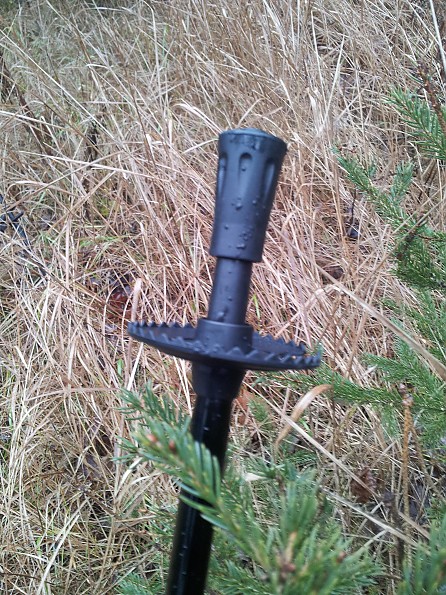 A number of backpacking shelters are designed to use trekking poles, and I've found the Carbonlite Pros to work great in this capacity. They have the needed length to be compatible with most shelters, including Mountainsmith's own Mountain Light LT (which I'm reviewing now...).
Cleanup & Maintenance
One of the reasons Flicklock-style poles exist is because people hate maintenance and twist-locks sometimes benefit from a bit of cleaning after a while. You see, dust and grit will collect on the pole sections, and then you collapse them and introduce that stuff into the locking mechanisms, eventually leading to slippage. How often one needs to destruct the poles and clean them depends on a lot of stuff; I've got an ancient pair of Komperdells with over a hundred days on them over eight years and I haven't once cleaned them.
If you do, get a can of compressed air keyboard duster, a bottle of mineral oil, and cotton swabs. Wipe down the disassembled sections with a wet rag. Remove the O-rings from the locking mechanisms, wipe them off with the rag, and soak them in a small dish of mineral oil. Blast the springs and mechanisms with the duster, and then, using cotton swabs dipped in mineral oil, clean the bits until you're coming out with clean cotton swabs. Wipe it all down with a dry rag to remove excess oil, reassemble the mechanism, and put the poles back together. Unless you live in a very sandy, dusty place, this is probably something you'll only do once.
Soapbox
So here's a section new to my reviews where I wax philosophical. Shop talk, if you will. So the topic at hand is: When/how should one use trekking poles?
I opine that trekking poles are best used when you need them. I don't use them on my training hikes, or day-hikes, as I feel that to do so would be to develop a dependency. Yes, they take weight off the knees, but I want my knees to support themselves as long as possible.
So generally, you'll only find me using trekking poles when on multi-day backpacking trips. With a giant smile on my face because I get to feel like a frickin' Gazelle for a little while.
Conclusion
Okay, I've made a few jokes but I don't want you to think I'm padding this. It's not like it's for a car, where a million things have to be good for it to be a good car. They're trekking poles and they're good ones.
Testing Conditions: Hiawatha National Forest, Pictured Rocks National Lakeshore Trail, in Michigan's incomparable Upper Peninsula: Late Summer, Fall, Winter temperatures ranging from 10 to 70 degrees Fahrenheit.
About the Author: Vince Contreras has been working as a professional Forester and Ranger for various federal land management agencies since graduating with a Bachelor's Degree in Forestry from Southern Illinois University in 2010. He currently resides in Michigan's Upper Peninsula, and is a Forester and Wildland Firefighter for the US Forest Service. He enjoys rock climbing, backpacking, and German Idealism. Other hobbies include leatherworking, bushcraft, and really, just creating original things.
Source: received for testing via the Trailspace Review Corps (Sample provided by Mountainsmith for testing and review)

Your Review
Where to Buy
Help support this site by making your next gear purchase through one of the links above. Click a link, buy what you need, and the seller will contribute a portion of the purchase price to support Trailspace's independent gear reviews.
You May Like
Specs
Price
MSRP: $69.00
Current Retail: $74.95-$79.95
Historic Range: $39.95-$98.99