MSR
Hubba Hubba NX 2P
1

review

5-star:

1

4-star:

0

3-star:

0

2-star:

0

1-star:

0
Reviews
Bigger on the inside, than it appears from the outside,…
Rating:


Source: bought it new
Price Paid: $390 (less $100 giftcard and 15% off)

Summary
Bigger on the inside, than it appears from the outside, it's a well-constructed 3-season tent for those looking for an ultralight option. A few ounces heavier, but the tent body material is thicker relieving that "easy goes it" approach to tent durability. More expensive than other UL tents, but with the features, quality, and warranty, you'll get your money's worth.
Pros
Lightweight
One pole, hub style system
Generous vestibule space
Quality materials and construction
Easy access, wide-mouth, top-loading stuff sack
Cons
More expensive than other UL tents/options (tarps)
Smaller dimension than similar tents
Vents only accessible from outside
PREFACE
This is the spring 2014 version of MSR's Hubba Hubba. Here are a few things that I was looking for when I was doing my research. I was looking for a:
freestanding tent

preferably one pole design

lightweight

stronger/thicker material, especially floor

option for footprint and fly setup

quality materials (plastic fittings vs. metal fittings)
As of this review, the tent still remains around $390. Higher than I would have preferred but I had a $100 gift card and had a 15% website discount. While it is higher than some of the others that I compare below, it hit all of my high points and I liked the tent when I tried it in the store.
TENT SPECS
Here's a quick once over of tent specs and features:
Floor

: 84" x 50"

Height

: 39"

Symmetrical tent pole/body design

Weight

: 3 lb. 13. oz (tent body, poles, stakes, stuff sacks for poles/stakes/body)

Material

: 20 denier body nylon/15 denier mesh, 20 denier rainfly, 30 denier floor

Freestanding
Tent instructions within wide-mouth stuff sack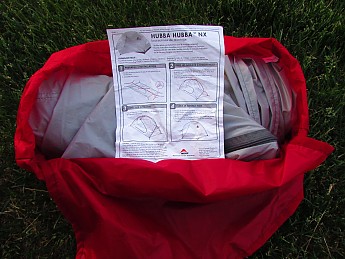 TENT EXPERIENCES/COMPARISONS
My previous tents have been the basic two pole, "X" design. The usual 4.5 or 5lb option. Most recent tent I owned (*cough* borrowed for an extended period) was an older version of the REI Half Dome. While on a trip in 2013 I bunked with a friend who had a Big Agnes Copper Spur UL2.  This was my first experience with a UL tent. 
When I was looking for an UL tent, I kept the features of both of these in mind. With several great options out there, I was down to the BA CS UL2, REI's 2014 Quarter Dome 2 (its answer to BA CS UL2 at $100 less than BA full price). I've compared the HH to these two in several areas below and how they shaped my decision-making process.
SET UP
The only issue I had when I first set it up was with the tent fly. The vestibule zippers start at each tent fly corner as opposed to each vestibules point and perpendicular to the tent body. As with most things, once you get used to it, it's fine...and it's makes for easy access from within the tent.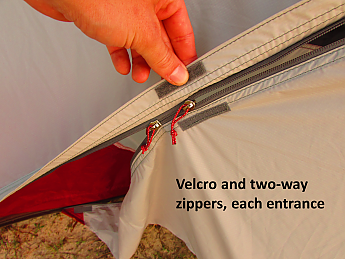 A great feature with the zipper being at the corner of the tent is that I can remain in the tent completely while opening and closing the vestibule entrance. With others designs having the zipper ~30" away from the body at the tip of the vestibule, the HH makes it easy to open and even roll up and tie off the door to increase air flow.  I've grown to really like this design!
CONSTRUCTION & DURABILITY
Tent Body
First thing that I noted when I actually got into the tent was that it is much bigger than it appears. Even when looking at the manufacturer's pictures with a couple sitting, facing one another in the tent, it really doesn't do it justice.  The walls are near vertical and the symmetrical design does not force any one sleeping position such as those tents that taper in size.

The floor dimensions are smaller than others. At 84" x 50" it's tighter than the Big Agnes CS UL 2 or REI QD 2; both of those being about 5-6" larger in both directions.  For my wife and me it isn't a problem.  She has only been with me once while out with the HH, but we slept head to toe, making use of the room as best as possible. No problems, shoulders just barely touching the edge of the tent. The peak height is also 39".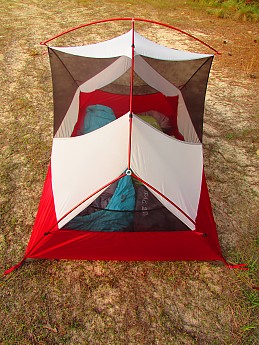 I was slightly concerned with condensation when it comes to the body as primarily some form of non-mesh material, especially when compared to the pre-2014 design. The distance between the tent poles/fly and the body is great enough that air can freely flow (also mentioned below with rainfly).
Other than my wife and me, we planned for our third family member to join us on several trips.
Scamp the dog...also a picture of vestibule space...two birds, one stone.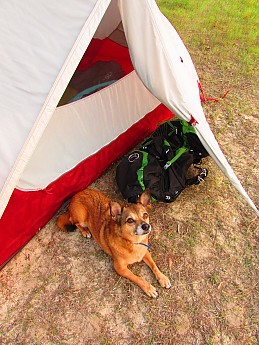 This potential for sharp nails on the floor was another consideration when choosing the HH. It is a few ounces heavier than other ULs, but the floor is 30 denier high-tenacity ripstop nylon with a polyurethane coating and can take more wear and tear than others. 
I also purchased a footprint (comes in its own small zippered bag, but I just roll up with my stuff sack).  Possibly overkill with the tent's natural strong floor, but it gives me additional safety in rainy conditions and offers other set up options. The tent is an investment and I'd rather rip the cheaper footprint than tent. Note that the footprint alone (no bag) will add 7 ounces to your combined weight. I do not have a digital scale, so I can't confirm this weight.
Two options to increase air flow. Remember to pull taut. While the tent fly isn't taut in the second picture (my fault), there is no issue with its setup. The rainfly is held back by toggles located along each vestibule.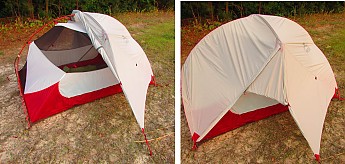 Poles
Not much to go over here. The HH has a unified DAC Featherlite pole, two hub system and is a symmetrical design.
Two hubs on either end of the, like two "Y" shapes connected at the bottom. Poles and body are symmetrical, no color coding of "this end goes into..." necessary.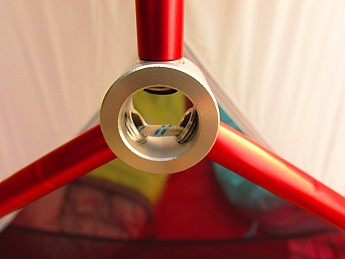 Rainfly/Fast Pitch Option
I have not had any problems with condensation. Although sometimes it may be a tent issue, a lot has to do with air flow (or lack thereof). The two kickstands (further below) do well in where they are positioned to keep air circulating in and out. It does have less mesh than the pre-2014 model, but the canopy material still seems to breathe really well.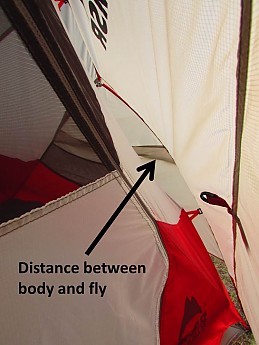 Fast Pitch Option below (footprint, poles & rainfly), tent can also be set up without the footprint (poles and rainfly only)
Six Mini Groundhog stakes, 6" long come with the tent for the four corners and two vestibules. Also guy lines, two tensioners and tent pole repair sleeve are also included.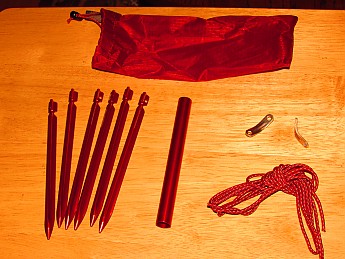 UNIQUE FEATURES
Kickstand Vent
On either side of the rainfly, there are two kickstands which increase airflow. The kickstand is made from nylon covered plastic. It has a Velcro end piece with Velcro on the main tent body (attached when not in use) and another on the body which extends when open. If anyone has questions, I can add a video explaining.

A feature that I did like on the REI QD 2 was that the vent (opened by the tent's pole instead of separate kickstand) could be accessed from the inside.  No need to go outside the tent and worry about the weather or nighttime.  If this were on the HH then I could safely say that MSR has thought of everything.  Something to consider when comparing.
Rain Gutter
Yeah, you heard right. No flower beds, bird feeders or anything, but this does have a rain gutter. On both openings there is an extra flap of material on the tent fly which can prevent excess water from pouring down when you open the vestibule.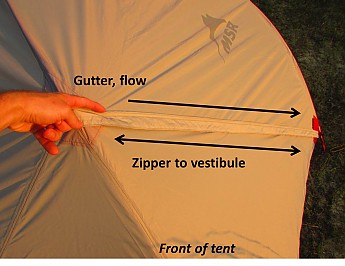 I've only used it once when there was light rain at night. When I woke up the next morning there wasn't a problem with any of the beaded rain falling on me when I opened the vestibule.  No torrential downpours yet, but will I really be going in and out during terrible rain? I'll keep you posted.  Wasn't part of my original list of "wants" but cool additional feature and removes the worry of getting wet on exiting the tent.
Wide-Mouthed Stuff Sack
This makes things so easy to put the tent away, no need to make sure you roll the tent tight enough to put it away in a sack that has its opening on the end. The opening has a toggle and cinch to tighten. There are also two buckles to enclose it further. Very easy to use and I love the options, it seems like MSR was not just thinking solely about the tent and the stuff sack as an afterthought.
Option 1 (rainfly, pole, stakes, body, footprint)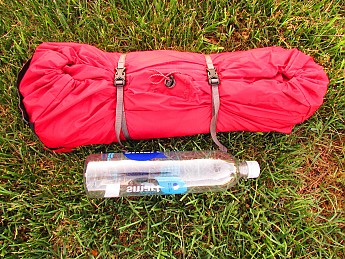 A second option is available because of buckle that goes the length of the sack.  The poles and stakes can fit into the pole sack and the fabric items (footprint, fly, body) will go into the sack and wrapped in more of a ball shape.  It gives the availability to store differently if you need to in your pack.  I haven't used this other than to take this picture.
Option 2 (rainfly, body, footprint in left "ball" and stakes & pole in pole bag). The "ball" is in the same position as Option one, it is just folded in from the left and right and buckled with a buckle the goes lengthwise. KEEP IN MIND, the plastic kickstands on the rainfly when folding in...don't break them or you'll be left without an option to vent. Just align them accordingly when bundling up with Option 2.
WARRANTY
While I can't speak on this point personally, I have heard and read that MSR (Cascade Designs is the parent company) has a great warranty when it comes to their products.  Considering this versus other tents, it helped me to feel comfortable in spending a few extra bucks. With the REI Quarter Dome 2 being my second option and $90 cheaper, their return policy for the first year is great but I was thinking long-term. 
OVERVIEW
While on the pricier side, the Hubba Hubba has earned its stripes with me. With quality materials, I feel confident both on the trail or car camping, as well as in inclement weather and condensation-prone mornings.  For me the tent itself is a 5/5 for performance, features, and quality.
I'm not going to take away from my individual rating due to the cost...if the price goes down in one year then a lower score based on cost wouldn't reflect accurately...just note my dismay at the price from this emoticon >:( With other UL tents or even tarps costing less, if you could get this tent on sale I'd put it just as competitive as any other UL option.
Where to Buy
sponsored links
Help support Trailspace by making your next purchase through one of the links above.
Retailers' Descriptions
Here's what other sites are saying:
Reinvented as the most livable tent available for its ultralight weight, the bestselling MSR Hubba Hubba 2-person backpacking tent now weighs in at a trim 1.54 kg / 3 lb 7 oz. Ultra-compact and precision-engineered, the tent feels as light and efficient to use as it does to carry. From its optimized, symmetrical geometry and non-tapered floor that maximize space, down to its integrated, adjustable stake-out loops that speed setup, this tent redefines livability. Whether youre setting out to climb the Sawatch Range or circumnavigate Mount Rainer along the Wonderland Trail, the freestanding, 3-season Hubba Hubba tent lets you enjoy the full backcountry
- CampSaver.com
At just 3 lbs. 7 oz., the reinvented MSR Hubba Hubba NX tent is an ultralight, ultra-livable three-season shelter for two backpackers. It packs down small thanks to an ultra-compact compression sack.
- REI
MSR's award winning Hubba Hubba NX Tent arrives in 2014 a 9 ounces lighter- an impressive feat for a sub 4 pound tent. The MSR Hubba Hubba NX Tent uses premium fabric and performance design is ready for everything from bike touring to thru-hikes through rain, snow and bugs. Unique pole configuration provides maximum interior space, a Stay-Dry(TM) entrance, and large vestibule for storing gear All-in-one hub-and-swivel pole design is stronger than ever and quick to pitch Mesh canopy and adjustable vented rain-fly provide maximum airflow and ventilation Bathtub style floor offers protection from truly torrential downpours Ripstop nylon floor is built for heavy use and durability Unified hub-and-pole system with color-coded stake out loops and clip webbing for fast and easy setup Freestanding design with optional footprint allows it to be used with the fly and poles for ultimate weight savings Includes compression stuff sack with side entry for quick, hassle-free packing, stakes and guylines Footprint sold separately
- OMCgear
MSR Hubba Hubba NX Ultralight Tent The new redesigned MSR Hubba Hubba NX Ultralight Tent is every camper s best mate when it comes to sleeping outdoors. The weight of the tent has been trimmed to 3 lb 7 oz. The clips have been color coded and the hub-and-pole system has been unified for a quick install. The stake-out loops of the tent are adjustable. The floor dimension has been designed to maximize space and would easily fit two people. Campers will surely enjoy their adventure with the MSR Hubba Hubba NX Ultralight Tent.
- SunnySports
The MSR Hubba Hubba NX is the gold standard of 2person 3season backpacking tents Updated for 2014 the Hubba Hubba is the winner of Outside Magazines Gear of the Year award It offers an ideal blend of durability minimal trail weight and livable comfort With a trail weight of less than 2 lbs per person the Hubba Hubba still offers two doors for easy access for everyone and two abundant vestibules to accommodate cooking gear storage and our fourlegged friends The 2014 update has decreased the Hubba Hubbas weight by 9 oz while only shaving 1 off the floor dimensions and still adding convenience features like internal storage pockets improved guy out points and rain gutters on the vestibules that can otherwise completely roll out of the way The MSR Hubba Hubba continues its tradition as a favorite with avid three season campers and backpackersFeaturesOptimized symmetrical geometry and nontapered floorLarge easyentry Dshaped StayDry door and vestibuleSide entry zipper orientationRainfly kickstand ventAdjustable rainfly rollup vestibule stargazer viewLight gray rainfly color neutral lightAdjustable integrated stakeout loopsLightweight reflective guyoutsDurable hightenacity nylon fabricsReinforced Infinity bar tacks and lapfelled seamsDurashieldcoated rainfly and bathtubstyle floorCompression stuff sack with pull handleCapacity 2Fast Light Minimum Weight wo footprint 2 lbs 2 oz 970 gFast Light Minimum Weight w footprint 2 lbs 10 oz 119 kMinimum Weight 3 lbs 7 oz 154 kPacked Weight 3 lbs 13 oz 172 kBody Weight 1 lbs 4 oz 570 gRainfly Weight 1 lbs 3 oz 550 gFrame Weight 15 oz 420 gFloor Area 9 sq ft 27 sq mVestibule Area 175 875 875 sq ft 162 81 81 sq mTent Volume 43 cu ft 1217 litersVestibule Volume 17 85 85 cu ft 481 2405 2405 litersInterior Peak Height 39 in 100 cmPacked Size 18 x 6 in 46 x 15 cmNumber of Doors 2Freestanding yesNumber of Poles 1 DAC Featherlite NFLNumber of Stakes 6 MSR MiniGroundhogAlso Included 2 guy cords 2 aluminum cord adjustersRainfly Fabric 20D ripstop nylon 1200mm Durashield polyurethane siliconeCanopy Fabric 20D ripstop nylonMesh Type 15D nylon micromeshFloor Fabric 30D ripstop nylon 3000mm DuraShield polyurethane DWRCountry of Origin Made in Taiwan
- Bentgate.com
MSR Hubba Hubba NX 2P
currently retails for:
$389.95

where to buy: