Oboz
Sawtooth Low
Reviews
Oboz's Sawtooth Low hiking shoe is a comfortable,…
Rating:


Source: bought it new
Price Paid: $78

Summary
Oboz's Sawtooth Low hiking shoe is a comfortable, not-too-heavy shoe that's great for trails. The midsole provides plenty of cushioning and has an aggressive, mud-shedding tread that's grippy but appears to wear fairly quickly. They provide a medium amount of support and ventilate sweat quite well.

I think this is a great shoe for day hikers or backpackers who prefer a lower, lighter shoe.
Pros
Solid cushioning and support
Mud-shedding yet aggressive sole
Better than average insole
Easy to lace up
Lightweight
Cons
Sole seems to be wearing more quickly than average
The Basics: Details and Fit
The Sawtooth (mine are a year-old model, purchased on sale) weighs in at a hair above 2 pounds per pair for my size 11 1/2 - 12 feet. These are the low version and don't have a waterproof/breathable membrane, though you can buy them with Oboz's BDry membrane if you prefer. I'll address how they ventilate below.
For such a light shoe, it has a lot of leather in areas you might expect to get banged around, and it feels much more firm and cushioned and solid than any trail running shoe I have worn recently. This shoe fits my feet well. I'm somewhat wide in the forefoot and average at the heel. No shifting around, no sliding forward or lateral movement. I wear them with custom orthotics (more on that in a minute).  
These are a relatively new purchase, but I have walked 50-60 miles in them and feel like I can provide a good review.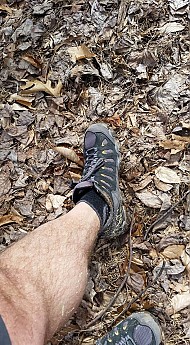 As you can see, lacing them up is easy due to fabric speed lacing. The laces slide more easily through than with small eyes. The laces themselves are a little thicker than most. So far, they have stayed tied without having to double knot them. I have been wearing them with low, medium-weight merino wool socks.  (Point 6 Hiking Tech Light Mini Crew and Darn Tough Hiker Micro Crew Cushion.....could the sock companies come up with easier names? imagine asking for this at your local outdoors store!)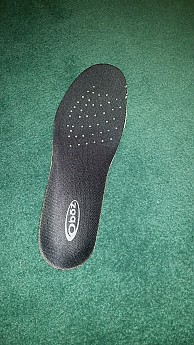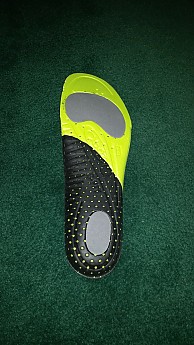 Oboz provides an unusually supportive and cushioned midsole. You can see, with the insole flipped over, the grey parts that provide extra cushioning and the black perforated heel cup that is made of out fairly hard plastic. The black plastic provides much better than average arch support.  
Because I wear custom orthotics, I had to remove these insoles and replace them with something pretty flat and thin, similar to a running shoe insole, so they would fit. To me, though, the fit is one of the advantages of this shoe. It's worth noting that I bought these a half-size larger than normal to leave a little extra room for my toes on downhills. Definitely worth considering if you check this shoe out.
Support and Traction
Another strength for this shoe is the well-cushioned midsole and the sole itself. My feet feel pretty well-shielded from rocks and roots, and the midsole is firm but not overly hard. It's not so easy to see here, but the outside of the heel is reinforced, which adds to the solid feel of this shoe.  
The sole is aggressive, deep channels in the rubber, so they do pretty well on mucky or slippery trails. As you can see, the shoes have already seen their share of mud. The soles shed mud particularly well. The rubber is very grippy on rocks. This is my second pair of Oboz shoes, and both appear to place a premium on the grippiness of the rubber sole.  
"Breathability"
Also, despite all the leather, there are nylon sections on both sides of your feet. These let moisture out really well. That said, a no-membrane pair of trail runners, with larger nylon panels, breathes the sweat out a little better than these, and conversely, the Sawtooth will keep your feet more dry/less sweaty than any all-leather shoe or boot.  
I haven't yet stumbled into any puddles but assume water would get in; if you need more water resistance, Oboz makes the shoe in a mid-height and with a waterproof/breathable membrane.  
Durability
The generous use of leather on this shoe should make the uppers very durable, though I have found recently that nylon panels on most trail runners stand up pretty well to abuse too. The firm feel of the midsole, heel counter and toe box suggest that these shoes will take a beating. But, the excellent grip I experienced with the soles appears to come at a cost, as I have already noticed some visible wear on parts of the sole at the heel and near the ball of my foot. I expect these soles to wear more quickly than average.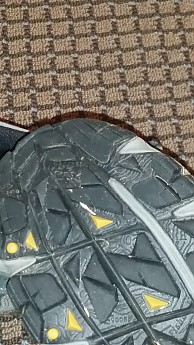 A close-up of the toe shows wear both on the left and right sides, where some of the small channels in the sole have already worn away.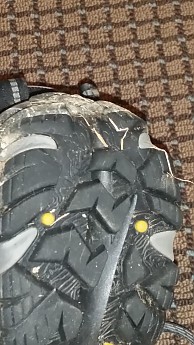 This is the heel - note the left side, where the small channels visible at the bottom left have already disappeared on the inside edge of the heel.  




Where I have Used Them
I have walked 50-60 miles in these shoes on dirt trails, rocky trails, and pavement. I'm wearing them here, overlooking the Potomac River last weekend. About 60 degrees in February! All day hiking, carrying packs less than 20 pounds, so I really haven't tested the shoes in terms of supporting a heavier load. I would probably opt for an all-leather boot if I were carrying much more weight, anyway.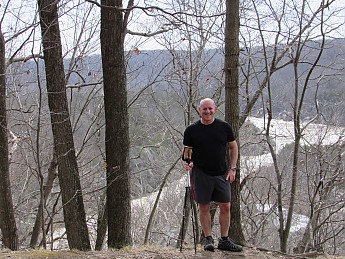 This has been a weird winter — at times very warm, other times very cold and snowy. Two weekends ago, a light snowfall stuck around because the temperatures dropped into the teens when we did a local day hike, Sugarloaf in Dickerson, Md. The shoes felt great on a mostly-rocky and dirt parts of the trail; they slipped around a bit on the snowy parts, where a harder, heavier sole might have been a better choice.  
Low hiking shoes are worth considering if you don't carry tons of weight and are looking for a lighter-weight shoe for hiking. I think these could extend to light backpacking (30 pounds or less.  I might want an ankle-height shoe with a more robust shank if i were carrying a larger backpack), and it's great that they offer a mid and a waterproof/breathable version.  
This particular low hiker has a lot to recommend it, a nice combination of comfort, cushioning, traction and durability. It's a shoe that won't last forever, but should give you plenty of happy miles.  
I've been thru about three different types of various…
Rating:


Source: bought it new
Price Paid: $75

Summary
I've been thru about three different types of various Oboz hiking shoes, these being the most recent, and likely the last. I keep running into markdowns which propelled me into trying yet another pair.

Unfortunately there is always some defect that leaves me just happy I did get them on "markdown." Every pair seemed to wear exceedingly fast. On one pair the grommets, which were really sewn straps, gave way. All are fairly technical looking but just reek of low cost manufacturing problems.
Pros
Cool and technical looking
Cons
Shoddy materials and poor construction
Wear quick
Used three different Oboz pairs, finishing with these. All over, different terrain, wet-dry. Everyday use as well.
Used them for hiking in very rough hot terrain of…
Rating:


Source: Purchased on line after reviewing

Summary
Used them for hiking in very rough hot terrain of North West Australia. Initially great, but once they got wet they seemed to shrink to where I could not wear them.
Pros
Initial great fit
Good traction
Cons
Shrunk in either the heat or after getting wet
Purchased on line after a review of the boots. I used them in the northwest of Australia where the ground gets very hot—65 degrees Celsius. Mainly used hiking on large loose boulders as well as grassed surfaces when paragliding. Great traction!
Were not waterproof at all, but gave very good ventilation and kept my feet cool which suited my environment.
Fitted initially well, looked good and did up well. After 7 months they started to shrink noticeably and were very uncomfortable. Initially very pleased, but did not last. Still look reasonably good but did not live up to expectations
Rock solid gripping sole. Just feel the give in a…
Rating:


Source: bought it new
Price Paid: $110

Summary
Rock solid gripping sole. Just feel the give in a Merrell sole compared to these and you will never go back. They offer the quick drying Oboz Sawtooth Low and the BDry version with more waterproofing. I opted for the former and am truly a happy hiker.
Pros
Solid tread with great grip
Stable platform for backpacking
Quick drying when wet
Cons
Shoelaces tend to come untied easily.
These shoes are an excellent backpacking or trail shoe. They are tremendously supportive from the tank tread like sole up. As an ultralight backpacker I can appreciate a shoe which dries quick. I figured when I got wet my shoes needed to dry quick when the rain stopped. With the BDry version of this shoe you tend to be a bit warmer in the shoe and dryer. However, when you get wet it takes longer to dry them out.
As far as sizing them with thicker socks I would recommend going a size or at least a half larger. I typically wear a 10 and a half. I bumped it to 11.5 and the fit and have wore great for the past few months. Compared to the softer soled Merrell hiking shoes I previously wore, through which you could feel every twig and pebble, these shoes are incredibly comfortable for long distances.
Give them a try. I know I will be buying another pair.
Good shoe. Could of been better. Had them for about…
Rating:


Source: bought it new
Price Paid: ???

Summary
Good shoe. Could of been better.
Pros
Looks
Soles/grip
Breathable
Rigid
Had them for about a year. I wanted a shoe that would take place of my heavy boots. Unfortunately, these were not it.
I have a narrow, low volume foot with moderate arch. At first these seemed slimmer than Merrell and Krebs, but after an overnight hike, I noticed a good amount of slipping. Also take forever to break in.
Although they are comfortable and supportive, they are not "The One".

All Sawtooth Low versions
In addition to the 5 men's reviews above, there is 1 review for another version of the Sawtooth Low. Read all reviews »
Oboz Men's Sawtooth Low
currently retails for:
$110.00 - $135.00
MSRP: $110.00