Optimus
Heat Insulation Pouch
Specs
Weight
2.7 oz / 77 g

Dimensions
17.5 x 20.0 cm, Ø 15 cm

Reviews
Top quality with pockets to keep hands warm while…
Rating:


Source: bought it new
Price Paid: £14.99

Summary
Top quality with pockets to keep hands warm while eating. Works very well indeed.
Pros
High quality neoprene with pockets
Well to start with, I have made all my pot cozies using silver tape and the padded foil. They always tear sooner or later, so they are a waste of time and money.
Now getting to the Optimus Heat Pouch, this pot cozy is extremely well made and thought out. I use a Snow Peak 900 titanium pot set and there is room to spare. I think it would go up to a 1.0litre or a 1.1 pot set. The hand pockets are a fantastic idea for when you are eating freeze dried food.
The heat pouch is very well made, the stitching is very rugged and the neoprene is quite thick, so this is a product that should last a long time. The stove I used for the test was a Caldera Cone ti tri ulc for the Snow Peak ti 900pot set.
OK, so the deal with these lightweight stove is you can just boil water etc. So I have two freeze dried meals, a spaghetti bologna and a carbonara meal, which if you live in the UK they are morrisons own and they're just over £1 pound and they taste quite good so they are a great price.
So i boiled 450mil of water, then added one of the pasta meals, then after about 30 secs the stove went out so i put the pot into the cozy to finish cooking and left it for 25 minutes stirring regularly. The dried spaghetti and the sauce was cooked and the meal was still hot enough to eat and enjoy!
And it's all down to the Optimus Heat Pouch.
My Optimus Heat Pouch weighs 72 grams. Oh I almost forgot, the heat pouch has a Velcro opening for pot handles or gripper.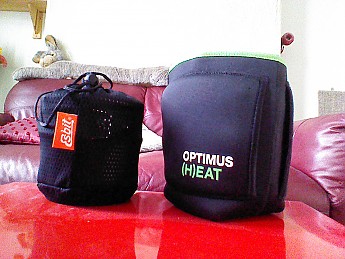 Optimus Heat Insulation Pouch
currently retails for:
$14.95 - $14.99
MSRP: $14.95

Recently on Trailspace