MPowerd Luci
1

review

5-star:

0

4-star:

1

3-star:

0

2-star:

0

1-star:

0
Reviews
Luci is an inflatable, solar-powered lantern that…
Rating:


Source: bought it new
Price Paid: $14.95

Summary
Luci is an inflatable, solar-powered lantern that can provide 6-12 hours of light. It weighs only 4.5 oz and collapses down to less than an inch. It can be hung from a tiny branch or the ceiling of a tent.
Pros
Bright light for an area or tent
Lightweight
No batteries
Waterproof
Inexpensive
Cons
Doesn't provide directional light, like a flashlight
Low setting could be lower
Luci is a lightweight, inflatable lantern from MPowerd. When inflated, it is a 4" tall cylinder, 5" in diameter. Nine LEDs shine from one end and reflect off of reflective surfaces inside both ends of the cylinder.  Clear sides allow the bright light to fill the space.
A full charge takes 8 hours, but it can hang from your pack while you hike and you will not notice it is there. When the sun goes down, you will have 6-12 hours of light that can hang from the smallest branch, that loop at the top of your tent or sit on a rock next to you.
Two brightness levels and a flashing mode allow you to choose your light level or get attention.  Its 80 lumens can light a tent or a 15 sq ft area.  It is not a good replacement for a flashlight as focused light is not its intended purpose.
It is simple to use. One button controls the light modes.  Blow up the lantern as you would a pool toy. All electronic parts are sealed in one end of the cylinder.  The body of the lantern is made from clear PVC film.  Thin handles on both ends allow the light to be hung either-side-up.
I have used my Luci for several months on several different Boy Scout camping trips. It has held up and shows no sign of wear.  Some rechargeable things experience reduced battery life as they are used.  It has been charged and discharged many times and there is no change in now long it lasts.  It only cost $14.95 when I bought it.  It isn't fragile, but if it were ever damaged, I would definitely buy another one.
More information is available on their website, just Google mpowerd luci.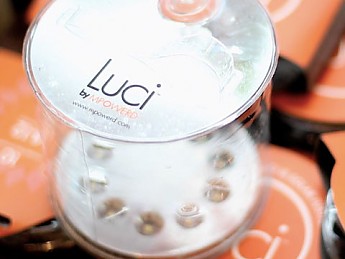 Manufacturer's Description
Charge time of 8 hours yields a minimum of 6-12 hours of light
Luci charges under direct sunlight and even under incandescent light
Maintains a single charge for 3 months
Ten white Light Emitting Diodes (LED's) with 4000 mcd light source
Two brightness levels to conserve battery life
Flashing-light setting for emergency situations
Delivers up to 80 lumens providing 15 sq ft of light
The rechargeable lithium polymer battery pack can be charged while collapsed or expanded

300 - 500 cycle life

Over charge/discharge protection

Over current and short circuit protection

Water Resistant PVC enclosure
Minimum lifespan of 2 years
MPowerd Luci
MSRP:
$14.95

The MPowerd Luci is not available from the stores we monitor.
If you're looking for a new light, check out the best reviewed current models.