User Review:
Ozark Trail 16' x 10.5' Family Dome Tent
Rating:


Price Paid: $40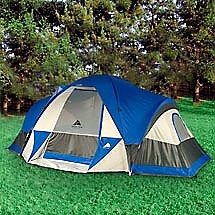 I got this tent several years ago on short notice and needed in a pinch for a car camping trip. I had to get this on the road.
I have used it quite frequently and rate this average. The zippers are of poor quality. The waterproof is good and has endured many a rainstorm. It has plenty of sleeping space and storage space as well.
I would recommend that if you want to get a family sized tent in this category, to check other tent makers and purchase there.