Pat's Backcountry Beverages
Carbonator Bottle
1

review

5-star:

0

4-star:

1

3-star:

0

2-star:

0

1-star:

0
Reviews
Pat's Backcountry Beverage Carbonator. I love sipping…
Rating:


Source: bought it new
Price Paid: $39.95 for Starter Kit

Summary
Pat's Backcountry Beverage Carbonator. I love sipping back a cold soda after a hard day's hike, climb, etc. but hate carrying the weight. With Pat's Backcountry Carbonator now you can have an ice cold soda without having to pack all the weight of a 6 pack. Beer is coming soon too!
Pros
Eco friendly
Lightweight
Did I mention you can make your own soda?
Cons
Takes a little bit of practice to learn.
Company response to emails is slow.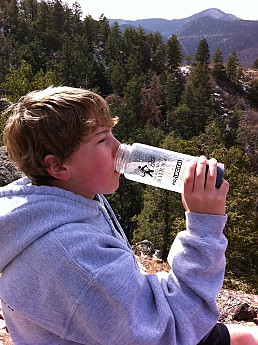 It's been a long hot hike and now it's time to settle down, camp is set up, sun is setting and the moon is rising. Suddenly you wish you had a cold soda or an ice cold beer. Then you remember you've been drinking water from your CARBONATOR! You head down to the ice cold stream that is fed from the melting snow and begin to purify some water right into the Carbonator. In a few minutes you're sipping a Bear Foot Root Beer watching the sun set over the peaks, thinking "What a life!"
Pat's Backcountry Beverage Portable Carbonator rocks! Love having soda (soon beer) in the backcountry but hate the hassle of carrying a 6 pack of bottles? Convenient, eco friendly, and TASTY!
The Carbonator is a little smaller than a Nalgene bottle. Using the soda concentrate which comes in a pack about the size of GU, the eco2activator pack, and clean, purified water you can now conveniently make a 16 oz size soda in the backcountry. The process takes about 3 minutes once you get the steps down. (If my 9-year-old can figure it... you know.)
The Carbonator Kit (which is a starter kit for $39.95) comes with everything to get you started. The Carbonator bottle, 5 tasty and creative soda concentrates; the flavors are Terra Cola, Poma Granite Cola, Lemon Clime, Bear Foot Root Beer (my favorite), and Ginger trail. Plus 6 packets of Eco2 Activator powder and easy to follow instructions. They also have instructions on how to make your own soda concentrate! The soda concentrate is made with cane juice, contains vitamins and has natural flavors. There is nothing artificial.
There is a learning curve with this but as I stated above if my 9-year-old can figure it you should be able to as well. Practice before you go out. The company keeps pushing back the date on the Beer Concentrate. Disappointing, but I think it's due to the difference in laws from state to state. Pat's Backcountry is a small business based in Alaska according to its website.
Enjoy!
Pat's Backcountry Beverages Carbonator Bottle
currently retails for:
$27.99 - $34.99
MSRP: $29.95