Petzl
Tikka Plus 2
3

reviews

5-star:

0

4-star:

1

3-star:

2

2-star:

0

1-star:

0
Rating:


Source: bought it new
Price Paid: $30

Summary
The Petzl Tikka Plus 2 is yet another headlamp alternative for hikers/campers, and one of many on the market. Popular for its climbing gear, the Petzl brand is indeed a famous one in the outdoor community. This lamp does its job, and does it pretty well, but it may not be the best there is.
Pros
Bright
Reliable
Convenient
Cons
Heavy with regular AAA batteries
Low battery indicator didn't give much warning
While it is a good lamp, there might be better alternatives such as the Princeton Tec Byte, or even an Energizer lamp. In fact, Outside Magazine's "Gear of the Year" has not even mention Petzl in their headlamp lineup at all as of late.
Still, the two times I have used this it has served me well. I have used it for both camping in the Rockies and early morning fishing in Tennessee. The four different light modes are nice, but in pitch dark I generally keep it on the brightest setting. For night fishing, I used the red "night" light to be able to see and not scare the fish away. This worked well—I caught several fish! It also works really well during those middle-of-the-night potty breaks in which you need to see but don't necessarily want to blind yourself or your hiking partners.
The light housing seemed to resist water well while tromping through the rain from my tent to the latrine in Colorado. However, cold air killed the batteries fast. This isn't so much a fault of the lamp as it was my batteries.
My biggest gripe is the "low battery indicator," that essentially warned me the batteries were low right before they stopped working altogether. Not very useful. I've learned my lesson, and from now on will only be using lithium batteries for something as critical as a headlamp or lantern.
The Tikka Plus 2 is a good lamp and serves its purpose well. But, there might be better (and cheaper) alternatives on the market that outshine this popular item.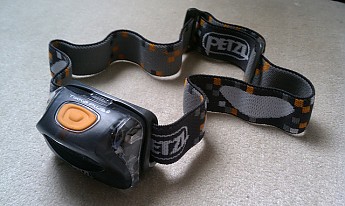 Rating:


Price Paid: $27

I love this light. I have used it once mountain biking at night (on high power 50 lumen) and found it to be surprisingly functional. The strap worked well to keep it in place on my helmet, although the available overhead strap would have kept it deadlock secure in the bumpier, more technical sections of the ride. The beam adjustment for vertical angle is super easy and so far secure.
Petzl's regulation circuitry is excellent. I haven't had to replace the batteries yet, even after several trips using the light at full power. The included warning light for low battery power has yet to come on. I never experience any fluctuation in the beam or intensity.
The button and selections are easy to use, even with all but the thickest of gloves. I used the Tikka on a recent hiking/snowshoe trip in pitch black, sub-zero temperatures and had plenty of visibility using only the low white light setting. Impressive and simple overall, with a nice infrared and red safety light feature built in.
My only gripe is that the new Tikka's circuit board and led diode are fused together and make modifications difficult at best.
Overall it's a great product in its class in OEM form.
Rating:


Price Paid: $31 plus tax

How to turn a 3 star headlamp into a 5 star headlamp.
I have recently bought a Plus 2 at REI for just over $30. My biggest problem with the light was the light beam shining through the clear plastic which is the front part of outer cover. A good analogy would be driving at night with the inside dome light on.
Anyway, my fix was a black Sharpie marker pen. Now the clear plastic is black, and now it's a 5 star unit. Wish Petzl would change the outer cover.
Where to Buy
sponsored links
Help support Trailspace by making your next purchase through one of the links above.
Manufacturer's Description
Visit Petzl's Tikka Plus 2 page.
Retailers' Descriptions
Here's what other sites are saying:
The TIKKA XP 2 Headlamp from Petzl integrates two light sources for increase versatility and performance. The red LED provides lighting to preserve night vision or to become a strobe light for increased safety.
- CampSaver.com
The Petzl Tikka Plus 2 headlamp provides solid performance and features. A leap ahead of most basic head mounted lighting systems, the compact Tikka Plus 2 offers 70 lumens of brightness in three different modes. Rely on the red beam to provide light in the dark with less strain on your retinas. Compatible with lithium batteries for weight-savings or improved cold weather performance. Three white lighting modes (maximum, economic and strobe), two red lighting modes (maximum and strobe) One high-out output white LED light provides 70 lumens at maximum level Single compartment contains LEDs and batteries and allows light beam to be aimed Type of lighting (white or red) can be selected and remain in memory for the next use by holding the push-button for two seconds Compatible with the ADAPT mounting system to mounting options on helmet, backpack, a vest, or a belt strap Adjustable headband fits heads, hats, and helmets Push-button switch prevents the lamp from inadvertently turning on in your pack Battery charge indicator light comes on when there is only 50% burn-time remaining to keep you from getting stranded without batteries Compatible with lithium batteries for the best weight and performance at lower temperatures Water resistant High quality, durable design won't disappoint - 3 year guarantee keeps you covered against glitches Ready to use out of the box, three AAA batteries included Made in Bulgaria
- OMCgear
The Petzl Tikka Plus? headlamp integrates two light sources for versatility: one white, high-output LED and one red LED.
- EMS
The TIKKA PLUS� headlamp integrates two light sources for versatility: one white, high-output LED and one red LED The white LED delivers 50 lumens in maximum mode and lights up to 35m In economic mode, it can reach a burn-time of 140 hours The red LED provides spare lighting to preserve night vision or to become a strobe light for increased safety, for example in an urban environment,etc The TIKKA PLUS� can be used with lithium batteries to decrease weight or increase performance in cold weather Versatile and powerful: Three white lighting modes (maximum, economic and flashing mode) Two red lighting modes: continuous and strobe Type of lighting (white or red) is selected by pressing for two seconds on the push-button (the last mode used remains in the memory until the next use) One high-output white LED: 50 lumens (maximum level) - shines up to 35 meters (maximum level) 140 h light duration at economic level Specific Petzl lens optimizes the reach of the beam and maximizes versatility
- SunnySports
Petzl Tikka Plus 2
currently retails for:
$31.94 - $44.95
MSRP: $39.95

where to buy: