Princeton Tec Byte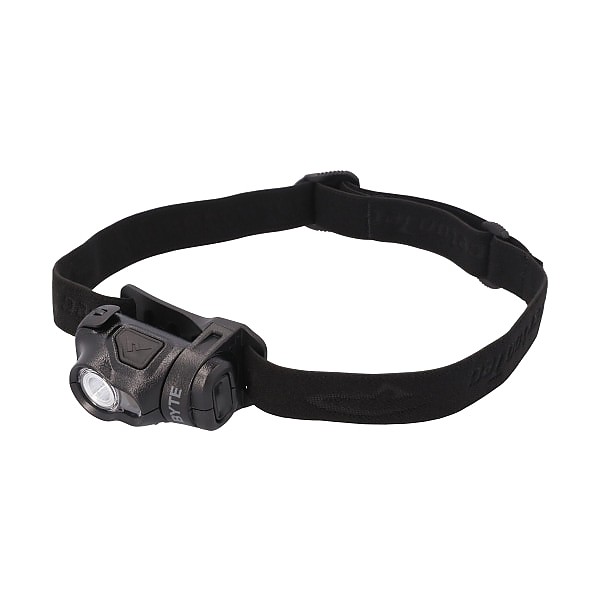 There's a lot of bang for the buck, but be aware of problems.
Pros
Light
Bright
Comfortable
Reliable
Cons
Short battery life
Slightly awkward angle adjustment
Power button can be hard to find.
I picked up my Princeton-Tec Byte a while back, used it some, and gave it a hard test in the field this last weekend.
Overall I personally like it quite a lot. it's a great combination of cost/performance/features, but it has a couple downsides, which i'll cover over the course of the review.
I had to grade this one from a more complex standpoint than normal, because of both the positives and the negative.
First up: Weight. This little lamp is only a couple of ounces. while i've had lighter headlamps, this one is down there on the weight scale. it's light enough i fell asleep with it on and didn't have any complaints. the elastic strap is generous and comfortable as well, but could have a slightly firmer adjusting slide on it. score 4/5 for the Byte.
Second: Features: This little guy sports not just an easy to work-even-with-gloves-on switch, but three light modes and an angle adjust that you can do one-handed(though it's a touch stiff). cap this with an easy to remove headband and the ability to hang it from the strap of a trekking pole(nice if you're like me and use your trekking poles as tent poles). the easy to work switch is not exactly prominent however, and can be a pain to find sometimes. 4/5 for the Byte.
Cost: This is one of the best-priced headlamps I've seen in a long time that wasn't a chintzy strap-on flashlight. i paid 20 bucks cash, and you can snag them on sale for even cheaper.  5/5
Performance: this is a complicated point. the light itself is bright, clear, and focused well. even red-light mode is impressively bright. the light is also semi-smart, and will not enable a light mode that it doesn't have the power for. if battery voltage is too low it won't go to high-power white-light mode, and presumably won't go out of red-light( i don't have the patience to test this). 
However, the short battery life in storage is quite an issue. as it turns out, this is in fact a known issue for the maker, and they have no fix at this time. on my own lamp this measured .65mA discharge, which depending on your battery means your light will not turn on after 4-12 days in storage, if you leave the batteries in. i myself, out of habit, remove batteries from lights before storing them, but i freely admit it's not a standard practice.
Performance, mixed bag. in-field it's a gonzo little light, but the battery drain issue is serious. 2/5 for the Byte.
That gives the Byte a whopping 15/20 points. averaged to a star rating, it shows up at 3/5. good, but not amazing. could be better, but it's pretty darn good.
I myself will be quite happily enjoying it, and if you take care with the batteries, you would, too.
Source: bought it new

I purchased the light at Cabelas and agree with the problems everyone else has. The button is hard to push. We were working on a construction job close by and purchased it for that reason because I needed one that evening. I liked the size to wear on my hard hat.

I used it two times and the button pushed in when I tried to turn it on. I know it is intended to be used for many other purposes, but if it doesn't work in construction then where will it hold up?
Pros
Size
Weight
I liked th AAA batteries so you could pick them up anywhere
I liked the adjustment.
Cons
Off-on switch
Strap could be stronger
I liked the size of the light with the weight. I also liked that it used AAA batteries, which in construction you can pick up at a convenience store.
The off-on switch gave me the most trouble. The rubber boot pushed down in. I will admit that I took the light apart to try to get it out.
I think that it could be a great light with some changes. I would not have purchased it if I did not think that. Not when you are standing at a Cabelas store with all the choices before you.
Source: bought it new
Price Paid: $22

Looks sturdy. Lightweight. Doesn't last.
Cons
It is not durable at all.
I bought the light because it looked sturdy and had a good amount of light with a light weight. I used it four times last trout season.
This month I put new batteries in it and found the soft selector switch does not work. I removed the rubber cover and tried to use the tiny switch directly. The light would flash bright, but would not come on.
Not durable or dependable.
Source: bought it new
Price Paid: $20

This is my second one as I had to return the first one because only one of the three lights would work after a weekend backpacking trip.
Pros
Three functional light modes
Only 2 oz in weight
Comfortable headband
Cons
The first one I bought had problems
Appear to be a lot of issues from other reviewers so trust is moderate
I got this lamp at Sports Authority using a 20% off coupon and awards points so ended up paying something like $3 for it. I really hope this one works out because I really like this light. It is much lighter than my four battery Petzl and it puts out some pretty serious light.
I like the red light function for moving around in the tent so as not to mess with my night vision. Just be sure to close your eyes when you cycle through the white lights when turning it off. I also have been using it while doing work under my Rover.  
I agree with one of the other reviewers that (even though the on button is pretty big) it is sometimes hard to find and turn on especially while wearing gloves. Also, I find that to adjust the angle of the light, it takes two hands to accomplish (one to hold the base and the other to move it up or down). Maybe it'll loosen up some with more use.
Source: bought it new
Price Paid: $3

Piece of junk. I experienced the exact same problem as the previous reviewer.  The light simply gives up and begins the strange constant dim burn that cannot be turned off without taking the batteries out. 
Changing batteries helped but for less than an hour.  I have tried three different sets of batteries and the problem has returned each time. 
Price Paid: $20

Very easy to use. Takes two "AAA" batteries. Small enough to keep in a pocket or pack. Excellent hands-free light. Three light settings including red light, low and high beam.
Pros
Hands free
Headband is adjustable
Batteries are easy to change
Three light settings
Cons
Switch can be hard to push with gloves or mittens on.
The PTEC Byte is a very useful headlamp that makes hands free easy and simple. It handles cold temps down to around -10°F. That is the lowest nighttime temperature I have encountered using it.
The construction seems good and durable. I mainly use it at night walking home from the bus stop after work. I find it safer than using a regular flashlight. Other headlamps I have seen use smaller batteries such as the CR 2032 button batteries, which do not last as long as other ones.
The range is quite good, at 50 lumens also quite bright. All in all it's a good thing to keep with you walking or hiking.
Source: received it as a personal gift

Ptec has a fix for the battery drain, that also acts as a lockout for the switch they will send you for free. Makes it a very good lamp.

Note, you don't have to send your light in for repair, just call their customer service and they will send you a new battery door with the lockout feature.
Pros
Lockout switch
Size and lightweight
Only 2 batteries
Cons
None considering size and weight
Run time (but again, only on 2 vs 3 batts)
My go-to pocket lamp. Good red light. Acceptable main white beam for size.
Convenient, small, nice to have the lockout feature.
Source: bought it new

This headlamp was good on batteries and packed up small, pretty bright for my vision and easy to turn on and off. It lasted maybe 3 years but now it won't turn on and I see that this is not unusual for the PTec Byte.
Pros
Good price
Small size
Efficient
Cons
Prone to just stop working
Could see maybe 20 feet in clear conditions. Beam was not adjustable and somewhat narrow width.  Full brightness would last a few days. I used rechargeable batteries with mine. Easy to use, just a single button for 3 modes.
Construction looked durable but it just stopped working, granted it was three years with mild use.
Source: bought it new
Price Paid: $20

NO value if the batteries continue to die.
Pros
Size
Ease of use
Only takes 2 batteries
Cons
Battery usage during storage
I found this collection of reviews while searching for battery usage problems I've experience with the Byte. I like its size and the fact it only uses two AAA batteries, but none of these advantages matter if the light is always dead when I go to use it.
I often store the light in a drawer for weeks until needing it again. Every time I find the batteries have died. I've also tried removing the batteries when not in use, but this is a hassle, and then I'm searching for batteries.
I'm considering modifying the light with my own small micro-switch to completely open the circuit. Not sure how robust my mod would be. It might just be easier to purchase a better light.
Source: bought it new
Price Paid: $20

This is one awesome headlamp. Light and bright, well bright enough for me. Had mine for about three years, maybe more? Three settings of light and easy to adjust.
Pros
Light and bright
Easy to adjust
Low and high settings and a red light
This was a gift to me after a fall in the dark at Camp Daniel Boone in WNC. It got 70 lumens up to 30 meters. At 2.26 it is light and small.
The hi and low settings are bright. The red light function is great for not waking the whole camp at night.
Mine was a gift. But they run about 23 to 30 bucks.
Source: received it as a personal gift

They must have fixed the issues with these, but I have had four and all have been great so far.
Cons
Not very waterproof
Beam is more of a spot vs a flood.
LED tint is OK
I have given three of four of them as gifts to friends and all four are going strong. We had three of them backpacking last weekend and no issues. 
Source: bought it new
Price Paid: $16

I wish it worked because it seems like a good light.
Price Paid: Free

The light has worked OK, but the batteries go dead quickly when not in use.
Source: bought it new
Price Paid: $22

Your Review
Where to Buy
Help support this site by making your next gear purchase through one of the links above. Click a link, buy what you need, and the seller will contribute a portion of the purchase price to support Trailspace's independent gear reviews.
You May Like
Specs
Price
Current Retail: $19.99
Historic Range: $9.73-$22.95
Reviewers Paid: $3.00-$22.00

Weight
2.25 oz / 64 g

Brightness
35 lumens

Burn time
146 hours

Power
2 AAA alkaline or lithium batteries

Recently on Trailspace