Platypus
Platy Bottle
6

reviews

5-star:

5

4-star:

1

3-star:

0

2-star:

0

1-star:

0
Rating:


Source: bought it new
Price Paid: >$10

Summary
Lightest, most durable bottle on the market!
Pros
If they can be destroyed, I haven't seen it!
Lightweight (0.5oz)
Easy to use drink valve
Inexpensive
Cons
Harder to fill
Narrow opening doesn't work with some filters
Won't hold a Trailspace sticker.
I first started using a Platypus bottle in my caving pack. Anything that goes caving gets BEAT UP. I have squished this thing through tight holes, kicked it ahead of me, dragged it behind me. I've mistakenly sat on it. I've even fallen on it. It's taken all that abuse and more.
As I've looked for ways to move into ultralight packing, the Platypus made perfect sense. It weighs less than half as much as a Nalgene bottle. It fits better into those tight external pockets on packs. I can fold it up when empty and slip it into my pocket.
And it can double as a pillow at night!
One drawback is it doesn't fit some filters very well. Many of the UV filters on the market are incompatible with the narrow opening.
Also, it takes some work to fill it in shallower water. It streams where I'd normally just scoop with my Nalgene, I found I had to hold my Platys at a steep angle to get them to fill...and forget out using any kind of netting as a strainer. It seems no water will go in that way.
Still, my Platys have become my "go to" waterbottle on any trip.
OH! One more drawback...I can't stick my Trailspace stickers on 'em. (I tried!)
(This photo doesn't show it, but I'm pushing my cave pack, with a Platy, through a typical crawl space. I've never had one break on me.)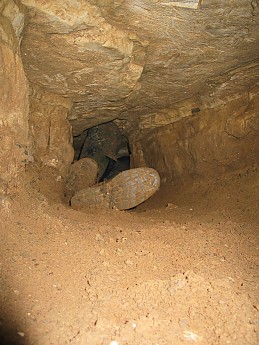 Rating:


Source: bought it new

Summary
A great idea! Would recommend.
Pros
Lightweight
Easily packed
Sturdy
Different tops available
Cons
Small mouth?
Slightly pricey
Had a rather hot, humid weekend. Decided that another water bottle would be in order. However...  I was slack-packing with a fanny pack. One Nalgene bottle was already earmarked to go in. Saw the Platy Bottle and decided it would work. 
Filled it half full of water and laid it down in the freezer.  Topped it off before I left in the morning, (I use this trick a lot), and into the cooler it went. 
The bottle performed wonderfully! Drank out of this one first. Still had ice in it 2+ hours later. Rolled it up when it was finished. Will be using it again. This weekend!
Rating:


Source: bought it new
Price Paid: $9.99

Summary
Lightweight, durable, and folds down to nothing.
Pros
Lightweight @ 1.2 oz
Durable
Inexpensive
Compact
Cons
Bottle cap can be misplaced
Mouth can be bigger
A great bottle for your water needs when in camp or when moving.  A lighter option to the hard bottles and less bulky...barely takes up any pack space when not in use.  Price wise, it's inexpensive and in my opinion, a good investment if you're looking to lighten your pack weight.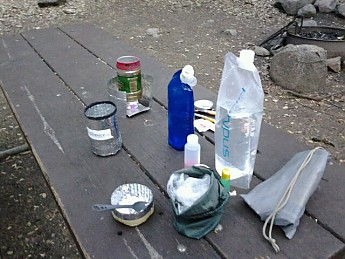 Manufacturer Specs:
Capacity: 70 fl. oz / 2 liters

Weight: 1.3 oz / 36 g

(per my scale, 1.2 oz.

)

Width: 7.5 in / 19 cm

Length: 13.8 in / 35 cm

Film: Nylon / Polyethylene

Spout material: Polyethylene

Cap material: Polypropylene

Country of Origin: Made in Seattle, USA
I would recommend this piece of gear often overlooked for your water carrying needs. It's definitely lighter than a hard bottle container plus it can fold flat and stowed away in your pack without taking up much space.  
Rating:


Source: bought it new
Price Paid: $12.95

Summary
Excellent water storage for in camp.
Pros
Lightweight
Durable
Compact
Moderately priced
This particular bottle, the Platy 2L model, is my favorite for backpacking. It rolls up and fits easily into the pouch for the Katadyn Hiker filter when empty, weighs a little over an ounce, and is a great supplement to the filtering system.
I typically fill it once I stop for the night, and it provides sufficient capacity for meals and drinking for the night and the next morning, meaning I only need to filter water once a day. I've also used it as supplemental storage while hiking if I'm in an area where there is a good distance between water sources.
I have had this item for a few years now, getting a few weeks use each year, and it has been durable and flawless.
Rating:


Price Paid: $12.95

Great bottle! Simple, light and very practical! I used a lot of Nalgene bottles, but it far surpassed my expectations.
You can use as a reserve to store water for the camp because it is stored rolled in the backpack, occupying very little space. It leaves no taste in water and is very durable and resistant.
Rating:

I have used many different kinds of water bottles these are by far the best. There is no excess with this design. They quite simple work great and are durable. I still have the firs one that I purchased 6 years ago and it has never leaked.
Winston
Where to Buy
sponsored links
Help support Trailspace by making your next purchase through one of the links above.
Platypus Platy Bottle
currently retails for:
$10.94 - $16.95
MSRP: $12.95

where to buy: