Primus
EtaPower Pot 1.7L
3

reviews

5-star:

0

4-star:

2

3-star:

1

2-star:

0

1-star:

0
Specs
| | 1.0 L | 1.7 L | 2.1 L | 2.9 L |
| --- | --- | --- | --- | --- |
| Capacity | 33.8 oz | 57.5 oz | 71 oz | 98.1 oz |
Reviews
Efficient, but I had problems using it with a smaller…
Rating:


Source: I bought it new, on clearance.

Summary
Efficient, but I had problems using it with a smaller stove.
Cons
Fins collect debris
Stove supports can snag fins on pot
Heavier than a flat-bottom pot
I did some testing of this style ETA Power Pot vs the flat-bottom pot from a Trangia cookset with several different stoves and I did find that it was more efficient, using about 2/3 the fuel used to heat water to boiling in a flat-bottom pot of similar size.
Details are in a post at
https://www.hammockforums.net/forum/showthread.php?82631-Testing-Trangia-and-Primus-stoves-Primus-ETA-heat-exchanger-pot
Whether you save enough fuel weight to compensate for the heavier pot weight depends on the length of the trip and the daily burn time of your stove.
With the Primus ETA stove (large base and supports, external fuel source) the ETA pot is well supported (there's a windscreen as part of the stove which is not attached in the picture).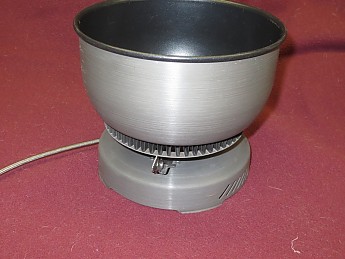 However, with the lightweight Primus Ti backpacking stove, the stove support arms are barely large enough to support the pot.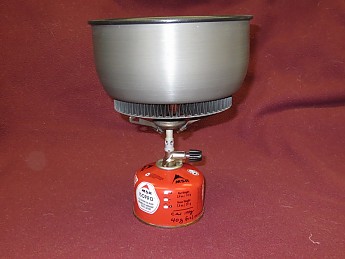 The view from the underside makes the situation more clear: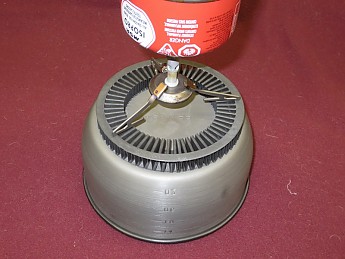 When I'm tired, or the light is failing, the last thing I want to worry about is 'balancing' the pot on the stove — or worse yet, spilling my dinner! I actually managed to 'snag' the stove arm with the pot a couple of times on a recent outing, lifting the still-burning stove with the pot.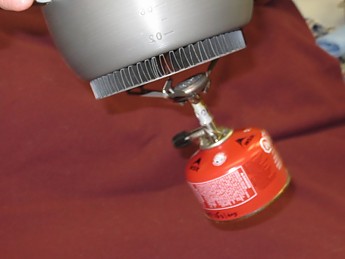 So, you need to pick your stove carefully to make sure the support arms are wide enough for the pot.
The second issue I had with the pot was that the fins are a magnet for debris like twigs and conifer needles. If you are not careful, you can have lighted debris attached to the pot bottom. This is more an irritant than a hazard.
For me, I'll continue to use the finned ETA pots with the ETA stove (on kayaking trips where weight is not a concern) but if I'm using a small stove, I'll stick to a flat-bottom pot.
The heat exchanger appears to work as intended to…
Rating:


Source: bought it new
Price Paid: $35

Summary
The heat exchanger appears to work as intended to keep extraneous heat from escaping around the sides of the pot. It is lightweight and easy to clean.
Pros
The heat exchanger on the bottom of the pot
The non-stick lining
Lightweight
Nice, lightweight pot handle included
Cons
No storage bag or sack for this stove
I just used this pot on a ten-day hike through Maine's 100-Mile Wilderness with two friends. We were very satisfied with the performance and the efficiency of this unit. The pot is quick to heat up and is easy to clean, and was just the right size for our re-hydrated dinners for three people.  We used this pot twice a day to heat water in the morning and to make our dinners in the evening.  It should be noted that we used a canister-type (iso-butane) stove without a windscreen when we used this pot.
The lid covers the pot with plenty of "overlap" and the wire lid handle stays in place (vertically) and remains cool to the touch, so there are no burned fingers when lifting the lid.
The lightweight handle that is included with this unit is tough and well made, with a pair of rubber spots on it to keep the pot from getting dented and/or scratched by the handle.
I just wish that the manufacturer would have included a carry/storage sack for the pot and perhaps a separate storage bag for the handle so that the handle doesn't scratch the interior of the pot during transport.
The design, build quality and overall feel of this…
Rating:


Price Paid: $35

The design, build quality and overall feel of this product is excellent. It marries perfectly with my Whisperlite and is nicely stable.
However I did some real-world tests to gauge exactly how much one gains from the heat sink technology. I would have expected the gains to be substantial, but read on:
First some background: I'm using a White Gas Whisper-lite at full power. Ambient air temperature is 70 F, water temp at start is about 38 F, I'm using one liter in all tests. There is no wind whatsoever.
I'm comparing between a 2-liter cheap aluminum pot with lid, 225 grams and the EtaPower Pot with lid, 320 grams. The biggest functional difference is that the aluminum pot does not have a non-stick surface. In some tests I use the heat/wind reflector that comes with Whisperlites, this reflector weighs about 7 grams and is not too fun to set up.
To heat one liter to boil took 6.8 minutes with the EtaPower Pot and heat/wind reflector. This took 7.0 minutes with the aluminum pot and heat/wind reflector. A negligible difference especially considering the weight increase.
Without the heat/wind reflector, the EtaPower Pot took 6.8 minutes to heat. The aluminum pot without the heat/wind reflector took 8.0 minutes to heat. Without using the 7 gram heat/wind reflector, the EtaPower Pot shows its advantage here.
If there were some ambient wind, without the heat/wind reflector I would expect a large improvement from the EtaPower Pot over a naked aluminum pot.
Conclusion:
Carry and set up your heat/wind reflector that comes with your Whisperlite stove, and unless you can't live without non-stick or only have a stove without a wind/heat reflector, go with a cheap and lighter aluminum boiling pot. The non-stick and possibly it's cool look are the only real reasons to consider this pot unless the flame from your stove is unshielded.
-Michael
Where to Buy
sponsored links
Help support Trailspace by making your next purchase through one of the links above.
Manufacturer's Description
Visit Primus's EtaPower Pot 1.7L page.
Retailers' Descriptions
Here's what other sites are saying:
With Primus EtaPower pots, your stove becomes 50% faster and more efficient. A heat exchanger on the bottom of pots transfers more heat into the pot. The pots can be used with any existing gas or multifuel burner on the market. Comes in a practical net stuff sack. 1L includes frypan lid. Wt: 10.4 oz (1 L), 9.4 oz. (1.2 L) 7.7 oz. (1.7L), 9.3 oz. (2.1L), 10.9 oz (2.9L).
- Vargo Outdoors
If you're looking to get faster boil times and greater efficiency out of your stove, pair it with the innovative Primus 1.7L EtaPower Pot. The integrated heat exchanger ring improves stove performance by as much as 50%. Not to mention the titanium nonstick surface makes cooking and clean-up a breeze.
- Backcountry.com
With EtaPower Pots your stove becomes 50% faster and more efficient. The pots can be used with any existing gas or multifuel burner on the market. Each pot size has Primus's unique and extremely durable titanium non-stick coating. Pots are hard-anodized aluminum. Comes in a practical net stuff sack.
- Altrec Outdoors
CLOSEOUTS . The heat-exchanger technology of Primus' EtaPower Pot 1.7 L boosts your stove's efficiency and drops cook times, so you can spend more time on the trail and less time in the kitchen. Available Colors: SEE PHOTO.
- Sierra Trading Post
Primus EtaPower Pot 1.7L
currently retails for:
$48.95
MSRP: $49.00

where to buy: