Saucony
ProGrid Razor 2.0
2

reviews

5-star:

1

4-star:

1

3-star:

0

2-star:

0

1-star:

0
Reviews
Made for running in the worst weather Mother Nature…
Rating:


Source: received it as a sample, freebie, or prize (Sales rep)

Summary
Made for running in the worst weather Mother Nature can dish at you. Drizzles, pouring rain, blizzards, light snow, even on a slushy sidewalk, you'll be fine in these. eVent lined upper that feel like the company's Xodus 2.0 model. Of course the zip-up gaiter is what sets them apart from other trail runners. The Progrid absorption pad and pro-lock laces complete the package. I've asked Saucony's customer service what the heel/toe drop was, but so far I haven't heard back from them. The Razor 3.0 should have an 8mm drop. Or so I've heard…
Pros
• Very grippy and durable sole
• Waterproof
• Pretty light package considering everything it encloses
• Good lacing system
• Hot enough for winter
Cons
• Too hot above 15°Celsius
• After a few hours in the the rain water comes in through the zipper and soaks the interior.
• Only comes in a neutral sole.
Autumn
I received my pair of Razors directly from the sales rep after winning them at work. I immediately put three 10km runs in them the first week. In a good week I run three to five times on a gravel road that circles a quarry next to my place and once in while on rougher trails of the Mount-Royal in Montreal.
During the season I got to test them in a lot of rain. Water never came in except on the times when I ran over two hours did rain start to seep in through the zipper. Since the eVent liner doesn't go high enough in tongue water went to soak the interior.
Beside that the shoes performed admirably on gravel giving me a secure grip in wet conditions or the mud that tends to accumulate after a while on the same road. Absorption was better than expected giving my weight (230 pounds).
As for performance on rougher trails, I was a bit disappointed. The hardness of the midsole kept me from hurting my underfoot and torsion was fine. But I found the Razors lacking in lateral support especially in the toe section. I could feel my foot trying to get out of the shoes when I hit unlevelled surfaces. Uncomforting when a30 footfall down the side of the mountain is what you're facing if you trip or stumble.
Winter
We eventually got snow around mid-December, pretty late if you ask me. You can't trust the weather anymore. The quarry's gravel road is tended in the winter. A small motor grader levels it throughout the season. Conditions vary from hard packed snow to two foot of fresh powder. All in all, the Razors kept me warm, comfy and especially, dry. Only on the rare times when I went out for more than two hours in the deep snow did water eventually started seeping in, again from the zipper.
The grip continued to excel even on the hard packed snow. The only time I slipped was due to ice spots. Not much except running crampons can help you with that in my opinion. When going on the occasional sidewalk filled with slush, the Razors' soles were self cleaning enough that nothing balled up underneath. Grip went good and bad depending if there was ice or not.
I was afraid that salt stains would be a problem considering the shoes are black, but a good rinse off after each outing kept those away pretty good. That and reapplying a good DWR once in a while did the trick. Personally I use Jig-a-Loo. As for being hot enough for winter's biggest colds, a Wigwam merino light hiker sock kept me comfortable down to-20 Celsius.
After six months and about 550km in them, the shoes still look pretty good. Although the cushioning is caved in, the sole is still grippy enough that they've become my go to light/day hiking shoe when weather is unsure. If worn with the zip open they are manageable as long as temperature stays under20 Celsius. Here is a picture of the after all these month as well as a photo of the sole.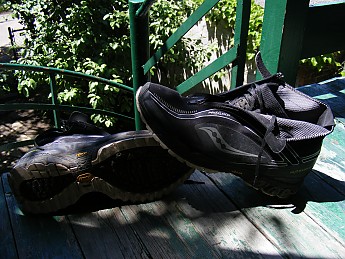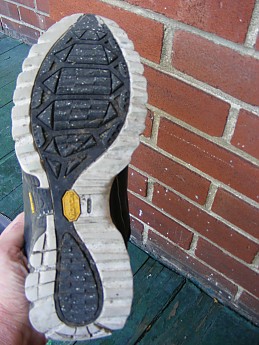 To summarize, I loved these shoes. I will definitely be buying a new pair for next winter. Especially considering the fact that there a good everyday shoe for difficult weather once you retire them as runners.
I think they are a good choice for enthusiast runners who go out no matter the conditions. Minimalist runner will surely like the future version if the heel toe drop does come 8mm. Those in need of a good winter trainer should look this way as well.
Overpronators in need of support should look towards other options. I tried them with some Green Superfeet insoles but they were too thick, the heel had a tendency to rise.
Feel free to ask any questions. I'll be happy to answer.
Great for stream crossing/off trail recovery! Better…
Rating:


Source: bought it new
Price Paid: $100

Summary
Great for stream crossing/off trail recovery! Better than any slippers when you're over 25 miles from any car!!!
Pros
Waterproof/breathable
Great traction/soft rubber
Comfortable
Cons
Weird looking; ugly?
White rubber sole???
I'm never having any problem stubbing my toes fording! I pair these with waterproof pants/and/or gaiters for water crossing, and I'm WELL covered. These fit extremely comfortable, like a Saucony does. I prefer a real shoe after an all day hike, as opposed to Crocs or Vibram 5 toes.
Their fit is true to size, and they're well supported with the proper insoles. The hook and loop at the top of the shoe can be tight enough to hold water back, but they do dry quickly when you're really in some current... The (WHY WHITE) rubber of the soles are very soft, like a trail runner, which really helps. Your feet will get cold in chilly weather, so relying on warm sock layering will be necessary. There's a zipper on the front, paralleling the shoe, with a standard lacing system under. Saucony does give you a spring loaded push button lace lock thingy. 
Don't expect these to last forever, due to the soft rubber... but yeah, they grip. Oh, and you're never going to worry about anybody stealing your kicks!
Manufacturer's Description
Visit Saucony's ProGrid Razor 2.0 page.
Retailers' Descriptions
Here's what other sites are saying:
From asphalt to dirt in rain or snow, the Saucony ProGrid Razor 2.0 Trail Running Shoe provides the weather protection, grip, and cushioning to keep you running smooth all year long. This high-top's zip-up softshell gaiter features an eVent waterproof membrane in the lining to guard against rain and puddles as well as a hook-and-loop ankle strap to keep the splashing out as you stride over trails and country roads.
- Backcountry.com
The Saucony ProGrid Razor 2.0 is an all weather trail shoe, best suited for when you need to battle it out on and off the road in the most extreme weather. Built in gaiter for protection.3/4 cut for protection against the elements The Upper features Internal eVent waterproof lining, seamsealed and highly breatheable. Built in softshell Gaitor to keep the elements outPro-LockAnti-Lacebite PadsInlaid Shoe HornYKK Zipper flap to cover laces and seal in warmthHeel Progrid on the Midsole to absorb impact, dissipate shock, and set the foot up for a smooth transitionSSL EVA maximizes rebound and durability while minimizing weight. SRC Impact Zone provides shock attenuation and sets the foot up for a smooth transition. External Bedrock Outsole protects the foot from rocksVibram Trek Outsole is lightweight with an uncompromising grip, traction, and durability.
- Campmor
With virtually no stitch-through on the upper, you'll be dry, warm and comfortable regardless of inclement weather in the Saucony Men's Progrid Razor 2 Trail Running Shoe. A further refinement of the Progrid 1, this waterproof trail runner sports an internal eVent(TM) waterproof lining, which is seam sealed, to provide exceptional water-resistance and breathability. A built-in soft shell gaiter helps seal out the elements and a hardy YKK(R) zipper controls access. Inside a Pro-Lock midfoot support strap extends through an eyelet for enhanced lockdown. A Saucony Super Lite EVA midsole with ProGrid(TM) heel technology and SRC forefoot cushioning helps absorb and dissipate shock and set the foot up for an efficient stride. The outsole is Vibram(R) Trek with the External Bedrock Outsole (EBO) for rock and stone bruise protection. Get the wet weather protection of a winter boot with the performance you've come to expect from the Progrid Razor 2 Trail Running Shoe for men from Saucony.
- Altrec Outdoors
The Saucony ProGrid Razor 2.0 trail-running shoes feature integrated soft-shell gaiters and eVent(TM) waterproof, breathable protection to help you breeze through gnarly, muddy trails. Nylon uppers with 3/4-length, soft-shell gaiters offer unbeatable protection and easy access with a zipper and rip-and-stick gaiter collar closure. Minimal stitching in the uppers boosts waterproofness and reduces overall weight of shoes; EVA pads on the tongue prevent lace bite. Highly breathable eVent waterproof membranes keep the elements out while setting a high standard for comfort by allowing perspiration to dissipate quickly. Nylon linings breathe well, wick moisture and dry quickly to keep your feet cool and comfortable. Cushioning system in heels works in tandem with lightweight EVA midsoles to offer maximum cushioning and enhance efficiency and response for neutral runners. Strobel board construction increases cushioning and step-in comfort. Impact zones isolate and cushion heel impact, reducing shock and setting foot for a smooth transition. Thermoplastic urethane plates supply lightweight support and help protect feet from stone bruising. Vibram(R) rubber outsoles on the Saucony ProGrid Razor 2.0 trail-running shoes are aggressively lugged for exceptional traction and grip.
- REI
Saucony Men's ProGrid Razor 2.0
MSRP:
$135.00

The Saucony Men's ProGrid Razor 2.0 is not available from the stores we monitor. It was last seen April 20, 2013 at Backcountry.com.
If you're looking for a new trail running shoe, check out the best reviewed current models.