Sea to Summit
Pocket Shower
2

reviews

5-star:

0

4-star:

2

3-star:

0

2-star:

0

1-star:

0
This is a light, compact item to throw in the pack…
Rating:


Price Paid: $25

This is a light, compact item to throw in the pack for the trail. It may not seem like much, but this shower goes further than you would think. I don't feel rushed when using it, the water comes out at a good pace, but doesn't overdo it. The control valve is nice, and can be set at different speeds.
I don't know if I didn't let it sit in the sun enough or what, but I never had it be a warm shower. The water temp stays the same.
In my experience, the cord that is provided is not good for the job and would use something more durable. Sea To Summit swears by this cord but it has snapped on me, sent the shower crashing, and opened the seam up, not enabling me to fill it all the way. It was still slightly usable, but I used a better cord to hold it up.
When I contacted Sea To Summit about the issue, they asked me to send the shower and cord to them. Unfortunately, I threw out the garbage (broken cord) and sent the shower back to them. Because I didn't save the broken cord (the garbage), the only way they honored their guarantee was to send me a used shower back, with more of the same (garbage) cord, that I won't be using.
All in all this is a good item to keep in the pack in the summer, it comes in handy. My only beef with it is Sea To Summit's customer service, the way they handle their guarantee. I don't think I'll spend another $25 on another Sea to Summit Pocket Shower when the time comes. There are other brands/ways to have a compact shower in the pack.
And remember, get a better cord!
Update: June 8, 2010
I want to re-write my opinion about Sea To Summit's customer service. There was a miscommunication between them and I, but we figured it out and worked it out. I have faith and trust in Sea To Summit's customer service and their products, and you should too! They really did put in time and effort to satisfy my issue, and that is well appreciated.
And, as stated, the Pocket Shower is a great thing to have in the pack, with multiple uses such as: a shower, to rinse dishes and such, as a stuff sac, etc.
For me this is a multi purpose item. I use it as dry…
Rating:


Price Paid: can't remember

For me this is a multi purpose item. I use it as dry bag, a shower and a "washing machine".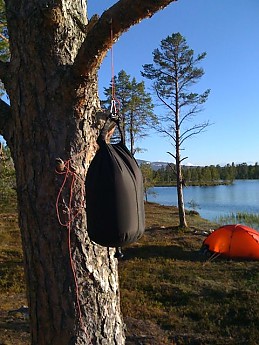 As pointed out in another review the supplied cord isn't very good, so I replaced it with some extra guy line from Hilleberg I had lying about. As a dry bag it performs just as a dry bag should, it keeps dry stuff dry when hiking in wet weather, or keeps wet clothing from making other stuff in my pack wet. As a "washing machine" I just add water, some mild detergent, close the bag up and shake it for a few minutes, leave it in the sun for a while and repeat the shaking, before rinsing my clothes out. This strategy works pretty well for me since I only carry one extra pair of t-shirts, boxers, socks etc, and do my laundry after showering. The clean and dried clothes goes in the shower/dry bag. Even on 5-6 week hikes I have had no problems.
As a shower it works pretty well, except for the fact that if laid out in the sun it heats water with the efficiency of a really small candle. This might be due to the fact that I hike in Norway, where the sun isn't as strong as elsewhere in the world. Instead I use my Primus EtaPower EF to heat water. Nothing like a hot shower after a few long days of hiking. Why don't I just jump in a stream or a lake you might ask? Well, being an epileptic, that is not such a great idea :)
I give it 4,5 stars because of the useless cord.
Where to Buy
sponsored links
Help support Trailspace by making your next purchase through one of the links above.
Manufacturer's Description
Visit Sea to Summit's Pocket Shower page.
Retailers' Descriptions
Here's what other sites are saying:
Fill the 10 liter (2.6 gallon) Pocket Shower and hang it anywhere in your campsite. The black fabric soaks up sun during the day and warms the water.
- EMS
You may be on the trail many miles from the closest town, but with the Sea to Summit Pocket Shower you can still enjoy a warm shower. High-performance polyurethane-coated nylon fabric is water- and leakproof; large roll-top opening allows easy filling. Black color absorbs heat from the sun to warm the water, or you can simply add hot water directly to the bag. Twist the shower head to control water pressure; 10-liter volume provides approximately seven minutes of showering.
- REI
Sea To Summit's Pocket Shower zips into a three-by-six-inch pouch, so there's really no excuse to be stinky on your next camping trip. With the same waterproof fabric and roll-top closure Sea To Summit uses on their standard dry sacks, the durable 10-liter Pocket Shower won't leak, and the twist spout adjusts the flow of water from a trickle to a free-flowing shower. Hang the Pocket Shower from two D rings with 20 feet of included lightweight cord and come back after a day of hiking to a sun-warmed shower.
- Backcountry.com
Sea to Summit Pocket Shower FEATURES of the Sea to Summit Pocket Shower Super compact and light: zips into a small pouch and weighs just 4.25 oz Gives about a 7-8 minute shower Contoured shower head with graduated apertures for equal spray dispersion Can be used as a dry sack when not in use as a shower Bar tack attached Delrin D rings and 20-foot cord included SPECIFICATIONS of the Sea to Summit Pocket Shower Weight: 4.25 oz / 120 g Capacity: 10 liter This product can only be shipped within the United States. Please don't hate us.
- Moosejaw
Sea to Summit Pocket Shower
currently retails for:
$29.95

where to buy: