Sea to Summit
Reactor Thermolite Liner
5

reviews

5-star:

4

4-star:

1

3-star:

0

2-star:

0

1-star:

0
True-to-spec 15°F of added warmth and lightweight…
Rating:


Source: bought it new
Price Paid: $55 USD full price

Summary
True-to-spec 15°F of added warmth and lightweight make this bag liner a winner. It's better than my old silk bag liner in that it's lighter and the moths don't like it.
Pros
Warm
Lightweight
Packable
Durable
I'll start by saying this doesn't seem to be a true "mummy" liner in that it doesn't have the traditionally small mummy footbox. That really doesn't matter — what matters most is that it's warm! In fact, I can't believe how warm it is and I'd swear it adds more that 15° F to your bag.
I thought I liked my old silk bag liner even though I hated the way it always felt cold when I first crawled in.  But, it kept me warm most of the time. Last winter, I didn't store my old liner in a cedar chest or with mothballs and the moths had a field day with it.  h oh, time for a new liner...
Without going back to a less expensive (and super-bulky) fleece liner, I figured I'd have to pay at least $50 for a synthetic liner and even more if I wanted silk again.  While I hated to spend that much, I know I'm a cold sleeper and I wouldn't dare go into the backcountry without something more than my bag.
When I first crawled into this liner I thought I'd made a terrible mistake.  Compared to my silk liner, it felt like there was absolutely nothing to it and I fully expected to put a foot or arm through on my first night. I wasn't wearing a base layer and I fully expected to feel the cold of my bag through this liner, but it was instant warmth! And it was tough!! And it was too warm in my bag even though the temps dropped below freezing!!! I couldn't believe it.
I wouldn't try to get into this liner while it's in your bag, especially if you're wearing a base layer to bed. It's almost like a very fine microfiber and has a tendency to stick to any material that isn't completely smooth. But it's warm, and it's lightweight, and it feels good against bare skin, and it's durable!
I'm one of those guys who believes almost no product deserves 5 stars, but this one has earned it. It's not the lowest price (or highest) you'll pay for a bag liner, but it's well worth every penny you spend to not lay there shivering all night long!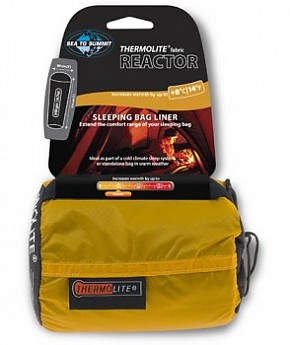 This thing will add warmth and extend the life of…
Rating:


Source: bought it new
Price Paid: $50

Summary
This thing will add warmth and extend the life of your sleeping bag.
Pros
added warmth
keeps sleeping bag clean
Cons
wish it were a little lighter
This thing always goes with me, no matter which sleeping bag I'm using, because it adds the extra warmth or helps regulate my sleeping comfort temperature. It also does a great job in keeping my body odor or oils from getting on to a very expensive bag and thus extending the life of your sleeping bags.
This thing is awesome! I use it as a liner in all…
Rating:


Price Paid: $50

This thing is awesome! I use it as a liner in all my sleeping bags to keep the clammy nylon feel off of my skin. It also lets you sleep most of the night with the bag unzipped if the nights are unexpectedly hot. 
Great product. I highly recommend it.
Picked one of these up from REI. Nice little liner.
Rating:


Design: partial mummy, but fits rectangular also
Temperature Rating: 10-15ºF
Price Paid: $54.95

Picked one of these up from REI. Nice little liner.
Pros:
- Comes with compact, silicone-lined stuff sack.
- Has draw strings on the entry end that allow you to really block-out the cold
- Says "mummy" style, and it is, but it is a wide mummy on the foot end, allowing some movement. This could be a pro or con depending on how you view it. It was a pro for me because I have a rectangular bag - this liner allows some freedom of movement in the foot area.
- Very warm
- Fairly long. I am 6' and was able to comfortably draw string the end around my neck (all the way into a mummy-style breathing hole around my head if I was willing to sacrifice some foot movement room)
Cons:
- Stuff sack could have been about 3/4 its size
One more thing: don't add this liner to your bag on warm nights! I woke up sweating the first time I tried this thing. It works...
This thing is great and unbelievably warm for the…
Rating:


Design: mummy
Fill: Thermolite
Temperature Rating: adds 10-15 degrees to your bag's rating
Weight: 9oz
Price Paid: $40

This thing is great and unbelievably warm for the size and weight... I carry it in the late fall and early spring to extend my 20 degree bag's range. On nights when I don't need the extra warmth I roll this liner into a fluffed up ball and tie it inside a bandana to make *THE MOST COMFORTABLE* backpacking pillow in the world. In the summer it makes a great lightweight quilt, and it can be used while traveling in hostels too.
pros: tiny, light, and warm...
cons: a bit pricey, and feels somewhat fragile (though it hasn't ripped yet).
Where to Buy
sponsored links
Help support Trailspace by making your next purchase through one of the links above.
Sea to Summit Reactor Thermolite Liner
currently retails for:
$54.95 - $66.95

where to buy: