Sea to Summit
X-Set
1

review

5-star:

0

4-star:

1

3-star:

0

2-star:

0

1-star:

0
Reviews
Probably the most compact way to increase the capacity…
Rating:


Source: bought it new
Price Paid: $30

Summary
Probably the most compact way to increase the capacity of your outdoor kitchen!
So I was just messaging a fellow TS member and I remembered I should do a review of one of my favorite pieces of outdoor kitchen gear...the STS X-set. To be clear...I only have the mug and bowl. The larger set comes with a plate that nests with both the mug and bowl...but I find plates as useless as forks outdoors...and the plate makes it so the set will only nest with the largest of outdoor cookware.
Speaking of nesting…that is really what sets this set apart from a lot of others. More often than not I can be found enjoying the outdoors with groups between 2-3 people…and this is right where the x-set starts to shine....as you add an additional mug and bowl for almost no space. In theory if I wanted to service larger groups I would simply buy larger cookware and more x-sets…as the advantage of these nesting mugs and bowls only gets exponentially better as the size of the group increases.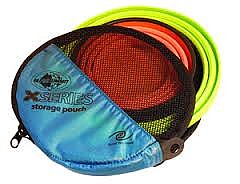 All the nesting in the world would be worthless if the performance and function of the x-set was sub-par…but I find the x-set performs marvelously. There are little small bands of plastic strategically placed on the mug and bowl which make handling hot liquids in the mug and bowl pain-free. On the mug the plastic ring sits right at the top and is best used holding the mug between thumb and middle finger like you might a donut. For the bowl…the plastic is positioned on the bottom so that you can hold the bowl in the palm of your hand. I and many others have used this set with hot liquids on more occasions than I can count…and I am completely satisfied with the performance.
The one complaint I might have (but I don't) is that you do need to hold the mug and bowl in very specific ways to keep from getting hot fingers and hands…but the sides of the cup and bowl never get so hot that they will blister skin…and using them the appropriate way is not that difficult…so this is not as bad as you might think. I also find the mug a little unbalanced…but not detrimentally so…and if it had a lid I would probably be through the roof about it!
Which brings me to my next point…I do not think the x-set is particularly useful for the soloist…you can use the x-set to expand your solo-cooking options (which I do…and it serves well for mixing and rehydrating)…but there are other cheaper and more effective ways to do this. Moreover…in my solo-kit I find that an insulated mug with a lid is FAR superior to the x-mug. In my solo-kit my insulated mug nest snuggly in my pot…and so it uses about the same volume as the x-mug (only in a different way)…but keeps my drinks hot and cold much longer…and a lid would let me have hot and cold drinks on the go!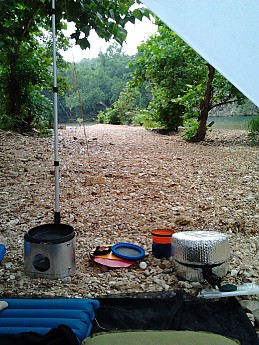 To summarize then, the mug and bowl x-set is probably one of the best ways to increase the number of people your camp-kitchen can feed…and it only seems to get better with the larger the group you are serving. It is however not something the average solo-backpacker is going to have a lot of interest in or need for…unless he or she is planning elaborate multi-component meals.
So if you find yourself outdoors with others…or would like to…I would certainly check out this very versatile and practical set…you will be happy that you did.
Where to Buy
sponsored links
Help support Trailspace by making your next purchase through one of the links above.
Manufacturer's Description
Visit Sea to Summit's X-Set page.
Retailers' Descriptions
Here's what other sites are saying:
The Sea To Summit X Set combines a collapsible X Mug and X Bowl, nested together so they don't take up any room in your pack!. Packs down flat with the unique collapsible design. Comes with a silnylon and mesh carrying case. Made out of food-grade silicon that's safe down to -40 degrees and up to 180 degrees Celsius. Mug holds 16 fluid ounces, bowl holds 22 fluid ounces. Mug weighs 2.1 oz, bowl weighs 2.8 oz. Mug has lines for measuring ingredients, perfect for cooking. The mug has a rigid ring at the mouth for holding, the bowl has a rigid base. Probably the most compact mug and bowl set you'll find for camping, a great setup from Sea To Summit. Capacity: Mug 16 fluid ounces, Bowl 22 fluid ounces. Weight: Mug 2.1 oz, bowl 2.8 oz
- Tahoe Mountain Sports
Free Shipping. Sea To Summit X Set 3 Piece Cookset FEATURES of the Sea to Summit X Set 3 Piece Cookset Three-piece set includes: X Mug, X Bowl, X Plate and zippered pouch Both zippered pouches available for customers who already own the Mug, Bowl and Plate This product can only be shipped within the United States. Please don't hate us.
- Moosejaw
Sea To Summit X Set Cutlery - New - For the outdoor enthusiast who likes to keep their gear organized! Offered in either a two-piece set with the X Bowl and X Mug or as a three piece set that includes the X Plate, X Bowl and X Mug. The X-sets come in a lightweight Ultra-Sil zippered pouch with mesh panels to keep the X pieces all tidy inside Freeze proof - will not crack in extreme cold
- Massey's Outfitters
For the outdoor enthusiast who likes to keep their gear organized! A two-piece set with the X Bowl and X Mug. The X-sets come in a slim zippered pouch with mesh panels to keep the X pieces all tidy inside.
- Ramsey Outdoor
Sea to Summit X-Set
currently retails for:
$7.95 - $49.95

where to buy: