Sierra Designs
Backcountry Bed 600 2-Season
Specs
Weight
2 lb 8 oz / 1.13 kg

Temp Rating
37°F (EN Comfort) / 27°F (Limit)

Reviews
The reinvention of the sleeping bag is upon us! If…
Rating:


Source: borrowed it

Summary
The reinvention of the sleeping bag is upon us! If you hate stuck zippers, if you hate suffocating into the side of your hood, and if you hate rolling off your pad, then you love the Backcountry Bed!!

This bag is for folks who have been overall discouraged by sleeping bag use and wish they had the bed roll of old!
Pros
More bed, less bag
Roomy
No zipper
Great for side sleepers and hot sleepers
DriDown!!
Cons
Not great in a hammock
Pad can slip out from under feet
The comfort rating for this pad is 27-37 degrees F
Fits user up to six feet
Trail weight is 2lb 8oz
Sleeping pad size is 20"
Fill = 600 Fill Duck Dridown
I used this bag in an ENO DoubleNest hammock with a Klymit X Frame pad in Maine.  I was was teaching primitive and survival skills via canoe on Lake Mooselookmeguntic.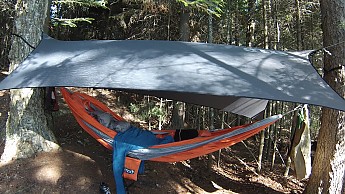 The bag was plenty warm even though we had some very cool, damp nights, definitely mid 50s or cooler. While the entrance to this bag is more like a fixed quilt than the standard side entry zipper, making thermoregulation easier to attain and control, getting into and out of the bag while in a hammock was less than desirable.  
One is forced to enter the hammock from way above the head, slide feet first past the sewn comforter, and then slide to the foot of the bag while centering one's self in the hammock. However, everything that makes this bag less than ideal for hammock use, makes it absolutely wonderful for bivy and tent use!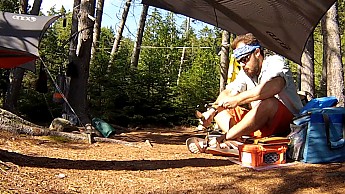 DriDown is no joke. It is not a gimmick. The idea of waterproofing/resisting down really works! I have been using DownTek and DriDown in various bags and layers since their conception. This is an exceptional Dridown piece.
The air in my camp, lakeside, Toothaker Island, was extremely humid in the early mornings. (I could probably have had my fly a little lower to catch the dew, but alas, I did not. This means the dew was all over my bag every morning.) I never laid the  bag in the sun to dry. I figured proper testing would require thorough testing of the DriDown's ability to get moist, and then dry without the sun's help.
It dried alright!  In the North Country of New Hampshire, all of New England for that matter, and of course 44 degrees North Latitude and up the world over, most items that get wet, stay wet. If it is storming up here, it stays storming or at least threatening, for the extent of most adventures it seems. In the North Country DriDown and DownTek are imperative!
The bag offered good loft. Being a summer/2 season bag, I expected very little, but appreciated what I got. The bag was very packable.  It lived in a 20 liter dry compression sack with my Klymit pad, all my clothes, and a towel with plenty of room to spare.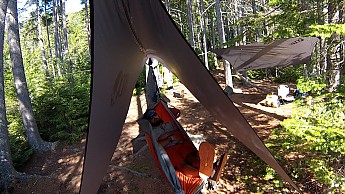 The sleeping pad integrates with the bag via a pocket, or short sleeve, coming from the head down to about the mid back.  There is no pad sleeve for the feet. I wiggle and turn quite often during my slumber, some way to fix the pad to the feet would have been appreciated. However, the bag is designed for maximum versatility for every kind of sleeper, in a tent, the lack of pad fixture to the feet would actually be appreciated.
During a three-night pack in, base camp, and paddle out, the bag seemed plenty durable. I loved that the inside is so silky, yet pine needles didn't stick to it as they would a sleeping bag liner (my sleep system during this trip last year).
There is also a nifty foot vent at the bottom.  If one pulls their feet up and then down a sort of channel between the inner insulation and the outer, it is very easy to vent the feet as one may choose to do by zipping a traditional sleeping bag's zipper up from the bottom. As I got chilled upon leaving the communal fire, but then warmed back up in the Backcountry Bed, the option for venting was highly appreciated.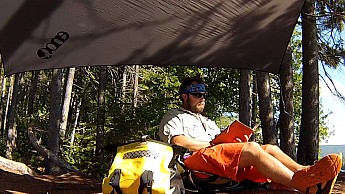 I will buy one of these bags for trips when I am using a tent or hiking from shelter to shelter. I do not know how I would feel about it for three seasons, but as a summer bag, I love it!!  I will have to try the three season Backcountry Bed next.
This bag is the perfect combination between a sleeping…
Rating:


Source: bought it new
Price Paid: $199

Summary
This bag is the perfect combination between a sleeping bag and a backpacking quilt. It allows you to sleep on your back, side, or stomach with ease. If you are a hot sleeper you can simply pull the attached top quilt away from your body allowing your top half to be exposed while your lower extremities are inside the bag.

The Dridown fill makes worrying about the elements a no nevermind and its construction seems to be durable and will last me for years to come.
Pros
Adaptability to numerous sleeping styles
Weight
Filler material
Cost
Sleeping pad sleeve integrated
I took this out for an overnighter in the Appalachian Mountains this past summer. The temperature dropped to sub 40˚ F and this bag did not fail to perform. My wife woke me up in the middle of the night shivering cold, so I told her to get in my bag and I would take hers, which was rated around 45˚ F. Within a few minutes she was snoring so loud I was unable to sleep.
I will look into purchasing another of these bags for my wife as she explained to me in the morning that this was one of the best night's sleep she has had in the backcountry. I told her "Yeah, my sleep was pretty good too until someone stole my sleeping bag."
The bag stuffed right into the bottom of my pack with no issues and within 5 minutes we were packed up and ready to roll out. Sierra Designs hit the nail on the head with this design and I will definitely be getting one of these for my wife.
Sierra Designs Men's Backcountry Bed 600 2-Season
currently retails for:
$239.95 - $359.95
MSRP: $249.95