Klymit Inertia X Frame

The Inertia X Frame has been discontinued. If you're looking for something new, check out the best air-filled sleeping pads for 2023.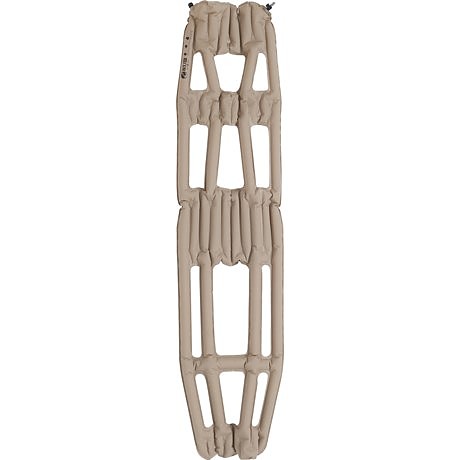 This uniquely designed air mattress fits inside your bag and has cutouts to utilize the bag's loft for insulation. While the latticework design grants light weight and compact storage, it does make re-packing difficult.
Pros
Very lightweight
Very compact
Fits inside sleeping bag
Has latticework design for insulation
Cons
Difficult to fold
Doesn't work for side or stomach sleepers
I have been intrigued by the Klymit X Frame since I first saw it at REI. The latticework design gives it an extremely small footprint in your pack—the reclaimed space alone makes it easy to justify the upgrade. The one downside that originally kept me from purchasing an X Frame was the fact that I couldn't find an R value. Living in New England, insulation may be the most important part of a backpacking mattress pad.
SIZE / WEIGHT:  At 10.4oz (9.7 if you don't carry the optional squeeze-bulb used to fine tune firmness), the X Frame is extremely small and lightweight relative to other mattress pads on the market. My X Frame is full length and rivals my short NeoAir for both size and weight. Klymit is able to achieve this small size by cutting segments out of the middle of the mattress pad to create a latticework frame.
DESIGN:  The X Frame uses a latticework design to save weight and space while maximizing warmth. While this is a clever idea, it's a bit of a double edged sword in my eyes. Unlike most pads, the X Frame is intended to sit inside of your sleeping bag, meaning you won't have to worry about sliding off your pad in the middle of the night. The "Loft Pockets" (holes in the latticework frame) then allow your bag to loft underneath you, providing insulation against the cold ground.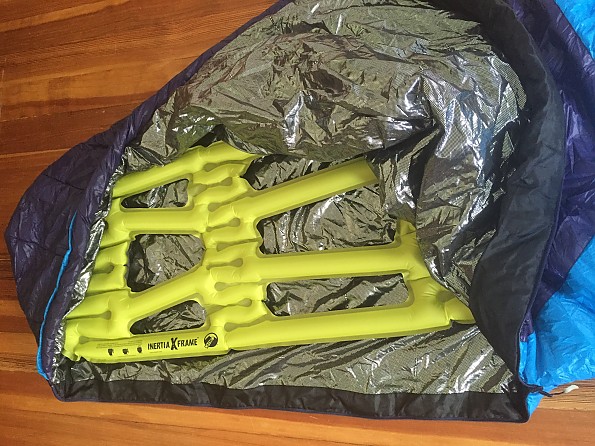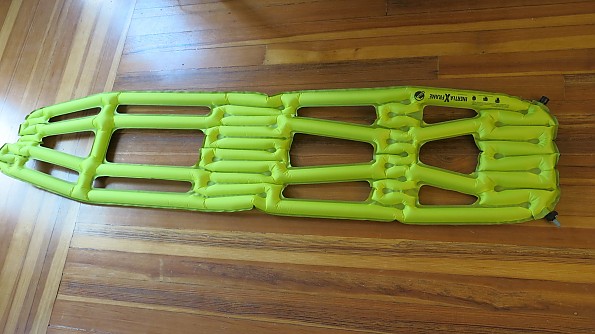 Another nice benefit of the latticework design is that it inflates much faster than similarly sized pads from other manufacturers. The X Frame includes a regular blow valve as well as a fine-tuning valve that can be used with an optional squeeze bulb (included).
While the design of the X Frame was carefully planned to fit the human figure, it only really works if you are roughly the same height as your mat and if you lay on your back. As soon as I rolled onto my side or my stomach, I noticed that my legs pushed through the "Loft Pockets" and came into contact with the cold ground, completely nullifying the benefit of such a design. If you happen to be significantly shorter than your pad, you would likely have similar issues in any position as your joints wouldn't line up with the design of the pad.
WARMTH:  Since the X Frame doesn't rely on its own insulating capabilities to protect you from the warm ground, but rather on the loft and insulation of your sleeping bag, Klymit doesn't provide an R Value for this pad. That being said, the "Loft Pockets" in this pad do a good job of keeping you off the ground and allowing your bag to insulate you.  
After a recent 30°F night, I was impressed at how warm I stayed throughout the night. This was, however, only effective if I lay on my back. As soon as I rotated onto my side or my stomach, I found that my arms / legs / hips fell through the "Loft Pockets" and I quickly lost all benefit.
For my test, I used a bag that has relatively little loft, so it's likely that you will get even better warmth if you use a natural down bag with high loft. However, the simple fact that this pad relies on the loft and insulation provided by the bottom of your bag means it will only work if you have an actual bag. Those using quilts won't get much benefit here unless they have another layer between the ground and their pad.
PACKABILITY:  This is the real drawback of the Latticework design. Because of the complexity of the latticework, it is nearly impossible to get all of the air out of this mattress when you go to pack it back up.  Even re-packing at home can be challenging.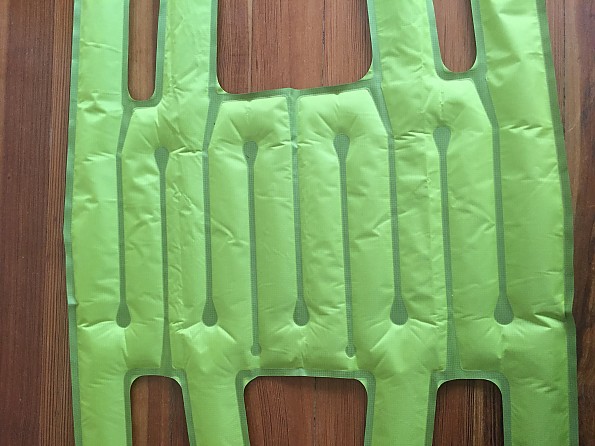 Unlike other mattress pads, you can't just roll this one up and force all the air out. You have to go through each tube and carefully push the air out before you begin rolling at all. Even if you take your time, you'll probably find yourself unrolling and re-rolling this pad a few times before you're ready to pack it away.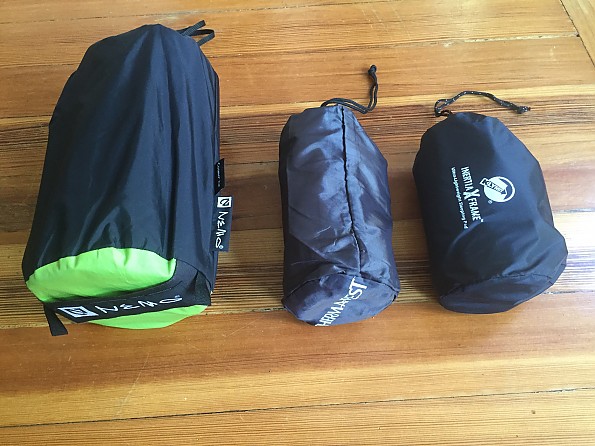 Once do you manage to get all the air out, the X Frame is remarkably compact. A full-length X Frame takes up about the same amount of space as my half-size NeoAir pad. Above you'll see my Nemo Cosmo Air, Therm-a-Rest NeoAir (short / half length), and Klymit X Frame.
Including the stuff sac, this pad weighs in at 10.4oz, so you aren't likely to care about the weight of carrying it. If you really want to save weight, you can drop the optional 0.7oz squeeze bulb (used to fine-tune the firmness of the pad once inflated).
THOUGHTS:  If you have a nice warm bag with good loft and want an ultralight mattress pad that won't shift around too much in the night, the X Frame would be a good option. Be prepared to spend a lot of time and effort re-packing this one, though.
However, if you want a pad that will work with a bag, quilt, or on its own, (or if you don't want to spend all day trying to get air out of your pad) you should probably look elsewhere.  
Source: received it as a sample, freebie, or prize (Trailspace)

IF this pad fits YOUR body, it offers impressive comfort per ounce of weight. Surprisingly adjustable with its high psi capacity, the sparse structure rewards both the back and side sleeper with a good night's rest. The Loft-Pocket design works best your bag has high-loft insulation such as down or PrimaLoft. It is an unbeatable U.L. combination in cold weather when paired with a thin, closed-cell foam mattress.
Pros
Highly adjustable for the balance between cushioning and support
Incredibly light and compactable, yet highly durable
Very comfortable for its size and weight
Effectively warm when mated to the right bag
Option for Argon inflation creates an U.L. 4-season solution
Cons
Difficult to completely deflate prior to rolling up
Loses width when fully inflated
Not as flexible for various body types as solid pads
I was intrigued by this pad, especially considering its radical departure from traditional pad design. I have ultra light closed cell foam pads for keeping pack weight down, but my sleep suffers when I use them, and they're bulky. I was in the market for a light but comfortable addition to my sleeping options. As a happy Therm-a-Rest owner (Basecamp Reg. for years) my first inclination was towards their offerings. I came across this pad on Trailspace, and decided to research further. After research and a chance sale, I made the purchase but was prepared to return it if needed — still skeptical. The logic behind the design was sound, but the execution of the concept? I am pleased to say yes after putting this through its paces in all but the dead of winter in the last 10 months.
EASE OF USE
This best fits a person in the height range of 5'9" to 6'1". I had my son (5'3") try it and his head was in one of the loft pockets. I'm just beyond this range at 6'2", but it still works well for me. They should make a women's version of this pad, for 5' to 5'5". I would probably benefit well from the XL version. That being said, the standard pad is supremely comfortable for me on my back. I have slept on my side as well, and once I finally found the right way to position myself, enjoyed several nights of restful sleep. The skeletal design only allowed me a couple of optional side-sleeping postures. Not a problem for me, but might be for someone else.
Here is the key to side-sleeping on this pad if you decide to sleep with it inside your bag: set your bag up on its side to begin with, zipper up, with the pad on the side of the bag. Crawl in, zip up, and side-sleep to your heart's content. Staying on this pad when it is outside of the bag was less difficult than I had though it would be. One could easily secure it to the outside of a bag with the right kind of strapping.
The X Frame pad is laughably easy to inflate. It takes me 3 breaths to inflate at the most. The pump really gives me the ability to firm this up, great for keeping me off the ground and debri. However, the more you pressurize the pad, the more it shrinks in width. When firm, this pad shrinks to about 17-18" in width. Length shortens only a 1/2" of so. 
I measured the pad at 9.2 oz, slightly heavier than the claimed 9.1. Total packed weight with patch kit, pad, pump,and stuff sack is 11.2 ounces. This pad will disappear in your pack. It is so small. I can fit the pad, pump, and patch kit in a sandwich sized ziplock. I will say that deflating the pad entirely requires some learning, but most won't feel compelled to completely deflate it because it's so compact to begin with. If you must (and I must), you first open the valve and smooth the air out, then pick it up and wring it out from top to bottom, pulling it through a tight hole made between your thumb and index finger. That usually takes care of it.
Here is a picture of all items, and the rolled up pad after I had inflated it:
I ruined the stuff sack (see the holes?) through my own errors in judgement, but it is plenty big for this kit, which is sooooo small.

FEATURES
The loft pockets work well for my down and Primaloft bags, where the lofty insulation is housed in a thin but strong, flexible fabric shell facilitating loft and expansion. My extra bag, filled with Thermolite (HollowFill 2) and a heavier denier shell didn't fill the "loft pockets" as well. I think the pad works better inside a bag, where gravity can assist in lofting the pockets, if you will.
I used this pad only while backpacking for three days and sleeping at 10k plus, with temps in the mid-upper 30's at night. It kept me warm enough, using my 40-degree down bag and merino lightweight thermals. For colder temps (an overnight in the mid-upper 20's) I used this with a 20-degree bag (thermolite bag) and was a little warm with the same sleepwear. Any colder though and I would use it with a 3/8" ensolite pad (mummy cut). I will say that the ensolite pad and XFrame combo is extremely comfortable and my favorite sleeping setup currently. Even more impressive is that this pad can be filled with Klymit's NOBLE TEK Argon insulation, rendering it the most efficient pad insulation available on the market (research it - the science is compelling)
I slept on it this Summer while beach camping (though the ground below was rough) and it outperformed my Basecamp 2" in terms of comfort. I used a fitted pad sheet over a rectangular 20X72 ensolite pad to sandwich the X Frame and hold it in place, then used a UL blanket — a great summertime setup.
I did try this another time outside my tent on a thin groundsheet, with protruding rocks and small pinecones, and did occasionally feel them in the loft pockets when I moved around — not recommended. This pad will not perform well in those conditions. It also is not intended as a seat in the backcountry for the same reason. I also tested this pad in just shorts, fully inflated plus one air pump shot. I slept on the tile in my kitchen with only a sheet covering me, figuring that the cold, hard floor would expose any design flaws in the skeletal design. I slept on my back to start, but without a mummy bag to hold my arms in place on my chest, my arms ended up on the cold floor. I turned on my side and didn't experience cold spots from ground contact again. I did welcome the coolness in the voids since it was warm that night in my house. I did not experience cold spots when used with a sleeping bag on any real camping trips. However, if I had loose skin, excess fat, or a big torso, I might have touched the ground in the pockets. But I was comforatble thhe rest of the night.
CONSTRUCTION
This pad is very well constructed. The welded seams are impeccably executed — the best welding work I've seen. The fabric is extremely durable, having stood up to nights out on the rough ground of the San Gorgonio mountains without a puncture or scratch. I was concerned at first, but with the excellent repair kit, I got over that quickly. I did not have to use the kit.
CONCLUSION
I applaud Klymit for thinking outside of the rectangle and challenging conventional thought. This pad is as light as it gets, and stands unchallenged in the comfort to insulation to weight ratio — IF it fits your body type. Make sure it works for your build and you won't be disappointed.
Source: bought it new
Price Paid: $50

The Klymit Inertia X Frame pad is an exceptionally lightweight pad designed for long distance hikers, bike tourists, or other backcountry adventurers who want light equipment, but are seeking a level of comfort different (thought not necessarily greater) than a closed cell foam pad provides. It's incredibly compact, easy to inflate (though not to deflate), and reasonably comfortable, though might not be as comfortable for the very short or very tall. This pad is best for light hikers, bikers, and runners who want to minimize weight and volume.
Pros
Easy to inflate (4-5 breaths! + 10-20 pumps of the bulb)
Reasonably comfortable
Light
Very compact
Cons
"Voids" make sizing important. Shorter folks beware!
Cold spots seem to coincide with voids
Leaking is possible with bulb attached.
Difficult to maintain high pressure.
Difficult to deflate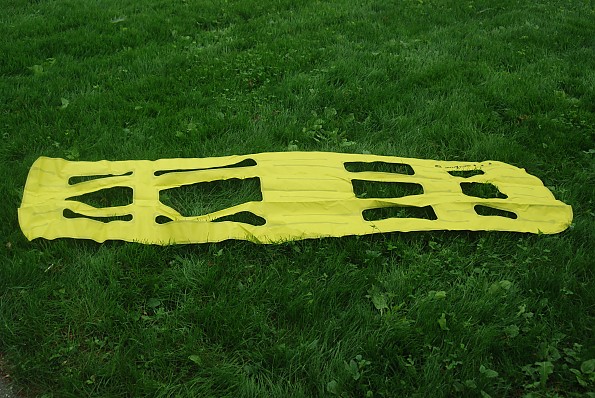 The Klymit Inertia X Frame sleeping pad deflated.

Ease of Inflation
This pad is a snap to inflate. At sea level in both cool (36°F) and hot (80°F) temperatures, 4-5 robust breaths of air into the inflation/deflation valve inflate this pad. At this point, instructions dictate using the detachable bulb to "top" it off until it's quite firm. This requires 5-20 puffs of the bulb.
Out of curiosity, I attempted to inflate the pad with the bulb alone. Not recommended: 275 squeezes later I lost count. Also, make sure to detach the bulb after topping the pad off. Leaving it on created a slow-leak situation for me one night, and I woke up with the pad nearly flat. When pumped up to high pressure, the pad did seem to lose a bit of air overnight. Certainly not enough to make it "soft," but enough air seemed to diffuse through the material so that it required another 3-5 pumps from the bulb in order to firm up again.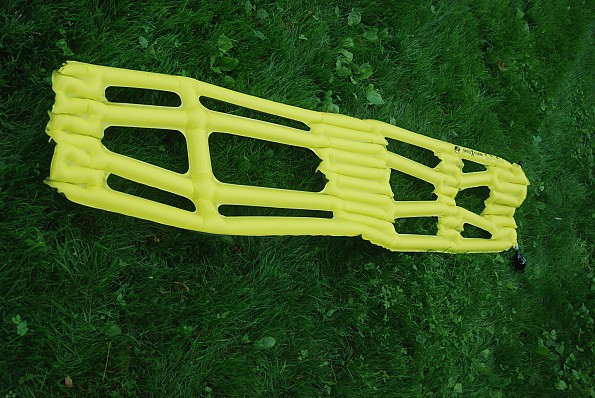 The Klymit Inertia X-Frame sleeping pad inflated
Ease of Deflation
Popping the mouth valve open releases a torrent of air that deflates the pad about 80 percent. Here, things get a bit tricky. I tried my standard deflating technique (folding in quarters and sitting on it), but this didn't work well. Instead, Klymit recommends that you fold it in half lengthwise and roll it towards the bottom. The mouth valve requires a substantial degree of pressure to release the air, and it took a bit of trial and error to get the pad to deflate fully.
Warmth
I tested this pad at 36°F, in the mid 40s, and at 65°F, all with the same EMS Velocity 35 men's sleeping bag in a Henry Shires Tarptent Cloudburst 2*. On the 36-degree night, I wore a full set of EMS Bergelene Base Layers, a thin synthetic cap, thin synthetic gloves, thin liner socks and wrapped my The North Face DIAD Jacket around my feet. I slept well that night, but did notice some cold spots that seemed to coincide with the voids in the pad.
Kylmit claims these voids provide the opportunity for the sleeping bag's insulation to loft underneath you, but I theorize that this doesn't occur with sleeping bags that don't have a lot of loft to begin with, like mine! I did sleep through the night, and didn't shiver, but certainly noticed these colder areas.
During the nights in the 40s, this pad preformed admirably with the same setup, minus the hat, gloves, and jacket-around-the-feet. At 65-70 degrees, the cool spots were nearly a blessing! Having ridden my bike hard for more than 20 miles to get to my favorite local camping spot, I was clammy and a bit warm when I went to bed.
The Velocity 35 only has a quarter length zipper, but I was still cool enough to get in. The ventilation provided by these voids meant that I woke up drier and less sweaty than when I retired. With my ordinary closed cell pad and the singe-wall tent, I ordinarily would have awoken quite clammy.
Comfort
This pad isn't less comfortable than a closed cell pad, its nearest cousin in weight, but it isn't more comfortable either. It is "differently comfortable." The pad is 73 inches long. At 5'7", I'm 67 inches long. This small difference in size led to some minor discomfort during the night, as I shifted about and different parts of my body aligned with the inflated portions (felt great) and the voids (not so great).
When my body was aligned with the inflated portions, this pad was quite comfortable. When I was not aligned, this system was less comfortable. If your height differs from this pad's length by more than six or so inches, this problem might affect you.
It occurred to me that this problem might be remedied by placing the pad inside my sleeping bag, and when I'm able to purchase a bag that will fit this pad, I'll report back.
It's worth noting that this pad did not skid around the slick nylon floor of my tent, a very welcome result.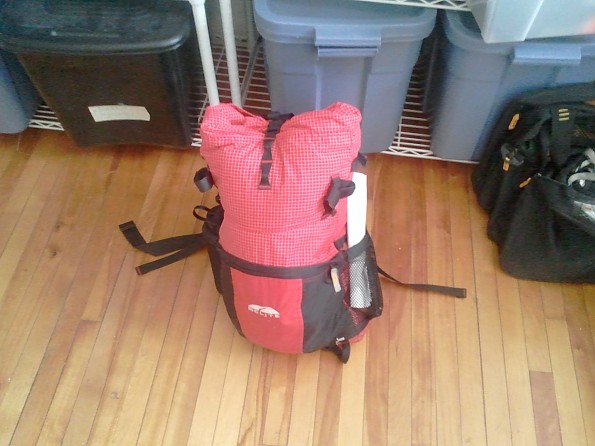 My pack, ready for my last test of this pad: bike camping!
Packability
This pad is supremely packable! Deflated and wrapped up in the storage sack, it is barely 8 inches long and 11 inches in circumference. Unpacking was an eerie experience, as it appeared that I had forgotten my sleeping pad until it emerged, so small as to be nearly invisible inside my pack!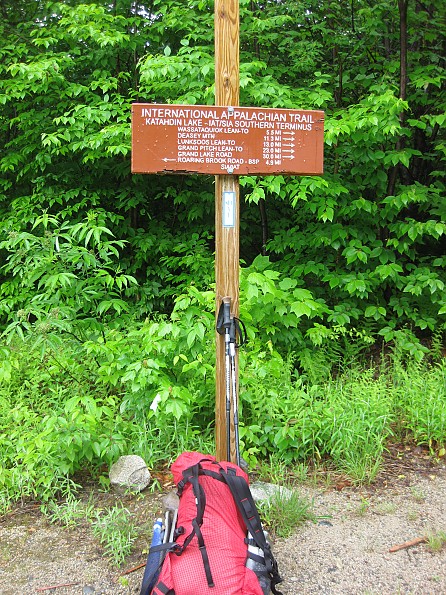 My pack during testing on the International Appalachian Trail
Weight
Stuff sack, pad, bulb, and repair kit weigh 11.1 ounces together. The pad and the bulb alone, the minimum useful configuration, weights 10.5 ounces and the pad along weighs 9.2 ounces.
Testing Conditions
I tested this bag camped north of Baxter State Park in late May, in temperatures down to approximately 36°F, in Mid-June in the same area, while backpacking a segment the International Appalachian Trail, and in early July in southern Maine, during a sub-24-hour-adventure bike camping trip.
* The author is employed by an organization that is the recipient of donations by Tarptent, and that provided this Tarptent to the author as a gift four years ago.
Source: received for testing via the Trailspace Review Corps

An ultra lightweight sleeping pad that shaves weight and bulk by padding key areas (head, shoulders, hips and feet). It's the smallest and lightest air-filled sleeping pad I've come across.
Pros
Weight
Pack size
Inflation
Cons
Not as comfortable as other pads
For those who count the grams and have a back hewn from granite this may be for you, but no matter how much I want to like this ultra lightweight (is there a lighter sleeping pad on the market?), ultra compact sleeping pad I found it hard and uncomfortable. Moreover, on anything but level ground I kept slipping off the padded areas.
The key attraction of this sleeping pad is its minimalist design. It cuts out non-essential padding, leaving a "skeleton" of a frame that supports your head, shoulders, hips, and feet. There are beams of padding which connect them all together and offer some support. The theory is that your body only needs support in these key areas. Furthermore, the spaces are filled with the insulation in your sleeping bag where it is supposedly able to maintain its loft as it is not being squashed, thus keeping you warmer. This is a great idea in theory, but in practise it's not quite a simple as that.
In order to blow it up there is a conventional mouth-piece. In addition to this, a second valve can be used to pump extra air into the pad using a small hand pump. This sort of defeats the object as it adds extra weight. Klymit say the pump can be used for more rapid inflation. This certainly was not the case when I tried it. Furthermore, when I inflated this way the beams become rock hard and uncomfortable to lie on. Too little pressure and the beams do not provide enough support so you end up with the worst of both worlds.
The pad works best if you are a back sleeper and you have pitched your tent on level ground. Unfortunately, I am not so sleeping on my side was uncomfortable as I could never quite position my body on the padded areas. This was especially problematic when I slept on a slope as I kept slipping off the padded areas and onto the connecting beams which were not nearly so supportive or comfortable. The website suggests the pad can also be used inside your sleeping bag but I found this even more uncomfortable. 
I also have the Klymit Static V. Though it is heavier and bulkier, I much prefer this because a decent night's sleep is crucial, especially for those like me of a certain age who suffer from increasingly creaking bodies. I would consider chucking the Inertia in my bag as a spare if I went on a longer trip to save the hassle of dealing with a mid night repair, but that is about it. 
I can see this appealing to mountain marathon runners as I get comfort is not really a significant factor. If you sleep on your back and like to count the grams this may also appeal. Otherwise go for the Static V, deal with the modest extra weight and bulk, and get a decent night's sleep.
Experience
Used on a hike in the South Downs in the UK in warm sunny conditions.
Source: bought it new
Price Paid: £99

This pad is designed to go INSIDE the sleeping bag! I never roll off this pad!! At 9.1 ounces, this pad disappears into my sleeping bag stuff sack until called upon to insulate my chilled core. The pad is built with gaps where the body does not contact the ground, these gaps allow the insulation in ones sleeping bag to sustain full loft, keeping the body warmer!
Pros
used within the sleeping bag
inflates in 3 breaths
comes with hand pump
excellent for hammock use
can be deflated and stuffed while still in sleeping bag
not just ultralight, but ultra compressible
Cons
requires some thinking/experimenting
not ideal for bigger people
The last thing I want to do after mile 10 is to huff and puff into my sleeping pad. I mean, I am huffing and puffing anyway, but mostly just to remain conscious.  I have several sleeping bags that, when used at high elevations, after an exhausting day, and with chapped lips, the mouth-to-valve connection is beyond my abilities.  
Not so with the Inertia X Frame. This 9.1 ounce beauty inflates with just three breaths, really, three! What is better is that those breaths can be fairly relaxed, as they need only supply the bulk of the air. Once the valve is tightened the user simply turns to the other top corner of the pad, inserts the ball pump, gives twenty or so squeezes, and the pad is perfectly firm for those extra cool evenings or extra hard shelter platforms.  
Even better, after that midnight tinkle, once you return to your cozy sleep system and find that the air has condensed during the night, just click the ball pump in place again, squeeze, squeeze, squeeze, and ta da, the pad is once again firm without removing it from the bag, leaning over to huff and puff, or disturbing your tent mate with other pad adjustments.
The pad has lasted me through years of trips in and around the high desert of Arizona.  It continues to serve me well here, in New Hampshire. As the pad spends all of its time in my sleeping bag, during use and while in storage, it is never subject to puncture or abrasion.
The pad does not offer three inches of loft. It is not filled with Primaloft, feathers, or magic. It simply holds air which keeps the ground from stealing all of my hard earned heat.  For that purpose, the Klymit pads are exceptional!  -MK 
Source: bought via a "pro deal"
Price Paid: $60?

Lightweight, easy to setup and use.
Pros
Lightweight
Folds up small
Easy inflation
Cons
Sometimes tricky to deflate
The holes in the pad can be uncomfortable if you slip through
I used to not worry about a sleeping pad when I was younger but as i've aged, I needed some help for sleeping on the harder grounds.  If you are looking for a lightweight sleeping pad, this is the way to go.  If you don't mind carrying more weight, there are probably more comfortable options out there.
Purchased this product about 2 years ago and have used it many times.  I've used this for backpacking in the mountains of Colorado on some pretty cold nights.  I'm 5'9 and this worked perfectly.   The model sleeping bag I have has outer straps for sleeping pads and I've used those for attaching this pad to the bag.  I think for this reason I have never experienced any cold pockets when shifting around as others have noticed.  I also use a down bag in the mountains here so the sleeping bag tends to have a lot of loft which helps this product be more effective at colder temps. 
It's relatively easy to setup and comes with a bulb used for pumping it up.  It is quite light and stores in a small bag.  Also comes with a patch kit which I have never used.  The product appears very durable and well made.  I tend to take very good care of my backpacking gear but this thing appears it could take some abuse and still work very well.
This pad is that it can sometimes be tricky to completely deflate sometimes.  Other times I seem to get it just right with no issues.  Even so, it doesn't take up a lot of space in your pack so even not completely deflating is an issue.  I tend to roll around at night when I sleep and my other complaint is that the design of the pad can allow one to slip through the holes and feel the hard ground underneath.  If you lay on your back or stomach a lot, this pad is probably for you.  The design keeps you off the ground pretty well.   If you sleep on your sides, or roll around a lot, you may have issues at certain times in the night.  Even though I occasionally run into those issues, I have gotten some  good nights sleep with this pad.
Source: bought it new
Price Paid: 59.95

This is a comfortable, light, and packable pad. I'm 6'4" and it worked fine, back and side sleeping, just not under my head. Durability may be an issue, maybe depending on how clean you are.
I really like this pad as a pad. I used it inside my bag, and it worked great. Easy to inflate and deflate (after opening the valve while lying on it, I folded the pad the long way and rolled it up).
I bought it new before a thru hike of the Colorado Trail in 2014. I used it inside the bag. After a few weeks of my 200 pound, sweat and sunscreen marinaded body laying directly on it (eeww!), the pad began to delaminate. I could see the edges of the air tubes getting closer to the outside. Eventually, there started to be a slow leak. I couldn't hear anything, but midway through the night I would notice it had gone flat, and repump it. 
After the trip, I sent it back, in the condition it was in, and asked if it was under warranty. They sent me a slightly different model as a replacement, with a note saying that it shouldn't have leaked if I had used it properly and kept it clean. Well, I did use it properly, in the bag, and I really don't know how I could have kept it clean on a trip like that.
It probably would have been much cleaner if I had used it under the bag, but then it wouldn't have been nearly as comfortable. Perhaps Klymit has improved the product, but if you use it the way I did, you should be prepared for the possibility that it will have a limited lifetime.
Source: bought it new

重量很轻、压缩体积很小,适合轻量化背包客玩家,但对身高有一定限制,而且不耐用。

[Google Translate: Very lightweight, small volume compression for lightweight backpackers players, but there are certain restrictions on the height, but not durable.]
Pros
重量轻 Light]
压缩体积小 [Compresses small]
价格低廉 [Low price]
Cons
对身高有一定限制 [There are certain restrictions on height]
不耐用 [Not durable]
隔热性能很一般 [Insulation performance is very general]
2015年新年去台湾环岛,因为对装备体积重量有要求所以带着这个气垫。
总体来说还算不错,重量轻,压缩体积小是优点。
但露营3天后就漏气了。一晚上没办法入睡。
夏季露营者或者UL玩家可以考虑购入这款气垫,但前提是你的身高在170-180CM之间才能正常使用,否则身体会接触到地面。
[2015 New Year to Taiwan island, because of the volume and weight of equipment required so with the cushion. Overall, pretty good, lightweight, small size is an advantage of compression.
But three days after camping a leak. One night could not sleep.
Summer campers or UL players can consider purchasing this cushion, but only to work properly if your height is between 170-180CM, otherwise the body will touch the ground.]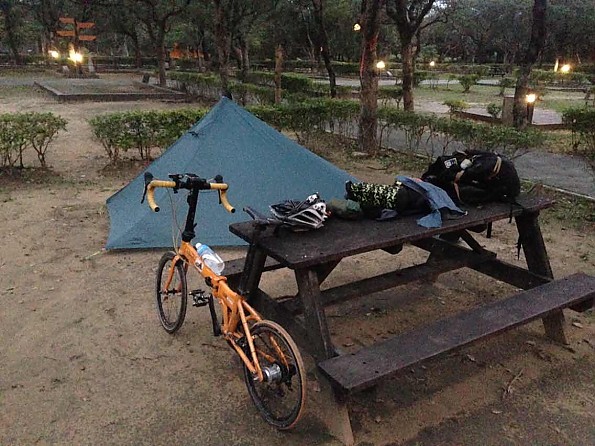 Source: bought it new
Price Paid: 300RMB

Purchased the X-frame in March of this year and received it at work.  The pad weighed in on the postal scale at just over 9 ozs.  
I had to work really late one night and slept on the concrete floor with just a sheet comfortably.  It came with a pump to firm the mattress, but I did not need it. Four breaths and it was fully inflated.
I just returned from a 9-day pack trip to the Bristol Head area of southern Colorado.  The X-frame preformed well on the rocky ground.  I tend to be rough on equipment, but the pad showed no visible signs of wear, so I did not try the patch kit that came with the pad.  It cleaned up easily with soap and water when our trip was over.
I have minimalist tendencies, so I was quite pleased when the pop can sized pad disappeared into the sleeping bag compartment with my 2.2 lb sleeping bag.  I am 6'3" and weigh about 200 lbs.  I sleep mainly on my side, and found the x-frame to be quite comfortable.  Even when the ground was inclined, I did not slide off the pad like my 3/4 Therm-a-Rest.  I had my doubts about the comfort of the cutouts in the pad, but after the 1st night, I didn't think about it anymore.  
Several in our group will probably purchase one before our next outing, they were impressed with the speed to inflate or deflate the pad, the lite weight, and the little space the pad consumed.  I have been a hiker for a little over 40 years now and really appreciate a little more comfort between me and the ground.  
The temps only got down to 30 one night, so I could not make a judgement about the cutouts adding to any extra thermo abilities.  The price was more than I wanted to pay for a sleeping pad, but the benefits of space and weight eased the pain considerably.  
I really like this pad.
Price Paid: $99.50

Very lightweight and small. Perfect for backpacking and remaining off the ground while comfortable.
Cons
Width a bit small
Susceptible to leaks
I really like this pad. If it holds up over time, even better! My only concern is that of structural integrity. I'm not sure about having to haul a repair kit with me, even if it is small. (Although I am getting over it, because even with the repair kit, it is so much lighter and smaller than all other alternatives.)
I purchased it online for about $50, which is a bit pricey, but still acceptable, given the pleasures of a good night's sleep in the bush.
It reduces down to slightly smaller than a red solo cup. Or, put another way, slightly shorter than a soda can, but also slightly fatter.
Weight is 298 g with the stuff sack, or 10.51 oz.
The design is marketed towards helping your sleeping bag retain loft due to the cutouts in it (as well as weight reduction).
It comes with the already mentioned repair kit and an inflation bulb (like the thing the doctor squeezes when taking your blood pressure).
It takes about 8 breaths to fill, after which you can use the bulb to increase the air pressure. I am not sure you need to bring the bulb, as when I used it, it just over-inflated the mattress to the point of me sliding on top of it rather than sinking down into it.
Leave the bulb at home and drop a few grams from the weights listed above.
Overall, a great product so far (5 nights in the field). I'd buy it again.
Source: bought it new
Price Paid: about $50

This product is lightweight, and is a good choice for the right person.
Pros
Lightweight
Tough
Blows up fast
Cons
Not one sized fits all
Fits men's bodies who are average sized
Hard to fine tune air
This is really a very good product. But it really is a niche product. This pad is about 6' long, and because of its size and design, the padding is located at the "sweet spots" of head, shoulders, hips, and feet. Well, as an average sized woman, this was not a good choice.
While that is not the product's fault, the pad is not really good for all hikers.
I love the very lightweight part, and that it is tough.
But I was very frustrated that I have to sleep within only the sweetspots' locations, and I "bottomed out" while sleeping on my side, especially at the shoulder.
I love that the pad blows up very quickly. But I found that once it was blown up, I could not "fine tune" the fit. I will not be using this pad next season.
But if Klymit ever makes a similar pad that is thicker and designed for a shorter person's height, I would take a long, hard, serious look.
But for now, I need to find an average sized man who could use this pad.
Source: gift

Nice change from the old Therm-a-Rest 1 inch pads and perfect for those ultralight guys who want the lightest.
Pros
light weight, perfect for the thru hiker crowd
I have used this five nights and at first very impressed but after my last night, which was very cold and long. I wished for my full mattress that is 2.5 inches thick. Still think it would be great for those people concerned about fastpacking and weight.
Source: bought it new
Price Paid: $85

Your Review
Where to Buy
Help support this site by making your next gear purchase through one of the links above. Click a link, buy what you need, and the seller will contribute a portion of the purchase price to support Trailspace's independent gear reviews.
You May Like
Specs
regular
recon
Price
Current Retail: $84.99
Historic Range: $29.00-$109.95
Reviewers Paid: $50.00-$99.50

Weight
8.5 oz / 241 g
10.3 oz / 292 g
Dimensions
72 x 18 x 1.5 in / 182.9 x 45.7 x 3.8 cm

Inflation
3-5 Breaths

Pack Size
3 x 6 in / 7.62 x 15.2 cm

Fabric
30D Top / 75D Bottom Polyester
75D Polyester