NEMO Cosmo Air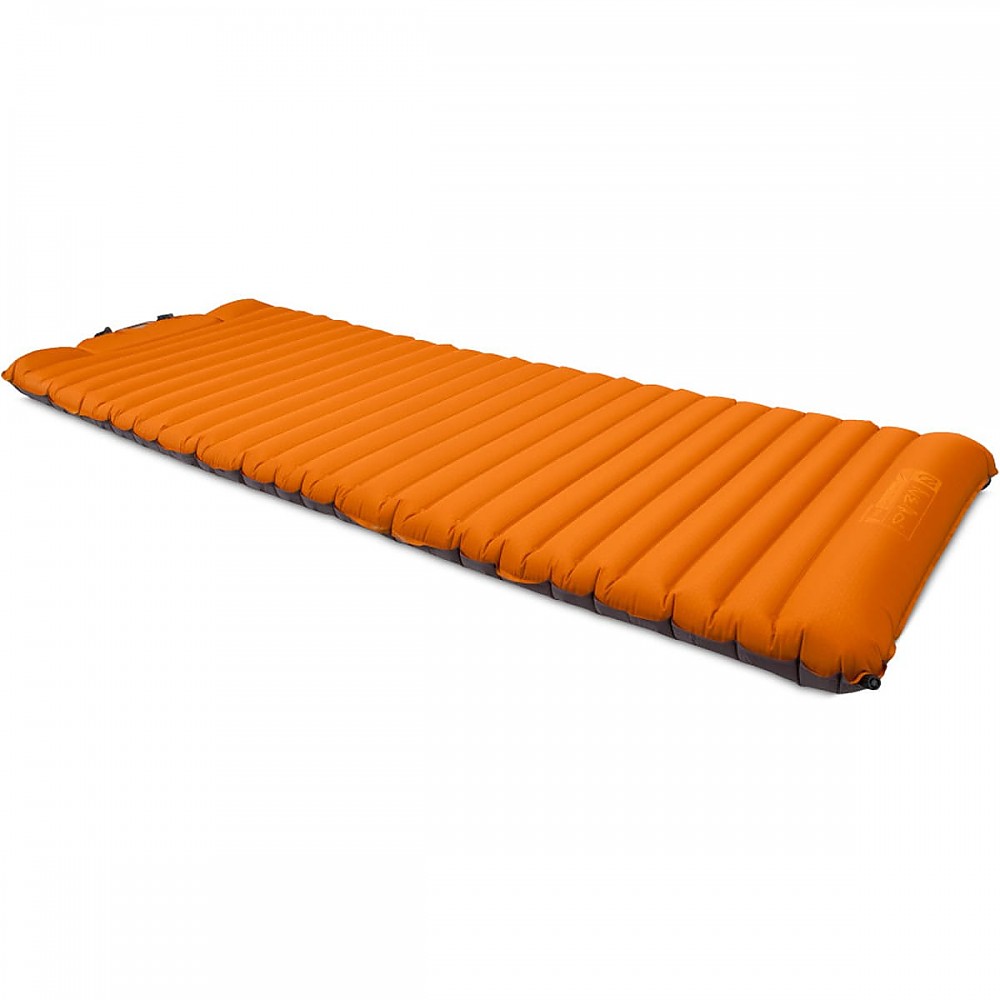 A comfortable, quieter, and less expensive alternative to the Therm-a-Rest NEOAir and similar ground pads. This is one you should definitely consider if you are looking for a great night's sleep on the hard ground! Easy to pump up and excellent to sleep on. Highly recommend.
Pros
Easy to inflate
Much quieter to sleep on than the NeoAir
Comfortable nights sleep
Cons
A bit awkward to pump up if you need to do so in your tent.
After many years of using my old self inflating Therm-a-Rest pad, I have made the transition to the newer and much more comfortable version of ground pads. I am soooo happy I did!
Some background on me so this review has more context.
At 63, I am not some young dude that can probably get a good night's sleep lying on a rock ledge with no padding. These bones and back muscles appreciate some comfort and I have been known to dig a small depression in the ground under my tent for my hips (normally like to lay on my side when sleeping). 
I'm not an ultralight extremest but certainly appreciate saving weight here and there. I have been hiking the N.C. mountains since college at least once every year and usually in the winter. Have routinely canoed and portaged large areas of the BWCAW since 1998.
In the mid to late '70s I invested in what was the best pad technology at the time and have been using some version of the standard self-inflating, lightweight, inch thick but insulated Therm-a-Rest pad ever since, using a 3/4 version at times to save some weight but also a full length version with a chair kit to use in place of a Crazy Creek. 
Whether hiking and camping in warmer times of the year or dead of winter, I was satisfied. But as I grew older, longed for a bit more comfort.
Recently one of my hiking buddies and occasional tent mate, purchased a Therm-a-Rest NeoAir. I briefly tested it out, felt the error of my old ways, and figured it was time to look seriously at moving up to something similar.
This past May, my group of campers and adventurists decided to branch out from our regular BWCAW trips and head to the Canyonlands National Park in Utah to canoe the Green River. A scenery break for sure and one where portaging is not necessary! Yeah!!

This spring I stopped by my local backpacking gear store (Great Outdoor Provision Company or GOP for short) in Charlotte, and asked about the NeoAir. I wanted to know if Therm-a-Rest had come up with a "quieter" version of the NeoAir. The crinkling sound caused by the NeoAir's fabric was one of the concerns I had with it along with it NOT being a self-inflating type. The young sales guy pulled out a NEMO Cosmo Air20R and said I should check it out.
First thing I noticed was how compact it folded up and yet looked like they had left some room in its storage back where it would, in the real world, fit back in even if I didn't roll it up quite as tight as they could roll it in the factory. The sales guy showed me how this NEMO had a built-in foot pump. Sweet. And it comes with a two-year warranty, which sounded pretty good to me. Fact is, I'm pretty careful with my gear. Heck, my North Face down mummy bag is from 1973 and still going strong and warm.
After inflating and lying on the pad on their hard floor, I immediately realized that not only was it as comfortable as the NeoAir but the material the NEMO was made of made it much quieter! Add to that it was a bit cheaper in price than the Neo (this 20R version was just over $100 and I believe comparable, if not less expensive than the NeoAir X-Lite). Maybe not as light as the NEO, but close enough for me.
I was sold.
Now for the real world test. Sun baked, hard packed, scorpion covered canyon campsites of Utah!
The verdict? After six nights at various campsites along the Green, I can honestly say I slept better on this trip than I have ever slept on the ground. (The one exception possibly being this one unique campsite in the BWCA where the ground was a spongy soft soil, but that was a freak of nature.) The NEMO gave me everything I was looking for. And believe me, this ground was as hard as rock.
The pump worked like a champ. It was easy and quick to deflate and after a few times of practice, I was able to fold, roll and easily learn the few tricks to make it roll up and fit easily into its carrying bag. I also notice there is a small emergency repair kit located inside the storage bag, for those unexpected punctures. 
I did find one thing so far to gripe about, but it is minor.
I would have preferred a slightly shorter version. But some of that is due to where I was camping on this trip. If you are camping on ground laden with pine needles or grass, anything other than the super fine red "moon dust" (or should I say Mars dust) that covers everything in this Utah landscape, pumping your pad up outside the tent with your foot may not be an issue, but out there, you do not want to do that. It's hard enough not to transfer this stuff into your tent without coating the back of your sleeping pad with it.
So pumping it up inside your tent was a must for me. You either lay it out horizontally over your tent mate's stuff where it sticks out the other tent door (if you have that design) or you lay it out the length of the tent and try and stick one of your feet inside the bottom of the tent to pump it up! I found that a little cumbersome but found a diagonal attempt to work best. All of this may sound like a silly critique and I would agree except if you have ever encountered and attempted to suppress such dust getting on everything in your tent. Camera gear, glasses, clothes, etc.. 
I did find one little trick that helps roll it up and fit the case. Push the pump down with your hands while the pump valve is open, close the valve and the foot pump remains smaller and thus easier to make a tighter roll before storing.
So overall, my back loves it, my hips love it, and I give this NEMO a 5-star rating and look forward to using it this winter in the N.C. mountains. 
I suggest checking out the NEMO website and looking at all the versions of their COSMO line.
Source: bought it new
Price Paid: Retail with a member discount, so close to $100

The NEMO Cosmo is an amazingly comfortable air mattress. However, it is bulkier and heavier than most other air mattresses on the market today.
Pros
Foot pump for easy inflation
Deflates quickly
Raised head section
I've had a Cosmo for going on three years now. In that time, it has traveled all throughout the Presidential Range, down into the Smoky mountains, and even out to a few barrier islands. It is a little on the heavy side (without the stuff sack, mine weighs in at 1lb 12.7oz), but the comfort and convenience are hard to beat!
PROS:
Raised head section reduces the need for a pillow (I still used one as I'm a side-sleeper, but this made it more comfortable either way)

Integrated foot-pump makes inflation a breeze; even after a long day of hiking.

Holds air reasonably well. I have never noticed deflation after a single night. The only time I ever had an issue was when I stayed at the same camp site for 4 days straight. I had to pump it back up before the final night.

Fully deflates in a matter of seconds. This is one of the easiest pads I have ever used in terms of deflating and rolling. It doesn't take much coaxing to get all of the air out of the pad.
CONS:
Noisy: You squeak with every slight motion. This isn't a huge deal when you're exhausted from a hike and will sleep through anything, but can be irritating if you are car-camping or are staying at the same site for a while and just want a good night's sleep.

Heavy: At 1 lb 12.7 oz without the stuff sack, this is also one of the heaviest pads I have carried since the 90s.

Bulky: This goes with the weight, but also with the integrated foot-pump. The pad is surprisingly bulky. It takes up almost as much room as my sleeping bag when packed.
Source: bought it new

Warm, really comfy and packs down small AND it's a wide, long pad!!
Pros
Warmth
Small packed size
Full size pad
I went to my, now closed, local outfitter ready to buy a Big Agnes pad. I don't remember the specific model now, it's been a year or so, but it was the inflatible, insulated mattress. 
Anyway, the guy at the shop told me, yeah he would sell me that, but I would be much happier with the Nemo Cosmo. He broke them both out, and immediately I liked the Nemo. It was wider, it was longer, and the air chambers go across instead of the whole length. 
The reason I was buying one to begin with was that I was going on a 3-week long bicycle adventure!! and I needed something to insulate me from the ground and be comfortable. I could not have asked for anything better!!! I really looked forward to laying down on that thing after riding all day! 
It packs down very small. When I bought it, it was folded in thirds then rolled down to about the size of a half a roll of paper towels or so. I ended up just folding it in half then rolling it most of the time and that was plenty small enough. 
Do yourself a favor, if you're looking to buy an air mattress, unless you're an ultralight, ounce counter, don't look any further, buy a Nemo Cosmo, you won't be sorry!! This is one of the better investments I've ever made!!!!!
Source: bought it new
Price Paid: don't remember, $160 maybe??

It's a NEMO product, works well, lasts forever. Deflates and rolls up into its bag, which is the size of a water bottle. Use in all-weather conditions. It's warm and mostly comfortable. Definitely recommend this NEMO product.
Pros
Packs small
Build quality
The Cosmo air sleeping pad, packs small, is relatively lightweight, and comes with its own stuff sack/carry bag. The sleeping pad is made of some very tough material. I don't have to worry about punctures when I use it.
My only complaint would be the direction of the baffles. They are probably good for people that sleep on their backs, but if you are a side sleeper like myself, you will end up deflating the pad to be comfortable. I have used this pad for four years and it has never had any problems.
It holds up well down to 23deg. I have not used it in colder weather than that. Even at 23deg I didn't feel like the air inside the pad cooled much. It does take some time to blow up, so be prepared to become light headed.
Source: bought it new
Price Paid: $75

This pad is light, comfy, folds up small, durable, wide enough for a grown man. What more can I say, it's from a Northeast company and they know what's up
Pros
Weight (lack of)
Size
Comfort
Cons
Price (give us backpackers a break)
It's all stated above, awesome product!
Source: received it as a personal gift

Simply the best pad ever!! Built-in pillow and foot pump make this a treat in the backcountry. I got this for $79...don't like the fact they almost doubled in price over a 1-year period.
Small and lightweight.
Price Paid: $79

Your Review
Where to Buy
Help support this site by making your next gear purchase through one of the links above. Click a link, buy what you need, and the seller will contribute a portion of the purchase price to support Trailspace's independent gear reviews.
You May Like
Specs
Price
MSRP: $139.95
Historic Range: $59.93-$209.99
Reviewers Paid: $75.00-$160.00

Weight
1 lb 13 oz / 810 g

Width
25 in / 64 cm

Length
76 in / 193 cm

Thickness
3 in / 7.6 cm