Tarptent Cloudburst 2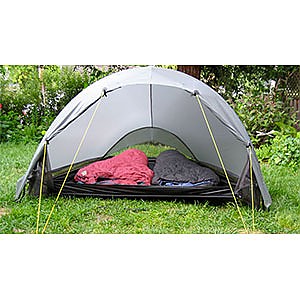 Regarding the review by Demetri Kolokotronis:
We need to respond publicly to Demetri's complaint. Here is a copy of the letter we sent him and a link to photos of the destroyed Cloudburst 2 he sent in for "warranty" repair:
http://www.tarptent.com/kokolonis.html
March 11, 2009
Dear Demetri,
Enclosed is your unrepairable Cloudburst 2 tent body and a replacement Cloudburst 2 body. The Cloudburst 2 body you sent back, unsolicited and unapproved for return repair, is clearly far outside our stated policy "to repair or replace products that fail due to defects in workmanship or materials." The mesh is utterly shredded and is what appears to be heat-destroyed. If I had to guess I would say that the mesh was first attacked by a cat and then destroyed due to heat damage in a clothing dryer. In any event, your tent was destroyed by you and we are in no way responsible for repairing it.
Just so we are clear about the purchasing chain of events, you purchased your original floorless Cloudburst in August '04. Three years later, in Fall '07, you reported a manufacturing problem with it. Rather than repair it for you, we sent you a new floorless Cloudburst 2 tent body. We did that at our discretion and as a show of good will. Then, in August '08, you sent it back to us in a plain box with no note, no description of the problem, and no follow up phone call or email to tell us to expect it. We neither asked you to sent it back nor did we approve its return, it wasn't covered under warranty, and you made no contact with us to discuss possible outcomes. At that point, as far as we're concerned, we owned it. Finally, 5 weeks later, you sent an email wanting to know if we received it.
We are sending you a replacement body although we are under absolutely no obligation to do so. We have now incurred considerable expense on your behalf. Since your original Cloudburst 2 was destroyed by you, we no longer have a business relationship with you and the enclosed Cloudburst 2 is a gift. We will not provide service for it should it ever need any.
Sincerely,
Henry Shires
Tarptent
The author is the owner of Tarptent.
This is a superbly crafted, brilliantly designed, 3-season, ultra-light TENT — not some flimsy tarp. This represents a philosophical leap for me into the ultra-light *scene* and without any sacrifice in quality (that I was secretly suspecting would be evident from "Cottage Industry" - WOW! was I wrong).
My Cloudburst II came with the sewn-in floor (not sure if this was standard or optional...) and is so fast and simple to set up I was amazed, the first time I set it up, at how quickly I had shelter. Seam sealing was nothing new other than the sil-nylon specific sealer (I sealed my seams 3x — pretty normal for me — just to be sure) and never a leak in over two years of ownership/use.
I've used my Cloudburst II mainly on mountain hikes here in Central Bosnia (though I'm an American, I've yet to use it on 'home soil'). The tent has experienced strong, consistent winds and some intermittent hard rains (with some sustained, overnight rain as well) and served with aplomb!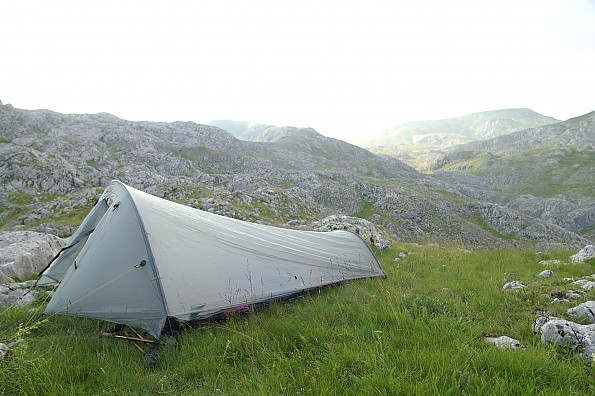 It's now my go-to shelter for 3-season conditions, especially when i'm trekking by myself. I do use a plastic ground cover b/c the fabric is pretty lightweight (meaning not as abrasion resistant), but I do this with every tent I own (unless i have a specific ground cloth for that specific tent) so it's truly no added inconvenience.
The entrance to the tent is an interesting design using no-see-um mesh and 3/4 circle to expose a huge opening to the tent's interior. The covering/vestibule for the front-access door is very-well-thought out going nearly to the ground offering a generous space for boots and similar small items. The floor is pretty slick, so as mentioned by a previous reviewer, some SeamGrip (or similar material) dots/lines are helpful to keep sleeping mats in place.
The materials and craftsmanship are top-notch. Though this is an *ultra-light* shelter with ultra-light materials, my tent has stood proud in some pretty strong winds (in a foot/head-on pitch configuration). I can see in an absolute deluge some water misting may occur through the sil-nylon fabric, but honestly in over 25 years of backpacking/mountain climbing throughout the Eastern U.S. this is not a *common* occurrence (but possible all the same).
Recommendation: Buy it — you'll love it!
Price Paid: $260

What a great shelter. I have spent many a wonderful night sleeping in the Sierra Nevada mountains over the last four years in this tent. I got it to be a luxury shelter for 1 (but it sleeps two very comfortably as a two-person tent should) but still not load down my pack. In both roles it has far exceed my expectations.
I have had no major issue with the tent. It sets up in minutes, keeps me dry in the hardest late summer downpours, vents well, and keeps condensation at bay. I did break a stake (they supply great Easton aluminum stakes) but that was after being pitched and slammed by a rock for three years of use, it's bound to happen and this is a ultralight weight shelter. So not big deal.
The only changes I would wish for it would be few inches more headroom, and a vestibule that extended just about 6 inches lower when pitched taunt. But those are just nick picking points in honesty. And for me could be mostly found in the newer "Moment" if I was in need of replacing the current tent but I don't see that happening for awhile.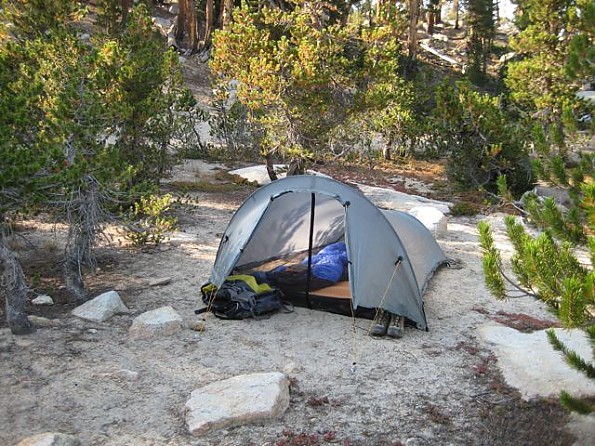 Design: Three-Season+ (not Free Standing)
Sleeps: 2
Ease of Setup: very easy. I can set it up in less than 3 minutes from the bag. with two short polls, and three stakes minutes are between you and shelter.
Weight: 2.4 pounds
Price Paid: $260

If you are a serious ultralight type, this tent is great. Mine weighed 2 lbs 5 oz. with the sewn in floor. The workmanship on this tent is superb. The floor is quite slick...I would use some seam grip to make some lines on the floor to keep your sleeping pad from slipping around so much.
Very little condensation ever formed on the inside of the tent, and I live in Alabama where, because of the 8000 percent humidity we usually have, condensation is almost always a problem.
The tent is a bit windy if pitched in a bad place, but most people who would even consider buying a tent like this know how to avoid this problem.
Design: tunnel type
Sleeps: 2
Ease of Setup: Very, very easy to set up.
Weight: 2 lbs. 5 oz.
Price Paid: $225

It has been over eight months since I sent my tent for repair, and I have not received it back. I repeatedly requested it be repaired, or if not going to repair, to return it unrepaired.

Manufacturer agreed to repair it "on a 'non-profit' basis" (see blurb from their website, www.tarptent.com, below).
I have received no communication about my tent since acknowledgment of receipt of tent Sept 23, 2008. My number of emails since then, most recently March 7, 2009, inquiring about repair of my tent have been ignored.
"Q: What is the Tarptent return and warranty policy?
A: Tarptents are fully guaranteed against fabric and workmanship failure and you may return one uninjured for a full refund within 90 days of purchase if not satisfied. That means you can set one up, even try it out overnight, and then decide if it's something that will work for you. Tarptents that have been used in the field will be evaluated for resale and partial credit returned to the original purchaser. We stand behind every Tarptent and will make every effort to repair or replace products that fail due to defects in workmanship or materials. Normal wear and tear repairs will be done on a "non profit" basis and we will provide a price quote before beginning the work. In many cases, we charge only for the return shipping."
Design: Single Wall
Sleeps: 2
Ease of Setup: Needs restaking after setup
Weight: 2 lb
Price Paid: $260

Your Review
Where to Buy
Help support this site by making your next gear purchase through one of the links above. Click a link, buy what you need, and the seller will contribute a portion of the purchase price to support Trailspace's independent gear reviews.
You May Like
Specs
Price
MSRP: $260.00
Historic Range: $250.00
Reviewers Paid: $225.00-$260.00

Weight
38 oz / 1.1 kg

Sleeps
2

Floor Width
60 in / 152 cm

Floor Length
84 in / 213 cm

Floor Area
31 ft2 / 2.9 m2

Interior Height
42 in / 107 cm

Packed Size
20 x 4 in / 51 x 10 cm

Recently on Trailspace