Spyderco Para-Military
Rating:


Source: bought it new
Price Paid: $105

Summary
A functional and safe folding knife for hiking. It's safe, it's fairly light, extremely durable, and easy to use. The thumb hole is great, but some might not prefer it.
Pros
Great blade steel
Outstanding quality and durability
Unusual and very good lock blade
Cons
Price
Thumb hole could turn some off
A short note: I reviewed this knife a while ago, but did not include photos. This also has some additional information about durability after more use, and it is slightly better organized.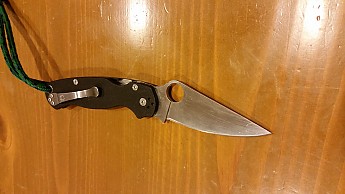 Basic Summary Observations
Short of chopping wood or extremely heavy work best left to a fixed-blade knife, or tool-like versatility you would get with a multi-tool, this is one of my favorites for hiking. This is a folding lock-blade knife that weighs about 3-3/4 ounces and is about five inches long, closed; the blade is 3-1/2 inches long.
Quality
This knife is very solidly made — nothing loose or wobbly, which is important for a folding knife.  the handle has proved to be exceedingly durable, and so has the knife blade. The locking mechanism has also been problem-free.  The knife also holds a sharp edge for a very long time. (There is a price for that — it takes somewhat longer to sharpen because the steel is so hard.)
Safety
It has an excellent locking mechanism the company calls a "compression lock," the equivalent of a liner lock but along the spine of the knife.  so, it has a strip of metal that springs into place against the wide end of the folding blade, just like a liner lock, when you  open the blade. 
the lock is right under the knuckle of your index finger.  while it takes some getting used to, i like the fact that when i disengage the lock, my fingers don't need to be in the path of the blade as it closes. the blade absolutely will not close by accident. the photo below shows the spine of the knife - you will note the small strip of metal that has sprung inward to keep the blade from closing accidentally.  by the way, this also shows how easy it is to keep the knife clean because the handle is "open" at the back.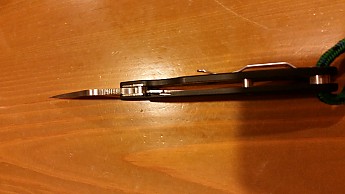 The scales of the knife are made of G10 — a fiberglass/epoxy composite that is extremely durable.  the outer surface is lightly textured, which helps make the knife more grippy, less likely to slip.  It's worth noting that the texturing is less aggressive than you will find on some other G10 handles. Because G10 is so durable, scales with very deep texturing tend to scrape anything around them. Not a problem here.
Like many knives Spyderco makes, the blade unfolds via a large round hold at the back of the blade - it is very easy to open, even if you are wearing relatively heavy gloves, by just putting your thumb on the hole and flipping it open. The parts of the blade and handle you are most likely to hold when using the knife for lighter tasks, at the base of the blade, has a series of shallow notches that, like the handle, help keep the knife from slipping. 
Function — How Does it Cut?
I like the blade because it is relatively wide along the spine for a folding knife this size; because it is a clean, flat-ground blade that makes cutting things a little easier; has a nice, sharp, pointy tip; and because the steel used (CPM S30V) is very durable, stainless, and takes a very long time to dull. It is extremely sharp out of the box and stays that way. because it is such a hard steel, sharpening it takes some care and some time.  This manufacturer has a relatively inexpensive sharpening service; I have been able to keep this sharp on my own with a fairly basic sharpening stone and an edge guide, a small plastic gizmo that grips the blade and keeps it oriented toward the sharpening stone at a uniform angle.  
as far as the basis tasks - meals and utility cutting are what I use it for most of the time - it is uniformly great.  it slices, it dices.....seriously, the shape and size of the blade, the comfortable and reasonably grippy handle, make this very easy to use.  
apart from cutting, it helps to have something to keep the knife handy yet less likely to get lost or dropped.  the knife has a metal spring clip, if you're one of those people who carries a knife in their pocket, and it has a large round hole at the bottom of the handle -  I put a piece of round webbing through the hole and sometimes use it to secure the knife to a carabiner. That's helpful in some situations.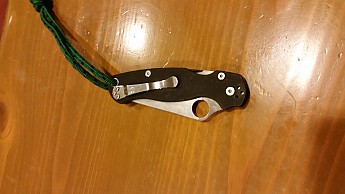 Other Observations
If you aren't wearing gloves and really bear down on this knife with a lot of pressure, the compression lock can dig into your palm. Because the locking mechanism is different than more widely-used liner locks or lockbacks, you have to get familiar with it; some might not like it, i guess.  On the other hand, you can operate the lock without having your fingers in the way of the blade, unlike liner locks.  
The blade tip is narrow and pointy, which serves a purpose, but it does not seem robust enough for any laborious prying - I could see that breaking the tip. I don't use knives as pry tools.  if you tend to do that, this might not be the best choice.  
This is by no means an inexpensive knife, but it is built to last and works very well. Worth the price in my view. Along with the Fallkniven PXL that I recently reviewed, it is my favorite folding knife.
Where to Buy
sponsored links
Help support this site by making your next gear purchase through one of the links above. Click a link, buy what you need, and the seller will contribute a portion of the purchase price to support Trailspace's independent gear reviews.