Fällkniven PXLwh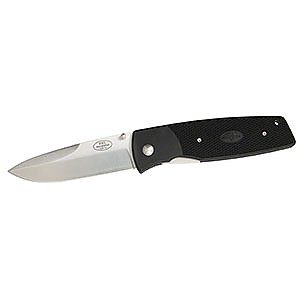 Does exactly what I want and need for what I consider to be an essential hiking tool. Safe, reasonably light, durable, and sharp. For those who want a folding knife with a clip, look elsewhere.
Pros
Outstanding quality
Very safe locking mechanism
Grippy handle
I consider a good knife to be one of the essential tools of the trade for hiking. There are lots of great options; this one is particularly useful.  
Basic Information

This knife weighs about 4 1/2 ounces, and the blade is about 3 1/2 inches long. It's a folding knife — the blade folds away when you don't need it. The blade is a kind of stainless steel that I will discuss a little more below. The handle is a grippy/textured hard plastic, and the blade locks with a liner lock, which I will go into in a little more detail below.
Hiking with a Knife
I look for a few basic things with a knife that I take on hikes and trips: 
Is it safe? This is overwhelmingly the most important thing for me. I have cut my hands a few times on trips, and it is not fun.

Does it do the tasks I want it to do?

Is it light and unobtrusive enough that it doesn't weigh me down?

Like all gear I buy, will it last a long time?
This review will, more or less, discuss how this knife satisfies those goals.
Safety
This knife is very strong on the safety goal. When the knife is closed, blade folded up, it doesn't easily open up, so you aren't likely to have a stray blade inside your backpack.
The handle is a relatively light and inexpensive solution, a hard kind of plastic called grilon. It has pretty aggressive cross-hatched texturing which reduces the likelihood of the handle slipping in your hand while you use it. Hard plastic can work well for a knife handle if it is sufficiently stiff, durable, and light. This handle is very aggressively textured, easy to use even with gloves. Some might find the texturing is too harsh for their hands.
(For what it's worth, there are other options that are arguably as good as this, and more durable, for knife handles. Micarta is a composite that involves layering or laminating fabric or other material and resin — highly durable, heavier than plastic. In my experience, though, it can be slippery if not property textured. I have used sandpaper to 'rough up' some micarta knife handles. My personal favorite is a material called G-10, also a laminated material that is primarily fiberglas.  ery difficult to damage, easier to manufacture with enough texturing so the handle won't slip).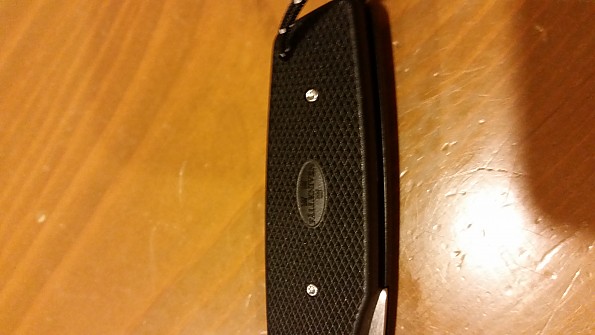 Another key element for making a safe folding knife is a way to lock the blade in place. There are different ways to do this. A common way, which this knife has, is a liner lock. When you fold the blade fully open, a small piece of springy metal snaps into place and prevents the blade from closing under any normal circumstance. To fold the blade closed, you need to move the springy liner lock to the side. Nearly impossible to do this by accident.
(Again, there are many different ways to do this. Many knifes have a "lock back" that keeps the blade from closing, though these can be overcome by using the knife and putting a lot of pressure on the lock. Others have different forms of liner locks that somehow insert a small piece of steel to prevent the blade from closing. In general, these are safer and less likely to fail than a lock back, though you have to be careful — nothing is foolproof. Another simple locking mechanism is the steel ring on the wood-handled opinel knives — twist the ring, it locks the blade.  opinel makes very light and good knives, but the locking ring is a weakness because it can slip. I cut my thumb on a canoe trip because the locking ring on an opinel knife slipped open in wet conditions. I still have the scar, 20+ years later).  
When i purchase a folding knife, this is one of the first functions I test. This one works great. Once it is locked in, it would be hard to envision it accidentally folding shut while using it.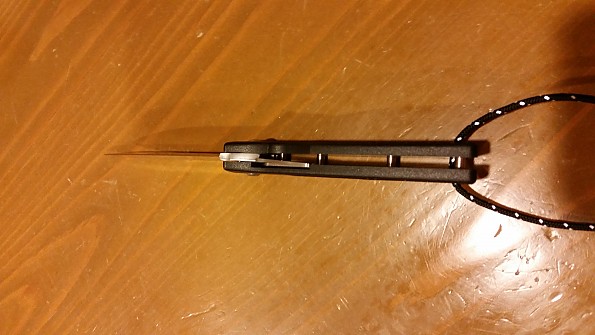 Note the piece of metal in the middle of the handle, just below the blade. That is the locking liner.
Function
Knives are meant to cut things. Food for meals, rope, twine or webbing, for the most part. They also serve to cut up some other things — tape for an injury, slicing shavings off a piece of wood for fire kindling, occasionally whittling a stick to a point as a replacement tent stake. Some people will try to chop wood with a small knife; that seems rather misguided to me, wrong tool for the job. If you want to chop wood of any thickness, bring a hatchet.  
This knife does all the cutting tasks easily. It is very sharp, and the blade has enough thickness along the spine that you can exert plenty of pressure if needed. Unless you do something misguided with it, like using it to pry something heavy, you won't break the blade. (Most knives of any quality are going to be fine for cutting, in my experience, unless they dull with age).
I like this knife because the steel is very durable, it takes a good while for it to start feeling dull, and it is laminated — the edge is a very hard steel that holds an edge for a long time, and that middle part is sandwiched between layers of stainless steel that are not as hard but that give the blade some more durability and flexibility.
Steels that are very hard and hold an edge well tend to be brittle; laminating helps strengthen them against different kinds of stress. On the other hand, if the blade were made entirely of those outside layers of stainless, it would be OK, but it wouldn't get as sharp or stay as sharp in my experience. If you look closely at the photo below, you will see a faint line just adjacent to the cutting edge that shows where the blade is laminated from two kinds of stainless steel.  
It also helps if a knife is easy to open. This has a small stud on either side of the handle so you can open it pretty easily with your thumb, whether you are left or right handed.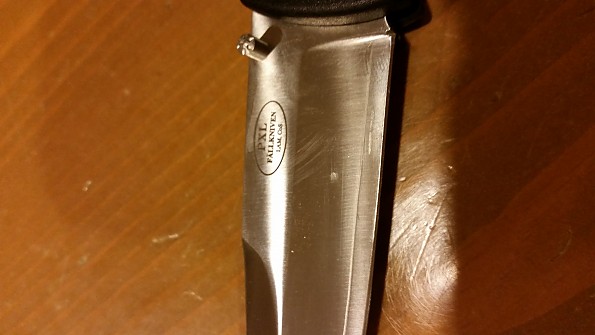 A brief word about sharpening: I don't care what kind of knife you use, the blade will dull with use and will need to be sharpened. If you aren't confident about doing this, you can look at any number of videos or resources on the web to learn, or you can send the knife back to the manufacturer. A number of them will sharpen knifes or a small fee.  
I sharpen knives in a few ways. Primarily, I use a sharpening stone. They are usually made of carborundum, and you can purchase them in any hardware store. Many have a coarse side and a fine side. For most high quality knives, you won't need more than the fine or very fine side of the stone. Some stones work better with a few drops of honing oil or water, others are better off dry. Also, there are very good ceramic stones that work about as well.
Because I keep knives for a long time and sharpen them from time to time, I have a plastic 'guide' that can be used to hold the blade and that can be adjusted to sharpen the knife at the recommended angle (most quality knives are ground with a specific angle. If you sharpen the blade ignorant of this, you can end up dulling the blade and reducing its usable life, or you might end up having to send it back to the manufacturer to regrind the blade).
I have also used ceramic sharpening rods, though I find it's sometimes tough to use these because I have trouble getting the angle right, and I have messed up some knives in the past with these.
Finally, there are certain kinds of knife blades that are best sharpened with a leather strop and some sharpening compound. The compound is a little like modeling clay, except it has some 'grit' to it, and you can get different levels of 'grit' depending on how aggressively a blade needs to be sharpened. Using a strop works best for certain kinds of knife blades, convex ground blades mostly. It takes some practice to use a strop effectively, and i find it's fine if the blade isn't very worn, but that a stone works better if the blade has a fair amount of wear.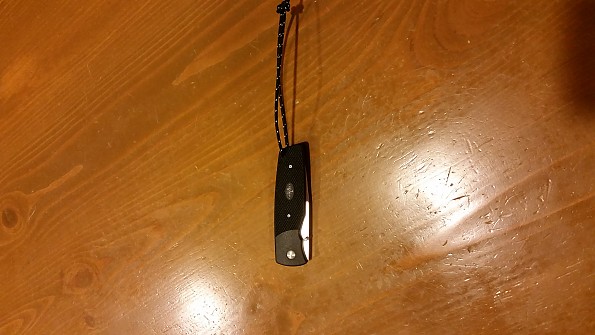 Weight/Size
For the most part, I prefer a knife that is light and small. Easy to pack, out of the way. This falls somewhere in the middle.
I have used some smaller knives that are lighter (a company called Benchmade makes one called the Mini Griptilian that's a fair bit lighter, for example), and there are some knives better suited to heavier tasks, like cutting small limbs off branches, hunting-related tasks, and the like that are somewhat heavier.
For the most part, I like a knife to be at least 3 inches long, but that could be because I have reasonably large, clumsy hands and find smaller knives to be a little harder to use effectively.  
Durability
This knife is relatively new for me, so I'm going more on past experience with the brand. I have had a smaller folding pocket knife from this company for several years (very nice knife that was a gift, but it's small, and the gorgeous handle is kind of slippery) that has functioned problem-free for a very long time.  I also have a fairly small fixed blade knife from fallkniven that is my go-to option if I would rather have a fixed blade in a sheath - same story.  
Outstanding quality all the way around, I'll probably be handing this off to my kids or grandkids someday. The blades don't stain or corrode with normal care, and they can stay sharp for years provided you sharpen them when needed. If you note the top photo, the construction of the knife also makes it easier to clean — the area between the handles is open, which makes it easier to clean dirt or stray food or debris out.  
Final Observations
Many folding knives come with a spring steel clip to help keep it in place on a belt or in a pants pocket. This doesn't have that. If you like having a knife with a clip, you might not like this one.
Also, you will note that I looped a skinny piece of webbing through a small hole in the handle. If I might want the knife handy, not buried in my pack, I will keep it in an exterior pocket but attach it via that loop with a small carabiner. Small things like this can jostle loose and get lost otherwise. Same with taking a small knife on a canoe trip — if you don't have that loop, happen to use the knife on the water, and drop it....bye bye. That's something i added on.  
Also, look for sales. This is a pretty expensive knife at full price; I waited until I found it with a healthy discount.  
Source: bought it new

Your Review
Where to Buy
Help support this site by making your next gear purchase through one of the links above. Click a link, buy what you need, and the seller will contribute a portion of the purchase price to support Trailspace's independent gear reviews.
You May Like
Specs
total
folded
Weight
4.62 oz / 131 g

Length
7.83 in / 199 mm
4.37 in / 111 mm
Blade length
3.46 in / 88 mm

Blade thickness
.14 in / 3.5 mm

Steel
Lam.CoS

Hardness
60 HRC

Recently on Trailspace